Arizona is a place I can return to time and again. It has to have some of the most diverse landscapes in the US, making it the ideal place for a road trip. Explore the northeast corner of the state with this 4 day Arizona road trip itinerary, from Phoenix to Monument Valley and a whole bunch of stops in between.
This part of the state is remote, with limited places to stop between destinations. That's why I decided to do this 4 day road trip from Phoenix in a campervan rental from Escape Campervans.
Disclosure: This post contains affiliate links. That means that if you purchase through a link, I may receive a small commission at no extra cost to you. For more info, visit this page.
Arizona Road Trip Route Overview
This 750 mile loop winds through the northeastern corner of Arizona, starting and ending in Phoenix. This part of the state is sparsely populated. There are long stretches between towns with stops for gas, food and restrooms. Much of this route goes through land that is recognized as the Navajo Nation.
Pro Tip: Arizona does not observe Daylight Savings time, with the exception of the Navajo Nation. Between March and early November (exact days vary by year) there is a timezone change between Navajo Nation and the remainder of Arizona. Plan your time accordingly.
This route is admittedly a lot of ground to cover in just 4 days. Throughout this post I will highlight options to extend the itinerary.
This 4 day Arizona road trip itinerary involves driving on dirt or gravel roads, which aren't suitable for all vehicles. The Escape campervan rental did great on this terrain as long as you take your time! I highly recommend getting insurance with any rental for this road trip.
Pro Tip: This area has limited cell phone service. Download offline versions of Google maps before you leave so you can navigate without cell service.
Day 1 | Phoenix to Homolovi State Park
Why camp at Homolovi State Park?
For the first night, I recommend staying at Homolovi State Park. Why? Two reasons. First, campervan pickup is usually around midday so with about 3.5 hours of drive time you'll still have time to explore the park and make dinner before it's dark. Second, it positions you well to visit Petrified Forest National Park (50 miles east) early the next morning. There is no camping available inside of Petrified Forest.
Option: If you prefer to stay closer to Petrified Forest, the most recommended campground is the Holbrook/ Petrified Forest KOA. KOA's are a little too developed for me but this could be a great option for families or solo travelers who prefer to have more people nearby.
Corner of Winslow Arizona
After a short orientation to your campervan, it's time to get behind the wheel and head out of town! From Phoenix, drive northeast towards Homolovi State Park. If you're pinched for time, follow the fastest route on Google Maps which takes you through Flagstaff and Sedona. For a more scenic route,
Pro Tip: There is no overnight parking for vehicles at the Escape office.
Drive northeast towards Winslow, which is just west of Homolovi State Park. The fastest route goes north through Flagstaff and Sedona. For a more scenic route, take AZ-87 N through Tonto National Forest instead. There are several adorable small towns with names like Strawberry and Pine too!
Be sure to make a pitstop for a photo on the "corner of Winslow Arizona"! Made famous by the song "Take It Easy" by The Eagles, Winslow has made their street corner along the historic Route 66 a destination in itself.
Pro Tip: Reserve a campsite at Homolovi State Park in advance on their website. If you arrive after hours, go straight to your reserved campsite and check-in at the Visitor's Center the following morning.
Homolovi State Park
From there, drive about 8 miles to Homolovi State Park and get situated for the evening. Take time to stretch your legs and explore the park's hiking trails. The park is situated in a beautiful prairie with two archaeological sites belonging to the ancestors of the Hopi people, native to the region.
Pro Tip: Watch for rattlesnakes while hiking in Homolovi State Park (and many parts of Arizona)!
Total Drive Time: 3.5 hours
Day 2 | Homolovi State Park to Monument Valley
This is the most action-packed day of this itinerary, so I recommend getting an early start with plenty of coffee.
When you're ready, drive about 50 miles east to the Petrified Forest National Park Visitor's Center. There are two entrances to the park. For this itinerary, use the north entrance (Exit 311) off of Highway 40.
Best things to do at Petrified Forest National Park (in 3-4 hours)
Depending on what time your day starts, plan to spend about 3-4 hours in Petrified Forest National Park. Because the day is action-packed, there's limited to no time to do longer hikes. Plan to be back on the road between 12p-1p.
Option: Want to explore Petrified Forest more? Add on more time here with an additional night at Homolovi State Park or another campground of your choice.
Here are some things I recommend for a short visit to the park:
Snap a photo at the park entrance sign
Grab a souvenir (or stamp in your national parks passport) at the Visitor's Center
Enjoy the view from several of the wayside overlooks (my favorites were Tiponi, Tawa and Lacey Point)
Hike among the rock formations on the steep 1-mile trail at Blue Mesa
Stop and see Agate Bridge
Get up close and personal with the petrified wood along the Crystal Forest
Enjoy a picnic in your campervan at any of the stops in the park
There is a 28-mile paved road that runs north and south through the park. Some sights are down short unpaved spur roads.
Canyon De Chelly National Monument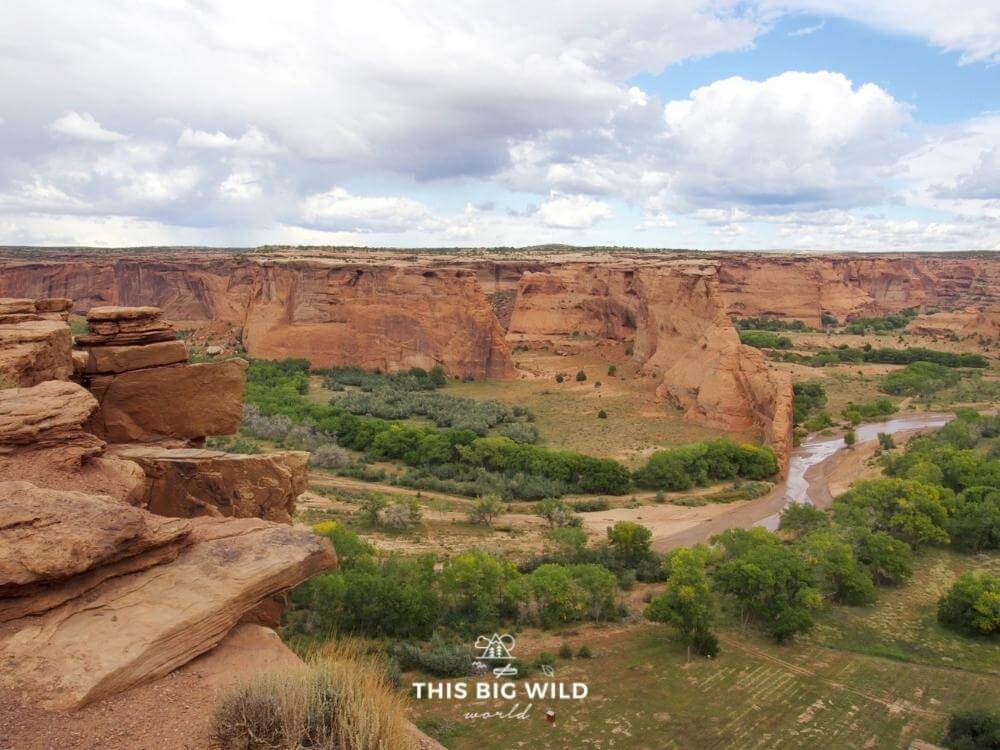 Next, make your way towards Canyon De Chelly National Monument. Seriously, I don't know why more people aren't talking about this place! It's absolutely stunning.
Canyon De Chelly is located in Navajo Nation and there are native people living within the park property, which is somewhat unique! Most of the park is only accessible if you hire a guide registered with the Navajo Parks and Recreation Department (NPRD). Guides can take you hiking, horseback riding or ATV'ing through the canyon. The White House Trail is typically the only trail open to the public, but even it was closed during my visit.
Pro Tip: Navajo Nation recognizes Daylight Savings, so during certain months of the year you will lose an hour when you cross into this region. Keep this in mind when managing your time.
There are two scenic drives through the park, one along the north rim and the other along the south rim. In the afternoon, the south rim has great lighting with several scenic overlooks to get out and explore.
Option: If you'd like to explore the area more, Cottonwood Campground is located just outside of the park. There are mostly positive but some mixed reviews of the campground, so do your research to see if this is a good fit for you. There were limited other options nearby.
Sunset at Monument Valley Tribal Park Visitor Center
Finally, drive the remaining 1.5 hours to Monument Valley Tribal Park Visitor Center for a spectacular sunset view of the rock formations from the parking lot.
Just outside of the Visitor Center entrance is a small dirt road to Humming Bird Campground. This small campground has incredible views of sunset, sunrise and the night sky. The facilities are limited to a very well maintained pit toilet and hot showers. The owners are very friendly, as are their two dogs, and they will provide a dinner of Navajo tacos for an extra fee if requested.
Total Drive Time: 3.5-4 hours
Day 3 | Monument Valley to Sedona
The pace is a bit slower today, so take your time getting up for the day!
Monument Valley Scenic Drive
Go back to the Visitor Center, but this time head down into the canyon to explore the 17-mile scenic drive. The road is unpaved and quite rocky in some places. Take your time to avoid damaging the campervan!
Forrest Gump Highway
Remember the scene from Forrest Gump where he's running through Monument Valley? Snap that photo at milepost 13 on Highway 163, just across the border of Utah! Search "Forrest Gump Highway" in Google Maps.
Cameron Trading Post
Enjoy a leisurely drive as you make your way towards Sedona. Along the way, be sure to stop at Cameron Trading Post. No road trip through Arizona is complete without a stop at a trading post, and Cameron's is among the best! If you're hungry, consider ordering the fry bread tacos – but be warned, they're huge!
While there, browse the Native jewelry, art and other goods!
Pine Flat Campground
Just 10 miles outside of Sedona, along highway AZ-89A, is Pine Flat Campground. Nestled in the pine forest and surrounded by towering rock formations, this campground runs along Oak Creek.
This park is part of Coconino National Forest, so the facilities are more basic than state parks as a comparison. There are pit toilets and drinking water but no showers. The campsites are very well maintained.
Option: There's tons of awesome hiking in Sedona. Considering adding on a night at Pine Flat Campground to explore the area more! Alternatively, add on a night in nearby Jerome at the Potato Patch Campground in Prescott National Forest.
Total Drive Time: 3-3.5 hours
Day 4 | Sedona to Phoenix
In order to return the campervan to the Escape Phoenix office by 10am (as required), you'll need an early start! It's about 2.5 hrs from Pine Flat campground to Phoenix and there can be traffic as you get closer to Phoenix.
Pro Tip: Get your gear and breakfast items organized and ready to go the night before so you don't feel rushed.
The drive to Phoenix winds down the mountains and through Sedona. It's beautiful early in the morning when there's little traffic.
Dropoff at Escape Campervans is super easy, though there may be a short wait if several vans need to be checked in at the same time.
Option: Add on a day or two to explore Phoenix and nearby Scottsdale!
Total Drive Time: 2.5 hours
Have fun on your 4 day Arizona road trip by campervan!
Whether you choose to do this 4 day Arizona road trip from Phoenix to Monument Valley or customize it to suit your needs, there's so much to do and see. Exploring this area by campervan was a great way to get the feeling of being in nature with some extra creature comforts.
Stay tuned for a complete review of my Escape Campervans rental experience!
Disclaimer: This experience was hosted by Escape Campervans. My opinions, however, are my own. I am under no obligation to write a positive review.
Related content to read next:
Beginner's Guide to Renting a Campervan
LA to Denver Road Trip: An Alternative Route
An Adventure Packed Arizona Road Trip
Most Scenic State Parks (in Every State!)
Did you find this article helpful? Save it for later or share it on social media!