What was I thinking? Had I really just booked a trip to Tromso in winter? I may live in Minnesota, but that doesn't mean I like cold weather. Well, that was about to change.
For most of my life, I hated winter. So, booking a winter trip to Norway was definitely outside my comfort zone. But sometimes, an opportunity presents itself and you just have to go.
I arrived in Norway feeling highly skeptical about this whole winter thing. By the time I left, though, I had fallen deeply in love with this underdog of seasons.
Disclosure: This post contains affiliate links. That means that if you purchase through a link, I may receive a small commission at no extra cost to you. For more info, visit this page.
Where is Tromso Norway?
Located just over 200 miles North of the Arctic Circle, Tromso in winter is the ideal place for those seeking a glimpse at the Northern Lights. During the daytime, explore the snow covered landscape through winter hiking, dog sledding, boating, snowmobiling and more!
The most cost effective way to get to Tromso with limited time is by plane. There are many flights per day to and from Tromso from major cities in Norway and around Europe.
If you have more time or are looking for more of an adventure, you can either rent a car or take a Hurtigruten cruise through the fjords. Cruises typically start from Bergen and through the Lofoten Islands before arriving in Tromso. Expect cruises to cost over $700USD without excursions. If you prefer to rent a car and take a roadtrip, it takes more than 20 hours without stops and requires you to go through Sweden.
No matter the season, Tromso should be on any outdoor adventurers Norway's itinerary. As the seasons change, the green mountainous landscape transforms into blanket of bright white contrasting with the deep blue water. I had no idea a winter landscape could be so beautiful.
Getting Around Tromso
The Tromso Airport (TOS) is just 3 miles from the city centre. Choose one of these three main options for transport. If you opt for the city bus, get discounted tickets at the Point Kiosk near baggage claim at the airport. Be prepared for a bit of a line at the kiosk.
Pro Tip: If you have 2 or more people, a taxi is more cost effective than the Airport Express bus.
The city center is walkable, though in winter the sidewalks are covered in a thick sheet of ice. Be sure to bring microspikes so you don't fall (here's my full list of recommended winter hiking gear)! There are also city buses and taxis available if preferred.
Where to Stay in Tromso
Eating out in Norway can be expensive so having access to a full kitchen helps to cut costs. The city centre is easily walkable and has many restaurants, hotels, shops and tourist attractions which makes it a great location to stay. Here are my recommendations on where to stay in Tromso Norway.
Enter Tromso Apartments – Budget-friendly & comfortable!
Enter Tromso Apartments is a great option with a central location, full kitchen, wifi and laundry machine. They have apartments of all sizes to meet your needs. Warm up after a long day of adventures in the comfort of an apartment!
Pro Tip: A Spar grocery is less than five minutes walking distance from Enter Tromso Apartments.
Radisson Blu Hotel Tromso – Great views!
Located right on Tromso Harbour with impressive views of the surrounding mountains, Radisson Blu Hotel Tromso is a great place to stay. They have onsite fitness facilities, sauna and restaurants. This is a hotel experience, so there's no kitchen but there are endless restaurants just steps away. The Radisson Blu is also one of the main pickup and dropoff locations for tours in the city centre.
Ami Hotel – Hotel feel with apartment perks!
The Ami Hotel offers the best of both worlds. It's got a hotel feel with access to a shared kitchen and laundry space. Located in the city centre just a 5 minute walk from the harbour. I love the bright and modern feel of the rooms!
Tromso Lodge & Camping – Nature lovers dream!
Located just a 5 minute drive from Tromso city centre, Tromso Lodge & Camping is worth considering for those who love nature! Their cottages are located along the Tromsdalselva River and have private kitchens and patios. For an even more budget-friendly option, book one of their economy cottages with shared bathrooms.
Check prices on Tromso accommodations!
Best Things to Do in Tromso in Winter
There's no shortage of things to do in Tromso in winter. In fact, the hard part is deciding what to do! No matter how long your stay in Tromso, here are three experiences that I would say are not to be missed.
Honestly, I'm not much of a "tour" person. I prefer to explore on my own, whenever possible. So, I only recommend tours that I truly enjoy.
1 | Dog Sledding
Dog sledding combines two of my favorite things: dogs and adventure. It's a sport I've always wanted to try. So, when booking my visit to Tromso in winter this was at the top of my list! But I had a lot of questions about whether dog sledding is ethical. After much research and with my questions answered, I chose to do this self-drive half day dog sledding tour.
Read my honest review of dog sledding with Tromso Villmarkssenter for detailed information on why I chose their tours over the alternatives.
Here are some highlights from this experience:
Easy pickup and transport from Tromso city centre to nearby Kvaløya (also called the Whale Island)
Warm gear is included with the tour price
Clean restrooms
Learn about huskies and dog sledding from the mushers who care for them
Option to drive the sled
Incredibly friendly staff, from start to finish
Delicious warm tea and traditional reindeer stew after sledding (vegetarian available by request!)
Learning About Huskies and Dog Sledding
The guide explained that huskies don't all look the same, a common misconception. For dog sledding, dogs are selected based on their build and ability to be trained, not their looks.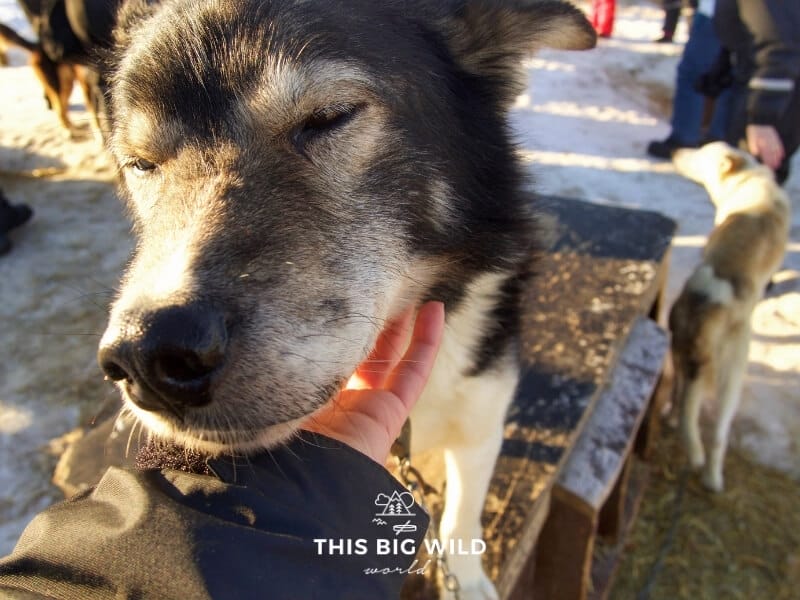 The owner of Tromso Villmarkssenter looks at the dog's psychology and ability to follow commands. He also looks at how the dogs work together as a team. Lead dogs are able to understand very specific commands and then effectively communicate that to the rest of the team. It's amazing to see them work together as a unit!
At Tromso Villmarkssenter, visitors are encouraged to hold and play with the puppies to help them socialize. The little pups will begin training as early as 3-6 months old!
As a dog owner, it was immediately clear how happy the dogs are and how excited they were to pull the sleds. But, when the mushers notice a dog is no longer having fun, they retire it from sledding. Retired dogs are often adopted by mushers and trainers at the center. One has adopted more than 7 of them!
Prior to this experience, I was skeptical about how the dogs would be treated. My hesitance subsided as I saw how much they were loved and cared for by the trainers. The trainers knew each dog personally, their fears, strengths and weaknesses. They knew how to motivate each one. And most importantly, they knew when dogsledding was no longer fun for each dog and honored that.
I asked my guide why she works at Tromso Villmarkssenter out of all of the dogsledding companies. She said that she's worked for several, and they are all good, but this one cares for the dogs the best.
Click to read a detailed review on my experience with Tromso Villmarkssenter!
Pro Tip: Visiting Tromso in the warmer months? Tromso Villmarkssenter offers a guided tour through the mountains with the huskies in summertime!
2 |
Chasing the Northern Lights
Between September and March, Tromso is an ideal location to experience the magic of the Northern Lights.
But, not all Northern Lights tours in Tromso are created equal. While there is no guarantee that you will see the lights, some companies, like Tromso Friluftsenter, will re-book you on the tour the next night if conditions don't cooperate.
Pro Tip: If you have your heart set on seeing the Northern Lights, consider allowing more than one day as weather and visibility can be unpredictable.
Depending on conditions, Tromso Friluftsenter has a base camp which offers a warm hut, toilets, hot drinks and yummy cake all on the owner's property about an hour outside of Tromso. Many tours don't offer a base camp option, so be prepared to be driving around chasing the lights in your bus.
What to Expect on a Tromso Northern Lights Tour
Tour pickup in Tromso City Center was at the Scandic Ishavshotel. During the hour long bus ride to base camp, our energetic guide shared some of Tromso's history and a short video on the science behind the Northern Lights. Once we arrived, the guide offered a warm suit and tripod to each of us. Both are included in the tour.
As we assembled in the warm hut, our guide walked us through how to setup our cameras to photograph the Northern Lights. This was incredibly helpful if you're not familiar with nighttime photography.
Pro Tip: Practice outside before the Aurora Borealis is visible so you are comfortable with your camera settings.
Getting a Glimpse of the Northern Lights in Tromso
Within an hour, the lights made their appearance. At first, they were a faint haze in the sky over the mountains. Gradually, they got brighter until they were visibly green and dancing rapidly across the sky. The base camp is located along a fjord, so the lights reflected in the water. Our guide was jumping up and down with excitement!
If you want to leave photography to the experts, Tromso Friluftsenter guides will take photos for you. They will give you a business card with a link to download them a few days after your tour at no extra cost.
The Northern Lights danced until after midnight, when we left to head back to Tromso city centre. We were dropped back at the same hotel, just a 10 minute walk from Enter Tromso Apartments.
If you're really pressed for time you could even do a Northern Lights tour while riding a dogsled (yes, it's a thing)!
3 | Riding the Fjellheisen Cable Car
If you're looking for a self-guided activity, be sure to take a ride on the Fjellheisen cable car! Enjoy panoramic views of Tromso and the surrounding fjords from above.
Take the cable car up to the top of the mountain Storsteien for this breathtaking view. Walk out onto the viewing platform above the restaurant before hiking around. Don't miss this affordable Tromso winter activity!
Pro Tip: Be sure to bring crampons or microspikes to navigate the ice.
To get here, take the #26 bus (cost 50Kr) from Tromso city centre to Solliveien, or just tell the driver you are going to the Cable Car. After they drop you off, follow the signs to the Fjellheisen. Be sure to ask about student rates if you qualify for a discount.
Pro Tip: Just a short walk from the Fjellheisen on the way back into the city center is the Tromso Arctic Cathedral. It's unique architecture makes it well worth a stop!
If you prefer to have a guided experience on the Fjellheisen with transportation included (so you don't have to figure out the bus), try this Fjellheisen tour which includes Norwegian waffles and coffee!
Other Things To Do in Tromso in Winter
In addition to the three must-have experiences during winter in Tromso, here are other activities to add to your itinerary!
Walk along Tromso Harbour
Shop along Storgata Street
Visit the Polar Museum to learn about polar expeditions and the region's history
Explore Polaria, an Arctic experience center, featuring bearded seals and more
Enjoy the beautiful architecture of the Tromso Arctic Cathedral
Learn about seal fishing during a visit to the MS Polstjerna, Norway's best preserved seal fishing vessel
Get a glimpse of Tromso's wildlife and birds on a fjord cruise
Go on a polar fishing adventure
And, Tromso winter activities like snowshoeing, cross country skiing, and winter hiking!
What's the Verdict on Tromso in Winter?
Seriously, just go! Experiencing winter in Tromso made me finally fall in love with cold weather adventures after more than 30 years of hating the season.
If you're nervous about the cold and not sure what to wear, here are my tips for what to pack for winter hiking in Norway!
Disclaimer: I was hosted by Tromso Villmarkssenter as a guest. My opinions, however, are my own. I am under no obligation to write a positive review.
Related content to read next:
The Real Deal on Dog Sledding in Tromso (Tromso Villmarkssenter Review)
Why You Should Visit the Loføten Islands in Winter
What to Wear for Winter Hiking
Packing List for Winter Hiking in Norway: A Prepared Girl's Guide
Did you find this article helpful? Save it for later or share it on social media!