Just before you reach Sedona from Phoenix, the landscape transforms from a sea of saguaro cacti to a blanket of red rocks. This is what I love about Arizona. It's nearly every landscape an adventurer could want, packed into one state. That's what makes an Arizona road trip ideal for anyone seeking adventure!
Adventurous Arizona Road Trip Route
The drive between any two stops on this Arizona road trip route is no more than two and a half hours. This gives you more time to enjoy all the adventure that Arizona has to offer!
As you can see, my itinerary focused on central and northern Arizona since I only had 5 days. If you have more time, I recommend venturing north to Page or south to Tucson.
Day 1: Phoenix, Scottsdale, Sedona
Day 2: Sedona to Grand Canyon South Rim
Day 3: Grand Canyon South Rim, Cameron, M Diamond Ranch
Day 4: Sedona, Verde Valley
Day 5: Sedona, Phoenix
Can't wait to read about a specific stop? Click to jump to that section:
Disclosure: This post contains affiliate links. That means that if you purchase through a link, I may receive a small commission at no extra cost to you. For more info, visit this page.
When to Go on Your Arizona Road Trip
Winter is an amazing time for an Arizona road trip. The temperatures are warm but mild, making it comfortable to be outside. There are also next to no crowds. I practically had the Grand Canyon to myself! Keep in mind, though, that some businesses will have reduced hours in the winter.
Where to Start Your Arizona Road Trip: Phoenix
There are three main airports in Arizona: Phoenix, Flagstaff and Tucson. Because my route was more north, I eliminated Tucson. Flights into Phoenix (PHX) were generally more affordable from Minneapolis. PHX is certainly the larger airport with more flight options, but depending on where you're coming from it's worth checking Flagstaff too. Las Vegas often has cheap flights, but it's more than a four hour drive to the South Rim.
If you have time, though, don't rush straight to Scottsdale or Sedona. There are loads of great hikes in Phoenix for any skill level!
Scottsdale
If you need food on your way to Sedona from Phoenix, Scottsdale is a great place to stop. My friend recommended Flower Child which features local produce and gluten-free options in its salads, plates, wraps and bowls. The food was healthy, delicious and affordable (all usually difficult to find on a road trip). I happen to have an obsession with unsweetened iced tea, so the iced tea and fresca bar kind of blew my mind!
Sedona
The red rocks of Sedona create a landscape unlike any I've ever seen. When building my Arizona road trip itinerary, there was no doubt I would be visiting here again! There are miles of trails to explore on foot or mountain bike. Don't worry if you left your bike behind – there are loads of convenient rental shops!
While you're in the area, be sure to visit Tuzigoot in the nearby Verde Valley and other Indian ruins in Arizona!
Where to Stay in Sedona
The Village of Oak Creek is my preferred area to stay in Sedona. It's right on the main road (Highway 179), has easy access to restaurants, and includes budget-friendly options. My pick is the Holiday Inn Express due to its comfortable rooms, central location and hot breakfast.
If you want something a little different, try the nearby M Diamond Ranch Guesthouse!
Pro Tip: Last time I checked, the M Diamond Ranch website was down. Try calling them instead at (928) 300-6466!
Things to Do in Sedona
There is no shortage of hiking in Sedona and, from what I've seen, every trail has amazing views.
Hiking
From the Holiday Inn Express, drive just a half mile north on Highway 179 and there are three parking lots in a row, each leading to a different trailhead. Be sure to pay for parking in the kiosks located in the lot.
Bell Rock Trailhead: Read more about this hike here. This is a great spot for night photography!
Courthouse Vista Trailhead: Scramble up the north side of Bell Rock for an elevated view at golden hour and sunset. Remember to bring a flashlight or headlamp to get back down safely! If you don't feel like scrambling, there are several other trails from this trailhead.
Parking: $5 for a day use parking permit, available at a kiosk in the trailhead parking lot.
Airport Loop Trail: Just eight miles from the Holiday Inn Express, this trail wraps around the mesa which is home to the tiny Sedona airport landing strip. The trail is uneven, but relatively flat and offers 360-degree views of the iconic rock formations. Parking is free, but limited. Additional parking is located beyond the trailhead.
Where to Eat in Sedona
Next to the Holiday Inn Express is a small restaurant called A Taste of Marrakech. Their food was rich in unique flavor combinations with lots of gluten-free and vegetarian options. If they have a hummus on special, try it! I had a lemon fig hummus that I still dream about!
Greater Sedona Area
Sedona is a great place to base yourself on an Arizona road trip because there's so much to do in the surrounding area. These two stops are off the beaten path, but completely worth it!
M Diamond Ranch
For some reason, I've always dreamed of visiting a working ranch. I supposed that's because it's the quintessential image of the cowboy lifestyle. Even at an early age, the ranch life sounded adventurous and I had to experience it myself.
Just 10 miles southeast of Sedona is M Diamond Ranch, the only ranch in the area that welcomes visitors, and I can't say enough good things about my experience.
M Diamond Ranch isn't just any ranch. They've been awarded the Wildlife Habitat Stewardship Award for their commitment to land management practices that benefit Arizona's wildlife resources. Homesteaded in 1908, it's one of the oldest ranches in the Verde Valley. Their 35,000 acres of land is divided into pastures. Cattle are moved by horseback to graze in a new pasture every 30 days and they won't come back to the same pasture again for nearly a year!
Getting to M Diamond Ranch
The last three miles of the drive wind through gravel roads. It'll feel like you're a million miles away from a city. The owner, Peggy, will send you detailed directions to the ranch when you make your reservation.
Staying at M Diamond Ranch
At the M Diamond Ranch Guesthouse, of course! Their onsite guesthouse, which was just remodeled in 2018, sleeps six adults with two full bathrooms. How perfect are the western touches?
There's a full kitchen, so bring your favorite drink to sip outside under the twinkling lights of the patio!
Things to Do at M Diamond Ranch
There's all sorts of adventure at M Diamond Ranch, but the most popular is the evening Ranch Rendezvous. This is the perfect combination of a one hour horseback ride through the Verde Valley just before sunset, followed by a two hour cowboy style cookout.
Here are some tips to enjoy your Evening Ranch Rendezvous:
Take time to chat with the friendly staff to learn about life on the ranch
Say hi to the adorable animals
Dress for the weather
Leave your camera behind for the ride (phones are permitted) but bring it along to dinner
Bring some Verde Valley wine to enjoy at the BBQ
Have fun and enjoy the view!
After the horseback ride, hop onto the horse-drawn wagon that will take you to dinner. The dining area is partially closed but, if it's cold, the staff will have heaters, blankets and hot drinks to keep you warm.
Bring your appetite! Dinner includes a generous portion of steak, salmon, hamburger, or veggie burger served with beans, garlic bread, corn on the cob, and coleslaw. Did I mention peach cobbler with vanilla ice cream?
Enjoy every bite while Alvie Self mesmerizes you with trail songs and stories. It's such a special treat to hear him perform – he's a member of both the Western Swing and Rockabilly Halls of Fame!
Other Things to Do at M Diamond Ranch
If you love the guesthouse as much as I did, maybe you'll want to stay another day. There's plenty of other adventures to enjoy at M Diamond Ranch such as:
Hiking
Offroading: AZ Offroad Tours offers small group (<6 people) tours that leave right from M Diamond Ranch.
More horseback riding
Verde Valley Wine Tasting
Did you know that Arizona is an up-and-coming wine growing region? Yep, and the growing conditions mimic parts of France and Argentina. Popular varietals include Mouvedre, Syrah, Grenache, Graciano, Cabernet and Tannat.
Sedona and the surrounding Verde Valley is dotted with vineyards and tasting rooms which are a must-visit on your Arizona road trip! Honestly, I was surprised by the variety and quality of wines I tasted.
While you're planning your visit, here are some great tips on how not to ruin a day of wine tasting.
Where to Stay in the Verde Valley
There are plenty of adorable B&B's you can stay in throughout the Verde Valley. However, I recommend staying in Sedona (see recommendations above).
If you want a more outdoorsy or low-cost experience, check out one of these awesome camping sites in Arizona's wine country!
There are several wine tasting tours to choose from in the Verde Valley. Jim, owner of Wine Tours of Sedona, not only offers wine tours but is also a hiking guide. He has a great appreciation for the outdoors and the history of the area – all of which he'll share with you!
Pro Tip: Love dogs? When you make your reservation, let Jim know you want his adorable dog, White Paw, to come along! Also, get a discount if you bring your dog with you.
Jim offers convenient pick up at your hotel and the option to customize your tour to meet your needs. After our first stop, we talked about which wines we liked the most and then made a plan from there!
Here are the wineries I visited with Wine Tours of Sedona.
If you love learning about the wines, vineyards, pairings and stories behind the wineries, this is the perfect place for you. I felt like I was getting the inside scoop from Brian, the co-owner, as I enjoyed my Arizona Red Flight.
Because their tasting room is not associated with a specific winery or vineyard, Art of Wine offers a broad spectrum of all that Arizona wines have to offer.
Maybe it's because the owner's an airline pilot, but I fell in love with the 2009 Rancho Rossa Cabernet.
Walking into the Alcantara Tasting Room feels like you're walking into a friend's kitchen. Maybe it's because it used to be home of owners Barbara and Bob. During the winter, cozy up next to the fireplace. For the rest of the year, sip outside and enjoy live music on their patio.
For the tasting, select five wines from their list. One of their signature blends is the Confluence X which is a blend of Syrah, Merlot, Cabernet, Pinot Noir and Petite Syrah. The inspiration for the name comes from the confluence (merge) of Oak Creek into the Verde River along their vineyard.
While the grounds are gorgeous, the Alcantara wines were not my favorite of the day. However, they were voted the best Mouvedre in Arizona in 2017, so what do I know? I would go back again in the summer months and give it another try.
Javelina Leap | Uptown Sedona
This tasting room is nestled inside of an adorable coffee shop with amazing views of the red rocks right in the heart of Sedona. Unfortunately, the tasting room was closed on the day I was there (Tuesday), but I would definitely go back.
The quirky art on Chateau Tumbleweed's wine labels translates seamlessly into the vibe of their tasting room.
The Mixed Flight includes a little surprise. The Fort of Stinkbeast is fortified with local brandy and so delicious that I brought a bottle home with me. Other varietals include Sangiovese, Tempranillo, Grenache, Graciano, and Malbec.
Sadly, Chateau Tumbleweed is not yet distributed outside of Arizona, so you'll just have to go visit them in person!
Burning Tree Cellars | Old Town Cottonwood
No Verde Valley wine tasting trip is complete without a stop in Old Town Cottonwood.
The Burning Tree Cellars tasting room is warm and inviting with comfy leather sofas and chairs. Despite the fact that we walked in just before the tasting room closed, Barbara did an amazing job patiently telling me about each wine.
They produce their wines in small batches, making each tasting experience unique. I enjoyed their Rose B, which is a rose made with Syrah, Grenache and Viognier varietals.
Where to Eat in the Verde Valley
If you're looking for a bite to eat while you're out wine tasting in the Verde Valley, here are a few options. I personally have not eaten at them, but they came recommended by the employees at the wineries.
Up the Creek Bistro & Wine Bar: What once was a 1950's gas station is now a new American restaurant and wine bar nestled right up against Oak Creek. Located in Page Springs, near Alcantara.
Juanita's Taqueria: This unassuming taqueria came highly recommended by the staff at nearby Chateau Tumbleweed. Located in Cottonwood.
Verde Lea Market Deli and Grill: A locally owned and operated deli featuring burgers, torta, tacos, and more. Located in Cottonwood.
Grand Canyon South Rim
No matter how many times I visit the Grand Canyon, it still takes my breath away. Of course, I needed to see it again on my Arizona road trip.
During the winter, the North Rim of the Grand Canyon is closed to vehicles (open to hikers from the South Rim), so plan to visit the South Rim.
Pro Tip: Looking for more USA bucket list inspiration? Add some of these destinations to your Arizona road trip itinerary!
Getting to Grand Canyon South Rim
Take some time to enjoy the ever-changing scenery on the two and a half hour drive from Sedona. As shown on the map, I recommend taking a slightly slower route on Highway 180. It'll wind through the forest with great views of the nearby mountains. After all, an Arizona road trip is about the journey, not just the destination!
Just outside of the park entrance are several shops and restaurants to visit before continuing on into the park.
Pro Tip: Save time by prepaying your park entry fee on your phone and just show them your electronic pass.

Park Pass: $35, valid for 7 days.
Where to Stay at Grand Canyon South Rim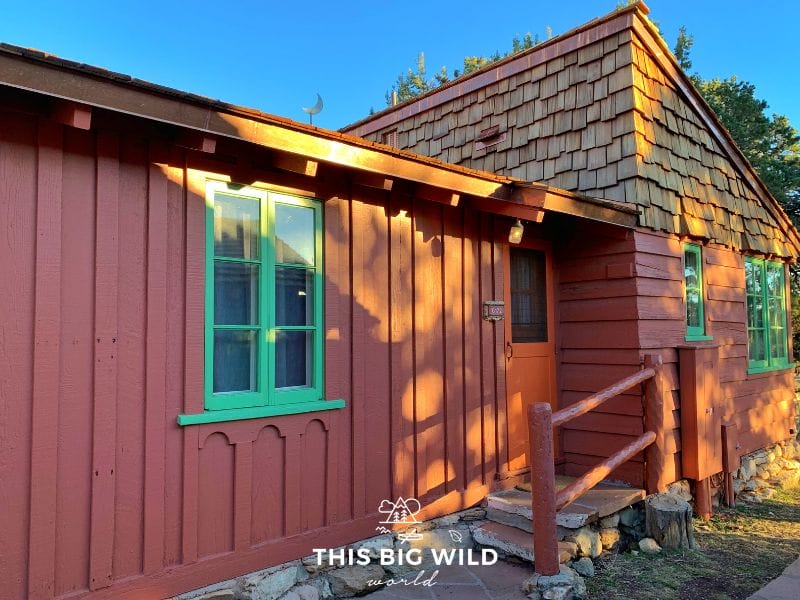 In the summer months, it's nearly impossible to get a room close to the rim of the canyon (seriously, book many months in advance). But, in the winter that's not a problem! Obviously, camping is also an option, but temperatures are quite cold in the winter.
The Village is a cluster of lodges and restaurant inside the park. If you are able to stay here I highly recommend it. You'll be just steps from the rim with amazing views of the sunset and sunrise.

When staying in the Grand Canyon Village you have two main decisions to make: your budget and how much privacy you want.
Out of all of the lodging options, I chose the Bright Angel cabins.
Positives: Low to mid-range of pricing, private bathroom, steps from the rim, adorably finished, comfortable. This property is part of the Historic Hotels of America.
Negatives: Thin walls (light sleepers beware!), little to no wifi in the cabins.
For an even more affordable option, try a lodge room at Bright Angel. These rooms have shared restrooms and no tv, but who needs one with the Grand Canyon nearby?
Things to Do at Grand Canyon South Rim
Be sure to stop in at the Grand Canyon Visitor Center Complex to check the trail conditions. While you're there, explore the visitor center, park store, rent a bike, stop at the cafe, hop on a shuttle and use the restrooms.
In the winter, there are loads of parking spaces but during the warmer months, parking here can fill up quickly. In this case, continue onward to the next shuttle stop (see more below on free shuttles).
Hike the South Kaibab Trail
Passenger vehicles are not allowed to the Kaibab or Yaki point trailheads, but there is a free shuttle. The shuttles stop running one hour after sunset, so plan accordingly.
From the Visitor Center, the eastbound (Kaibab) orange shuttle (Kaibab/ Rim Route) will drop you at the trailhead. Alternatively, you can walk about two miles along the paved Rim Trail instead.
Be sure to top off your water bottles at the trailhead before heading down into the canyon. In winter, the first quarter mile may be icy. Take your time, and stay close to the wall. After this section, the trail will likely be clear (again, check with a ranger beforehand).
Hike as far you're comfortable. Two great turnaround points are at Cedar Ridge (1.5 miles) or Skeleton Point (3.0 miles). Cedar Ridge has a beautiful lookout with 360-degree views of the canyon (also a pit toilet). Here are some details to help you plan your South Kaibab trail hike.
Take time to enjoy the view from the belly of the canyon. It's hard to describe how massive an up to 18 mile wide and one mile deep canyon looks, so I'll let my photos do the explaining. Look at all those layers of rock – some are from as long as 1600 million years ago!
Walk the Rim Trail
This paved trail extends nearly 13 miles along the rim of the canyon with several lookout points and signposts. Look for adorable mule deer munching on vegetation along the way!
Enjoy Sunset & Sunrise
As the sun sets behind you, the colors of the rocks come alive. Before 6pm in winter, you can view the sunset from the balcony at the Kolb Studio and Lookout Studio. In the morning, make a cup of coffee in your room and step out to enjoy the sunrise as it hits the canyon!
Visit Desert View Watchtower
Before you start driving, please note that the watchtower is 24 miles from the Village! I recommend stopping here on your way out of the park as you drive towards Cameron. Whether or not you climb to the Observation Deck, the views of the Colorado River from the Watchtower are incredible.
Relax
After dinner, take a walk along the rim. Let your eyes adjust and take in the view at night! Head over to El Tovar and enjoy a drink in their lounge or listen to a live musician play in the lobby.
Night Photography
If you're staying right on the rim, grab your tripod and snap some shots of the night sky over the canyon. Can you believe no one else was outside enjoying this view?!
Where to Eat at Grand Canyon South Rim
Truthfully, I had low expectations for dining options in the Village. But, I was pleasantly surprised! As a bonus, all of the Grand Canyon National Park Lodges feature sustainable and locally sourced ingredients that encourage a healthy lifestyle.
Harvey House Cafe: This low to mid-range sit down restaurant has a good mix of options. Located in Bright Angel. The Brighty's Turkey Burger with a side salad hit the spot after hiking!
Harvey House Tavern: Full bar with a limited menu of appetizers. Located in Bright Angel.
The Arizona Room: Low to mid-range sit down restaurant with awesome views of the canyon. Perfect for breakfast. Located in Bright Angel.
El Tovar Dining Room: Fine dining with a price to match. If you're feeling fancy, this is a great option but be sure you have a reservation!
Cameron
From the Desert View Watchtower, continue on Highway 64 towards Cameron. An Arizona road trip isn't complete without a stop at a Trading Post and Cameron's happens to also have some amazing Navajo tacos. Imagine fry bread as big as the plate, loaded up with all the taco fillings! Don't make the same mistake I did and order one all for yourself. These are made to share!
From Cameron, head south towards Sedona and on to Phoenix or wherever your next destination may be. Not ready for your Arizona road trip to be over? Continue on to either LA or Denver with this southwest US road trip route, which happens to go right through Sedona!
An Adventure-Packed Arizona Road Trip
In just five days, you can enjoy all of these adventures on your Arizona road trip. Honestly, I wouldn't change anything about my itinerary or route except to add more time so I could visit Page. I guess I'll have to go back again! 🙂
Disclaimer: I was hosted by M Diamond Ranch and Wine Tours of Sedona as a guest. My opinions, however, are my own. I am under no obligation to write a positive review.
Love this post? Pin it!