Beirut is a city of extremes. New and old, prosperity and devastation, luxury and poverty, modest and progressive. The city left me feeling energized and intrigued to know more about its storied history and hopeful future.
As with any large city, Beirut's fabric is woven with the vibrant colors of its neighborhoods. These Beirut neighborhoods bring the city's rich history to life.
Find out what each of Beirut's most awesome neighborhoods has to offer as you plan your Lebanon itinerary!
Disclosure: This post contains affiliate links. That means that if you purchase through a link, I may receive a small commission at no extra cost to you. For more info, visit this page.
Beirut: Know Before You Go
If there's one thing you take away from this post, let it be this:
"As a white American Christian woman, I felt incredibly safe the entire time I was in Lebanon. Not only did I feel safe, I felt welcome."
Sure Lebanon, and specifically Beirut, has experienced a history of conflict. And yes, there are military guards with weapons stationed throughout the city. But they are there to keep the peace, and I can't fault them for that. Don't let this color your experience.
Aside from that, there are a few other things that surprised me about Beirut, including:
Both American dollars and Lebanese pounds are widely accepted. Most places will ask you what currency you wish to pay in.
Arabic, French and English are all commonly spoken.
Lastly, there are Syrian children who are refugees begging on the streets in some areas of the city. It's heartbreaking but, from my research, although government assistance is provided to refugees, these children are often part of an abusive child labor practice. Giving them money only reinforces this practice. Should you offer anything, food and clothing is recommended as the best option.
Beirut: How to Get Around
Traffic in Beirut is, well, chaotic. Traveling by car or taxi might literally be slower than walking. So, if you're able, I highly recommend walking wherever possible. All of the neighborhoods in this post are within 45 minutes walking distance of each other.
Other transportation options include:
Uber: Experienced long waits (like 45+ minutes), generally cheaper than a taxi, requires cell phone service
Taxi: Readily available, language barrier can be challenging
Private Driver: Better for going longer distances, such as day trips from Beirut
Beirut Neighborhoods: Hamra (West Beirut)
There's no denying that Hamra has an energy about it. The narrow streets of this Beirut neighborhood are lined with cafes, restaurants and shops, making it a wonderful place to just wander. Nearly any hour of the day, the sidewalks will be bustling.
Hamra is home to the American University of Beirut, bringing with it a younger, intellectual crowd and a vibrant mix of cultures. There are visual reminders of Beirut's history throughout Hamra. Just across from a brand new boutique hotel are apartment buildings with bullet holes in the facade, remnants of the city's past.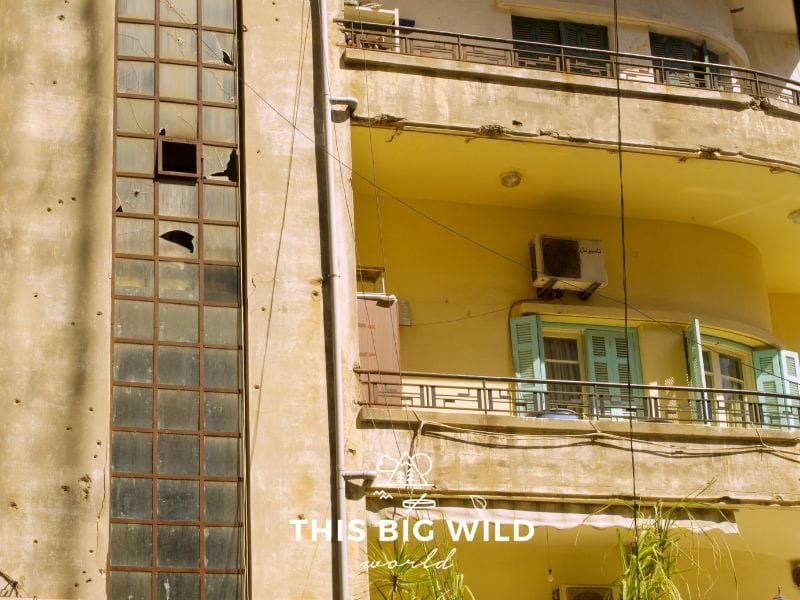 Of all the Beirut neighborhoods, I recommend staying in Hamra. For low to mid-range price, it's central location offers easy walking access to all of the best places to visit in Beirut. Check prices on accommodation in Hamra here! I stayed at Studio 44 and loved it. Each room has a small kitchenette, so you don't have to eat out for every meal. There's a grocery store immediately next door.
Pro Tip: If you want value-priced, delicious Lebanese takeaway visit Fortina on Baalbek Street. The employees are SO friendly and accomodating. I went here so many times that the employees asked to take a photo with me on my last night! My fave items were the mutable (eggplant dip), garlic labneh (yogurt dip) and kebab sandwich with all the toppings.
Pro Tip: Next to Fortina is a small shop that sells bite sized pastries with all sorts of fillings and quite possibly the most friendly shop owner in history. Every night I got at least one meat filled pastry (which I called meat candy) for 1,000 LBP each (~$0.70USD).
Hamra Summary
Main Street: Rue de Hamra
Price: Low to mid-range
Features: Restaurants, cafes, shopping, culture, campus
Beirut Neighborhoods: Raouché
Just south of Hamra, is the gorgeous seaside neighborhood of Raouché. While you may not have heard of this neighborhood, you've probably seen photos of the iconic Corniche rock formation.
This Beirut neighborhood is also known for the promenade which wraps along the coast. Find a table at one of the many cliffside restaurants and enjoy a stunning sunset with a cocktail and shisha. This is also a great place to jog if you want to burn off some calories!
Pro Tip: Tables along the water fill up quickly at sunset. Try to grab a table about an hour before sunset if you want a good view! I loved the view from Bay Rock right on the promenade.
Raouché is one of the more expensive neighborhoods in Beirut. Across from the promenade you'll find modern skyscrapers and pricey hotels. If you want to splurge and wake up to the seaside views, this is a great place to stay. Check prices on places to stay in Raouché.
Pro Tip: You can hike down a small path to get a different view of the Corniche. Watch your step though, there is glass along the trail.
Raouché Summary
Main Street: Avenue de Paris
Price: High end
Features: Promenade, rock formation, seaside restaurants and views
Beirut Neighborhoods: Achrafiyeh
Talk about startling transitions, the buzzing energy of Hamra takes you into the sleepy and somewhat indulgent Achrafiyeh. This neighborhood in Beirut has an intriguing combination of grand estates and elegant new buildings. It just feels expensive and grand, even from the sidewalk.
Achrafiyah has an interesting history. Decades ago it was farmland for Beirut's elite families. At one time it was the Christian area of the city. Even today, there are a number of christian and orthodox churches scattered throughout the neighborhood. Much of the area was devastated during the Lebanese civil war. Now mostly rebuilt, Achrafiyeh is a mix of historic estates, new development, and modern art galleries.
Visit Sassine Square and the Sursock House. On the edge of Achrafiyeh is the National Museum of Beirut (see details below in Badaro).
Achrafiyeh can also be a bit of splurge. You can check prices on places to stay in Achrafiyeh here.
Achrafiyeh Summary
Main Street: Independance
Price: High end
Features: Christian and Orthodox churches, historic estates, modern art galleries, museums
Beirut Neighborhoods: Badaro
If you're looking for a quieter corner of Beirut to stay in, Badaro is a great option. The sidewalk cafes along Badaro Street are the perfect place to relax. Nearby, is the National Museum of Beirut which features archaeological Phoenician artifacts. The museum also played a unique role during the Lebanese civil war serving as the demarcation line separating the two sides.
Also in Badaro is the largest park in the city, called Horsh Beirut.
Badaro Summary
Main Street: Badaro Street
Price: Mid-range
Features: Quiet neighborhood, cafes, park, museums
Beirut Neighborhoods: Gemmayzeh
In the early 2000's, Gemmayzeh was the hipster destination. It was the first of Beirut's eastern neighborhoods to gentrify, drawing a young hip crowd to its restaurants, bars, and locally owned shops. Today, other nearby neighborhoods have become the new hipster destination, but Gemmayzeh still holds its own as a Beirut neighborhood not to be missed.
If you love street art, cozy lounges, and intimate cafes (including a cat cafe), then Gemmayzeh is for you. The neighborhood centers around Gouraud Street and on either side are seemingly never-ending staircases that take you into the more residential areas.
Pro Tip: From Gouraud Street, look towards downtown to get a glimpse of the iconic blue dome of the Mohammed al-Amin mosque.
I'm usually not one to pick favorites, but this was my favorite neighborhood in Beirut. Gemmayzeh just exudes good vibes – couples intimately whispering to each other, friends laughing over afternoon cocktails, thirty somethings sipping coffee while lost in a book.
Gemmayzeh Summary
Main Street: Gouraud St
Price: Mid-range
Features: Dining, drinking, cafes, nightlife, shops
Beirut Neighborhoods: Mar Mikhaël
As gentrification moved eastward, the Mar Mikhaël neighborhood exploded as the newest hipster and nightlife destination in Beirut sometime around 2010-12. Head to Armenia Street for a cocktail, or dip around to the alley behind Armenia Street for a bite to eat.
Mar Mikhaël is the place to party, dance and have fun. All the reasons that make it a fun place to hang out, make it not the best place to stay. I'd recommend Hamra, or nearby Gemmayzeh as quieter options.
Mar Mikhaël Summary
Main Street: Armenia Street
Price: Mid-range
Features: Cocktails, nightlife, dancing, shopping
Beirut Neighborhoods: Downtown (City Centre)
Downtown Beirut is located between Achrafiyeh and Gemmayzeh. It's an unexpected collision of two different worlds. From trendy shopping and brand new condo buildings to ruins that date to pre-Roman times, Downtown has it all.
The Lebanese civil war (1975-1990) devastated Downtown Beirut. Today, the area has been mostly redeveloped into a thriving and modern city, but symbols of the city's past remain. The concrete shell of the once glamorous Holiday Inn hotel which became the center of a hostile takeover that resulted in more than 1000 deaths still stands, surrounded by fences and armed guards.
Visitors flock to downtown to visit the Beirut souks, an open air high-end shopping mall, and the Mohammed Al Amin mosque. The mosque is an incredible sight from the outside, but the inside is worth seeing as well.
Pro Tip: The inside of the Mohammed Al Amin mosque is open to visitors outside of daily prayer times. There are black cloaks and head coverings available for visitors to wear for free if you're not appropriately covered.
Just steps away from the mosque you will find Saint Georges Maronite Cathedral, Saint George Greek Orthodox Cathedral, St Elias Greek Catholic Cathedral, and Al Nourieh (Lady of the Light) Shrine. All are open to the public.
Other notable things to see in Downtown Beirut include the ancient Roman bath ruins, Lebanese Parliament (which is heavily guarded and secured), Martyr's Square, and Nijmeh Square. Nijmeh Square has several restaurants and cafes if you need to recharge or just enjoy some afternoon shisha.
Check prices on great places to stay in Downtown Beirut.
Downtown Beirut Summary
Main Street: Waygand Street
Price: Mid-range
Features: Shopping, history, ruins, places of religious worship
Which of the Beirut Neighborhoods Will You Explore?
Hopefully, all of them! When I left Beirut, I couldn't shake the feeling that I could see myself living there someday. The city truly has so much to offer and is the perfect base to use to explore Lebanon and other countries in the Middle East like Jordan.
Related content to read next:
Best Day Trips from Beirut Lebanon
11 Things to Know Before Your Wadi Rum Jeep Tour
How to Visit Petra Like a Boss
Did you find this article helpful? Save it for later or share it on social media!