There are so many beautiful and hidden waterfalls in Minnesota to discover. And, in true Minnesota style, we enjoy them all year round. Sure, you can find many frozen waterfalls on the north shore of Lake Superior but you can also find them right in the heart of the Twin Cities. Here are the best frozen waterfalls near Minneapolis and St Paul.
Disclosure: This post contains affiliate links. That means that if you purchase through a link, I may receive a small commission at no extra cost to you. For more info, visit this page.
When is the Best Time to Visit a Frozen Waterfall in Minnesota?
Obviously the weather and conditions vary every year but in general the waterfalls in Minnesota are frozen by mid-January. If they aren't completely frozen by then, they'll be partially frozen with some water still flowing (which is also cool to see!).
Pro Tip: For the greatest chance of seeing the waterfalls in Minnesota completely frozen, visit them in late January or February.
Safety Tips for Visiting Frozen Waterfalls/ what to bring?
This probably won't surprise you, but there's often a lot of ice in the area surrounding frozen waterfalls. So, between the cold temperatures and icy conditions it's important to be prepared. Here are some of the risks to be aware of while hiking to frozen waterfalls and tips on how to address them.
Icy Terrain or Steps
Many of the frozen waterfalls near Minneapolis have steps to the bottom that are often covered in ice. Always use a handrail if available and keep both hands both out of your pockets for balance.
Also, I strongly recommend purchasing some microspikes. These fit over your hiking boots or shoes and have tiny spikes or other shapes that help you get a good grip when walking on icy terrain. Here are microspikes that I recommend.
Walking on Frozen River, Lake, Stream
In some instances, accessing the frozen waterfalls will require you to walk on the frozen surface of a river, stream, or lake. Be extremely cautious when doing so. When possible, hike on the shore.
If you must walk onto the frozen surface, assess the situation. Has the temperature been warmer over the last few days or week (20F or above)? Can you see cracks or thin spots in the ice? Can you hear an echo when you step on the ice? If you said yes to any of these don't walk on the frozen surface. If you do decide to walk on the frozen surface, stay close to the shore.
If you are concerned about staying warm, check out my full list of what to wear while winter hiking.
Best Frozen Waterfalls Near Twin Cities
These frozen waterfalls are listed closest to farthest distance from the Twin Cities. The Google Map below shows the location for each waterfall and, where appropriate, the best parking spot as well!
1 | Minnehaha Falls – Minneapolis
The most popular and accessible frozen waterfall near Minneapolis is easily Minnehaha Falls. It's located a short walk from the Minnehaha Park light rail station and has loads of parking, including pay parking lots and street parking.
Get a view of Minnehaha Falls frozen from the paved area above the falls. If you want a view from the bottom, there are steps but they are almost always covered in ice. The frozen falls creates a cool ice cave behind it but note that it is illegal to go off the designated trails and onto the ice. There will be people doing this anyway but it's very unsafe and, again, illegal.
Cost: Free, unless you pay for parking or light rail
2 | Bridal Veil Falls – Minneapolis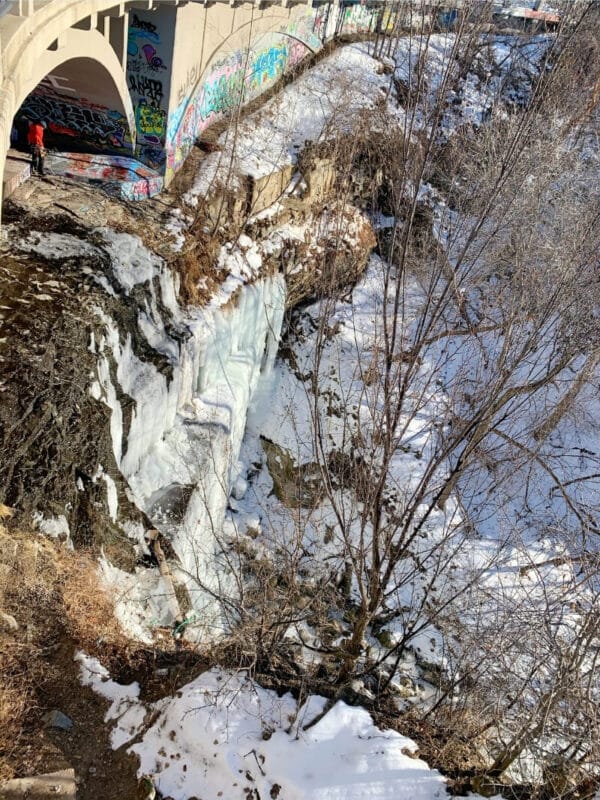 Accessible via a stairway down from the Franklin Avenue bridge and a short trail along the river, the 100 foot tall Bridal Veil Falls is a popular spot for ice climbers. This frozen waterfall is right on public transit or parking is available naerby at the East River Flats Park. As an alternative to the stairs, there is a viewing platform and sidewalk available just above the falls.
Bridal Veil Falls is a relatively small waterfall as far as volume of water, but its long drop towards the Mississippi River and urban location make it unique!
Cost: Free
3 | Shadow Falls – St. Paul
This little gem is hidden away at the end of Summit Avenue in St Paul. There is a small parking lot near the historical marker on Mississippi River Blvd near where Summit Avenue ends. Since I haven't visited in summer I wasn't sure where the official trail is located. But, from the historical marker there is a small set of steps down to a trail towards the Mississippi River and then turns to follow the stream below towards Summit Avenue.
There was not a clear or easy path to get down to the base of the falls. Do not attempt doing so if you don't have microspikes as it is very steep to get down there.
Cost: Free
4 | Boom Site Falls – Stillwater
Located about 40 minutes from the Twin Cities, Stillwater is a place for a short day trip to explore. Find parking at the Boom Site historical marker (not the marina). From the parking lot (on the left if you are facing the water) is a set of stairs. At the bottom of the stairs, you can go right for a very creepy cave or left towards the waterfall.
For most of the 1-½ mile frozen waterfall hike, there is a path on land that you can follow along the base of the rock formation. If the St Croix River is frozen, you can also walk along the shoreline there. The waterfall is set back from the river just past where the limestone rock formation turns inland.
Pro Tip: Fairy Falls is another frozen waterfall in Stillwater but it's been marked as 'closed' on AllTrails. From what I understand, the trail is very narrow so it was closed for Covid reasons and that because it's located in a neighborhood there was some dispute about using their street parking. After doing additional research, I learned that it is very unsafe to access the bottom of the falls in the winter and the view is limited from the top. So, best to give this a pass for now!
5 | Nerstrand-Big Woods State Park – Nerstrand
About an hour south of Minneapolis, Nerstrand-Big Woods State Park is home to Hidden Falls. The one mile loop descends down to the waterfall from the parking lot and includes some steps and boardwalks. As a result, this hike may be challenging without microspikes.
During summer, Hidden Falls can be absolutely packed with people playing in the water and enjoying the view. Visiting to see the frozen Hidden Falls in winter is much more calm experience.
While you're there, enjoy some winter hiking along the other trails in Nerstrand-Big Woods State Park.
Cost: Minnesota State Park permit is required. Buy a day pass ($7) or annual pass ($35).
6 | Vermillion Falls – Hastings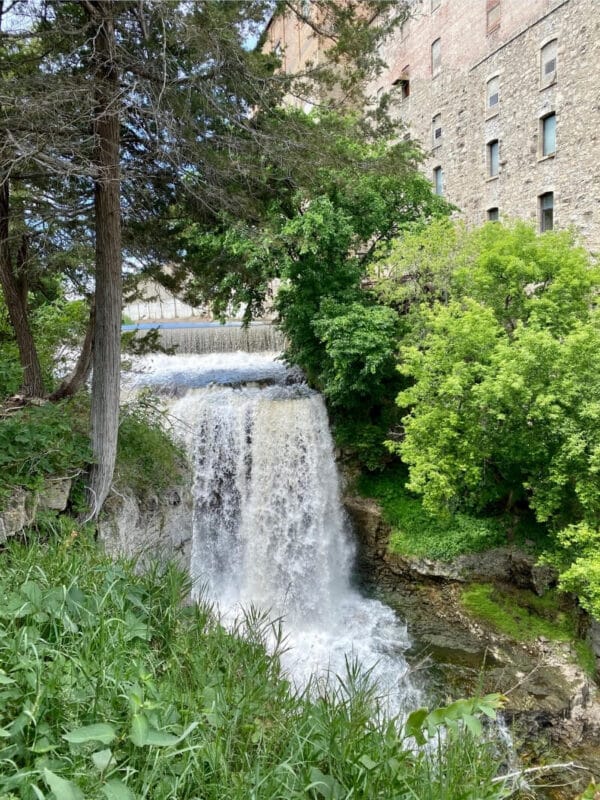 Located in downtown Hastings, Vermillion Falls is an easy to access urban waterfall. There's a parking lot close to an observation deck with a view of the falls. If you want a better view, there is a well-worn path through the trees and limestone. Note that this is not a maintained or official trail and the Hastings Tourism Bureau advises to access from the observation deck only.
Cost: Free
7 | Minneopa State Park – Mankato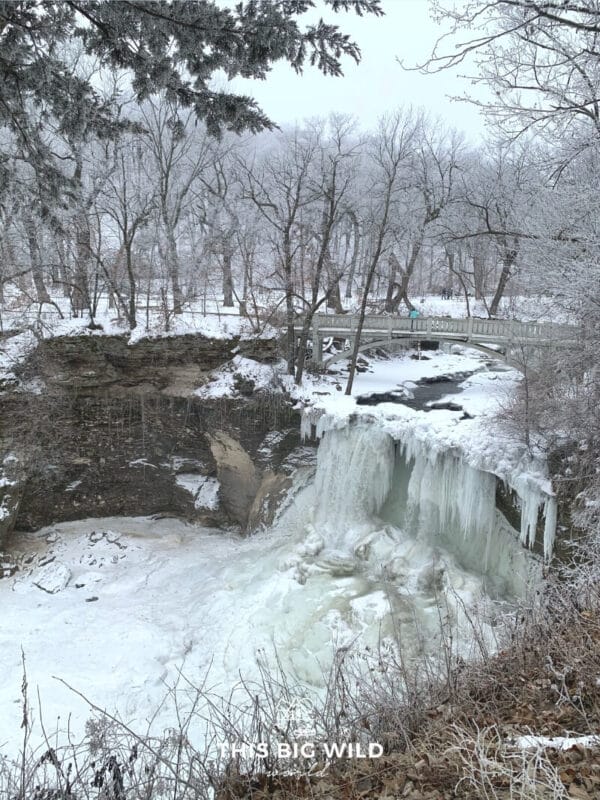 Located about 90 minutes from Minneapolis near Mankato, Minneopa State Park has one of the most breathtaking frozen waterfalls in Minnesota. The park has multiple entrances, but the waterfall can be found at the entrance by the park office. The hike is short, about a half mile, and paved but icy.
If you want to get up close with the frozen Minneopa Falls, take the big set of steps down to the bottom, across the footbridge and hike along the shoreline or on the frozen surface.
Pro Tip: While at Minneopa State Park, be sure to visit the Bison Enclosure on the other side of the park. This is a self-drive experience on a dirt road through the enclosure where you can get a glimpse at the herd. Turn your radio to 1610AM for information about the history of bison conservation and the relationship between bison and the Lakota people in Minnesota.
Cost: Minnesota State Park permit is required. Buy a day pass ($7) or annual pass ($35).
Pro Tip: Just 15 minutes from Minneopa is Triple Falls, which is located next to Kato Cycle Club at the end of a long and windy dirt road. You can park just before their gate and hike down to Triple Falls from there. Follow Google Maps to Kato Cycle Club but then follow the signs to keep driving down the dirt road until you reach their gate.
More Frozen Waterfalls Near Minneapolis
If you want more frozen waterfalls near Minneapolis and St Paul, take a drive across the nearby border into Wisconsin. I added three bonus frozen waterfalls to the Google Map embedded above, including: Hidden Falls (St Paul), Minnemishinona Falls (Mankato), and Willow Falls (Hudson, WI)!
The real question is – which of these frozen Minnesota waterfalls will you visit first?
Related content to read next:
10 Best Twin Cities Cross Country Skiing Destinations
What to Wear for Winter Hiking
10 Outdoor Adventures for Your Minnesota Bucket List
Did you find this article helpful? Save it for later or share it on social media!