Glacier National Park is more beautiful in person than I ever could have imagined. I don't believe there's a single trail that's anything less than breathtaking. So, honestly, when choosing your hikes, you can't go wrong if you're looking for a good view. That being said, the trails do vary significantly in difficulty. I recommend hikers make difficulty a primary consideration when selecting trails.
Iceberg Lake Trail in Glacier National Park is a great option for hikers of any experience level. The trail has a very gradual incline, sweeping views of the valley and surrounding Lewis Range, waterfalls, and wildflowers lining the trail in the warmer months. This is what makes it one of the best hikes in Glacier National Park!
Disclosure: This post contains affiliate links. That means that if you purchase through a link, I may receive a small commission at no extra cost to you. For more info, visit this page.
Iceberg Lake Trail Basics
Distance:

4.7 miles one way, 9.4 miles roundtrip

Vertical Gain:

1200 feet, very gradual incline

Trailhead:

Swiftcurrent Motor Lodge at Many Glacier campsite

Difficulty:

Moderate (distance, sun exposure, bear activity)

Recommended Start Time: 7-8am
Time on the Trail: 5-8 hours

Iceberg Lake Trail Highlights
The first half mile of the trail is steepest section. Once you're past this, the trail is reasonably flat so don't let the first section discourage you. From there, the trail follows the ridge to Iceberg Lake which is nestled between Mt Wilbur and Iceberg Peak.
During my visit in late July, the trail was lined with bear grass, wildflowers and huckleberries that were just beginning to bloom. The early morning glow on the wildflowers was gorgeous. About halfway to Iceberg Lake (approx. 2.5 miles), you'll find Ptarmigan Creek and Falls, which is a perfect rest stop. Keep an eye out for wildlife around here. One woman told us she saw a moose hiding behind a tree along the trail nearby! We had this area to ourselves on the way out, but by the time we returned it was quite busy.
As you make the final approach to Iceberg Lake, you'll cross a bridge over a small stream. From there, you'll make your way down a paved walkway towards the lake. I almost didn't even notice the lake in front of me because the reflection from the mountain was so clear! As you get closer, the icy blue icebergs floating in the glassy water reveal themselves.
If you're really daring, go for a dip in the water! There were some people taking the plunge, but it was a bit too cold for me. I put my hands in instead, mostly to make sure this wasn't all a dream.
Iceberg Lake Trail Tips
The trail can be snow-covered even into June. Before heading out on the trail, check on the trail conditions at one of the visitor centers. I have no doubt the views will be just as beautiful throughout the year, though you will want to take additional precautions in snowy conditions.
I strongly recommend hitting the trail early (by 8am), if possible. Due to it's popularity, the trail can become crowded by mid-day. Also, you'll likely get a nice view of the early morning fog that sits low in the valley.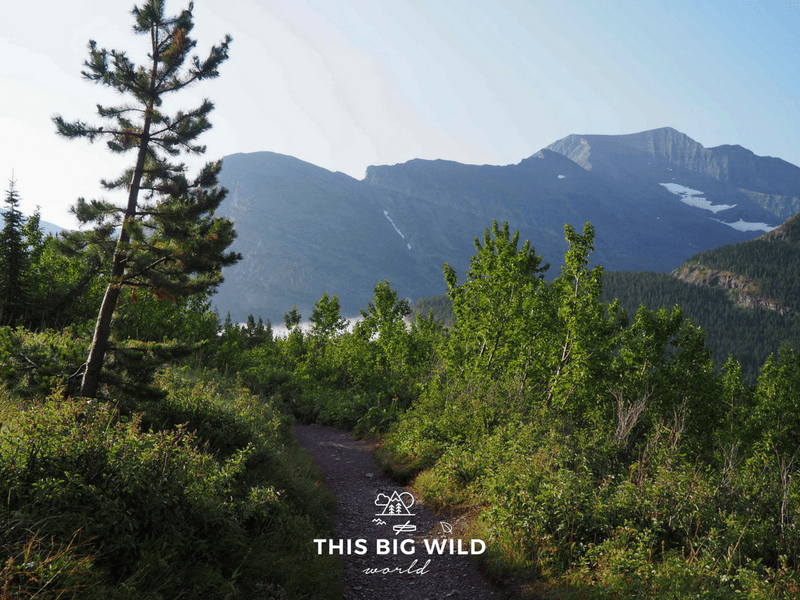 Most of the trail is exposed to sunlight. Even if you leave early, be sure to bring plenty of sunscreen, water and food. As always, pack out any garbage and leave no trace.
One of the unexpected perks of this trail is that there is a pit toilet at the lake. Before going right down the paved path towards the lake, go left for the pit toilet. I was pleasantly surprised by how clean it was and that there was toilet paper available. Regardless, I recommend bringing your own just in case it's not stocked.

Iceberg Lake Trail Safety
While I highly recommend this hike to anyone visiting Glacier National Park, be aware that the trail is frequented by both black and grizzly bears. In fact, just a few days after I left the park, the trail was shutdown due to bear activity. Don't let this scare you away from hiking on the trail, just take the appropriate precautions.
For my full list of bear safety tips, read my how to survive hiking in bear country post!
First, don't surprise the bears. Talk loudly, clap, sing or make whooping noises throughout the hike, especially when you approach blind corners. Second, be sure to have bear spray with you and easily accessible. Before departing on trail, make sure you know how to use the spray! Third, heed the warnings signs and trail closures. The rangers don't post these unless there is a legitimate risk.
Along the lake itself, there are rocks that make the perfect place to enjoy lunch or a snack. Beware the ground squirrels and other animals that will aggressively try to get your food. They are not shy! Although they're very cute, please resist the urge to feed them.
Weather changes rapidly in Glacier National Park. Even if it's bright and sunny when you leave the campsite, I strongly recommend that you bring a rain jacket and small dry bag to protect your electronics. Luckily, I didn't get stuck in the rail on the trail. However, at the campsite, I saw how quickly the sunshine can give way to a downpour.

Is the Iceberg Lake Trail One of the Best Hikes in Glacier National Park?
With over 700 miles of trails in Glacier National Park, it's hard to say. However, as an avid hiker, I found this trail to be very enjoyable and one that I would hike again. If you're a beginning hiker or prefer to avoid steep inclines but still want to experience the diverse landscapes and wildlife of Glacier National Park, this is a great option. If you're a more advanced hiker, this trail offers the unique up close view of the icebergs and a more relaxed (i.e. easier on the legs) experience.
My opinion: Iceberg Lake Trail IS one of the best hikes in Glacier National Park.
Related content to read next:
Day Hike Packing List: A Prepared Girl's Guide (start here!)
Glacier National Park Day Hike Packing List (additional tips!)
How to Plan Your Glacier National Park Camping Trip
Visit the North Dakota Badlands at Theodore Roosevelt National Park
Did you find this article helpful? Save it for later or share it on social media!