I imagined myself paddling next to glaciers with bright blue skies and big fluffy clouds above on my first visit to Alaska. But, while writing about the best US State Parks in every state, I was struck by the images I saw of Chugach State Park near Anchorage. It seemed that Alaska was an outdoor adventurers dream destination.
So, when Delta Airlines had a deal to fly to Anchorage in September, I threw out my hopes of paddling alongside glaciers in exchange for hiking on snow capped mountains surrounded by fall colors. Sometimes plan B is better than plan A.
September is a month of transition for Anchorage and the surrounding area. The cruise ships sail away for the year, the temperatures begin to drop and businesses shift to winter hours. Fear not, my friends, there are still plenty of things to do in Anchorage in September.
Disclosure: This post contains affiliate links. That means that if you purchase through a link, I may receive a small commission at no extra cost to you. For more info, visit this page.
Anchorage Alaska Basics
Although Anchorage is the largest city in Alaska, it doesn't feel like a typical "big city" in the US. It's easy to navigate and the actual city center is quite compact. It's population of around 291,000 people is comparable in size to cities such as Orlando, Florida and Cincinnati, Ohio.
Anchorage is nestled between the Cook Inlet and the surrounding Chugach Mountains. It's location along the water allows for a more moderate climate than you might expect for a city this far north.
Pro Tip: September is among the warmer months in Anchorage, but it's also one of the most rainy periods. Be sure to pack your rain jacket!
Getting to Anchorage from the Airport
Transportation to the city of Anchorage from the Ted Stevens International Airport is super easy and convenient. Because many of the best things to do in Anchorage are just outside of the city, I recommend renting a car if possible. However, there are taxis ($20-25) and city buses ($2), called People Mover, as well. Hotels may offer a free or low cost shuttle service.
Best Things To Do in Anchorage in September
Here's a quick summary of the best things to do in Anchorage in September.
Click the icon on the top right of the map below to view it in detail or click any pin on the map for more information.
Bike the Tony Knowles Coastal Trail
This 11-mile trail wraps along the coastline from downtown Anchorage to Kincaid Park. Enjoy stunning views of Denali, the Cook Inlet and the surrounding mountains. If you're lucky, you may even see bear and moose!
Here are my tips on biking the Tony Knowles Coastal Trail.
Pro Tip: Create your bear safety plan with my tips for hiking in bear country!
Hike Flattop Mountain
There are quite literally hiking trails around every corner in Alaska, but Flattop Mountain is the most summited mountain Alaska. It's easily accessible from downtown Anchorage by car or shuttle. The trail is short and steep but offers stunning views of Anchorage and the surrounding area. Be sure to bring the day hiking essentials with you!
Here are my tips to help you plan your Flattop Mountain hike.
Alaska Native Heritage Center
The Alaska Native Heritage Center shares all about the native traditions and heritage of the eleven major cultural groups indigenous to Alaska. Located in downtown Anchorage, immerse yourself in the native cultures through stortytelling, demonstrations and exhibits.
Pro Tip: The ANHC typically closes in mid-September for the fall/ winter season and re-opens in the spring around Mother's Day (late May). Check the hours on their website prior to your visit.
Cost: $25 per adult
Anchorage Museum
Learn about the story of Alaska, including the Alaska Native cultures, hands-on science center, and an exploration of Alaskan foods. The museum even features incredible works of art from the Smithsonian Institution collections.
Pro Tip: The Anchorage Museum is open daily from 9am-6pm through the end of September. Winter hours begin on October 1st, including closing on Mondays until May 1st.
Cost: $18 per adult
Alaska Railroad
If you're looking for a fun and relaxing way to see Alaska, take a ride on the Alaska Railroad! There is daily service from mid-May to mid-September connecting to Denali and Kenai Fjords National Parks, among other destinations. Beginning in mid-September, the routes and availability are limited. Check the website for the dates you plan to travel (also another reason I recommend renting a car).
Pro Tip: Upgrade to the GoldStar Services for access to glass dome cars and an upper level outdoor viewing space for incredible views of the Alaskan countryside.
Drive Along Seward Highway
Whether you drive all the way to Seward or not (I highly recommend you do), driving a portion of the Seward Highway is a must when visiting Anchorage. With the pristine water of the Cook Inlet on one side and the Chugach National Forest on the other, there's no shortage of stunning views.
Along the road are endless turnouts and trailheads where you can get out and explore on foot. A few of my favorite stops included Bird Creek and Beluga Point.
Pro Tip: Drive the Seward Highway from Anchorage to Seward at golden hour just before sunset for perfect lighting as the sun hits the bright yellow fall leaves.
Ride the Tram or Hike Near Girdwood
This small mountain community is located along the beautiful Turnagain Arm in the northernmost rainforest in the world! Once a gold mining town, Girdwood is now a year round resort community.
The Alyeska Resort has an aerial tram that is open all year round for sweeping views of the surrounding area. The Crow Creek Trail has a 4 mile section to Crow Pass that makes a great option for a day hike.
Close to Girdwood is a short 0.5 mile easy hike called Virgin Creek Falls. The falls are located in the northernmost temperate rainforest in the US!
Drive to the Alaska Wildlife Conservation Center
Located just one hour south of Anchorage along the Old Seward Highway, the Alaska Wildlife Conservation Center offers up close and personal experiences with iconic Alaska's wildlife. This sanctuary is dedicated to preservation through "conservation, education, research and quality animal care."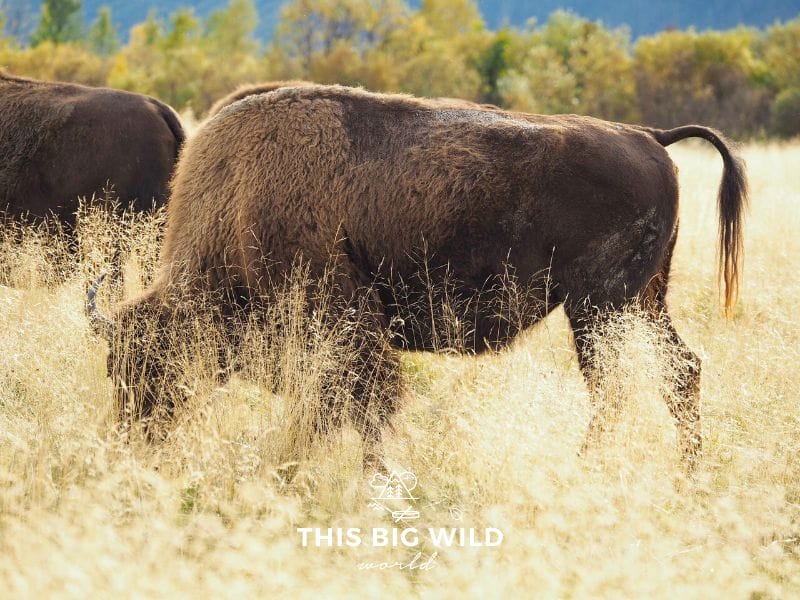 Drive yourself through the park or park at the gift shop and walk the route. See bison, musk ox, black bear, moose, and so much more! In addition to general admission, there are daily programs you can join as well.
Cost: $16 for adults
Hike to the Top of Bodenburg Butte
Just a 45 minute drive from Anchorage, Bodenburg Butte trailhead is located near the city of Palmer. The drive here in the fall is absolutely incredible, so plan extra time to stop along the way!
The hike itself is short (1 to 1-1/2 miles, see below) but very steep and, at times, muddy! As always, you're rewarded with sweeping views of the surrounding Matanuska Valley.
Pro Tip: There are two routes. First, in red, is the shorter 0.9 mile route that is quite steep and not well maintained. This provides access to the "front" of the butte. Second, the dotted line, is the longer 1.5 mile route which provides access to the "back" of the butte and has a more gradual incline. To access the second route, cross the Knik River on the Old Glen Highway and continue for about 4 miles before turning left onto Bodenburg Loop Road after (not before) passing the butte (look for it on your left as you drive). Shortly after that, turn left again onto Mothershead Lane where you'll find a parking area on the right.
Visit the Eagle River Nature Center
The Eagle River Nature Center offers educational programs and exhibits led by a small non-profit organization. The ERNC is open Wednesday through Sunday from May through September and a reduced schedule during the winter months.
But, the trails are always accessible! Grab a trail map near the front door of the Nature Center and enjoy stunning wraparound views of glacially carved mountains.
Pro Tip: Parking is $5 per vehicle with multi-day parking available for up to three days at a discounted rate.
Where to Eat in Anchorage in September
Snow City Cafe | Breakfast, Lunch
Voted the "best breakfast" in Anchorage since 2003, Snow City Cafe is a no-brainer! If breakfast isn't your thing, they also offer soups, sandwiches and other lunch items as well!
International House of Hotdogs | Lunch
I stopped here on the recommendation of the guy at Pablo's Bike Shop in Anchorage and was not disappointed. International House of Hotdogs serves a little slice of heaven in each hot dog bun. Add on a side of smoky chili fries and your mind just might be blown. With all outdoor seating it might be chilly in September, but you'll scarf down this deliciousness before it gets cold!
El Green-go's | Lunch
For all the taco lovers, I strongly recommend El Green-go's! They feature locally sourced Mexican inspired dishes with a good assortment of both vegan and non-vegan options.
So Thai | Lunch, Dinner
After a long day of exploring, I was looking for something light that I could take back to my room. So Thai was the perfect solution! The food was ready in no time, affordable and delicious. The spring rolls were the perfect light and refreshing meal.
49th State Brewing Company | Dinner
Just one block away from Anchorage Downtown Guest Rooms, 49th State Brewing Company features craft beer and an Alaskan inspired bar food menu.
If I'm being honest, my meal was pretty average. But, the atmosphere and large menu has something for everyone, making it perfect for a large group or to watch sports.
Pro Tip: As I ate my average seafood chowder, I had serious food envy for the fried chicken that the person next to me ordered. They gave it two greasy thumbs up!
Pangea Restaurant & Lounge | Dinner
Although I didn't personally have a chance to eat at Pangea, it was strongly recommended to me by a few local women I met on the hiking trail. The menu features cuisine from around the world made with locally sourced ingredients.
Beartooth Theaterpub | Dinner
Beartooth Theaterpub is exactly what it sounds like, a movie theater that is also a pub. As in, you can eat a full meal and drink locally sourced beer while you watch a movie. The menu includes pizza, tacos, burritos and more. There is a kid-friendly section as well as a restaurant only section if you prefer to pass on the movie!
Wild Scoops | Dessert
Did you know that Alaskans eat the most ice cream per person out of all 50 states?! So, you basically have to eat some while visiting Anchorage.
Wild Scoops has over 100 unique flavors of ice cream made with all natural ingredients featuring locally sourced Alaskan flavors and add-ins. During the winter months, they are open every day except Monday.
Pro Tip: Wild Scoops has dairy-free and vegan options, so there's something for everyone!
Double Shovel Cider Co. | Dinner, Drinks
Not a cider person? Think again! As the first micro-cidery in Alaska, Double Shovel Cider Co. just might change your mind. Their unique flavors are feature hand-picked Alaska apples and berries making naturally gluten-free hard ciders that cater to lots of different tastes!
My favorites include the semisweet Grapefruit Lavender and semi-dry Forget-Me-Hopped ciders!
Pro Tip: If you want a bite to eat while you enjoy the cider, check out their Facebook page for the food truck schedule.
Humpy's Great Alaskan Alehouse | Lunch, Dinner
This is the one place I would say to pass on. While Humpy's might be on practically every list of "where to eat in Anchorage", I was underwhelmed.
Humpy's is known for the Alehouse Fish & Chips made with halibut. I couldn't bring myself to cough up $25 for that, so opted for the $16 cod version instead (recommended by the waitress). Maybe I have high standards after living in England for 3 years, but the fish and chips had very little flavor which, for the price, was pretty disappointing.
Where to Stay in Anchorage in September
Anchorage has no shortage of places to stay! From five star hotels in the city center, bed and breakfast on the outskirts of town and a whole lot more, the hardest part will be choosing a place.
Check availability for hotels and B&B's in Anchorage.
Anchorage Downtown Guest Rooms
This incredible find is located right in downtown Anchorage, just steps from the Tony Knowles Coastal Trail and several restaurants listed above. The room I rented was impeccably clean with two queen beds and everything you could possibly need during your stay.
Upon my late evening arrival, the owner Pamela was there to greet me at the door to the building. She is full of energy and so welcoming. Each morning she makes a hot breakfast with local ingredients and delivers it to your room at whatever time you request. My favorite was scrambled eggs with cheese, fresh english muffin with locally sourced jam and a sliced apple. I was ready to hit the trail after that!
I particularly appreciated that the room came with bottles of water, coffee, a fan and a hairdryer! There's also off-street parking available on the property.
Pro Tip: For a slightly lower nightly rate, there are some rooms with detached but private bathrooms. The bathroom is still all yours just a few steps down the hallway!
Check availability at Anchorage Downtown Guest Rooms.
Base Camp Anchorage
It had been years since I had stayed in a hostel, but a fellow blogger raved about Base Camp Anchorage so I decided to stay there for a night. I'm a fan!
With quiet hours that start at 11pm, this is not your typical party hostel. It's a place for outdoor lovers to rest between adventures. They even offer gear for rent if you weren't able to bring yours along!
Base Camp Anchorage is located in mid-town Anchorage, just a short walk to So Thai and other restaurants listed above. There are four-bed coed and female only dorm rooms as well as one private room.
Enjoy free breakfast and fresh organic coffee beans in the fully equipped kitchen and make yourself a meal anytime throughout the day. There's also a wood burning sauna, large backyard, a float tank and free wifi! Seriously, I didn't have enough time to enjoy it all.
Pro Tip: Base Camp Anchorage hostel is open seasonally, closing each year from October through April.
No Shortage of Things To Do in Anchorage in September!
The real question is which of these incredible things will you do first when you visit Anchorage in the fall?!
As I said earlier, sometimes plan B turns out better than plan A. No, I didn't get to paddling around glaciers like I dreamed of doing on my first visit to Alaska. But, seeing Anchorage with its beautiful fall colors and without the crowds was a wonderful and unexpected tradeoff.
Related content to read next:
How to Hike Flattop Mountain Trail in Anchorage
13 Beautiful Places to Stop When Driving from Anchorage to Seward
Essential Guide to Biking the Tony Knowles Coastal Trail in Anchorage
Incredible Things to Do in Seward Alaska in September
Did you find this article helpful? Save it for later or share it on social media!