Learning to Love Winter with Cross-Country Skiing
Each winter I retreat indoors to chug wine, eat all the good things, and complain about Old Man Winter. There are moments where the beauty of winter takes my breath away, but it's more often that the cold of winter literally takes my breath away. The daily reality is icy roads, scraping windshields and one angry dog refusing to poop outside in subzero temperatures. Sound familiar?
This year, I've had enough. It's time that I learn to love the winter and snowfall in Minnesota. Join me as I try to "embrace the cold" with new outdoor winter adventures.
First up, cross-country skiing in Minnesota. Or, as some call it, Nordic skiing.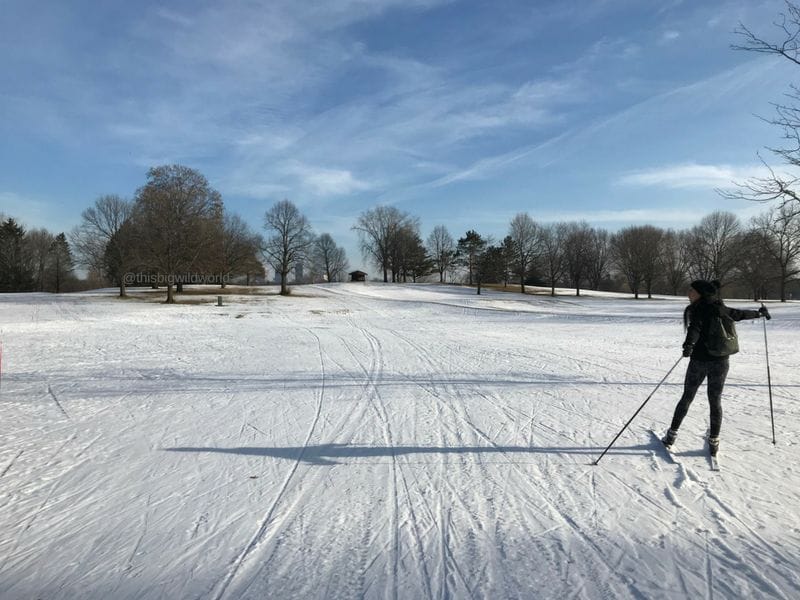 Disclosure: This post contains affiliate links. That means that if you purchase through a link, I may receive a small commission at no extra cost to you. For more info, visit this page.
Why Try Cross-Country Skiing?
There are four reasons why cross-country skiing is worth a try:
It's an incredible full-body workout. Our time is precious, so efficient workouts are a must! You can burn more than 400 calories per hour while cross-country skiing.
You control the intensity level. Just like spin class, you decide how intense your workout will be. Push yourself as hard as you want!
It's low risk of injury. Avoid the risks of fast-paced downhill winter sports by choosing a trail that suits your skill and comfort level.
No mountains required. You can cross-country ski anywhere there's snow.
Cross-Country Skiing in Minnesota (and Tips for First-Timers)
Follow these five simple steps and, with minimal planning, you can be out on the trails in no time. Here's the real deal on my experience, lessons learned and advice for your first cross-country skiing experience.
Step 1: Dress for the temperature.
Cross-country skiing gets your heart pumping and temperature up, so layers are recommended. On the bottom, I wore 2 pairs of running tights under a pair of old snow pants I found in my closet. On top, I layered a wicking workout t-shirt, a long sleeve quarter zip top, and a winter jacket that covered my neck. To finish it off, I wore wool socks, waterproof gloves, and a wool hat. For a 35F day, I was overdressed and ended up taking off my hat and gloves.
Step 2: Rent skis, poles and boots.
Minneapolis has several choices for gear rental. On advice from a friend, I went to Hoigaard's in St. Louis Park, a nearby suburb. A very helpful employee, Andy, had me geared up with cross-country skis, boots and poles in no time.
If you're not in Minneapolis, check your local sporting goods store or the Parks Department for gear rental options. The Minnesota DNR is a great resource for cross-country skiing trails across the state, including cross-country skiing events.
Rental Options in Minneapolis
Step 3: Find a trail.
Because I had done zero planning, I asked Andy at Hoigaard's where to go for my first time cross-country skiing in Minneapolis. He recommended Theodore Wirth Park because it was close-by but also had flat trails around the golf course. This sounded like a perfect place to try cross-country skiing for the first time.
Theodore Wirth Park has over 20 miles of trails to explore and offers beautiful views of the downtown skyline. There's also plenty of free parking available at the Chalet.
For other beginner options, check out the Three Rivers Park District. They offer over 70 miles of groomed trails at more than 10 locations around the Twin Cities.
Step 4: Get a pass.
Many parks that have trails require you to purchase a pass. At Theodore Wirth Park, you can purchase a daily pass at the Chalet, which is located just north of Highway 55 in the park. They have two options for passes, one that includes trails with natural snow and the other with trails that use snow machines. Prices and details are outlined here. For your first time, the flat trails are all on the Natural Snow Trails, which cost only $8 for a daily pass.

Step 5: Have fun on the trail.
Snap a picture of the trail map at the Chalet, grab your gear, and hit the trail! I did the Bridge Trail and Skyline Trails for a total of about 2.5-3.0 kilometers. Don't feel like you have to go out for the entire day, just give it a try and see how you like it.
The technique is, from what I understand, to glide on each ski as if you're walking or ice skating, keeping the skis parallel to each other. Use your poles to keep your momentum, placing them close to your toes as you go and pumping them opposite to your legs.
The nice thing is that the worst that can happen is you tumble over in the cushiony snow. This happened to me about 10 seconds into my first attempt.
Check out this short video of this cross-country skiing experience!
A First-timers Guide to Cross-Country Skiing
For each outdoor winter activity I try, I'll share a scorecard to help you decide if you want to try it yourself.
Embrace the Cold Scorecard: Cross-Country Skiing
Cost:$24
Difficulty: Low (on flat trails)
Duration: 1-2 hours
Would I do it again: Heck yes!
What to bring: ID, form of payment, water, and camera.
Will you join me and embrace the cold?
Love this post? Pin it!