Lebanon is a small country. It's hard to even put its size into perspective. With a population of about 6 million people, the entire country is similar in size to cities such as Atlanta and Toronto. From north to south, the country is just under 70 miles long and east to west, about 28 miles wide.
Don't let its small size fool you! Lebanon is packed with rich history, rugged nature, and vibrant cities like Beirut. It's an incredible country and its size makes it easy to explore.
Beirut's central location on the western coast makes it the ideal base from which to explore Lebanon. These seven amazing daytrips from Beirut are some of the best places in Lebanon!
Pro Tip: You don't have to break the bank visiting Lebanon. Here's a breakdown of costs to travel in Lebanon.
Disclosure: This post contains affiliate links. That means that if you purchase through a link, I may receive a small commission at no extra cost to you. For more info, visit this page.
Discover the Best Places in Lebanon
While I've done my best to estimate driving time between Beirut and each of these locations, traffic in Beirut can vary greatly. I recommend allowing plenty of buffer time in your schedule.
Jeita Grotto
I'm not usually impressed by cave tours, but this daytrip from Beirut blew me away.
After a short cable car ride (included with ticket), explore the Upper Grotto. These two limestone caves have more than 700 meters to explore on foot. Don't worry, it's not claustrophobic. The caves are massive!
From there you can walk down to the Lower Grotto, which can only be explored by row boat. Unfortunately, the water level was too high when I was visiting so I couldn't go inside!
Jeita Grotto is about 30 minutes (14 miles) from central Beirut. From here, I recommend combining this to a visit to Harissa.
Pro Tips: Jeita Grotto is closed on Mondays. Also, no cameras are allowed inside the grotto. There are lockers to store your items and there are guards throughout the grotto to ensure you aren't snapping photos.
Harissa
Love cable cars? Head on to Harissa! Hate cable cars? Ok, still head on to Harissa.
Harissa is located about 1600ft (500m) elevation, above Journieh Bay on the Mediterranean Sea. Find the cable car, or Teleferique, station behind St Louis Hospital. The Teleferique ride lasts about 10 minutes and is about one mile (1.5km) long.
Pro Tip: The ticket office did not accept credit cards or large bills. Be sure to bring small bills with you or plan to pay as a group with a larger bill.
At the top of the cable car, there's another choice to make. Take the short funicular ride up the remainder of the way or opt for the five minute walk. Since there wasn't a line at the funicular, I went with that option. It literally lasted about two minutes.
If cable cars aren't your thing, you can reach Harissa by road as well.
Now that you've reached Harissa, what is there to see?
Harissa is home to Our Lady of Lebanon which is one of the most important shrines in the world honoring the Virgin Mary. It's a popular pilgrimage site for both Christians and Muslims. The large statue of the Virgin Mary is nearly 30ft (9m) tall and depicts her with her hands stretched towards Beirut.
If you're not particularly religious, don't skip Harissa. The sweeping views of Jounieh Bay and the Mediterranean Sea are still well worth the visit!
Harissa is about 30 minutes (18 miles) from Beirut, further north on the coast from Jeita Grotto.
Byblos (also called Jbeil)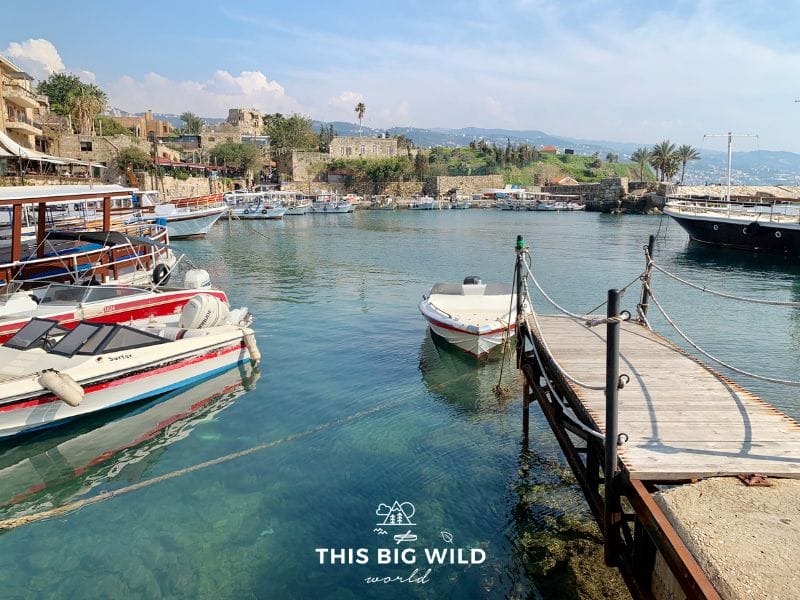 This fishing village is believed to be one of the longest continuously inhabited cities in the world, dating as far back as 5000BC! In fact, Byblos is associated with the creation of today's Phoenician alphabet. It's no wonder it's a Unesco World Heritage Site.
But, Byblos is more than a fishing village! While you're there, wander through the souks to buy some locally made goods (and some touristy stuff too). Take a step back in time in Crusader castle and the surrounding ruins which spread out to the Mediterranean coast.
There are loads of cute restaurants with views of the harbor and coastline. I loved the view and food at Malena Restaurant, which is nestled into the village close to the souks.
Pro Tip: Crusader Castle may not have change for large bills, so be sure to have smaller change.
Byblos is approximately 40 minutes (25 miles) from Beirut and is often combined with a daytrip from Beirut to Jeita Grotto and Harissa.
Qadisha Valley (also Kadisha Valley)
Also, called The Holy Valley, Qadisha Valley is home to a number of monasteries carved and built into the rock walls. Early Christian groups fleeing persecution established themselves in Qadisha, resulting in its nickname.
The last stretch of road that takes you down into the valley is a bit treacherous but the views are some of my favorite of any daytrips from Beirut.
Once you reach the valley, hike between the centuries old monasteries and ruins as you enjoy the surrounding views. Some of the churches are still in regular use today so peek your head inside! If a daytrip from Beirut isn't enough, this is also a popular multi-day hiking and pilgrimage location.
After you've finished exploring the ruins, grab a delicious tapas meal at one of the few restaurants in the valley. I hope you're hungry because the food seems to be never-ending!
Qadisha Valley is about two hours (60 miles) from Beirut. This is often combined with a visit to Baatara Gorge Waterfall or Batroun.
Batroun
The coastal town of Batroun is believed to be one of the oldest cities in the world. Today, though, it's got a hipster vibe and active nightlife. Enjoy the beach scene with a locally made microbrew at Colonel or enjoy Batroun from above at Ixsir Winery.
Batroun is about one hours (35 miles) from Beirut and is often combined with a daytrip to Qadisha Valley.
Baatara Gorge Waterfall
One of the most unexpected daytrips from Beirut was to Baatara gorge waterfall. This waterfall drops more than 800ft (250m) into the Balaa Pothole. This pothole is also known as the Cave of Three Bridges due to the three natural rock bridges.
From the parking lot, hike down several sets of steep steps. As you turn the final corner, you'll get a glimpse of this incredible waterfall.
What blew me away is that there are NO safety railings in place! Also, I read afterward that the natural bridge shown in the photo above is showing signs of failure. So, take extra precaution when visiting this waterfall!
As of today, though, you can carefully walk out onto the uppermost natural bridge and appreciate the waterfall up close.
Pro Tip(s): The waterfall is at its peak in springtime as the snow from the surrounding mountains melts. Also, there is a modern bathroom available near the parking lot.
Baatara Gorge Waterfall is about one and half hours (45 miles) from Beirut. Much of the road to the waterfall is not paved or well maintained so plan extra travel time. This can easily be combined with a daytrip from Beirut to Byblos.
Forest of the Cedars of God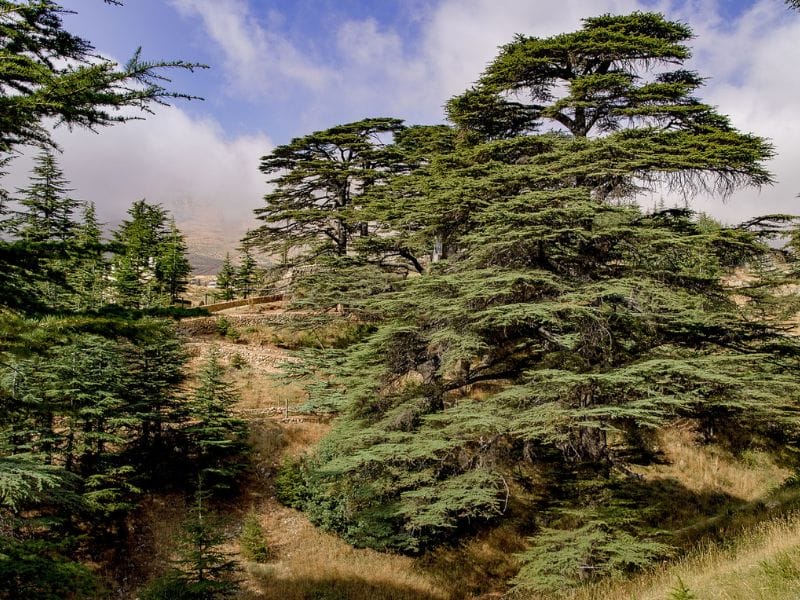 Near Qadisha Valley is the Forest of the Cedars of God, which is home to a small number of remaining ancient Lebanon Cedar trees. When I say ancient, I mean some of the trees are over 3000 years old!
Because these trees offered one of the most treasured building materials of ancient times, the forests began disappearing. The Forest of the Cedars of God houses around 375 of the only remaining Lebanon Cedar trees.
Unfortunately, due to recent bad weather, the Forest of the Cedars of God was closed during my visit so I wasn't able to see them myself.
The Forest of the Cedars of God is about two hours (75 miles) from Beirut and is often combined with daytrips from Beirut to Qadisha Valley, Byblos or Batroun.
Amazing Daytrips from Beirut
So which of these daytrips from Beirut will you do? All of them? Honestly, you can do all of these in just 4 days and still have time to explore the city of Beirut.
Lebanon is a great add-on if you're planning to visit Jordan or other destinations in the Middle East. Read all about visiting Petra, Wadi Rum and my recommended stops for your Jordan itinerary!
Love this post? Pin it!