Why did I sleep on La Crosse Wisconsin for so long? From the top of the bluffs to the rooftop bars, there are so many fun things to do in La Crosse Wisconsin. This small college town is located in the Driftless Region, known for its towering bluffs and unique landscape unlike anywhere else in the upper midwest.
Here's everything you need to plan a weekend getaway in La Crosse!
Disclosure: This post contains affiliate links. That means that if you purchase through a link, I may receive a small commission at no extra cost to you. For more info, visit this page.
Where is La Crosse Wisconsin?
La Crosse is located just 2-½ hours (160 miles) southeast of the Twin Cities and about the same distance northwest of Madison. The city sits along the Mississippi River on the Wisconsin side. The drive to La Crosse from Minneapolis is one of my favorites in the region. Follow the Great River Road along the Mississippi River through adorable towns like Stockholm, Nelson and Red Wing!
La Crosse is part of the Driftless Region, an area that was never covered by glaciers. Instead, melting snow from nearby glaciers was funneled to the Gulf of Mexico through what is today known as the Mississippi River. As a result, the iconic bluffs surrounding the city and throughout the Driftless Region make La Crosse a unique and beautiful place to visit.
Best Places to Stay in La Crosse WI
La Crosse has no shortage of places to stay. In the downtown area you will find nearly every major chain hotel in addition to boutique and regional hotels. La Crosse has a very walkable downtown, so I recommend looking at lodging that is walking distance to the shops and restaurants.
GrandStay Hotel & Suites La Crosse
This all-suite hotel has an incredible location just steps from historic downtown La Crosse (and the city's annual Oktoberfest celebration). Each room has a kitchenette and many have bedrooms separate from the living area, making this an ideal place to stay for families, groups, or those who want to prepare their own meals.
If you've never stayed at GrandStay, they are known for having a cozy cabin vibe. The lobby has comfy seating areas around a fireplace. Hot continental breakfast is included!
Check availability at GrandStay Hotel & Suites in La Crosse!
The Charmant Hotel
Looking for a bit of luxury in La Crosse? Book a room at the gorgeous The Charmant Hotel, also located steps from historic downtown La Crosse. They have many types of rooms to choose from, but all are a combination of modern finishes with old world charm. I love the brick walls and classic decor.
The Charmant Hotel is a whole experience! Head up to The Rooftop Terrace for cocktails or to The Parlour on the first floor for coffee. There is also a restaurant and lounge on the first floor.
Check availability at The Charmant Hotel!
Click to browse other places to stay in La Crosse!
Fun Things to do in La Crosse Wisconsin
There are so many fun things to do in La Crosse that the hardest part will be deciding which to include on your itinerary!
1 | Start your day at The Root Note.
Fuel up for a day of exploring with a stop at The Root Note for coffee and a bite to eat. The menu features signature drinks like the earl grey latte as well as staple coffee and tea drink options. I love that they make their syrups and flavors in-house!
The food menu is excellent! On the lighter side, try the house-made biscuit that comes with cinnamon and honey butter. For something more substantial and savory, try the classic crepe.
Pro Tip: Come later in the day for The Root Note's happy hour, which includes non-alcoholic drink options.
2 | Explore the bike trails near La Crosse.
Explore the La Crosse region on two wheels on the Great River State Trail. The Lytle's Landing trailhead is located in nearby Onalaska and is one of the best bike trails near La Crosse. If you ride northwest from this trailhead you will almost immediately cross a series of beautiful bridges as you cross through the Upper Mississippi River National Fish & Wildlife Refuge. This is a great place to go birdwatching!
Pro Tip: A permit is required when biking the Great River State Trail. Learn more about day and annual passes here.
Need a bike? Not a problem! The friendly folks at Wrench & Roll in La Crosse will get you set up with a regular or e-bike rental! They did an awesome job making sure my friend and I had bikes that fit our bodies correctly. If you don't have a bike rack, the front wheel of the regular bikes comes off easily, allowing them to fit into the back of most SUV's and other vehicles.
Pro Tip: Reservations are not required at Wrench & Roll, but I recommend calling in advance. If you do, they'll have your bike waiting for you when you arrive!
3 | Enjoy the view from the rooftop of The Charmant Hotel.
Whether you stay at The Charmant Hotel or not, I highly recommend having a cocktail at the rooftop terrace for an awesome view of La Crosse! They have a creative menu of craft cocktails and light bites. The pimento cheese spread was delicious!
The rooftop terrace is partially covered and has a firepit for cooler evenings. The rooftop may not be open in winter, so be sure to check with the hotel before planning your visit.
4 | Get a glimpse of La Crosse from above at Grandad Bluff.
While we're talking about awesome views of La Crosse, don't forget about Grandad Bluff! The view from the top of this 600-foot tall bluff is incredible, overlooking the city of La Crosse, the Mississippi River valley and the surrounding area.
There is a paved road up to a small parking area near the top of the bluff. There is a covered shelter and restrooms that are open in the warmer months. If you want to do some of the best hiking in La Crosse, there are several trailheads along the road up to Grandad Bluff.
Pro Tip: This is the perfect place to visit for sunset!
5 | Grab a craft cocktail and delicious bite at La Crosse Distilling Co.
Not only does La Crosse Distilling Co have great spirits and craft cocktails in their tasting room, they create all of that with sustainability in mind! They are a geothermal-powered distillery that uses organic ingredients, partners with local family farmers and incorporates sustainable practices into all that they do.
Their space in historic downtown La Crosse is modern with tons of natural light as well as outdoor seating. I love all of the fresh plants throughout the indoor seating area!
Pro Tip: The smoked wings and smoked trout dip are both delicious!
6 | Stroll through the Riverside International Friendship Gardens.
Spend some time strolling through this beautiful collection of gardens that was built to honor the sister city relationships of the towns and cities that make up the La Crosse Region. The sister cities are located in China, Germany, France, Russia, Norway, Ireland and Cameroon. Each garden is unique with whimsical and thoughtful touches from each destination.
The gardens are located in Riverside Park along the Mississippi River. There is no entry free and they are open to the public.
Pro Tip: Find a short audio tour for each garden on their website to learn more!
7 | Stroll through the shops in historic downtown La Crosse.
One thing I love to do when visiting small towns and cities is to stroll through the shops in the downtown or Main Street area. La Crosse has so many fun businesses to checkout, all within walking distance of each other in the historic downtown area.
Drift Mercantile is the perfect place to find a gift for someone special or yourself. It's a modern take on a classic general store with all kinds of cute Wisconsin-inspired items, home decor, greeting cards, t-shirts, cheese curds (obviously) and more!
While you're there, be sure to also checkout Curated, which is a boutique filled with linens, pillows, furniture and home decor. Their selection of whimsical and fun throw pillows is hard to pass up!
Another favorite is Larson's General, which has all the essentials for living a low-waste and sustainable lifestyle. Duluth Trading Company, Willow Boutique and other stores are also worth stopping in!
8 | Enjoy a pick-me-up on the patio at Grounded Patio.
Grab a coffee, sit and enjoy the outdoor patio at Grounded Patio Cafe. On the menu are the standard coffee options as well as fresh baked good, baked oatmeal, breakfast sandwiches and yogurt. The breakfast burrito was wonderful and filled with protein for a day of exploring!
9 | Sip cocktails underground at La Cave.
Did you know that La Crosse has a literal chateau? It's beautiful! And, down a spiral staircase inside is La Cave. This charming wine and cocktail bar is cozy, inviting, and the perfect place for a nightcap. The main room has a long narrow bar, but off to the sides are two rooms lined with bottles of wine. The bar itself is the centerpiece, built into the stone walls of the chateau's basement.
My favorite part about La Cave is the bartenders! They were so fun to talk to and clearly take pride in creating unique cocktails. Ask for something special and see what they create for you!
10 | Explore the trails in Lower Hixon Forest.
Hit the trails and explore the bluffs in nearby Hixon Forest for some more incredible views of the Driftless Region. This is among the best places to go hiking near La Crosse. I recommend the Miller Bluff Trail in Lower Hixon Forest. This 1.0 mile out-and-back trail (2.0 miles total) will take you to an overlook with views of La Crosse, Grandad Bluff, and the MIssissippi River Valley.
To get here, navigate to the "Hixon Forest Parking Lot" to reach the trailhead. In the parking lot there is a large sign with maps of the trails.
11 | Get a glimpse of the plants and wildlife at the Upper Mississippi River Fish & Wildlife Refuge.
If you bike along the Great River State Trail, as suggested, its likely that you will go through a portion of the Upper Mississippi River National Fish & Wildlife Refuge. Not far from the Lytle's Landing trailhead is the Visitor Center. Here you can learn about the wildlife, migration patterns and more about the Driftless Region through interpretive signs and displays.
On the property there are several short hiking trails that are open year-round from dawn to dusk at no cost. So, even if the Visitor Center is closed, I recommend stopping to explore the trails and learn more about the wildlife in the area.
12 | Take in the view of Lake Onalaska at Red Pines Bar & Grill.
No trip to Wisconsin is complete with a stop at a lakeside bar for some form of walleye or cheese curds. Find all of the above at Red Pines Bar & Grill on the shore of nearby Lake Onalaska.
Enjoy lunch or dinner on the massive outdoor patio, the heated patio or indoors. The menu includes sandwiches, salads, burgers, pizza and pan-fried or fried walleye dinner. Try the walleye reuben for a unique bite!
Pro Tip: On Saturday afternoons in the summer, find live music on the patio! There is also a sand volleyball court and assortment of lawn games.
13 | Relax and enjoy the view from the patio at 4 Sisters.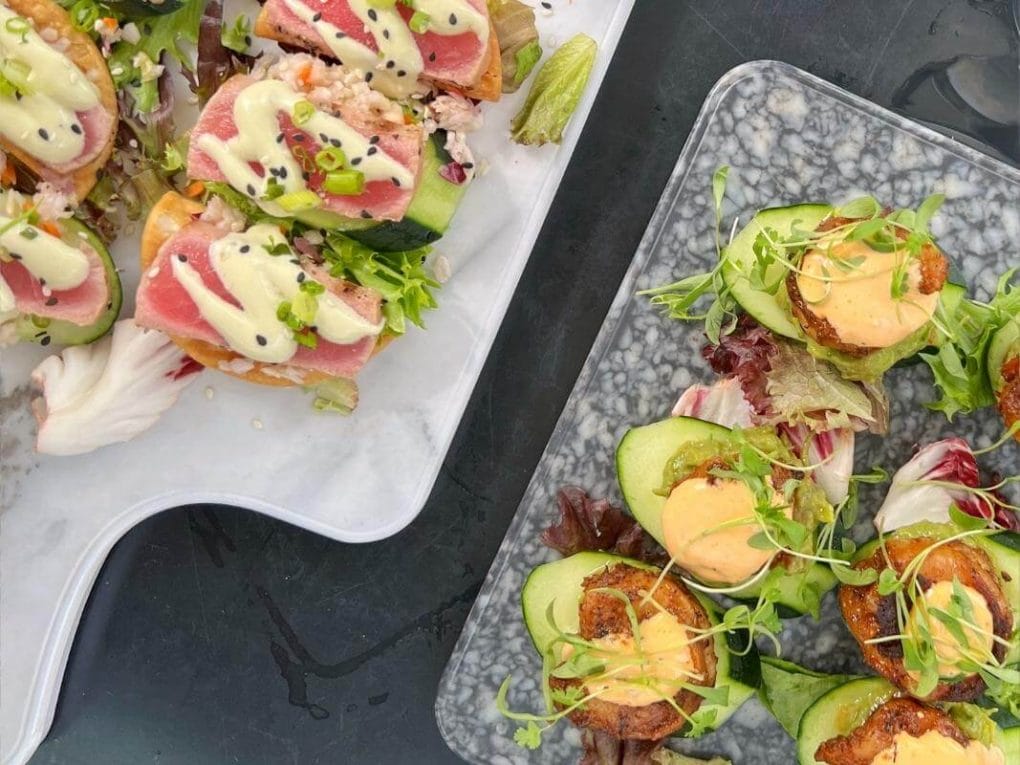 Be sure to stop at 4 Sisters Wine Bar & Tapas, overlooking Riverside Park near historic downtown La Crosse. Build-your-own wine flight or purchase wine by the glass or bottle. Each wine flight comes with a palate cleanser of cheese cubes and crackers.
If wine isn't your thing, 4 Sisters also has unique flights with different flavors of mules, mojitos and even bourbon!
The tapas menu is impressive, with options for all kinds of dietary needs. I recommend the ahi tuna bites and avocado blackened shrimp. They also have entrees if you want something more substantial!
14 | Enjoy a sweet treat from The Pearl.
If you've got a sweet tooth, you need to stop in at The Pearl Ice Cream Parlor. Choose from theri delicious assortment of homemade ice creams in a cone or a cup. The Pearl is adjacent to Drift Mercantile if you want to stop after you shop!
15 | Take a ride on a riverboat.
This riverside city is meant to be explored on the water. Board The Queen riverboat for a ride along the Mississippi River! Choose from a sightseeing cruise, a Sunday brunch and a pizza cruise. Check the website for their latest schedule as it changes seasonally.
16 | Drive the Apple Blossom Scenic Loop.
This 30-ish mile scenic loop takes you through some gorgeous views of bluff country. The loop starts and ends in La Crescent, which is on the Minnesota side of the MIssissippi River from La Crosse. This drive is particularly beautiful in fall!
Stop at Apple Blossom Overlook Park for a short hike to an overlook with a view of La Crosse from above. The hike is very short (~½ mile each way) with a slight change in elevation. If you want more of a hike there is a 1.3 mile loop accessible from the parking area as well.
Pro Tip: Some adventurous cyclists bike this route. Just be warned that there are some steep up and downhill sections so this will not be for all cyclists.
Enjoy All the Fun Things to Do in La Crosse Wisconsin
Whether it's from the top of the bluffs or the rooftop bars, there are so many fun things to do in La Crosse Wisconsin. This college town has literally something for everyone, making it an ideal destination for a weekend getaway. Have fun exploring Wisconsin's Driftless Region!
Related content to read next:
9 Unique Things to Do in Lanesboro Minnesota
18 Spectacular Things to Do in Hayward Wisconsin in Summer
Perfect Minnesota Road Trips for a Weekend Getaway
Check out my Minnesota page for more travel inspiration and tips!
Did you find this article helpful? Save it for later or share it on social media!