Outdoor adventures are way more enjoyable when your body is trained and ready, freeing your mind to take in every moment. You don't want to be that person on the trail who isn't confident in your abilities. You also don't want to be in pain at the end of a day of adventure. Nobody's got time for that.
Choosing your workouts to prepare for your next adventure requires laser focus. Luckily, I've done the leg work for you (see what I did there?). Here are three workouts to improve your hiking fitness, including how to try each of them at the best gyms in Minneapolis for free!
Skip ahead to read about rowing and cycling.
Disclosure: This post contains affiliate links. That means that if you purchase through a link, I may receive a small commission at no extra cost to you. For more info, visit this page.
When I asked Cindy Vavra, ZeSa Master Trainer and Business Partner, why outdoor adventurers should incorporate instability training into their workouts, her response was simple. "Nature is unstable."
You can find unstable training devices in most gyms in the form of balance boards or inflatable wobble cushions. These activate not just the primary muscles but the secondary and tertiary muscles as well. Take any of your typical strength exercises such as squats or planks and do them on an unstable training device. This will up the challenge but also strengthen your stabilizer muscles to handle ledges and rocky surfaces with more confidence, essential to hiking fitness.
Now, imagine doing squats or planks on a balance board with a rotating top surface. That's the ZeSa patented Activator and it packs a punch. The Activators come in different sizes to create new challenges as you master the moves.
The ZeSa studio, located in the Mill District in Minneapolis, has a warm environment with natural wood mixed with metal chains hanging from the ceiling to aid some of the movements. You can expect a non-judgmental and encouraging atmosphere, energetic music, and an instructor who offers lots of options for each movement. You won't have a problem finding an option that challenges you appropriately. Class sizes are small, and limited to no more than 14 people, which means you get individual attention from the instructor.
In talking with Cindy about how instability training can improve hiking fitness and provide cross-training for outdoor adventurers, she invited me to try the moves while wearing my backpack. I loved that she took the time to explore my needs and think about how ZeSa could benefit hiking fitness and outdoor adventurers of all types.
Instability training isn't aerobic, but expect to sweat and work muscles that often get missed. Within minutes, the muscles on the bottom of my feet were aching. They aren't used to getting worked like this! At the same time though, the workout had me giggling as I attempted to do the moves but instead found myself rotating on top of the Activator. This isn't a workout that you're going to master right away. That's what is great about instability training!
Now we'll just do a plank and pull your kettlebells up with your opposite arm on the Activator. And that's the one I run out of breath on! – Cindy says as she laughs
In Cindy's words, "nature is unstable" and that's all the more reason to incorporate instability training in your hiking fitness and outdoor adventure training plans.
Follow ZeSa Fitness Studio on Instagram and Facebook!
Want to try out ZeSa? The Intro Class is free, and your first regular full class is free as well, just sign up on their website!
The Intro Class is optional and not a prerequisite to taking any other ZeSa classes.
Rowing | Featuring weRow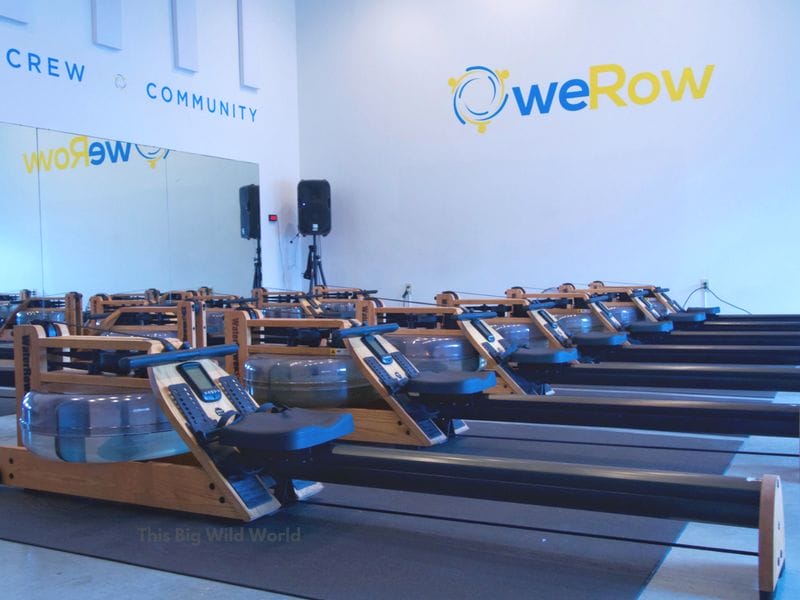 If you think rowing is just to improve upper body strength, think again. My booty, back, arms and thighs hurt so good after my first rowing workout! When I sat down with Tish Watson, owner of weRow, to discuss why outdoor adventurers should incorporate rowing into their workouts, she explained that it's low-impact and works over 85% of your muscle mass! As someone who is short on time and values efficient workouts, Tish had my attention.
Rowing is a cross-training workout that improves cardio, strength and endurance for your entire body, targeting your glutes, quads, core, back, shoulders, and arms! It also opens up your lung capacity, increases stamina and core strength which are critical for hiking fitness, trail running, mountain biking and really any outdoor adventure.
Almost any gym will have a rowing machine or ergometer (ERG) available to use. A quick Google search will turn up a number of self-guided rowing workouts to try, like this one. Do yourself a favor, though, and buy a pair of workout gloves to prevent blisters and callouses. I bought some immediately after my first class!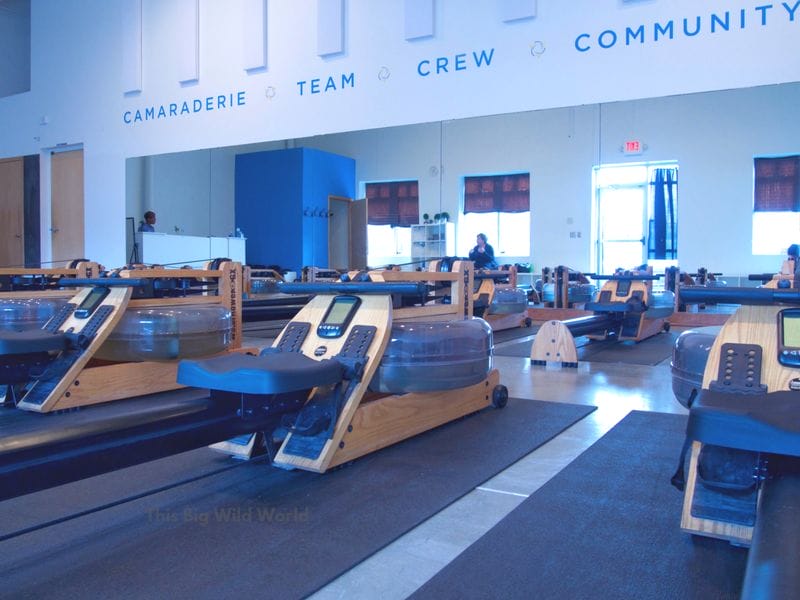 Yes. You. Can. – Tish, to anyone nervous about trying rowing
When I asked Tish what advice she'd give to someone who is new to rowing or anxious about trying it, her response was simple. Rowing is for any body, regardless of age, weight, or fitness level. What I loved about my experience at weRow is that it's about camaraderie and "progression, not perfection."
The weRow experience is beyond rowing, it's a lifestyle. In every class, the instructors bring to life the words on the wall: camaraderie, team, crew, and community. The instructors treat you like a crew team and throughout the class, the rowers support each other, often high-fiving and cheering. This unique sense of community and connection is something you won't get from rowing on your own! Tish meticulously selected the soothing colors for the studio with an emphasis on bright natural light to create a welcoming environment. It's truly a judgement-free zone.
With just 16 rowing machines, expect one-on-one attention from the instructor. At your first class, you'll get individual coaching on the proper technique to make sure you are set up for success.
You are strong, you are capable. You've got this. -Tish, while instructing weRow Signature
So if you're getting ready to tackle your next adventure and improve your hiking fitness, why not do it with a supportive and encouraging crew? Still not sure if rowing is for you, call or email the weRow team or grab a buddy to bring along!
Follow weRow on Twitter and Facebook!
Whether or not you mountain bike or long distance cycle, incorporating cycling into your workouts provides amazing cross-training to improve hiking fitness or prepare you for your next outdoor adventure. Zach Pettus, owner of CycleBar Uptown MPLS, shared that his wife recently completed a half-marathon and trained solely by cycling at CycleBar 2-3 times per week and crushed her split time. That's right, zero high-impact training miles!
Hopefully I've got your attention now. Cycling is a low-impact and high-intensity aerobic workout that burns calories while building strength and endurance, which are critical to hiking fitness. Spin or cycling works your leg muscles and core, but CycleBar felt like that wasn't enough so they add in a 4 to 6 pound body bar to work your upper body as well. If there's not a CycleBar near you, most gyms offer cycling and spin studios are widely available.
We're not a gym, we're the most fun fitness community." – Zach Pettus, owner of CycleBar Uptown MPLS
Across the 110 CycleBar locations, you'll find their three key ingredients: great instructors, great music and great environment. They provide concierge level service and a sense of community with every amenity. Even cycling shoes are included! The CycleTheater fuels the experience with its theater style lighting, DJ booth, and auditorium layout. After every class, the instructors even post their playlists on Spotify. After the Monday Hip-Hop class, I couldn't wait to get my hands on the playlist!
Find a CycleBar location near you!
As someone who is not an avid cycler, I appreciated the low lights in the CycleTheater. It helped me focus on "finding my ride" and not worry so much about how I was doing compared to everyone else. The instructor also introduced herself to me since I was new and encouraged me throughout the ride. Honestly, between the music and the theater, the 45 minutes flew by so quickly!
For extra fun try the Wine Down Wednesdays or Treat Yo-Self Tuesdays which feature, you guessed it, wine and other treats after class. Now, that's motivation!
If you're looking to improve your hiking fitness or prepare for you next outdoor adventure, indoor cycling should be on your workout plans. Why not enjoy your workout with the most fun fitness community around? So, see you at CycleBar soon?
Follow CycleBar Uptown MPLS on Instagram!
Want to try out CycleBar Uptown MPLS? Click here and go to "First Ride Offer"
Low-Impact, High-Efficiency Workouts
By now, you have probably noticed a theme. There's no need to put our bodies through high-impact workouts to prepare for the next adventure. Instability, rowing and cycling all offer low-impact but high-efficiency workouts that provide excellent cross-training for whatever adventures lie ahead (and you'll have fun while doing it!). Take a break from the treadmill, and give these a try. I did, and I'll never look back!
I'd like to add that yoga is a great complement to any of these workouts. Here are some great yoga poses for hikers that you can practice anywhere.
If you are looking for something a little more customized to prepare you for a specific adventure or prefer a bit more structure, check out Fit for Trips for an online personalized workout plan designed for outdoor adventurers!
Related content to read next:
Perfect Beginner Backpacking Trips in the US
10 Outdoor Adventures for Your Minnesota Bucket List
Check out my Minnesota travel page for even more inspiration and tips!
Did you find this article helpful? Save it for later or share it on social media!