So, you've booked your trip to go camping in Glacier National Park? Maybe you've even picked out which hiking trails you want to explore. (If you haven't, check out my trail reviews for the Iceberg Lake Trail and Siyeh Pass Trail.) But, let's be honest, you're headed into mountainous bear country where weather can shift quickly and unexpectedly. What in the world should be on your Glacier National Park packing list?
Not to worry, here's everything hikers need to know about packing for Glacier National Park.
If you haven't yet, check out my day hike packing list for the essentials to bring on any hike!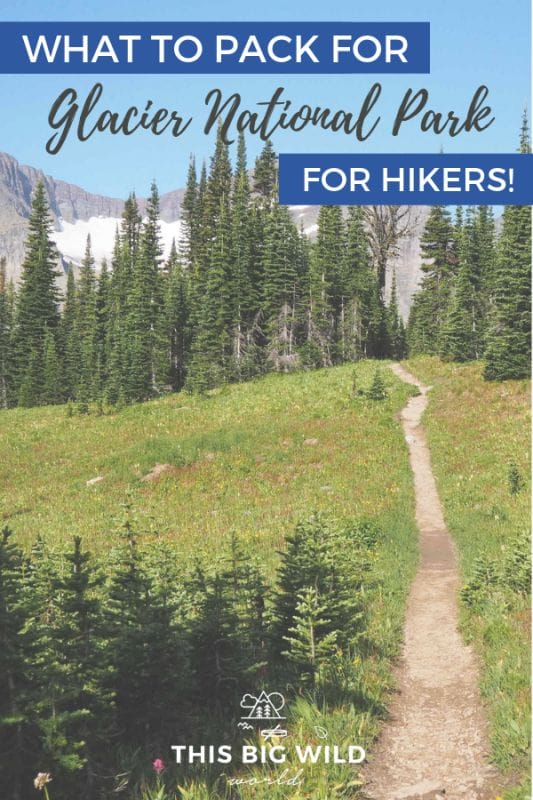 Disclosure: This post contains affiliate links. That means that if you purchase through a link, I may receive a small commission at no extra cost to you. For more info, visit this page.
What to Pack for Glacier National Park

: Safety Gear
Let's be real. There's no trail in Glacier that is "bear free." If you plan to go hiking, even on the most basic trails, you need to be prepared for a potential bear encounter. (However, maybe wait until after you visit to read 'Night of the Grizzlies.')
Bear Safety Tips & Gear
For my full list of bear safety tips, check out my post on how to survive hiking in bear country! Here are some highlights for you.
Reduce your risk of an encounter, by letting them know you're coming. One way is to make loud noises as you hike by clapping, whistling and whooping.
Another option is to wear bear bells on your pack. However, there is some debate on how effective these are because the sound doesn't carry very far. If the bears can't hear them, they aren't helping a whole lot!
An alternative, and general hiking best practice, is to carry an emergency whistle. Use it as you hike, particularly around blind corners or early in the morning if you're one of the first on the trail.
Making all the noise in the world doesn't guarantee a bear-free hike. The best insurance policy is to carry bear spray. It's kinda pricey, but don't risk hitting the trail without it.
Pro Tip: Bear spray can be purchased at the Visitor Centers and shops at the park, but will cost about $50 and it's not guaranteed to be in stock. I recommend pre-purchasing bear spray with a holster so you can clip it to your waistband. After all, if you have it but it's not accessible when you encounter a bear, it doesn't really matter.
Emergency Gear
An ultralight first aid kit should always be in your day pack. I love this one because it's waterproof and weighs less than 8 ounces.
Lastly, I always recommend having a headlamp in case you end up unexpectedly hiking after sunset or get caught up in bad weather. This Petzl headlamp has adequate brightness (200 Lumens), a wide beam, three brightness settings, and an emergency strobe light setting.
General Safety Gear
Glacier has been hit by wildfires in recent years, which means many of the trails have sections with no sun protection. On long day hikes, you could be exposed to the sun for nearly the entire day. For your skin's sake, bring sunscreen!
Conversely, many section of trails go through forested areas. These are the happy place of all sorts of insects. You'll be thankful you have insect repellant in your day pack (I love this DEET free natural bug spray)!
Check out my complete guide on how to avoid getting eaten alive by mosquitoes and ticks while hiking for more info!
What to Pack for Glacier National Park:
Technical Hiking Gear
I was shocked by how quickly weather changes in Glacier National Park. In moments, it went from sunny to total downpour. Luckily, I wasn't stranded on the trail when this happened. Be prepared.
Add a lightweight rain jacket with a hood to your Glacier National Park packing list. A poncho that can cover your day pack can also be helpful because pack weight increases exponentially when it gets wet! If you skip the poncho, I recommend a lightweight dry bag to keep your electronics dry in rainy conditions.
Pro Tip: Even in the peak of summer, trail conditions can include snow and ice. It's always a good idea to check trail conditions with a ranger before you venture out.
I recommend putting trekking poles on your Glacier National Park packing list. These will save your knees as you navigate the steep inclines and declines on many of the trails.
If you go early in the season (before July), bring crampons or microspikes to help you navigate icy trails!
Also, don't let the summer daytime temperatures fool you, it gets cold at night. I was glad I had my gloves, wool hat and packable cold weather jacket or vest on a couple of early mornings on the trail. Here are my recommendations on cold weather hiking gear.
What to Pack for Glacier National Park:
Basic Hiking Gear
Hydration is so important when hiking. At altitude, the temperature may feel cool, but you're still sweating. For a long day hike, I bring thirty to sixty ounces of water, depending on the conditions.
There are so many choices for water bottles, but I tend to stick with a basic 32oz Nalgene bottle fitted with an Easy Sipper insert. If you want to keep your water cold all day, try this water bottle from HydroFlask, which comes with a lifetime warranty!
There are so many choices for hiking boots! It can be overwhelming to pick the right pair for you. I love my Merrell Moab 2 Mid waterproof hiking boots. They provide some ankle support, have good grip on wet rocks, and allow my feet to breathe. I've hiked hundreds of miles in all different conditions in mine with no issues!
I can't say enough about investing in high quality hiking socks! If you have to choose between quantity and quality, go with quality. Honestly, I would re-wear dirty socks before wearing low quality ones on the trail.
My absolute favorites are SmartWool hiking socks. The seam at the toe doesn't rub and they are incredibly cushiony! For a lighter weight alternative, try the wool crew socks from Wildly Good.
What to Pack for Glacier National Park:
Photography Gear
Glacier is absolutely breathtaking. If you're into photography, it's a playground of inspiration that you'll want to capture. This post includes my full list of photography gear that I bring when I hike.
For your Glacier National Park packing list, a zoom lens is optional. One can be handy if you want to capture wildlife from a distance.
Pro Tip: There are occasionally guided night photography hikes with a ranger. Check at the Visitor Centers for details. Here's some helpful tips on night photography for beginners using a smartphone, GoPro or mirrorless camera.
Enjoy Hiking in Glacier National Park
All you need to add to this list is your favorite trail snacks, clothing and sense of adventure! I hope you enjoy hiking in Glacier National Park as much as I did. Happy trails!
Have you considered hiking all or part of the 300+ mile Superior Hiking Trail in northern Minnesota? Follow along on my journey as I share step-by-step tips and resources on how to plan your backpacking trip on the Superior Hiking Trail!
Related content to read next:
Glacier National Park Camping Guide
Glacier National Park Trail Review: Siyeh Pass Trail
Glacier National Park Trail Review: Iceberg Lake Trail
Essential Outdoor Adventure Safety Tips
Did you find this article helpful? Save it for later or share it on social media!