Updated: August 1, 2020
Explore the magic of the Southwest US by car.
I've always loved the Southwest USA. It's so diverse and drastically different from where I grew up in the Midwest. The oak trees I'm accustomed to are swapped for cacti and joshua trees. And the amber waves of grain are replaced with mountains for days. This is why the Southwest US is a perfect place to take a road trip.
When I unexpectedly found myself in LA, I decided to take five days for a Los Angeles to Denver road trip with my cousin. Here's all you need to know about our route, stops and what I'd do differently.
Disclosure: This post contains affiliate links. That means that if you purchase through a link, I may receive a small commission at no extra cost to you. For more info, visit this page.
The Los Angeles to Denver Road Trip Route
There are a million routes you could take on a Los Angeles to Denver road trip. We opted for a route through Arizona and New Mexico instead of the more popular road trip routes through Utah. The reason was that my cousin had never been to New Mexico and I want to have more time to explore Utah. Also, we planned our overnight stays with friends and family wherever possible to save money. I am glad we chose this route because it allowed us to go off the beaten path to some lesser known places!
This route wound through 1400 miles ranging from beach, desert, forest and mountain.
If you have more time, consider adding on a drive along the Pacific Coast Highway from from San Francisco to Los Angeles!
Only interested in certain stops on this LA to Denver road trip? Jump to your area of interest:
Newport Beach, California
After spending two days in Los Angeles, we headed south to Newport Beach in Orange County. This quick stop allowed us to catch up with friends and enjoy a bit of the beach life.
Be sure to wander the beach and catch a sunset at Newport Beach Pier. Enjoy chatting with some of the fisherman and watching the seals play in the water.
For brunch, check out Eat Chow in Newport Beach or nearby Costa Mesa. I devoured the braised short rib breakfast tostada while my cousin enjoyed the mimosa sampler. Expect a short wait, but it's well worth it. For a lower cost option that is quintessentially SoCal, grab an In-N-Out burger and fries!
// Book the perfect place to stay in Newport Beach now!
Joshua Tree National Park, South Entrance
Because we chose a southern route, we opted for the lesser used south entrance to Joshua Tree National Park on our Los Angeles to Denver road trip. This takes you to the Cottonwood Visitor Center via the I-10 Freeway and the town of Indio.
It's important to know that most of the joshua trees that you see in photos are accessed from the north and west park entrances. If you want to see them, plan to take the northern route or plan enough time to drive through the entire park, which takes approximately one and a half hours, each way.
The south entrance still offers beautiful views of the unique landscape plus four wheel drive roads. We took our SUV down one of them, Old Dale Road, and got out to explore a bit on foot. Watch for drivers careening down these sandy roads! They're having fun and don't expect to see people walking about. Whenever possible, stay in your vehicle or pull over onto the sandy embankment.
If you wanna stay on the paved roads, enjoy the ride through the park. I recommend a stop a Cholla Cactus Garden to explore and stretch your legs.
Entrance fee: $25 per vehicle, good for 7-days. For more, visit this website.
Other activities: Rock climbing, camping, hiking. Here are 17 things to do in Joshua Tree to help you plan your visit!
// Book a place to stay near Joshua Tree now!
Quartzsite, Arizona
As someone who eats a mostly paleo diet, I get excited anytime I can try new jerky flavors. So, the main reason we stopped in Quartzsite was to visit Daniel's Really Good Fresh Jerky. It's touristy but they let you taste several jerky's and have a ton of food snacks to buy. This became a meal on the go on some of the long stretches of the highway so it ended up being well worth it.
Millions of visitors each year flock to Quartzsite for its sale of rocks, gems, minerals and fossils! If you find yourself here in January or February for their annual swap meet, be prepared for crowds.
Scottsdale, Arizona
We cruised in here for our first overnight stop on our Los Angeles to Denver road trip. The drive from Newport Beach took about 8 hours in total. It was a long day of driving, but exploring Joshua Tree was the perfect way to break it up.
My good friend gave us a bed and a home-cooked meal so we did not experience the nightlife. However, Scottsdale is known to have a party and foodie scene so the options are endless! If you're looking for gluten-free, vegan or paleo-friendly food while you're in Scottsdale, try Flower Child.
Located just outside of Phoenix, Scottsdale is nestled in the Sonoran Desert with its iconic cacti. If you have time, enjoy some hiking in the mountains surrounding Scottsdale. Be sure to go early in the morning because the temperatures year round are hot!
// Check pricing and availability for rooms in Scottsdale now!
Jerome, Arizona
This old copper mining town was added to our Los Angeles to Denver road trip route last minute at the recommendation of a friend. You can get there by taking a minor detour through the back roads on your way from Scottsdale to Sedona.
You might like: Adventure-Packed Arizona Road Trip
Jerome seems to be frozen in time after it was rebuilt over a hundred years ago following devastating fires. It embodies the "Old West" and is rumored to be haunted by ghosts.
We drove to the Audrey Headframe Park to stand over the glass-covered old mining shaft. This shaft is deeper than the Empire State Building is tall! It is mind-blowing to imagine being hoisted down that far into the Earth.
As you leave the park, drive around the corner towards the museum to see a beautiful viewpoint, perfect for photos.
Entrance fee: Free.
Other activities: Ghost tours, Mining Museum, wine tasting.
Sedona, Arizona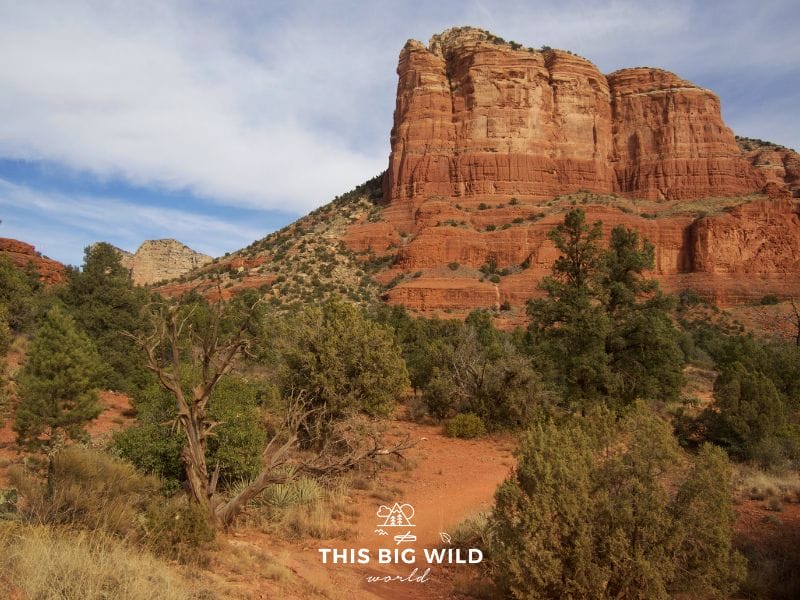 Sedona is, in one word, breathtaking. There's just nothing quite like being surrounded by panoramic views of red rocks. It's a must-visit on your Los Angeles to Denver road trip.
As you drive into Sedona from Jerome, stop at the South Gateway Visitor Center that is immediately along the highway. Enjoy the views from the parking lot, use the restroom and grab a trail map for the area.
From there, we drove to the Bell Rock Trailhead south parking lot, also immediately along the highway. Be sure to pay for your parking at the kiosk before exploring the trails. This is the most accessible and well-marked trail to explore if you are short on time. If you've got more time, there are countless hiking trails in Sedona. Unfortunately, we needed to get to Santa Fe by bedtime, so were limited on time.
After hiking for a little over an hour, we decided to grab food, book lodging for the night and keep driving towards Santa Fe. with the hope of stopping at Petrified Forest National Park on the way. Local Juicery is a great option if you're looking for a healthy lunch after your hike!
Parking: $5 for a day use parking permit, available at a kiosk in the trailhead parking lot.
Other Activities: Mountain biking, rock climbing, horseback riding, wine tasting, jeep tours, Native American arts and crafts.
If you want to spend more time exploring Arizona, check out this 5-day central and northern Arizona road trip!
// Check pricing and availability for rooms in Sedona now!
Santa Fe, New Mexico
To be fully transparent, we screwed up. We thought that it was a 6 hour drive from Sedona to Santa Fe. We were wrong. It was more like 8 hours, which meant we arrived at the Luxx Hotel in Santa Fe much later than expected at around 9:30pm. This hotel has a quirky zen inspired design, but great location near the Plaza and a last minute deal.
We also didn't know that the city of Santa Fe virtually shuts down after 9pm during the week. With hungry bellies, we desperately asked the man at the check-in desk for recommendations. He sent us to the *only* restaurant open late, Del Charro.
This cozy bar and restaurant has a Western feel along with a full bar. Despite not seeing a single person walking the streets, the place was full of people and energy. The menu is limited, but the food was good. I enjoyed a burger topped with the popular New Mexican green chile sauce.
Downtown Santa Fe is very walkable and lined with artists galleries. If you are there during the day, be sure to visit the Santa Fe Plaza and peruse the Native American handmade jewelry sold under the awning of the Palace of the Governors.
Before hitting the road, grab breakfast with all the flavors of New Mexico at Cafe Pasqual's.
// Book a retreat for a night (or more) in Santa Fe now!
Great Sand Dunes National Park, Colorado
On a whim, we added this stop on our Los Angeles to Denver road trip at the last minute and it was the best decision ever. This off the beaten path national park offers North America's tallest dunes nestled up against a backdrop of the Sangre de Cristo Mountains. You can see elk, bobcats, Rocky Mountain bighorn sheep and even black bears. The snow melting from the mountains creates two creeks, one of which (Medano Creek) you walk across to get to the dunes.
Most of the sand is carried from the San Juan mountains to the west. Wind comes over the top of the Sangre de Cristo Mountains, to the east, and pushes the sand back down causing the dunes to form. It's one of the most unique landscapes I've ever seen.
You could easily spend several days here. If we had more time, I wanted to try out sand sledding.
Pro Tip: Sleds are not available to rent through the park, but you can rent from Oasis Store or Kristi Mountain Sports outside of the park boundaries.
Just eight miles south of the park, you'll find a sign for Zapata Falls. Follow this gravel road for about three miles to the trailhead. From there, it's about a 1/2 mile hike to a creek. Hike through the water and into the cave to get a fabulous view of this 20 foot high waterfall. From this trail you can also get views of the entire dunefield!
Entrance fee: $20 per vehicle, good for 7-days. For more, visit this website.
Other activities: Swimming/ tubing (summer), hiking, mountain biking and camping.
// Book a room so you can explore more of Great Sand Dunes National Park!
LA to Denver Road Trip | What I'd Do Differently
Five days simply wasn't enough to really explore all of the places on our itinerary for this Los Angeles to Denver road trip. However, it's what we had available and I enjoyed every moment of it. My advice is to give yourself at least a week and up to 10 days, if possible. I also recommend doing a bit more research on driving distances than we did so you don't have a surprise late arrival at any of your destinations!
Due to the compressed timetable, there were five stops that we wanted to visit on our LA to Denver road trip but ran out of time (in green on the map).
Slab City, California – Visit Salvation Mountain and East Jesus in this artsy snowbird community in the Sonoran Desert.
Phoenix, Arizona – The Apache Drive is a scenic drive that stretches about 50 miles through the canyons and rock formations to the east of Phoenix and Scottsdale (starting at Apache Junction through Tortilla Flat). A good portion is unpaved, but well maintained.
Page, Arizona – This town is a great base while you explore iconic Horseshoe Bend and Antelope Canyon. Here are some helpful tips to plan your first trip to Upper and Lower Antelope Canyons.
Petrified Forest National Park, Arizona – Steeped in Native American history and offering stunning landscapes of colorful petrified wood, this lesser known national park should be on your list.
If you can't tell by now, I kinda love Arizona. There was so much more I wanted to explore that I planned an adventure-packed Arizona road trip and wrote all about it.
Garden of the Gods National Natural Landmark, Colorado – These beautiful sandstone rock formations are right outside of Colorado Springs, an easy one and half hour drive from Denver.
Denver, Colorado – There are SO many amazing day hikes near Denver. But don't miss out on exploring all that downtown Denver and the surrounding area has to offer! Here's some ideas for your Denver itinerary.
For a unique experience, why not rent a campervan for this roadtrip? Here are my campervan rental tips for first-timers!
Related content to read next:
Los Angeles in 2 Days for the Outdoor Adventurer
Day Hike Packing List: A Prepared Girl's Guide
An Adventure-Filled Arizona Road Trip Itinerary (a perfect add-on)
Did you find this article helpful? Save it for later or share it on social media!