The leap from day hiking to multi-day hiking can feel daunting. Backpacking is not as easy as just tossing your daypack on and hitting the trail. There's planning involved. And gear.
For all the extra work it takes to plan a multi-day hike, there are so many rewards. Being in the backcountry is one of the most freeing and empowering feelings I've experienced. It's literally just you against the wilderness, humbled by nature.
When people think of the best multi-day hikes in the US, epic trails like the Pacific Coast or Appalachian Trails often come to mind. But, you don't need to start there! I'm here to assure you that there are so many great options out there for beginner backpacking trips here in the US.
Disclosure: This post contains affiliate links. That means that if you purchase through a link, I may receive a small commission at no extra cost to you. For more info, visit this page.
What should beginners look for in a multi-day hiking trail?
There are so many factors that can make a trail more appealing to a beginner backpacker. It's best to control some variables that could create challenges for you on the trail. Doing this allows you to focus on a few things at a time without feeling overwhelmed on your first multi-day hikes.
Pro Tip: For multi-day hikes, be sure to include the day hiking essentials on your packing list!
Distance
All of these trails are under 20 miles in total distance. Depending on the terrain, this is 2-3 days of moderately paced hiking.
Access to drinking water
Staying hydrated is so important on multi-day hikes. For beginners, I recommend choosing a trail that has access to drinking water requiring minimal treatment or filtration. You don't want to be fumbling around with an ultraviolet water treatment system on the edge of a cliff like I did on the Kalalau Trail.
Elevation gain
Let's be honest, the best views usually require some work. But, it's a whole different ball game when you're climbing to those views with a pack filled with backpacking gear. This one is tricky because the elevation gain really depends on the distance that it is spread across. So, 2000 feet of elevation gain may not be very challenging spread out over 25 miles, but may be quite challenging if it's spread out over just a few miles. Multi-day hikes for beginners will have just a moderate elevation gain.
Permit requirements
Securing permits for some hiking trails can be a frustrating process in itself. If you aren't able to plan your beginner backpacking trip in advance, consider a trail that either doesn't require a permit or has relatively easy to secure permits.
Each of the trails mentioned below offer different challenges. This is so you can choose a multi-day hike that works best for you!
Other considerations
Even for day hikes, you should always familiarize yourself with what wildlife you might encounter on the trail. For beginner backpacking trips, you may want to avoid trails with high risk of bears, rattlesnakes or other wildlife that require special precautions (especially if you're unfamiliar with them).
Pro Tip: If you are headed into bear country for the first time, don't worry the risk of a bear attack is low. However, you should have a bear safety plan. Here are my tips on how to survive hiking in bear country!
Superior Hiking Trail | Minnesota
Location: Along Lake Superior from Canada to Wisconsin, Minnesota, USA
Type of Trail: Sections
Total Distance: 306 miles (sections vary from 1.7 to 10+ miles each)
Total Elevation Gain: 37000 feet (sections vary from 280 to 5000+ feet each)
Permit Required: No
Hiking 306 miles with 37000 feet of elevation gain isn't usually recommended for beginner backpacking trips, but the Superior Hiking Trail is designed to be hiked easily in sections. It's basically a choose-your-own-adventure of hiking trails. With sections as short as 1.7 miles, hikers can choose to do sections as day hikes or string multiple sections together for a multi-day backpacking trip.
This little known trail offers big adventure in Minnesota, traversing the ridgeline along Lake Superior from essentially Canada all the way to Wisconsin. The trail winds its way through rugged granite cliffs, seemingly endless waterfalls and lush forests.
What makes the Superior Hiking Trail awesome for beginner backpacking trips is that overnight parking is readily available, transportation between trailheads is easy to arrange, and there are no permits required for the trail. Yes, that's right, I said NO permits!
The trail is managed by the Superior Hiking Trail Association. They've published an incredible Guide to the Superior Hiking Trail (or you can download an e-book version here) which walks you through everything you need to know in detail about each section of the trail including access to campsites, water, parking, food supplies, and more. When you're ready to hit the trail, they also offer detailed maps of each section that you can bring with you in your pack.
Some of the most popular sections are along the north shore of Lake Superior. The sections near Tettegouche State Park, including Bean and Bear Lake Loop are great options. I personally love the sections near Judge CR Magney and Cascade River State Parks as well.
Before you set out, why not get your Minnesota State Parks Passport and earn free nights of camping?
Pro Tip: Discover the cutest little harbor town you've probably never heard of, Grand Marais Minnesota! It offers easy access to the Superior Hiking Trail and the Boundary Waters.
---
Ozette Triangle Trail | Olympic National Park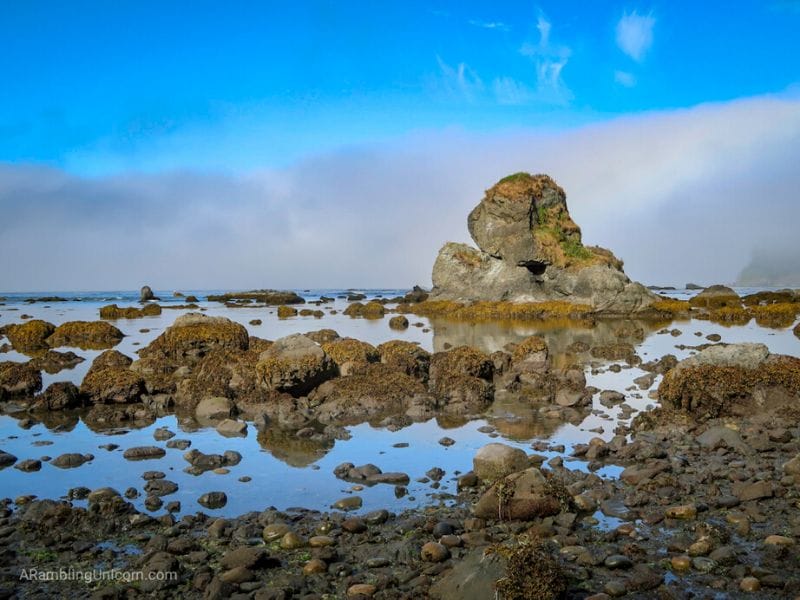 Location: Olympic National Park, Washington, USA
Type of Trail: Loop
Total Distance: 9.4 miles
Total Elevation Gain: Approx 500 feet
Permit Required: Yes
Located in wild and beautiful Olympic National Park, the Ozette Triangle Trail (also called the Cape Alava Loop) is one of the best multi-day hikes in the US for new backpackers. The trail winds through lush rainforests and along the rugged Washington coastline to the Westernmost point in the contiguous United States – Cape Alava. The loop also features ancient petroglyphs, shaded boardwalks, and great camp spots right on the beach.
At 9.4 miles in length and with a flat elevation profile, the Ozette Triangle Trail is typically walked in a single day by most hikers. However, camping spots strategically located along the coastline also make this a terrific multi-day hike for beginners who can break up the hike into smaller sections. The trail is accessible all year round, unlike many of the other trails in Washington State which are covered under snow in winter.
Before packing your shiny new backpack and heading to the Olympic Peninsula, keep in mind the following:
A National Park's Pass is required for entry into Olympic National Park. Leave this displayed on the dash of your car.
Pro Tip: If you plan to do other hiking in the area, I recommend buying the America the Beautiful Annual Pass! This covers entry to other federal recreation sites, such as national forests and national wildlife refuges, and eliminates the need to purchase a separate Northwest Forest Service Pass.
Wilderness Camping Permits are required to camp in Olympic National Park and are issue for a specified location on a particular date. Apply for permits online and pick them up in person on the day of your hike. These tend to go fast, so apply as far in advance as possible. To increase your odds of getting a permit, consider backpacking during the week or be flexible with your camping spots.
Campers are required to bring a bear canister to store food or any other scented items you're carrying with you.
Bring a water filter to treat the creek water available at Sand Point and Cape Alava.
Check the tide charts before hiking or camping along the beach. The rangers will be happy to help you with this when you pick up your permit at the ranger's station.
Contributed by Katy at A Rambling Unicorn.
---
Lake Verna Trail | Rocky Mountain National Park
Location: Rocky Mountain National Park, Colorado, USA
Type of Trail: Out and back
Total Distance: 13.8 miles
Total Elevation Gain: 1700 feet
Permit Required: Yes
One of the most memorable experiences during my Colorado trip was a backcountry hike in Rocky Mountain National Park (RMNP). Being from The Netherlands, there is no such thing where I'm from. We have no wildlife that can be somewhat threatening (not counting wild boars, that are usually harmless) nor do we have wilderness where you may not run into anyone for hours.
When deciding to do a backcountry hike in RMNP, we found out that Lake Verna is a great overnight hiking destination. If you want to camp overnight you will have to secure a permit in advance. But, if you are hiking there as a day trip there is no need to book anything.
The trail is not too difficult yet it steadily goes up most of the time. Just before Lake Verna there's Lone Pine Lake, a great place for a picnic along the way. We experienced our night at Lake Verna in total silence, something that is very rare where we live. We saw quite a lot of wildlife along the track and just before the end we even ran into a giant bull moose that was standing right in front of us. Super spectacular for sure and probably the lesser known of the best hikes in Colorado.
The Trail to Lake Verna is 11 km (7 miles) one way and will take you about 4 hours, depending on how many stops you make. The altitude gain is about 550 meters (1700 ft) which isn't too much, but some spots are pretty steep. You will need to carry a bear proof bin (a first time for us) which you can rent from the Visitor's Center.
Contributed by Antonette from We12Travel.
---
High Divide Seven Lakes Basin Loop | Olympic National Park
Location: Olympic National Park, Washington, USA
Type of Trail: Loop
Total Distance: 19 miles
Total Elevation Gain: 4000 feet
Permit Required: Yes
One of the most popular backpacking trails in the State of Washington is the High Divide Seven Lakes basin trail. This trek is filled with waterfalls, mountains, turquoise lakes, and magical rainforests. This hike has it all, and it excellent for beginner backpacker trips.
This loop trail is 19 miles round trip, with an elevation gain of 4,000 feet. At first glance, this trail might seem too difficult, but you can easily break it up into many days. There are so many campsites throughout the path. You can make it as easy or as difficult as you want by breaking the days up to two, three, and even four days. There is also plenty of water; just remember to bring a water filter.
The Seven Lakes Basin Hike starts at the Sol Duc Falls trailhead. The waterfall is one of the most popular waterfalls in the Olympic National Park. After the falls, the trail then takes you uphill through the rainforest. You then start to realize the outstanding moss and brilliant green colors of the trees in this national park.
Once you are higher in elevation, there is a ridge walk with stunning mountain views. Eventually, you get to the Bogachiel Peak, where you can witness many of the seven famous lakes. They sparkle green and blue when the sun hits them just right. Eventually, the trail takes you downhill into the rainforest and back to Sol Duc Falls.
If you want to make this experience even more magical, make sure to book a room at the Sol Duc Hot Springs Resort. This resort has hot springs where you can relax and dip your sore muscles into.
Contributed by Michelle at The Wandering Queen.
Where will you go on your first backpacking trip?
No matter which trail you choose for your first backpacking trip, you'll likely get hooked and be ready to for more! These are some of the best multi-day hikes in the US to get you started on your backpacking journey.
Before you head out into the wilderness, read up bear safety tips, how to avoid mosquitoes and ticks, kindness on the hiking trail, and some not-so-essential hiking gear you might want to bring with you!
Related content to read next:
Day Hike Packing List: A Prepared Girl's Guide
How to Avoid Getting Eaten Alive by Mosquitoes & Ticks
How to Survive Hiking in Bear Country
Outdoor Adventure Safety Tips for Hikers and Backpackers
Did you find this article helpful? Save it for later or share it on social media!