This southwest Minnesota road trip is designed for outdoor lovers and hikers. The area is known for its rolling prairie, dramatic rock formations, and sacred Native American sites. While there enjoy all the fun things to do in Luverne Minnesota too!
Honestly, I designed this entire itinerary around visiting as many state parks in the region as I could in 3 days. All in, you'll visit six state parks, one national monument, and of course a brewery and coffee shops!
Disclosure: This post contains affiliate links. That means that if you purchase through a link, I may receive a small commission at no extra cost to you. For more info, visit this page.
Southwest Minnesota Road Trip Route
This southwest Minnesota road trip starts and ends in Minneapolis with a total of 600 miles over 3 days. The two overnight stops are in Luverne Minnesota and Milbank South Dakota. Yes, I realize that is NOT in Minnesota, but it's just over the border in South Dakota and a more substantial town with restaurants, hotels and shops. As an alternative consider camping at one of the six state parks on this itinerary.
Click the map to view in Google Maps.
Many of these destinations will require you to drive on dirt or gravel roads for at least a short distance.
Pro Tip: Download offline versions of Google maps before you leave so you can navigate without cell service.
Day 1 | Minneapolis to Luverne
Enjoy all of the fun things to do in and around Luverne Minnesota!
Jeffers Petroglyphs | Comfrey, MN
Maintained by the Minnesota Historical Society, Jeffers Petroglyphs remains a sacred site for native tribes today. The site is home to over 5000 ancient rock carvings that date back as many as 7000 years.
Pro Tip: Because this is a sacred site, photos of the petroglyphs are not allowed.
There is a 0.25 mile gravel trail from the Visitor Center to the petroglyphs. Visitors can take a self-guided tour with a printed guidebook available in the Visitor Center or a guided tour, when available. At the petroglyphs, Native American elders are stationed and can assist with pointing out the carvings and sharing more about the history and significance of the site.
There is a $10 entrance fee for adults (no fee for Native visitors). Hours are reduced beginning in September and into late October when they close for the season. Plan your visit accordingly.
Pro Tip: The petroglyphs are difficult to see, particularly mid-day when the sun is overhead. Be patient and use the printed guidebook to help locate them.
Lake Shetek State Park | Currie, MN
After driving past miles of prairie, this lake and park seemingly appear out of nowhere. Lake Shetek is the largest lake in southwestern Minnesota. The word "Shetek" is the Ojibwe word for "pelican", which you can see in the park during summer and fall.
The Loon Island Trail is about a 1-mile loop trail that takes you on a causeway out to and around a small island in the lake. It's one of the more unique hikes I've done at the Minnesota State Parks! At the end of the causeway, when you first reach the island, there is a small beach area where people often swim and play in the shallow water.
Lake Shetek State Park also has a 6-mile bike trail to the nearby town of Currie. The park office has boats, canoes and kayaks available to rent.
Pro Tip: Pick up a Minnesota State Parks Passport at one of the state parks on this route and collect stamps! If you already have one, be sure to bring it along.
Blue Mounds State Park | Luverne, MN
Blue Mounds State Park is known for the sheer quartzite cliffs protruding up from the surrounding prairie. The park is also home to a bison herd, which is part of a reintroduction effort to restore the bison population.
The park has several great hiking trails. The Mound Trail is 1.5 miles one way and follows the edge of the bison range along the top of the "mound" or cliffs. Make your hike a loop by returning on the Upper Cliffline Trail which is also 1.5 miles. Be sure to enjoy the view from Eagle Rock Vista, which is a short drive away from the main park entrance.
For a unique experience, spend a night in one of the tipis available in the park!
Pro Tip: Along the main road between the park entrance and Eagle Rock is the Blue Mound Wayside Chapel. A cute place to stop and snap some photos.
Take 16 Brewery | Luverne, MN
Located along Main Street, this lively brewery has a large outdoor space and great selection of beers. They have a small food menu featuring local brands and occasionally you'll find a food truck parked in front.
Take 16 Brewery is family-friendly and dogs are welcome on the outdoor patio.
Sterling's Cafe & Grill | Luverne, MN
If you want a more substantial meal, stop at Sterling's Cafe & Grill on Main Street. They have indoor and limited outdoor seating along the sidewalk with a nice view of the theater.
I appreciated their selection of unique cocktails. As for food, I had already eaten at the brewery so stuck to the appetizers. The burnt ends appetizer is delicious! The flatbreads that the table next to me ordered looked and smelled amazing.
GrandStay Hotel Luverne
GrandStay Hotel Luverne is a great place to rest and recharge after a long day of exploring. There is a large and beautiful indoor pool area, which is for adults only late at night. Don't miss the hot and grab-and-go breakfast options included with the room.
Pro Tip: The Roll-on Luverne Bike Loan Program has bikes onsite for guests to use free of charge to explore the area. Ask about the program at the hotel front desk.
Day 2 | Luverne to Milbank
Touch the Sky Prairie | Luverne, MN
Managed by the US Fish & Wildlife Service, Touch the Sky Prairie is 1000 acres of native tall grass, wildflowers, butterflies, birds and more. There is a short 1.3 mile out-and-back mowed path that leads to a small secluded waterfall.
There are several locations for Touch the Sky Prairie in Google Maps. This listing in AllTrails will take you to the correct one to hike to the waterfall.
Pro Tip: There is no shade on this hike, so bring water and sunscreen. Also, be mindful of ticks in the area. Here are tips to avoid ticks when hiking.
WildFlowers Coffee Boutique | Luverne, MN
Located on Main Street in Luverne, WildFlowers Coffee Boutique has a friendly atmosphere and great menu. Pick from smoothies, coffee, blended drinks and more! The breakfast sandwich is excellent (I recommend adding avocado).
WildFlowers is closed on Sunday.
Split Rock Creek State Park | Jasper, MN
This park is home to the only lake in Pipestone County! Walk across the dam while exploring the park and get stunning views of the historic stone bridge built from local quartzite. The bridge is listed on the National Register of Historic Places!
Split Rock Creek State Park has just one hiking trail, a 2.5 mile loop that is relatively flat. The trail follows the lake through the woods and then up through a prairie with native wildflowers.
The park office rents canoes, kayaks, paddleboards and more!
Pipestone National Monument | Pipestone, MN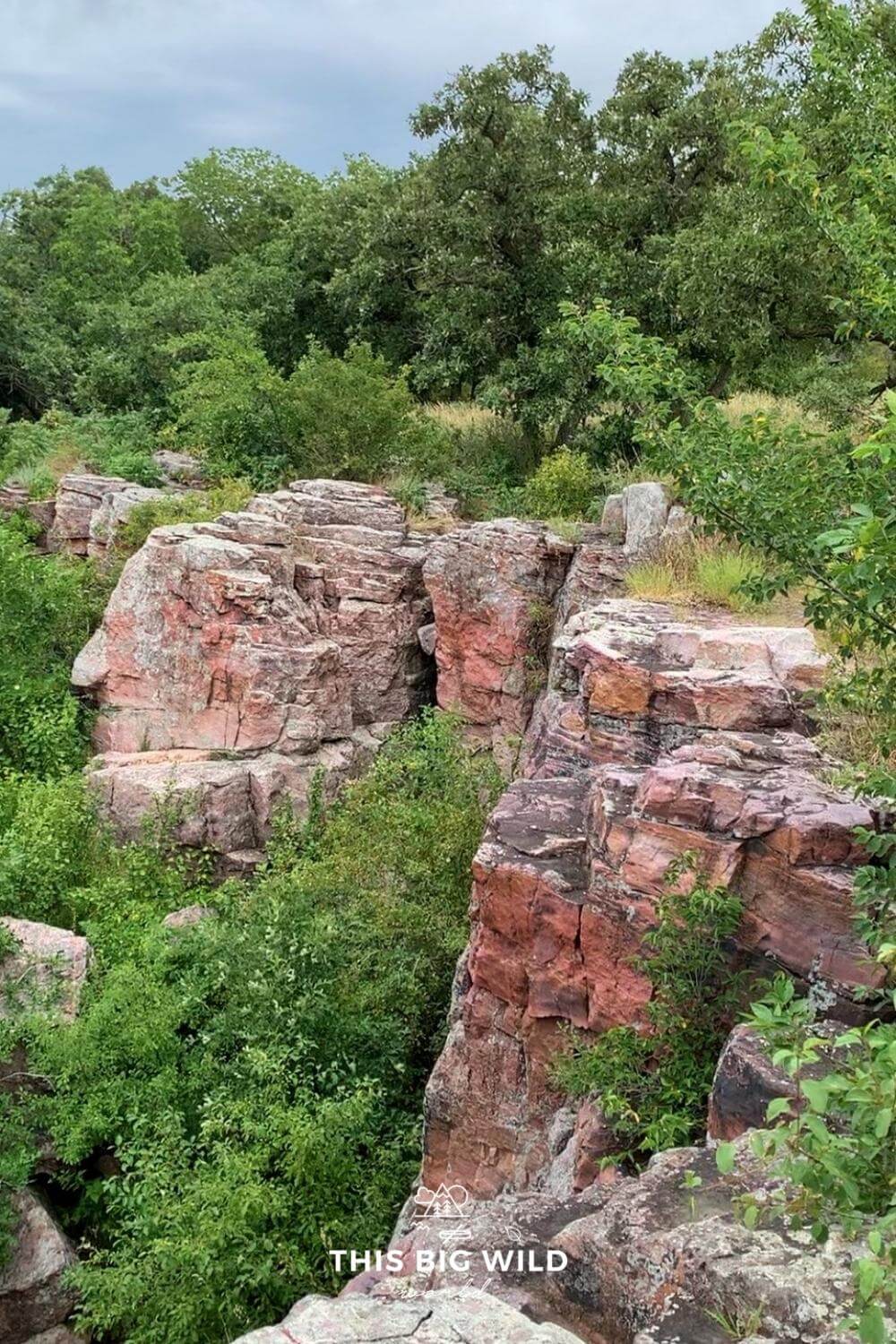 This unique national park unit is a sacred gathering place for American Indians native to this area for over 3000 years. Pipestone National Monument is where native tribes source pipestone which is used for making pipes used in prayer and other special occasions. It is believed that the smoke from the pipes carries a person's prayer to the "Great Spirit."
The Circle Trail is a 3/4 mile loop that starts and ends behind the Visitor Center. Be sure to spend time learning about the significance and history of this land at the Visitor Center exhibits.
There is no fee for entry.
Camden State Park | Lynd, MN
Looking for a place to cool off on a hot summer day? Visit Camden State Park and head straight to the spring-fed swimming pond! Enjoy a hike on the 2.5 mile Dakota Valley Trail which winds through forest and prairie with an overlook viewpoint of the valley.
The park also has single track mountain biking and the paved Camden Regional Trail that connects to the nearby town of Marshall.
Grab a bite to eat in Milbank!
If you're starving after a long day of exploring like I was, go to Habanero's Restaurant & Bar. As a tequila lover myself, I was impressed by their selection of margaritas and the food was great!
Alternatively, enjoy a lakeside dinner at Shady Beach Grille. This restaurant is located on Big Stone Lake, just 15 minutes from Milbank. Their specialty is steak but the menu features steakhouse and American cuisine favorites!
GrandStay Hotel Milbank | Milbank, SD
What a gem! As soon as you walk in, GrandStay Hotel & Suites in Milbank is a place you just want to hang out in. Grab a glass of wine or beer at the lobby lounge and enjoy it on the back patio or next to the cozy fireplace. Recharge in the fitness room, heated indoor pool and hot tub.
Rooms range from a standard double room to a one-bedroom king suite complete with a kitchen. If you don't feel like eating out, get a bag of popcorn or frozen pizza from the lobby and enjoy a comfy night in!
Be sure to enjoy the complimentary hot and cold breakfast served in the lobby before you check out! The selection is impressive, with something for everyone.
Day 3 | Milbank to Minneapolis
Big Stone Lake State Park | Ortonville, MN
Located on the border of Minnesota and South Dakota, Big Stone Lake State Park stretches 26 miles along the lake. The lake is the headwaters (starting point) for the Minnesota River and is a popular place for fishing and paddling.
The park has 3 units. The Meadowbrook Area is the largest unit and where the park office and campground is located. There are two hiking trails through the prairie in this unit, the Bluebird Trail (0.4 mile loop near the campground) and the Prairie Trail (2 mile loop). The Overlook Unit is 10 miles north of Meadowbrook and has a great view of the lake. Finally, the Bonanza Unit is another mile north and has a picnic area, education center and hiking trail.
Rent a canoe, kayak or fishing pole from the park office to explore on the water!
Lingonberry's Pastry & Coffee Shop | Ortonville, MN
Who doesn't love an adorable small town coffee shop after a morning of hiking? This gem has a wonderful selection of pastries, coffee, and a small gift shop. Be sure to try their caramel roll, it's their specialty!
Lingonberry's back patio is the perfect place to relax for a bit before continuing on your road trip!
Lac Qui Parle State Park | Watson, MN
Lac Qui Parle State Park's name is the french translation of the name give to it by the Dakota, which is "lake that speaks". It's representative of the lands history with the native tribes and later fur trading. It's said that the wind coming across the lake can make a howling noise, as do the migratory waterfowl that visit each spring.
Hiking can be found at both the upper and lower campgrounds, which are a short drive away from the park office. At the lower campground, explore the 2.1 mile trail that follows part of the Lac Qui Parle River. Alternatively, at the upper campground, there is access to a great 0.7 mile (one way) trail down to the lake through a prairie. Be sure to take the detour to walk along the lake! Continue on to see the largest recorded cottonwood tree in Minnesota (it's huge!!). To find this trail, park at the small cart-in campsite parking lot in the upper campground. The trail starts behind the pit toilet.
An Outdoor Lover's Southwest Minnesota Road Trip
This action-packed itinerary covers a lot of ground in a short time. It's a fun way to explore the unique beauty of southwest Minnesota!
Related content to read next:
Perfect Minnesota Road Trips for a Weekend Getaway
10 Outdoor Adventures for Your Minnesota Bucket List
What to Wear for Hiking in Summer: A Prepared Girl's Guide
Check out my Minnesota travel page for even more inspiration and tips!
Did you find this article helpful? Save it for later or share it on social media!