This adorable harbor town along Minnesota's north shore of Lake Superior isn't just a summer destination. There are so many fun things to do in Grand Marais MN in winter!
Grand Marais is a great location for easy access to some of the best frozen waterfalls and winter hiking in Minnesota. It's also a great base for cross-country skiing, snowmobiling and even dogsledding!
Layer up, grab your winter gear and enjoy these awesome Grand Marais MN winter activities!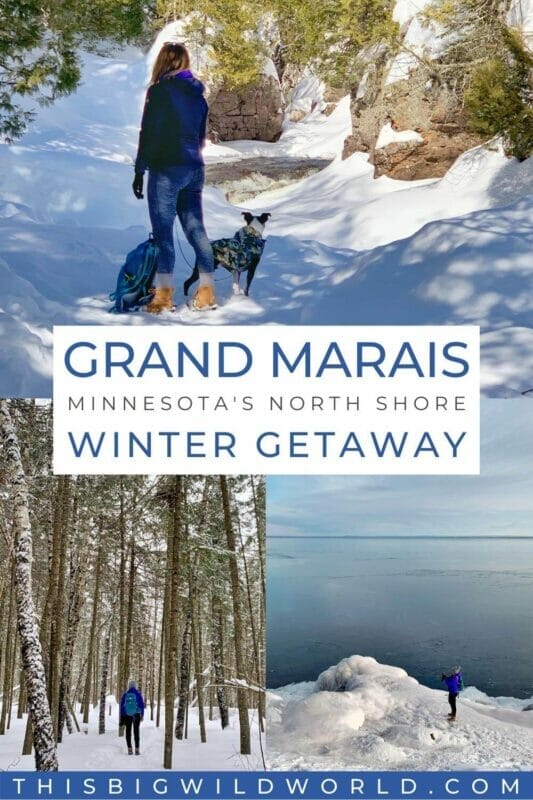 Disclosure: This post contains affiliate links. That means that if you purchase through a link, I may receive a small commission at no extra cost to you. For more info, visit this page.
Where is Grand Marais Minnesota?
Grand Marais is about 270 miles north of the Twin Cities of Minneapolis and St Paul, about 50 miles south of the Canadian border. The drive takes about 4-5 hours with plenty of beautiful places to stop along the way.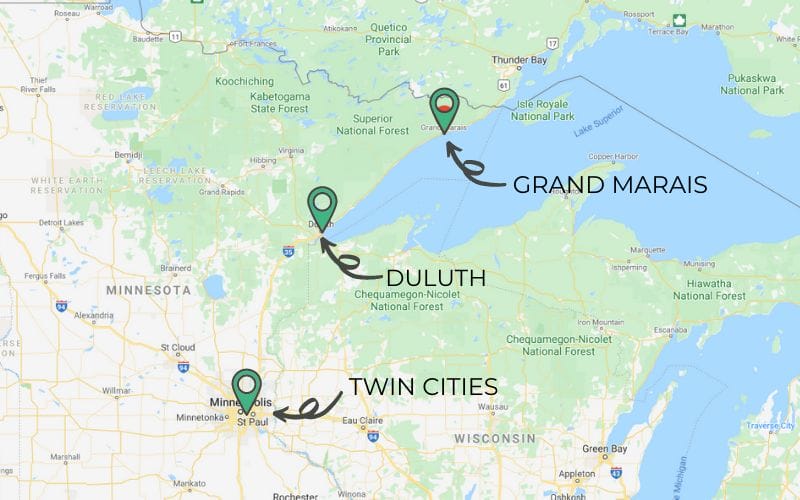 The town itself is nestled around a small harbor on Lake Superior with some of the best Minnesota State Parks within 15-20 miles in either direction. Grand Marais is one of two gateways to the Boundary Waters Canoe Area. (The other is Ely Minnesota, which is also beautiful in winter.)
Where to stay in Grand Marais in Winter?
Grand Marais has a large selection of Airbnb's, lodges, and cabin rentals for all different budgets. Here are two that I personally enjoyed in winter.
The Mayhew Inn
This boutique hotel is located right across the street from Lake Superior, a short walk from the major restaurants and shops. Each room has its own theme and layout. Some of the rooms are even pet-friendly!
The rooms have cozy finishings, ideal for warming up after a long day of winter adventures. The common spaces are a fun touch! There's a lounge area where you can mix your own drinks, comfy sofas and board games. In the warmer months, there is an outdoor fireplace, pizza ovens and a rooftop available to all guests. Unfortunately, when I was there was too much snow to enjoy these amenities!
Pro Tip: Book directly through The Mayhew Inn website as they often offer winter specials (such as the 3rd night for free)!
Best Western Plus Superior Inn
If you're looking for waterfront views, the Best Western Plus Superior Inn has a private cobblestone beach and is walking distance to the shops and restaurants in Grand Marais. Many of hte rooms have been recently renovated!
Take advantage of the in-room microwave and refrigerator and indulge in the complimentary full breakfast! Some of the rooms even have a fireplace, whirlpool or steam shower. First floor rooms are pet-friendly.
If you are looking for more of a hotel experience, this property offers great value!
Best Grand Marais MN Winter Activities
This popular summer destination truly transforms to a winter playground. Enjoy the beauty of the north shore of Minnesota, but without the crowds, with these fun things to do in Grand Marais MN in winter!
1 | Chase frozen waterfalls!
There's something so magical about frozen waterfalls and some of the best are located near Grand Marais! Here are a few of my favorites:
High Falls at Grand Portage State Park (40 min drive north)
Devil's Kettle Falls at Judge C.R. Magney State Park (15 min drive north)
Cascade Falls at Cascade River State Park (15 min drive south)
Cascade Falls is actually most easily accessed by parking in the small lots along Highway 61 and Lake Superior. Look for trails going into the woods on the southern side of the river.
Pro Tip: Be sure to pick up a Minnesota State Parks Passport before your trip! Earn free nights of camping as you collect stamps at the 76 state parks throughout Minnesota.
It's so important to be cautious when walking on or near frozen lakes and rivers. Often the water is still flowing underneath the surface and can be quite deep. Look for recent footprints on the surface and listen closely to hear creaking or echoing under your feet. If you are unsure, stay close to shore.
2 | Enjoy dinner at Angry Trout Cafe.
What once was an old commercial fishing shanty stretching out above the water in the harbor of Grand Marais, is now a farm-to-table restaurant. The Angry Trout's menu features local-grown ingredients, hand-harvest wild rice and fresh fish straight from Lake Superior.
The restaurant's commitment to sustainability extends from sourcing not just their ingredients locally, but many of the other items such as plates, napkins and more.
A few of my favorite dishes are the fried shiitake mushrooms and grilled fish of the day with wild rice on the side. Be sure to try the maple mustard dressing! It's insanely delicious.
3 | Hike or snowshoe to the Pincushion Mountain Overlook.
Explore a section of the Superior Hiking Trail and enjoy a stunning view of Lake Superior from above on the Pincushion Mountain Overlook. This 3.8 mile out and back trail is absolutely stunning in winter, covered in a blanket of snow.
To get to the trail, drive a short distance up the Gunflint Trail from Grand Marais to the Pincushion Mountain parking lot. If using Google Maps, navigate to the Pincushion Mountain Trail System. This parking lot is free to use and the hiking trail is located at the northern end of the lot.
Pro Tip: Follow the blue blazes or stripes on the trees to ensure you are staying on the Superior Hiking Trail footpath. The trail intersects with biking and cross-country skiing trails near the parking lot.
The trail is relatively flat except for the short climb up to the overlook at the end. Microspikes or snowshoes will be necessary to scramble up but once you're up there, the trail levels back out all the way to the overlook.
4 | Cross-country ski the Pincushion Mountain trail system.
Explore the 25 km of cross-country ski trails at Pincushion Mountain. There are trails for classic and skate skiing. Visit the Superior National Forest website for detailed maps of the trails to plan your visit.
The ski trails start from the same parking lot at the Pincushion Mountain Overlook Trail mentioned above.
Pro Tip: A Great Minnesota Ski Pass is required when skiing this trail. Day passes can be purchased online, by phone, at most state parks and even local gas stations.
5 | Snap a photo of the ice stacks along Lake Superior.
Have you ever seen the ice stacks along Lake Superior in the winter? They're incredible! As the water freezes and expands, shards of ice get pushed up on the shoreline. The result is piles of ice that look like diamonds.
Look for these at just about any of the overlooks along Highway 61 that are along the water. I enjoy stopping at Brighton Beach just north of Duluth on the way to or from Grand Marais. Other great places to find them are along the Shovel Point Trail at Tettegouche State Park and across Highway 61 from Cascade River State Park.
6 | Grab a bite and a brew at Voyageur Brewing Company.
Located right in the center of Grand Marais, just a block away from Lake Superior, Voyageur Brewing Company is a great place to recharge after a day of exploring.
My favorite menu items (so far) are the Reuben egg rolls and Thai chicken tacos! Both pair well with their Devil's Kettle IPA.
7 | Hike the Oberg Mountain Loop Trail.
This 2.3 mile loop trail in nearby Tofte has spectacular views of Lake Superior and Lutsen Mountains ski area and the Superior National Forest. It's a popular trail so is likely to be packed down, though microspikes or snowshoes are recommended.
Find free parking by navigating to the Oberg Mountain Trailhead on Google Maps. There is a short semi-steep climb to start out but then the trail levels out as it makes a loop around the peak.
8 | Get breakfast at Java Moose.
Rev up your engine with a cup of coffee and a bite to eat for breakfast. Java Moose is conveniently located right in the center of Grand Marais, a short walk to The Mayhew Inn and Lake Superior.
They've got a great selection of hot beverages, including some unique local flavors like a maple latte made with locally sourced maple syrup. I love their breakfast sandwiches too – but go early because they often sell out!
9 | Give dog sledding a try.
Experience the rush of gliding through the snow-covered forest behind a dogsled at Points Unknown in Hovland, just 30 minutes from Grand Marais. They operate and live off-grid using solar power and take great care of their huskies. You can read a bio of each of the dogs on their website to learn more about them!
As a dog owner and lover myself, I was hesitant to try dog sledding for a long time. But, after much research I learned that, while dog sledding isn't for everyone, it can be done ethically. Read a detailed review of my experience dog sledding in Norway and the best places to go dog sledding around the world.
10 | Breeze through the forest on a snowmobile.
The North Shore State Trail extends 146 miles from Duluth to Grand Marais with sections through true Minnesota northwoods and some with awesome views of Lake Superior. This is such a fun way to explore the Grand Marais area in winter!
Don't have your own sled? No problem! Steve's Sports in Grand Marais offers single and double snowmobiles and has easy access to the North Shore State Trail.
If you're new to snowmobiling, here's my beginner's guide to snowmobiling in Ely Minnesota.
So Many Awesome Things to do in Grand Marais MN in Winter
Grand Marais Minnesota is a true four season destination for outdoor lovers in Minnesota. Whatever your pace, from leisurely hikes to fast-paced snowmobile adventures there are so many fun things to do in Grand Marais MN in winter.
Related content to read next:
13 Two Harbors Winter MN Activities (for Outdoor Lovers!)
10 Outdoor Adventures for Your Minnesota Bucket List
What to Wear for Winter Hiking: A Prepared Girl's Guide
Check out my Minnesota travel page for even more inspiration and tips!
Did you find this article helpful? Save it for later or share it on social media!