If you thought Hayward Wisconsin was just a summer destination, think again! There are so many fun things to do in Hayward Wisconsin in winter.
Each year, this freshwater fishing destination transforms into a winter playground for cold weather adventurers. Among the long list of Hayward Wisconsin winter activities is snowmobiling, fat tire biking, snowshoeing and some of the best cross-country ski trails in the US. Whatever your skill level, you'll find trails suited just for you.
Come discover all the winter fun at these Hayward WI attractions!
My visit to Hayward was in partnership with Shrpa and Hayward Lakes Visitors & Convention Bureau. All opinions are, however, my own and I am under no obligation to write a positive review.
Disclosure: This post contains affiliate links. That means that if you purchase through a link, I may receive a small commission at no extra cost to you. For more info, visit this page.
Where is Hayward Wisconsin?
Hayward is located about two and a half hours (140 miles) northeast of the Twin Cities of Minneapolis and St Paul. This makes Hayward a great destination for a weekend getaway from the Twin Cities or even a long day trip.
The town of Hayward is part of the Hayward Lakes region in northern Wisconsin. It makes for a perfect homebase for a weekend getaway with a good assortment of restaurants, lodging, shops and easy access to all types of trails.
Best Hayward Wisconsin Winter Activities
I was blown away by all the fun outdoor things to do in Hayward Wisconsin. There's truly something for everyone and plenty of places to warm up between your winter fun!
1 | Cross-country ski the Birkie Trail.
Hayward is home to a large section of the popular Birkie Trail. The Birkie is a 100 kilometer cross-country ski trails that stretches from Cable Wisconsin to Hayward. The trail has been named by some as the #1 cross-country ski destination in the entire US! So, it's kind of a big deal.
The trail is very well maintained for both skate and classic skiing.
Pro Tip: A ski pass is required and can be purchased online or at the Birkie shop in Hayward. Daily or annual passes are available.
I recommend accessing the trail from the Highway OO Trailhead. This trailhead has a great warming hut with bathrooms, water fountain, a fireplace and even a small coffee shop. The trails are behind the warming hut. Skiers looking for more of a challenge, may enjoy the hilly terrain to the left. Beginners can go to the right and over the bridge for flatter terrain.
As you get further away from the warming hut, the trails are less well-marked. Consider bringing a paper map or doing an out-and-back to make navigating easier.
Pro Tip: If you need rental gear for skiing near Hayward Wisconsin, visit New Moon Ski & Bike Shop. The friendly team will get you set up with the right gear!
Not far from the OO Trailhead is the Mukwonago trailhead. This parking lot has access to both cross-country skiing and snowshoeing trails. The cross-country skiing trail have options for all skill levels.
Love cross-country skiing? Here are the best cross-country ski trails near Minneapolis!
2 | Stroll along historic Main Street.
Take a step back in time as you wander Hayward's historic Main Street for some shopping and a bite to eat. While you're there, don't miss the Hayward mural at the intersection of West 2nd Street.
Be sure to grab a sweet treat at Lynne Marie's Candy Shop. While you're there, ask what they are sampling for the day and maybe even meet Lynne Marie herself! Stroll down to Nordic Northwoods for Scandinavian inspired gifts. Grab yourself some Wisconsin northwoods gear at one of the many clothing stores such as Glik's!
3 | Enjoy a fish fry.
No visit to the northwoods of Wisconsin is complete without a fish fry! Many restaurants have a Friday fish fry special, but if you're not visiting on a Friday you can find it on the regular menu at many restaurants. The locals I spoke to seemed to have their favorite spot for the Friday fish fry, but they consistently recommended Angler's Bar & Grill on historic Main Street.
So, while you're strolling along Main Street, stop into Angler's to try their fish fry for yourself! The battered and fried cod comes with french fries, cole slaw, and tartar sauce. It's encouraged to put a generous splash of malt vinegar on everything before diving in! If you enjoy beer, try one of the local beers on tap with your meal.
Part of the experience at Angler's is the unique interior design. It's exactly what you'd picture a Wisconsin northwoods bar to be, covered in wood paneling and prize fish.
If you are up for venturing out of town a bit, the Lost Land Lake Lodge is said to have the best fish fry in the area!
4 | Experience fat tire biking.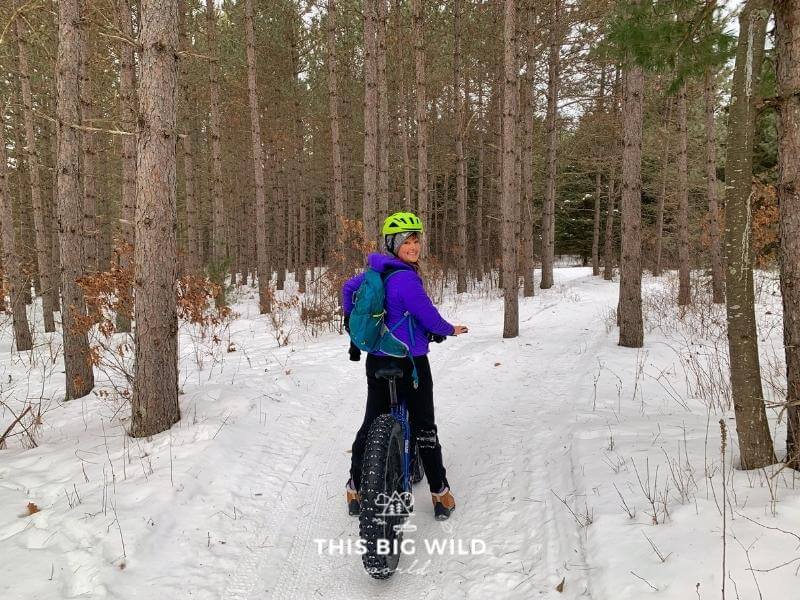 Hayward has an awesome network of fat tire biking trails. For beginners, the Hospital Trails are a great option. The trails have serious fairytale forest vibes, making it easy to forget how cold it is! Here you'll find 7 miles of fat tire biking trails, which are broken down into smaller loops with varying degrees of difficulty. There are also cross-country skiing and snowshoeing trails in this area, but all intersections are well-marked.
Pro Tip: Rentals are available at New Moon Ski & Bike Shop. If you're like me and don't have an easy way to transport the bikes to the trailhead, the Hospital Trails Olson Road trailhead is less than a mile from their shop. So, you can park at their shop and ride over to the trailhead!
For more of a challenge, explore one of the Chequamegon Area Mountain Bike Association (CAMBA) winter trails. They maintain over 70 miles of fat tire biking trails in the area surrounding Hayward. The nearby town of Seeley has several great trails, with options for all skill levels.
5 | Take a thrilling ride on a snowmobile.
With access to over 600 miles of groomed trails, the Hayward Lakes region is one of the top snowmobiling destinations in the US. Ride across the many frozen lakes, through National Forests, and along the popular Tuscobia State Trail.
Don't have your own sled? Find rentals at Hayward Power Sports or Runamuk Rides. Runamuk also offer guided snowmobile tours!
Find more information to plan your Hayward snowmobiling trip here.
Pro Tip: Download the Trail Treker app to help with offline navigation on the trail. The Sawyer County snowmobile map can be downloaded within the app.
6 | Grab a bite at Sawmill Saloon.
On your way to or from the OO Trailhead, or just because, make a stop at Sawmill Saloon! This restaurant is popular with snowmobilers, cross-country skiers and locals.
The menu features staples, like cheese curds, as well as burgers, sandwiches, pizza and fish fry. They also have healthier options as well as a full bar. Sawmill Saloon is the perfect place to warm up between outdoor adventures!
7 | Enjoy breakfast (or lunch) at Backroads Coffee.
This coffee shop was so good, I went every day I was in Hayward! It's got to be one of the best Hayward Wisconsin restaurants. Fuel up for your day of adventures with a coffee and a bite to eat at Backroads Coffee. The breakfast menu includes breakfast burritos, paninis and pastries. If you enjoy fun coffee drinks, try one of their specialty beverages! Backroads Coffee also has a lunch menu featuring wraps, sandwiches, salads and soup.
Pro Tip: The specialty breakfast burrito with ham is delicious and kept me full all morning!
Grab a seat on a comfy sofa or table and enjoy the cozy atmosphere for a while. While you're there, browse their Wisconsin-inspired gifts and home decor for sale!
8 | Give ice fishing a try.
Fishing is a year-round pastime in Hayward Wisconsin! Try your hand at ice fishing on one of the many frozen lakes in the area. There are a number of local guides who offer half day, full day and even overnight ice fishing experiences in Hayward.
Worried about being cold on the ice? Most guided ice fishing tours are in heated tents or shanties, so you can sit back and enjoy the experience!
9 | Learn about the history of cross-country skiing at the Tony Wise Museum of the American Birkebeiner.
How did the Hayward Lakes region become home to the American Birkebeiner Trail? How has the sport of cross-country skiing evolved? Learn all about the history of the Birkie Trail, the annual 50 km Birkie Race and the sport of cross-country skiing at the Tony Wise Museum of the American Birkebeiner.
The museum is free and located inside the Birkie Store in Hayward. So, while you're there grab some Birkie swag!
I found it fascinating to see how cross-country ski gear has evolved over time and the trail's ties to Norway and World War II. Even today, these Nordic roots are celebrated during the annual Birkie Race events.
Pro Tip: For a unique experience, visit Hayward during the annual Birkie Race week which is in late February!
10 | Explore the snowshoeing trails in Hayward.
Snowshoeing is a popular winter activity in Hayward Wisconsin, with several trails to choose from. The Hayward Town Forest (also referred to as the Town of Hayward Recreational Forest) has free snowshoe trails and a sledding hill. No permit is required, though donations can be made at a dropbox near the parking lot if you want to thank them for maintaining the trails!
There are four miles of snowshoeing trails at Hayward Town Forest, which are designated by the pink flags on the trees. The trails occasionally intersect with cross-country skiing trails but these are well-marked with signs.
Pro Tip: New Moon Ski & Bike also has snowshoe rentals!
Another place for snowshoeing in Hayward is the Hospital Trails, which also has fat tire biking and cross-country ski trails. To access the snowshoeing trails, park at the lot on Hospital Road. There is also ~ 5 miles of snowshoe trail at the Mukwonago trailhead off of Highway 77. There is a $5 cash fee to use the trail (envelopes at the trailhead), but the forest is lovely.
11 | Sip wine at Out of the Woods Winery.
Along historic Main Street in Hayward is Out of the Woods Winery. Build your own tasting with their selection of red wine, white wine, cider, beer and mead. I'll be the first to admit that I am hesitant about wine from the Midwest as it is often too sweet for my taste. Out of the Woods Winery surprised me with their selection of dry wines!
While you might come for a tasting, the inviting and friendly atmosphere will make you want to stay awhile. Add on a glass of your favorite wine or a wine slushy if that's your thing. For a unique taste, try the Bloody Marie – their take on a Bloody Mary using wine instead of vodka!
While you're sitting at the bar, notice the children's artwork on display. Children are welcome to make their own works of art while the adults enjoy their wine tasting. If kids choose to leave their artwork behind, it's put on display for sale. Any proceeds made from the sale of their artwork is donated to the local animal shelter. What a great way to make the space welcoming for all ages!
12 | Stop in for a local brew at the Angry Minnow.
The Angry Minnow is the only microbrewery in Hayward. The brewpub is located in a historic building and, in addition to their beer, offers a menu of small plates and light bites. Their beer selection includes some typical mainstays, like the Charlie's Rye IPA and Minnow Light, as well as a rotating list of seasonal beers. I'll definitely be going back to try the Tequila Barrel Saison Olivia!
13 | Experience an authentic Wisconsin supper club.
Wisconsin supper clubs are a unique experience and part of a long-standing tradition. While each supper club is unique, there are some key components that make up the authentic experience. Today, most supper clubs feature Friday fish fry, Saturday prime rib, and Sunday broasted chicken on their menus. Meals are served with a relish tray, which includes fresh veggies, smoked fish, crackers and a cheese spread. A brandy old-fashioned is the go-to cocktail to accompany your supper club meal.
In Hayward, there are several supper clubs to choose from. The Ranch is a great option and one of the best Hayward Wisconsin restaurants. It's nestled back in the woods with both a lounge area and restaurant. If you don't want a full meal, grab a seat in the lounge and share some appetizers. The stuffed dates are delicious!
Pro Tip: Find the full list of Wisconsin supper clubs in the region here.
14 | Take in the view at Garmisch Restaurant & Bar.
Step back in time with a visit to Garmisch Lodge's restaurant and bar, located in Chequamegon National Forest and along Lake Namakagon. The vaulted ceilings, stone fireplaces and view of the lake are the perfect setting for an afternoon coffee or cocktail or dinner.
Pro Tip: Around the holidays, Garmisch Lodge decks their halls! Soak in the spirit of the season from December through early February.
Garmisch is a short drive from Hayward in nearby Cable, but worth the drive. Almost every local I spoke to in Hayward recommended visiting here!
15 | Grab a delicious sandwich at Miller's Market.
If you love freshly made deli sandwiches, be sure to stop in at Miller's Market. Here you'll find a selection of smoked meat, cheese, and other grocery items. But, in the back is a sandwich shop that makes an impressive selection of hot and cold sandwiches.
Where to stay in Hayward Wisconsin?
The Hayward area has no shortage of lodges, AirBNB's and motels that cater to all budgets and travel styles. I don't typically stay in motels but I had such a positive experience, that I want to share it with you!
Hayward Haus
This gorgeous Airbnb is located just outside of Hayward off of Highway 77. It features a beautiful wall of windows, a wood burning stove, a fully appointed kitchen and the most peaceful atmosphere. The cabin is located on a lake which is perfect for snowshoeing in winter. The wifi works well for remote working, including video calls.
Find more photos and check availability at Hayward Haus here.
Northwoods Motel
This adorable motel just outside of Hayward is a true gem with friendly owners and clean rooms at an affordable price. The kitchenette room has been recently updated and has a well fitted full kitchen and dining area. This is perfect if you like to cook some of your meals or want to work remotely.
Unloading all of your winter gear is convenient and easy since all rooms are located on the ground level with parking immediately in front of each unit. There is plenty of parking space if you brought a trail with snowmobiles or other large equipment. Book your stay here.
Which Hayward WI attractions will you try this winter?
Hayward isn't just a summer destination. In fact, there are so many fun things to do in Hayward Wisconsin in winter it's nearly impossible to choose!
Related content to read next:
What to Wear Hiking in Winter: A Prepared Girl's Guide
Frederic Wisconsin: The Perfect Weekend Getaway in Wisconsin
Why You Need to Kayak the Apostle Islands Sea Caves
Check out my Minnesota travel page for even more inspiration and tips!
Did you find this article helpful? Save it for later or share it on social media!