So you're planning your trip to Jordan and you've heard that you need to go on a Wadi Rum Jeep tour.
I know what you're thinking.
Isn't it just a desert? What is there to see?
Honestly, I thought the same thing before I went, but ended up loving every single second of my time in Wadi Rum. The landscape is unlike anywhere else I've been in the world.
And no, it's not just a desert. Wadi Rum is incredibly diverse with so much to see and do. But, before you book your Wadi Rum jeep tour, there's a few things you should know!
Disclosure: This post contains affiliate links. That means that if you purchase through a link, I may receive a small commission at no extra cost to you. For more info, visit this page.
#1 // Entry is included with the Jordan Pass
If you haven't read my post about how to visit Petra like a boss yet, it covers why the Jordan Pass is totally worth it. (Hint: go read it now!)
Visitors with a Jordan Pass enter Wadi Rum for free. For those that don't have a Jordan Pass, be prepared to pay 5JD per person at the Wadi Rum Visitor Centre for an entrance fee.
Pro Tip: Buy a Jordan Pass online before you arrive in Jordan and have a printed paper copy of it with you.
#2 // The "Jeep Tour" may not be in an actual Jeep
As we rolled up to the Visitor's Center in Wadi Rum to meet our driver, I scanned the parking lot for a Jeep. What arrived instead was a four wheel drive truck with benches in the back. Both the truck and the benches had seen better days.
What at first seemed a bit concerning, ended up being perfectly fine. Just don't be surprised if your Jeep is very un-Jeep like.
#3 // Wadi Rum is a tiny town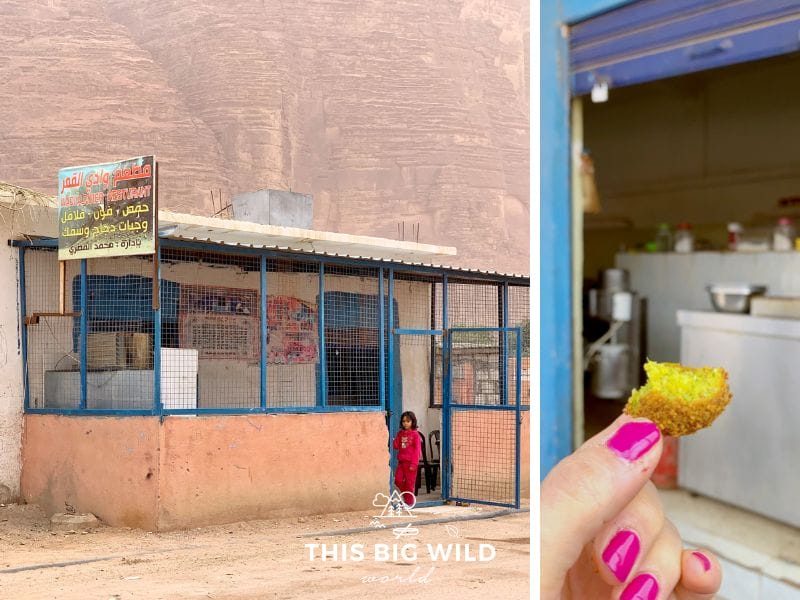 You probably will be told to meet your tour company at a random restaurant or visitor center in the tiny town of Wadi Rum. If you can't find your meeting spot, just drive around for 5-10 minutes until you see a bustling parking lot with lots of tourists.
Pro Tip: Be prepared to pay 1-2JD per person to use the bathroom at the meeting point for your tour.
On the main street there are a few shops that sell bottled water and snacks. Stock up before your Wadi Rum Jeep tour, especially if you plan to camp overnight.
Pro Tip: If you have time before your tour begins, I highly recommend you drive or walk into town to Wadi Alqumer Restaurant. It's a tiny place, but the falafel are some of the best I had in Jordan. Also, six of us ate for less than $15 USD total!
#4 // The tours are very negotiable
If you don't see what you're looking for on the website, just ask. The tour companies will likely be able to accommodate you or offer you alternative options. My tour was through Wadi Rum Tours.
Also, most tour companies can either directly offer or help you book add-ons to your tour. The most popular add-ons include sand boarding, a hot air balloon ride, and camel rides. I'm still kicking myself for not doing the sand boarding!
#5 // It's windy AF and the weather changes quickly
I was SO thankful I had sunglasses, layers and a scarf to protect my eyes from the wind and sand. One minute it was sunny and beautiful and the next it was (literally) hailing. I had sand in places on my body that I didn't know existed.
#6 // There are wild camels wandering around
It might be because I grew up in the Midwest US where camels are unheard of but I found the wild camels in Wadi Rum to be mesmerizing. Sure, there's loads of camels tied up in the desert that you can pay to ride on. But, I don't personally feel great about doing that.
Instead I mentioned to our guide how much I loved seeing the wild camels and he asked if I wanted to see them up close. Of course I said yes as long as it was safe. The camels were so curious as our truck parked near their path. They walked right up to check us out. It's a moment I'll never forget!
#7 // The landscape is incredibly diverse
Wadi Rum's landscape has so much to offer. In just one afternoon, you'll see rugged mountains, hike through lush canyons, walk along a trickling stream, stand on a natural rock bridge and climb a sand dune.
Here are a few of the unique landscapes to see during your Wadi Rum Jeep tour.
Natural Rock Bridges
There are three notable natural rock bridges to see on your Wadi Rum Jeep tour.
Little Bridge
With just a four meter span, this is one of the smaller natural rock bridges in Wadi Rum but it's an awesome place to capture pictures of the surrounding red sand valley and mountains. Climbing to the top takes less than 10 minutes!
Umm Fruth Rock Bridge
Standing at nearly 15 meters tall, it's not hard to understand why this is one of the most photographed places in Wadi Rum. The climb is slightly more challenging and steep than the Little Bridge, but with some tips from your guide it's actually quite easy to reach the top.
The line to take a photo at the top was long when I was there, so I opted for a photo underneath the bridge. Not a bad choice, huh?
Burdah Rock Bridge
This bridge is southeast of Wadi Rum village. The three hour hike to reach the bridge includes some scrambling over rocks but the views are totally worth it. The bridge is around thirty five meters tall and believed to be one of the highest rock bridges in the world!
Plan about 1.5 hours to drive to the start of the trail before starting the hike.
Canyons
Abu Khashaba canyon
As we rolled up to Abu Kashaba Canyon, our guide looked concerned. I thought for sure we had a flat tire or other mechanical issue. Then he told us to get out and pointed into the canyon. He said he'd see us on the other side. I was positive he was leaving us for dead but, thankfully, I was wrong. After a short hike, he was waiting for us at the other end of this gorgeous canyon.
This hike takes about 45 minutes through a red and yellow sand canyon dotted with lush green trees and bushes. At the very end, you need to scramble up some boulders to get out of the canyon but aside from that the trail is easy. As you walk, be sure to enjoy the wraparound views of amazing rock formations.
#8 // Petroglyphs tell stories from more than 10,000 years ago
Petroglyphs are images carved into rock, typically associated with prehistoric people. There are several locations to see them up close in Wadi Rum. Here's just a few places you can stop to see them.
Lawrence Spring
According to the stories passed down, Lawrence of Arabia washed in this spring during the Arab Revolt. However, it was actually named after a British army officer who crossed the desert in the early 1800's.
This tiny natural spring was an important source of water for caravans that once traveled between Syria and Arabia. But, don't just scramble up the rocks to see the spring, check out the petroglyphs on the large rock on the way up. These inscriptions were used to inform others traveling in the area that this mountainside held water for them!
Khazali Canyon
Visitors can actually only walk into this canyon for about 100 meters. It's quite thin and, honestly, a bit claustrophobic. It's the most visited canyon in Wadi Rum desert.
But all that aside, as you enter the canyon, don't miss the petroglyphs along the walls. The images are incredibly detailed depicting people, camels, pairs of feet and more from centuries ago. This was also a critical source of water for the Nabatean people during their prime.
#9 // But it's not just about the landscape, it's also about the Bedouin lifestyle
Have you really been on a Wadi Rum Jeep tour if you didn't stay overnight at a Bedouin camp? Probably not. A visit to Wadi Rum is about so much more than the landscape. Take time to learn about the Bedouin lifestyle and experience.
The dinner at camp is usually a dish called zarb, which is meat, vegetables and potatoes cooked underground. They ceremoniously unearth the dinner from underground before serving it in a tent designated for eating.
After dinner, expect for there to be some awkward but endearing group dancing. I opted out of dancing and into smoking shisha instead. I never smoke cigarettes or otherwise, but shisha is delicious. My motto is "don't knock it till you try it."
Pro Tip: Buy alcohol before you get to Wadi Rum village and bring it on the tour with you. If you drink, it's a great way to unwind while you wait for dinner to cook!
#10 // The camps are not exactly "roughing it"
If you are hesitant to stay overnight in a Wadi Rum camp because camping isn't really your thing, don't worry. The camps are quite fancy! They are actually more like semi-permanent huts.
The huts are raised off of the ground, have a light fixture inside and a small window with a curtain. Each hut was roughly the size of a large bedroom with plenty of space to store your luggage. There were two beds with big fluffy fleece blankets to keep you warm on the cold desert nights!
I was particularly impressed with the bathrooms. There were clean Western style toilets and showers with limited hot water.
Probably the most unexpected perk, was that there was electricity and wifi available in the food tent. This may not be the case with every tour, though, so be sure to ask if that's important to you!
#11 // The night sky is incredible
Last, but not least, don't just go straight to bed while camping on your Wadi Rum Jeep tour. Take some time to enjoy the night sky!
Just before bed, on a whim, my cousin and I decided to go play around with some night photography and ended up with this! A hint of sunset was still happening in the distance with an unreal pop of stars in the sky. #worthit
Are you ready for your Wadi Rum Jeep tour?
Hopefully I've convinced you that Wadi Rum is a must-stop on your Jordan itinerary. Still have some questions? Drop them in the comments and I'll be sure to answer them!
Love this post? Pin it!