Outdoor Adventures in Fiji
When you think of Fiji, do you picture sipping cocktails on a beach chair next to crystal blue waters? There's plenty of that! But it's also a dream travel destination for any outdoor adventurer, regardless of your budget.
It's true, Fiji is a bit out of the way, but the reward is worth the journey. I've been fortunate enough to visit Fiji twice and I could go back again and again. The people are some of the most kind I have ever met, the diverse landscape takes your breath away, and the adventures are endless.

Disclosure: This post contains affiliate links. That means that if you purchase through a link, I may receive a small commission at no extra cost to you. For more info, visit this page.
How to Get There
Fiji is made up of several islands, but international flights generally arrive on the island of Viti Levu at Nadi Airport (pronounced nan-dee). Nadi is located on the Western side of the island with easiest access to the Mamanucas and Yasawas, which are groups of islands. These are both great places to visit, especially if it's your first time to Fiji.
There are two primary ways to get to these two groups of islands: ferry or seaplane. The ferry is the most cost effective option but takes a bit of time. Splurge for the seaplane if you'd like to enjoy the spectacular view of the islands from above!
By Ferry
The Yasawa Flyer (by Awesome Adventures) is a great ferry option because it stops in a few of the closer Mamanuca Islands before continuing onto the Yasawa chain of islands. Catch the Yasawa Flyer from Port Denarau, which is a 30-45 minute ride from Nadi Airport. Most resorts will help arrange a transfer for you from the airport to Port Denarau. This was less expensive than paying an independent taxi transfer.
At Port Denarau, there are a few restaurants and shops as well as clean bathrooms. Change into warm weather clothes and sandals to get to/ from the boat at Port Denarau before boarding the ferry.
If possible, purchase a ticket for the Yasawa Flyer in advance as the boats can fill up. Purchase either a standard fare or upgrade to the Captain's Lounge for about $20USD extra (each way). Depending on what island you're going to, the upgrade can be worth it as the ferry ride could be as long as 4+ hours to the furthest islands. The Captain's Lounge offers unlimited drinks (yes, alcoholic beverages) and snacks in an air conditioned lounge. I've only gone to/ from a single island in one trip, but Awesome Adventures also has multi-island passes if you want to stay at more than one.
A Tale of Two Islands: Beachcomber vs. Nacula Island
My two visits to Fiji could not be more different. The first was a low-budget backpacker stopover on my way to Australia. For this trip I opted for Beachcomber Island, one of the closest to Port Denarau in the Mamanuca Islands. Beachcomber is great if you're traveling solo, short on time, or just want a social atmosphere. There are several dorm options in addition to bures (huts). While there, you can scuba dive, snorkel, kayak, standup paddle board, and take daytrips to other islands and markets on the mainland. This island is smaller and relatively flat, so don't expect to hike for any epic views, but the views from the beach are impressive.
The second visit was mid-budget and Fiji was my only destination. For this trip, I opted for Blue Lagoon Beach Resort on Nacula Island, one of the furthest islands away from Port Denarau in the Yasawa Islands. This resort offers accommodation for any budget, including budget rooms with shared bathrooms, mid-range villas, and high-end beachfront villas. Nacula Island has a never-ending list of outdoor activities to enjoy during your stay!
Outdoor Adventures at Blue Lagoon Beach Resort
When researching places to stay in Fiji, outdoor adventures and activities were a top priority. Based on what I found, Blue Lagoon Beach Resort had the most extensive list for the price and time I had available. The next priority was to understand food options available at each resort. Most resorts have mandatory meal plans in addition to the lodging rate because, well, there's usually not any other restaurants on the island. Factor this into your budget!
Here are just some of the outdoor activities available at Blue Lagoon Beach Resort.
Free Activities
Kayaking: Grab a kayak and paddle around the reef in front of the resort. I spent a few hours kayaking along the coast and discovered a sandbar that went way out into the water. I was able to park my kayak and just enjoy the shallow water for a bit (keep an eye on the tide as it shifts though!).
Guided Hiking: My guide actually lived on the other side of the island from the resort, so he knew all of the best viewpoints. It was breathtaking to see the island and surrounding area from above. The hike was moderate, but steep in some areas and on volcanic rock (our guide did this hike barefoot!). Wear comfortable shoes or sandals for this hike.
Pro Tip: Consider bringing these day hiking essentials with you!
Snorkeling: Gear is available to use at the reef immediately off the beach. Paid excursions are available for offshore snorkeling.
Movies: Certain nights of the week, Blue Lagoon offer movies on a screen down near the beach. There are loads of big pillows to lounge on and the bar will be serving cocktails!
Paid Activities
Scuba: Most of the resorts in the Mamanucas and Yasawas offer scuba diving. However, it's important to note that what you will see will vary greatly. It's worthwhile to do some research. Blue Lagoon offers about 30 dive sites (as well as a PADI certification course), including a unique Shark Encounter that I couldn't find elsewhere. Of course, I had to check it out. I'm a PADI-certified diver that hadn't dove in several years, so I would say I have a basic level of diving experience.
Once the boat ties off at the dive site, you descend down to a brilliantly colored reef with black tips, lemon sharks, and whitetip reef sharks swimming all around you. As they swam just inches away from me, I felt completely unthreatened. Then, I saw them – the bull sharks (yes, plural). I don't know if you've ever seen one of these, but all I can say is that they command respect. They were close to 10 feet long swimming quickly in circles below the reef. These are one of the more aggressive shark species, though they seemed happy enough to stay down near the ocean floor (which was fine with me). In all of the dives that I've done, I have never sucked down a tank of air so quickly as I did on this dive. They were just 20 to 30 feet away from us! It was terrifying, humbling and mesmerizing all at once.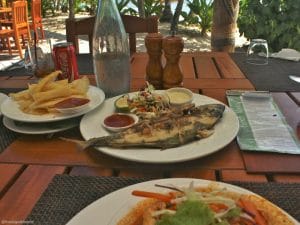 Hand Line Fishing: This was something I had never experienced! Basically, you hold a roll of fishing line in your hand with a weight and a hook on the end of it. After putting some bait (we used octopus chunks) on the hook, you just drop it off the side of the boat and wait until you feel nibbles. I apparently suck at hand line fishing because all I caught was a snail, but our guide and one other person on our boat reeled in countless fish. In fact our guide felt so badly that we didn't catch anything that he gave us one of us his fish and had the chef cook it for us. It's certainly not a fishing charter (which they also offer), but a unique experience that's worth a try!
Village Visit: Because many of the employees at the resort live in villages on the island, they offer daily visits to their villages. The village was more easily accessible by boat (though the employees walk across the volcanic rock to and from work). We visited a school on the island and it happened to be their day for music class so we got to hear them sing. Our guide explained that the kids live at the school during the week and go home at the weekend, many of them living on surrounding islands. We then visited the church where some of the locals were selling homemade items such as rugs, sulus (sarongs), and paintings.
Day trip to Sawa-i-Lau Caves: These limestone caves are about an hour away by boat. The first cave is brightly lit as the sun shines in through an opening at the top. From the first cave, you can swim through a short underwater tunnel into a second cave that is completely dark. Although I'm an avid swimmer, I found this to be a little terrifying. There was a guide with an underwater flashlight that helped and floating tubes in the water that you can hang on to so you're not treading water the whole time. I enjoyed this excursion, but it's definitely not for everyone. The boat ride to and from the caves was gorgeous!
Fiji is Paradise for the Outdoor Adventurer
As you can see, Fiji is an outdoor adventurer's paradise. There truly is something for everyone, no matter your budget!
Love this post? Pin it for later!