'Airbnb Experiences' Reviews & Tips
Are you searching for authentic travel experiences? Big formal group tours have never been my thing. I want to get off the beaten path and get a glimpse at daily life in the destinations I visit. But finding these opportunities to authentically connect with locals and learn about the culture can be challenging.
At least it was, until 'Airbnb Experiences' came along.
Launched in November 2016, Airbnb Experiences were created to address an emerging need that Airbnb identified in the market. They had discovered that 69% of people surveyed would rather spend more money on better activities than a nice hotel room and 65% want to come back from their travels having experienced something new (click here for more info).
So, what are Airbnb Experiences? They are "activities designed and led by inspiring locals. They go beyond typical tours or classes by immersing guests in a host's unique world."
From cooking classes to foraging expeditions and a whole lot in between, there are over 30,000 Airbnb Experiences available around the world. Suddenly, visiting a place like a local is more easily within reach.
But are these experiences any good?
I asked several travel experts to share their Airbnb Experiences reviews and tips to help you decide if this is the type of authentic travel experiences you are seeking! Also, one Airbnb Experiences host shares a peek behind the curtain on what it takes to become a host.
Disclosure: This post contains affiliate links. That means that if you purchase through a link, I may receive a small commission at no extra cost to you. For more info, visit this page.
'Airbnb Experiences' Reviews: The Good
Cooking Class | Helsinki, Finland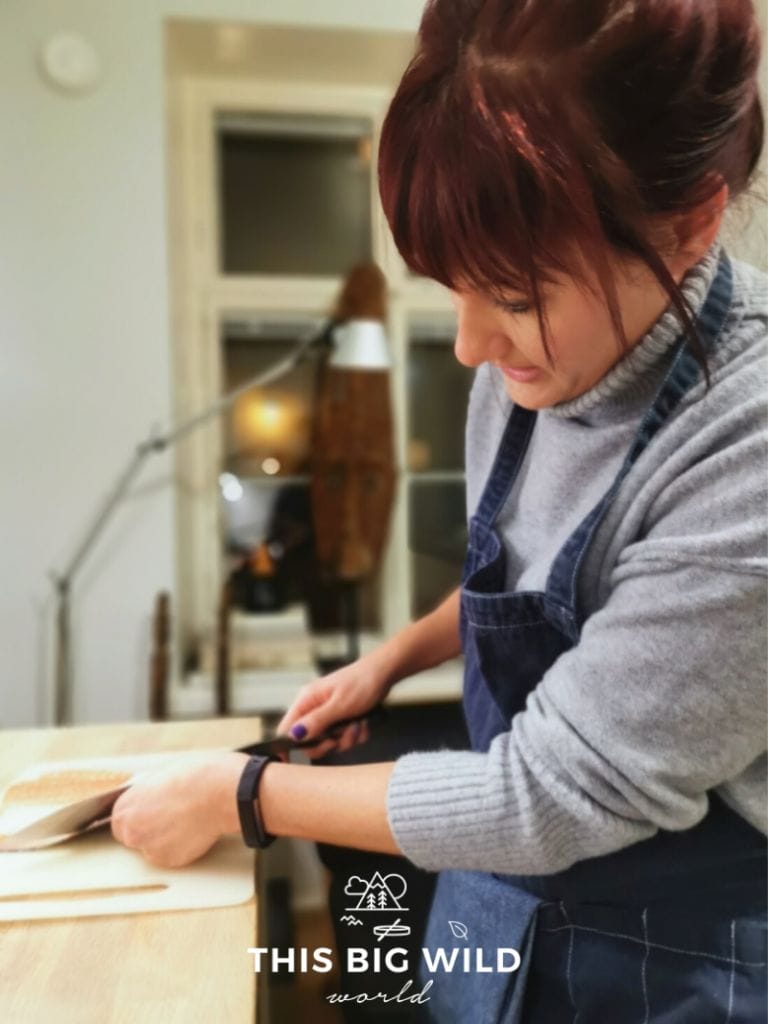 One of my favorite ways to experience a culture is through its food. But not just the food, the story behind the food. Why are certain recipes culturally significant? What techniques are used to prepare iconic dishes?
So, as I planned the final details for my DNA travel experience in Finland, I knew I wanted to take some sort of cooking class. I had heard about Airbnb Experiences but never tried one. Honestly, I was pretty skeptical of the whole idea. I mean, who are these people who are hosting these experiences?
After spending some time searching for these answers online and scrutinizing the reviews of the Airbnb Experiences available in Helsinki, I decided to book "Finnish Cooking Class in the Heart of Helsinki" with Annamaria.
Days before my cooking class, Annamaria contacted me through the app to inquire about dietary restrictions and to give me directions to her apartment.
Pro Tip: Depending on the culture, consider bringing a small gift for the host. I brought some chocolates from home for my host!
When I arrived, Annamaria greeted me with a big smile and delicious homemade juice drink. As it turns out, it would just be me for the evening so I got a one-on-one cooking class!
After a safety briefing, we talked through all of the ingredients for the traditional Finnish dishes we'd be cooking. She shared stories about the different ingredients, explaining why they are significant. I quickly learned that Annamaria is an experienced chef with a ton of knowledge about Finnish cooking!
Together, we cooked four traditional Finnish dishes including salmon soup, Finnish meatballs, dill potatoes and cinnamon buns. All were delicious but I mostly enjoyed the opportunity to just talk with Annamaria about life in Finland.
I can't say enough positive things about my Airbnb Experience and will most definitely do more in the future! It makes authentic travel experiences much more accessible and easy to plan.
// Read more about Finland here!
---
Photography Tour | Lisbon, Portugal
Airbnb Experiences are a great way to see a new city through the lens of a local. Literally, in my case! When visiting Lisbon, Portugal, I decided to book a photography Airbnb Experience, and I am so happy that I did as it was an incredibly positive experience.
I was able to see new spots in the city that I likely would never have found on my own, and take professional pictures that I will cherish forever.
But there are A LOT of different options on Airbnb, so how is one to choose??
My best advice is to do your due diligence! Read the description of the experience THOROUGHLY to ensure you understand what is and is not included (for example, extensive photo editing was not included with my experience).
Pro Tip: If you book an Airbnb Experience where it will be just you and the host, always let someone know where you are meeting the person and when you should return.
Also, pay special attention to the reviews. While a hiccup here and there is normal, you'll naturally want an experience that has more positives than negatives. Use this information to narrow down your options, then reach out to the Airbnb Experience host! Have a conversation about what you're looking for, what they can provide, availability, etc.
From that information, you will be able to make an informed decision and be on your way to an amazing experience in no time.
// Book a professional photo shoot in Lisbon, Portugal with Airbnb Experiences!
Contributed by Kara at Destination: Live Life.
---
Hiking through Griffith Park | Los Angeles, USA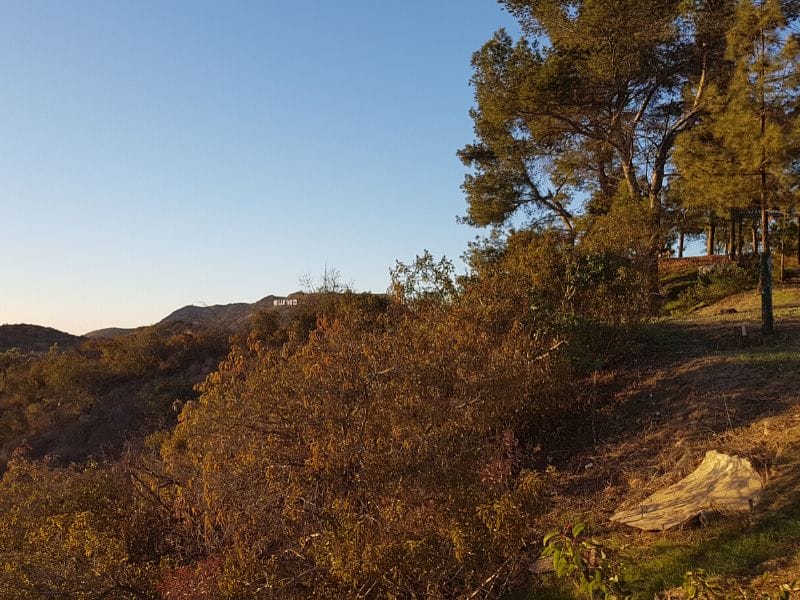 When travelling in a new place, especially solo, I always make a practice of checking out what experiences are listed in Airbnb. Since Experiences are hosted by locals offering their view of things to do in their hometown, its a chance to get a local and less commercial experience than that of an expensive group tour.
When I spent 4 days in LA I hadn't planned out all of my days, so Airbnb Experiences were a great way for me to scope out what the area could offer. I ended up choosing an afternoon hike through Griffith Park, ending at the Griffith Observatory featured in La La Land.
The group was small, less than 10 of us, and the guide was hugely knowledgeable about the history and geography of the area, and was able to answer any questions we threw at him. It was one of my favorite afternoons in LA.
When you're looking at Airbnb Experiences, always check out the group size and how many spots are still available – you don't want to be in a group too big. Always check the reviews also. I find people tend to be pretty honest on their Airbnb reviews so if someone has had a bad experience they'll have written about it.
// Book a hiking tour in Los Angeles, California with AirBnb Experiences!
Contributed by Holly from Globeblogging.
---
Street Art | Glasgow, Scotland
The best experience (and the only one so far) I have with Airbnb Experiences was in Scotland. I traveled to Glasgow for a few days and wanted to get to know the alternative side of the city so I decided to give my Airbnb credit a good use and I booked a street art/alternative tour.
My experience was great and fulfilled all my expectations, I walked around the city with a local, got to know some history facts and, mainly, discovered a lot of beautiful and hidden street art and graffiti.
For me, the key to having a good experience in this kind of activity is to research the tour and the tour guide. A lot of times the same person who is advertising in Airbnb has a personal website or works for a travel company, so always google it first.
Pro Tip: One perk of booking an Airbnb Experience in the off-season is that you may get the host all to yourself!
Besides that, you should always read the reviews and see what people think about the tour and the tour guide.
Considering all that I mentioned, you should be ready to have an awesome Airbnb Experience!
// Book a street art tour in Glasgow, Scotland with AirBnb Experiences!
Contributed by Laura from Laura No Esta.
---
Tapas Tasting | Seville, Spain
With a city break to Seville booked we wanted someone to take us to authentic restaurants and bars where we could try out the national tapas dishes.
We checked out several Tapas Food Experiences on Airbnb and decided to book with Carlos, a local who also ran history tours of Seville. We chose him as he had 5-star review ratings and he was a local.
Our tour was to include 3 tapas dishes and wines at 3 different bars and a brief look at the history of the areas in the city that we would visit.
Carlos met us and we realised we were the only ones on the tour. At first this worried us, but we were soon chatting away like old friends.
Our tour lasted 3 hours and, in that time, we ate wonderful tapas ranging from vegetarian to meat variations, all washed down with local wines. My favourite was the vino de Naranja (orange wine) made with local Seville oranges.
By the end of the tour we had discovered a love of tapas and had learnt a lot about Seville both past and present. For food lovers and history buffs it is definitely a tour I would recommend.
// Book a tapas and wine tour in Seville Spain with AirBnb Experiences!
Contributed by Angela from Where Angie Wanders.
---
Food Tour | Tbilisi, Georgia
I recently tried an Airbnb Experience for the first time in Tbilisi, Georgia. Since I'm already a huge fan of Georgian cuisine, I decided to book a food tour with a local to fill in any gaps in my knowledge.
I enjoyed the experience very much. The tour lasted for approximately three hours and was well-paced. Since street food isn't really a thing in Georgia, the tour combined a typical sit-down meal at a restaurant with visits to several delicatessens and cheesemongers, where we got to sample a range of local meats, cheeses and sweets. The final stop of the tour was the highlight for me; it took us to a tea shop that's hidden away. There, we got a chance to experience a tea ritual and try different white and green tea leaves grown locally in Georgia.
Pro Tip: Look for an experience that caps groups at an intimate size (maximum 5-6 people).
My top tips when choosing an Airbnb Experience are to one, look out for experiences that cap groups at an intimate size (I think maximum 5-6 people is ideal), and two, to choose an experience that involves some sort of hands-on activity (be it cooking, eating, making something, etc.). The best thing about Airbnb Experiences, in my opinion, is the chance to learn something new from a local. Ideally, you want to maximize your opportunities for asking questions and give yourself a chance to participate in experiential learning.
// Book a food tour in Tbilisi, Georgia with Airbnb Experiences!
Contributed by Emily from Wander-Lush.
'Airbnb Experiences' Reviews: The Not-So-Good
Street Art | Camden Town, London, England
What's great about Airbnb Experiences is that they allow you to tap into someone's passion project, which is exactly what I was trying to do on a recent visit to London. I'd already spent time exploring street art in Shoreditch, but I wanted to learn more about the murals in Camden. So, I booked an Airbnb Experience with a local expert on the topic.
Unfortunately, the guide ran into a problem and had to cancel just before the tour began. I was disappointed, of course, but understand that these things do happen.
What was odd, is that the guide didn't message me directly, but rather the notification came through Airbnb's support system. So, I had no way to communicate with the host about getting additional information or rescheduling the tour. The result is that I explored the neighborhood on my own and didn't rebook the tour.
In order to avoid my experience, I suggest that you do two things:
If you are contacted by the Airbnb support people, ask that they have the host contact you directly.
If you have a choice, book an Airbnb Experience that has multiple times and/or multiple guides. This will give you the most flexibility, in case you have to rebook.
Contributed by Carol at Wayfaring Views.
---
'Airbnb Experiences': A Hosts Perspective
As I mentioned earlier, I had a lot of questions about how someone becomes a host of an Airbnb Experience. Specifically I wanted to know about safety precautions and screening measures as well the level of expertise I could expect from the hosts.
According to Airbnb, to become a host of an Airbnb Experience a person must be able to demonstrate not just expertise but also the ability to connect with guests (read more about the Airbnb Experiences quality standards). They want to ensure that the experience provides "insider access" to off the beaten path places and things.
Airbnb has put many safety measures in place to ensure the safety of guests, hosts and animals if any are involved in the experience. For example, they have an extensive list of food safety and allergy tips for Airbnb hosts. Any host of an experience involving animals must follow the World Animal Protection guidelines. A host must be able to demonstrate the standards relevant for their category.
On top of that, there is 24/7 community support available and a one million dollar liability insurance policy providing some coverage for hosts and guests.
Here's a peek behind the scenes on what it's like to be an Airbnb Experiences host.
Gastronomic Tour | Crete, Greece
I moved to Chania (Crete) about five years ago, after many seasons choosing the island for the annual family holiday. I had long been a travel writer with a focus on Greece, so it was not hard to slowly specialize in my area. And for my blog to become a point of reference for those wanting to know what to do in Crete. In my personal case, many readers got in eager to know so many things about the island that I finally decided to start showing them around.
Out of everything that Crete has to offer, the Cretan diet as well as the wines produced locally always caught everyone's attention. Both are a clear reflection of the history and culture of the island. That's how my gastronomic tour, "A Taste of Crete" started getting a shape of its own.
Becoming a host is not hard from the technical point of view. Airbnb offers offer a super user-friendly platform which easily handles your schedule. Yet, to be a successful host you must specialize and be really knowledgeable. This is key to get great reviews which, at the end of the day, are what keeps the business going.
Still, I believe that the secret to success is to enjoy the experience every single day. Interacting with the locals in a genuine way, learning something new every time you get on the road, and truly loving what you do. This creates a special bond with your guests who are eager to enjoy as much as you do.
Those who want to discover what Experiences are all about should forget the concept of tour, this has nothing to do with that. You get to see and enjoy the place you visit from a different perspective, in a way that no traditional tour will ever convey. If you're up for authentic travel experiences from the locals point of view, Airbnb Experiences will probably be the highlight of your trip.
Contributed by Gabi at The Tiny Book.
Authentic Travel Experiences with Airbnb
Honestly, I searched hard to find people with negative reviews to share related to Airbnb Experiences. I'm sure they happen but the overwhelming response I heard was positive. I hope these Airbnb Experiences reviews and tips help you discover authentic travel experiences on your next adventure.
Book an AirBNB experience in your next destination!
Love this post? Pin it for later!