Experience Bagan's Culture and Beauty
Myanmar, for me, wasn't a place that was on my radar. In 2016, it was just gaining popularity as a travel destination. But, the images my friend, and co-founder of RAKLife, shared with me from her recent visit to Bagan hung in my mind.
So, when RAKLife organized a trip to Myanmar I knew I had to go and experience Bagan's culture and beauty in person. While I have written several posts on my time in Myanmar, Bagan was the most magical. From temples to tasty treats and everything in between, try these wonderfully unique and cultural things to do in Bagan.
Disclosure: This post contains affiliate links. That means that if you purchase through a link, I may receive a small commission at no extra cost to you. For more info, visit this page.
Getting To Bagan
There are multiple ways to get between cities in Myanmar.
By bus is definitely the most affordable option. On major routes like the one from Yangon to Bagan, you can find luxury/ more comfortable options available. However, the ride takes close to 12 hours.
For my itinerary, I didn't have the time to take a bus, so I opted for an internal flight on Air KBZ and made the trip in about an hour. I was shocked that on such a short flight we were served a full meal so don't bother buying a meal before you board.
Read all about my unexpected adventure in Yangon here!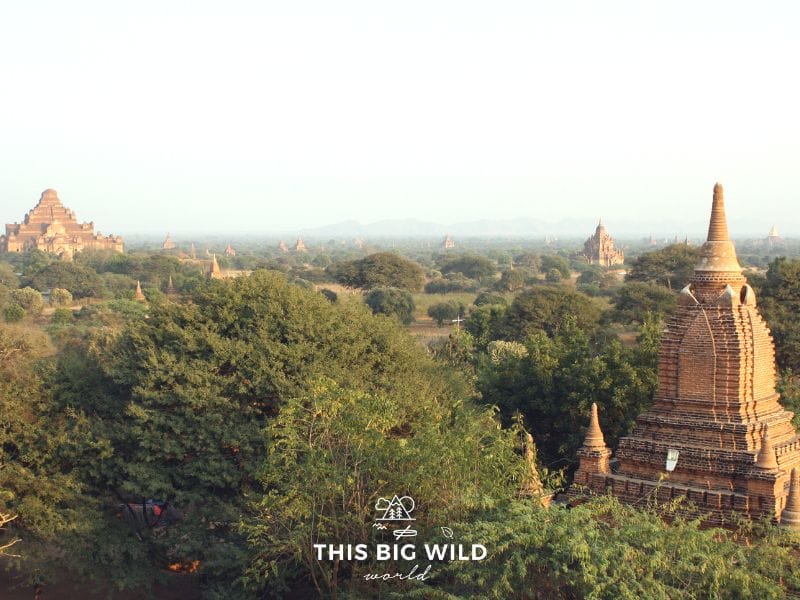 Where to Stay in Bagan
There are loads of places to stay in Bagan! I recommend staying close to Old Bagan as that's where the majority of temples can be found.
If you're on a tight budget, try the Winner Guest House for around $20USD/ day for a double room with private bathroom including a decent hot breakfast. The upstairs rooms are more recently renovated than the downstairs and dorm so keep that in mind. It's located next to a scooter rental, a few restaurants and has easy access to the major sights.
Cultural Things to Do in Bagan | Temples & Pagodas
One of the most popular ways to experience Bagan's culture is to visit the temples. All of the temples are beautiful in their own way and there's over 2000 of them. So, you can't go wrong, but here's a few that you should consider.
Schwezigon Pagoda
This beautiful pagoda is a Buddhist temple covered in gold-leaf. It was built in the 11th century and is one of the more lavish temples in the area. It is said that the pagoda houses the footprints of Buddha.
Shwesandaw Pagoda
Head here to catch the sunset. Get there early to avoid the crowds and snag one of the coveted upper level spots. The steps are pretty steep so if that bothers you, you may want to pass on this or watch from the ground.
I'll never forget walking around before sunset, observing some of the monks and just thinking about their lives. Unexpectedly, the two monks I was watching turned and looked at me. I smiled, feeling embarrassed that I'd been caught watching them! But then THEY walked up to ME and asked if they could have a picture with me! I was incredibly humbled but of course said yes!
Sulamani Temple
As you approach Sulamani Temple, you'll pass through a beautiful archway. This is a great spot for silhouette photos with the temple in the background.
Inside the temple, the walls and ceiling are covered in paintings depicting scenes from the life of Buddha. Each of the four sides of the temple features a large statue of Buddha.
Pro Tip: Shoulders and knees should be covered and shoes removed when visiting temples and pagodas in Bagan. Buy a longyi (wrap skirt) for ~$3USD at the market when you arrive and carry it with you to cover your knees. Wear short sleeve shirts or carry a scarf to cover your shoulders when wearing a tank top.
Cultural Things to Do in Bagan | Buddhist Ceremonies and Village Life
If you don't scooter in Bagan, have you really been there?
One day, our group rented scooters (from next door to Winner Guest House) to go exploring. Our guide was really excited and asked us to follow him but wouldn't tell us where he was taking us.
We weaved through one of the only paved roads and pulled over near a small market in front of a temple. There was a crowd of people starting to gather, including several women dressed in colorful dresses with beautiful umbrellas. We parked our scooters and waited to see what was going to happen.
Shinbyu Ceremony & Parade
The distant boom of a large drum was faint but getting closer. A procession of young women and men dressed in elegant clothing came down from the village. It was clear that this was a very special occasion.
I asked the guide what was going on. He very excitedly smiled and put one finger to his lips and pointed. I looked up and saw a young boy that looked like royalty riding on the back of a horse while a man held an umbrella over him.
There was a never-ending parade of these young boys parading through town. Some were resting on golden chairs atop the horses and others were in opulent carriages behind the animals. The parade ended with a carriage blaring music through large speakers with a man singing to music.
About Shinbyu
I looked to the guide to see if now he would explain. He smiled and explained that we had just seen the Shinbyu ceremony for this village, which is a special coming of age ceremony for young boys as part of the Theravada Buddhist tradition. This tradition is considered one of the most important for parents as they send their son off to become a novice monk and a hallmark of Bagan's culture.
Because this ceremony and the time spent as a novice monk is believed to bring good fortune on a family by the Buddha, families without male children have gotten creative. These families seek out male orphans or "borrow" another family's son to go through Shinbyu and the subsequent time as a novice monk on their behalf.
Joining the Shinbyu Celebration

Following the parade, the village hosts a celebration at a special shelter they build called a "pandal". The family hosting this year's celebration saw us visiting and invited us into the pandal and asked us to share their village's food.
Each member of the village donates a dish for this meal so we got to taste several local dishes. The most interesting was a bowl of very tiny salted fish. It really was such an honor to be welcomed into this intimate and special Buddhist celebration.
Explore Village Life in Bagan
For those who read my blog often, you know that I love to get a glimpse of the everyday lives of the locals. This is where you see the culture of a place in action. While exploring on my e-bike, I stopped in several different villages in and around Bagan to do just that.
This woman was selling bags and other goods by the side of the road. She explained to our guide that she smokes cheroot all day. Cheroot is basically a cigar that is cut on both ends, filled with tobacco. This woman was good at hustling because several of us walked away with our own cheroot to try!
Late in the afternoon, while riding down one of the many dusty roads among the temples, I happened upon this woman working hard in the sun. I'm not sure exactly what she was working with but she was showing us how she could separate the grain/ bean from the other material using this basket.
Lacquer is central to Bagan's culture and is found for sale in most markets. But before you buy some, I recommend you seek out an opportunity to see the lacquer being made. It's a fascinating process!
I happened upon this family making lacquer and they invited me to sit and watch them. The bowls are made by taking thin strips of bamboo and wrapping it in circles forming the sides of the bowl. Then they carefully paint the lacquer onto the inside and outside of the bowl. Once the lacquer sets in an underground room they have built, they etch designs into each item by hand.
Things to Do in Bagan | Ananda Temple Festival
The Ananda Pagoda symbolizes the limitless wisdom of Buddha and is easy to identify because it's one of the only white temples in the area. I recommend exploring the exterior of the temple after visiting the interior.
I was fortunate enough to experience the Ananda Temple Festival, which typically falls in January (check this calendar). During the festival, there's a large temporary market set up with vendors selling anything from home wares to fried delicacies.
The peak day of the festival falls on the full-moon day of the lunar month. Be prepared for a large crowd both at the temple and in the festival market. It's easy to get lost! Plan several hours to wander around.
Cultural Things to Do in Bagan | Bagan Traditional Market
To get to the Bagan Traditional Market, you have to pass through the Tharabha Gate. I drove there on an electric scooter, and wandered through the aisles of the market bartering for treats and trinkets, such as these puppets. If you visit Bagan and it's not during the Ananda Temple Festival, I definitely recommend visiting this market for shopping and to experience the local culture.
Cultural Things to Do in Bagan | Taste the Local Dishes
I have no idea what exactly most of my meals were made of in Myanmar, so I can't describe many dishes. However the meals generally consist of small shared plates of sauces and dishes that you help yourself to with a bowl of rice.
One of the more memorable meals was at Golden Myanmar Restaurant. We ordered the 'traditional meal' and were provided with a seemingly unending number of small plates.
If I had to describe Burmese food, it would be a mix of Indian spices and flavors with many Thai and Chinese ingredients. One of the more popular dishes I saw in many restaurants was the Tea Leaf Salad (or Lahpet Thoke), which is made of pickled tea leaves, peanuts and beans. I personally didn't care for the flavor of it, but you will see it on most menus.
Along the side of the road in the late afternoon, you can also find women cooking sweet rice cakes in many of the villages. You can get several for a $1USD.
Other Things to Do in Bagan | Explore By Electric Scooter
One of my favorite days in Bagan was just exploring aimlessly with another girl from our group. We discovered so many off the beaten path temples further out of town!
Pro Tip: For safety reasons, the only scooters for rent in Bagan are electric. So, managing the battery level is important to avoid being stranded. If you go out early and plan to stay out for sunset you may not have enough battery! Ask when you rent it if they will allow you to bring it back to re-charge or if they will come out and help you if your battery runs low.
Sitanagyi Hpaya Temple
We had this temple all to ourselves except for the family who lived on the property and maintained the temple! The man saw us wandering around and asked if we wanted to go down inside of the temple.
Against my better judgement, we agreed to go in. He helped us climb partway up the temple to a small hole. As we each made our way through the hole, we were surrounded by darkness.
He turned on his flashlight and started walking us towards the Buddha that was kept underneath the temple. Partway there was a pile of rubble that we had to crawl over.
On the other side, he grabbed my arm and made a strange motion with his arms. He threw a pebble over the rubble and shined the flashlight in there. It was absolutely filled with bats that took off flying when he threw the rock.
I may have screamed, but avoided peeing my pants and appreciated him warning us! We gave the tunnel a hard nope and turned around but I am glad we got the chance to see what it was like inside of the pagoda.
Irrawaddy River
The Irrawaddy River runs along Bagan on a North-South route through most of Myanmar. Because we hadn't seen the river yet, we rode our e-bikes to the bank of the river and walked around a bit. We discovered several women doing laundry in the water, laughing and talking together. There are a few small restaurants there if you need to re-charge before hopping back on your bike.
Adventurous Things to Do in Bagan | Ride in a Hot Air Balloon
I don't often splurge when I travel, but I decided to do a hot air balloon ride at sunrise with Balloons Over Bagan. It's expensive, but an incredible experience to see the more than 1000 temples from above. On the morning of my balloon ride, there was a low fog that made for a pretty dreamy view.
One of the more notable temples you'll see from the balloon is Dhammayazika Pagoda with its large golden spire.
Experience the Best of Bagan
Whether it's grabbing a snack at the side of the road, taking in the views of the centuries old temples, or walking through the nearby villages to gain a glimpse at daily life, there are so many unique things to do in Bagan.
Don't forget to pin this post!