Updated 27-May-2019
If you're anything like me, you've got a camera roll full of faded blurry low-quality night shots. I've always found night photography so frustrating! But, when I booked my trip to Norway, I knew I had to figure out how to photograph the Northern Lights.
The good news is that you don't need a fancy camera to photograph the Northern Lights. Whether you're using your phone, a GoPro, or any camera with a manual setting, here's how to photograph the Northern Lights.
Disclosure: This post contains affiliate links. That means that if you purchase through a link, I may receive a small commission at no extra cost to you. For more info, visit this page.
Nighttime Photography Basics
For photographing the Northern Lights or just trying to capture the night sky, you need to use a technique called long exposure. In simple terms, this means that the shutter of the camera stays open for longer, letting more light in.
Instead of snapping a photo in a tiny fraction of a second, use a shutter speed of ten or more seconds. This slower shutter speed means that you have to stay completely still to prevent the image from being blurry. Just the motion of pressing the shutter release button on the camera can cause the camera to move enough that the image will be blurry.
Avoid blurry nighttime photos by using:
A tripod.
A 2-3 second delay timer on your camera.
A remote or app synced with your camera.
Your mad ninja skills to hold completely still for the entire exposure.
All of the above.
Pro Tip: Battery life is much shorter in cold weather. Bring a power pack and extra camera batteries so you don't run out of juice!
How To Choose a Tripod
Choosing a tripod is a delicate balance of weight, sturdiness, size, and functionality. Specific tripods are highlighted in each section, but keep these general factors in mind when making your selection.
Sturdiness & Weight
You want a tripod that is lightweight, but if it's too light, it'll blow over in the wind (and potentially damage your camera). I prefer between 1-1/2 to 3 pounds in weight.
Check to see how much weight the tripod can hold (usually listed in specifications) and whether it has a center column and brace. This provides added support to the legs of the tripod and gives you confidence it won't topple over too easily.
Size
When it comes to size, I look for tripods that easily fit into my daypack. So check the dimensions of the tripod when it's fully collapsed.
Mounting Type
It's important to check that the tripod mount will fit your camera. For instance, a GoPro requires a different mount than a mirrorless camera. Some tripods come with interchangeable mounts.
How to Photograph the Northern Lights With a Phone Camera
With a few settings adjustments and the use of an app, you'll be able to photograph the Northern Lights easily on your phone.
Recommended Gear
Tripod
If you don't already have one, a phone tripod is a great investment for any travel photographer. I wouldn't say one is required to capture the Northern Lights, but I strongly recommend having one even for your phone camera. Personally, I prefer phone tripods with flexible legs so that you can adjust to any surface even if it's uneven.
If you want a great multi-purpose tripod get one that includes adapters for your phone, GoPro and digital camera as well as a remote control!
Smartphone Camera Lens
As smartphone camera continues to improve, it gets harder to justify the cost of a mirrorless or DSLR camera. A clip-on wide angle lens is a good option to consider if you want to take your smartphone photography up a notch!
Phone Settings
An alternative to purchasing a remote control, is to use the delay timer on your phone camera.
From the camera screen, look for the symbol that looks like a clock and adjust to anywhere from 2-10 seconds. Once this is done, just tap the phone's shutter release button and the timer will countdown before taking the photo. The delay allows the camera to stabilize before snapping the photo, eliminating the blur.
Camera
Apps
There are several apps available for photographing the Northern Lights. With all of these, you'll get the best results when used with a tripod. I, unfortunately, did not have a phone tripod when I saw the Northern Lights!
I used the Northern Lights Photo Taker for iOS, which is $0.99 in the App Store. The interface is super easy. If the Northern Lights are faint or weak, use the "weak" setting which will let more light in with a longer shutter speed. Alternatively, when the Northern Lights are bright in the sky, use the "strong" setting. This app also has the capability to do some custom settings.
The Cortex Camera app works on iOS and Android (though not great reviews on Android), for $2.99 in the App Store. This app has a few more settings for low light situations, indoor or outdoor. Consider this if you want to use it for more than just the Northern Lights.
Another option is the NightCap Camera for iOS devices, for $1.99 in the App Store. This app has several features for low light, night, video or timelapse. For photographing the Northern Lights, I recommend using the "Stars" mode.
How to
Photograph the Northern Lights With a GoPro
There are two options for photographing the Northern Lights with a GoPro.
Single Photo Menu
This will take one photo for each click of the button.
Within the single photo menu, select the night setting. Under megapixels, use the highest option with a wide angle (12MP/ Wide). Start with the shutter at 20 seconds, but adjust as needed. If the test photo is too dark, increase this, and if the photo is too light, decrease this setting.
Timelapse Photo Menu
This will continue to take photos after you click the button until you press the button a second time to stop it.
Within the timelapse menu, select the night lapse setting. Again select the highest megapixels with a wide angle and start with a shutter speed of 20 seconds. Adjust the shutter speed the same way you would in the single photo.
The interval is how often it will continue to take photos. I recommend starting with 1 or 2 minutes.
Pro Tip: Timelapse can run down your battery quickly, especially in cold weather. Bring extra GoPro batteries!
How to Photograph the Northern Lights With a Mirrorless or DSLR
To photograph the Northern Lights with a mirrorless or DSLR camera, there are a series of settings to adjust. Test these out before you go chasing the Northern Lights!
All of these photos were taken with an Olympus OMD EM-10 Mark ii mirrorless camera with the standard 14-42mm lens using this tripod. But, you can expect similar results from any camera with a manual setting.
Manual Mode Camera Settings
Turn camera to "manual" mode. This is usually represented by an "M", but check your camera manual for guidance.
Check to make sure your lens is in manual mode as well. If your lens is detachable, check the outside of the lens for a button to switch to manual.
Turn the flash off.
Drop your aperture down as low as it will go, probably around f3. This is the f-number often displayed on the screen. Both my Canon and Olympus adjust using a knob on the top of the camera, though sometimes it's a rotating wheel on the back of the camera body.
Adjust your ISO between 800 and 1600. I used 800 while shooting the Northern Lights and had success. Higher ISO's can come with lower quality photos, so if you're closer to 1600 and not pleased with the quality, gradually drop this down.
Adjust your shutter speed to start at 25 seconds (sometimes displayed on the screen as 25″). This is how long the shutter stays open. The longer this is, the more light the camera will let in, which results in brighter stars and lights. I kept mine between 15-30 seconds when photographing the Northern Lights.
Set the delay timer or use a remote control to eliminate blur. I used a 2 second delay timer so when I pushed the shutter release button, it would wait 2 seconds and then open the shutter for however long I set the shutter speed. If you have a remote control, skip the self-timer and use that instead. Alternatively, some cameras have an app that you can use as a remote control from your phone.
Set your camera to manual focus (MF), which is different from manual mode. This is the trickiest part because most of us are used to shooting on auto-focus. At night auto-focus has trouble finding something to focus on in the darkness. Practice manually adjusting the focus until you get a clear image. This may take several shots. I got super frustrated with this and switched to the single auto-focus ("S-AF") setting. This works great if there is some light and an object for your camera to focus on in the foreground . In the absence of that, be patient and keep adjusting the manual focus. Definitely practice this before the Northern Lights start dancing across the sky.
Pro Tip: Adjust your manual focus to "infinity" during the daytime. Do this by manually adjusting your focus until the horizon is crisp. Mark the lens so that at nighttime, you can easily move your manual focus to this mark.
Troubleshooting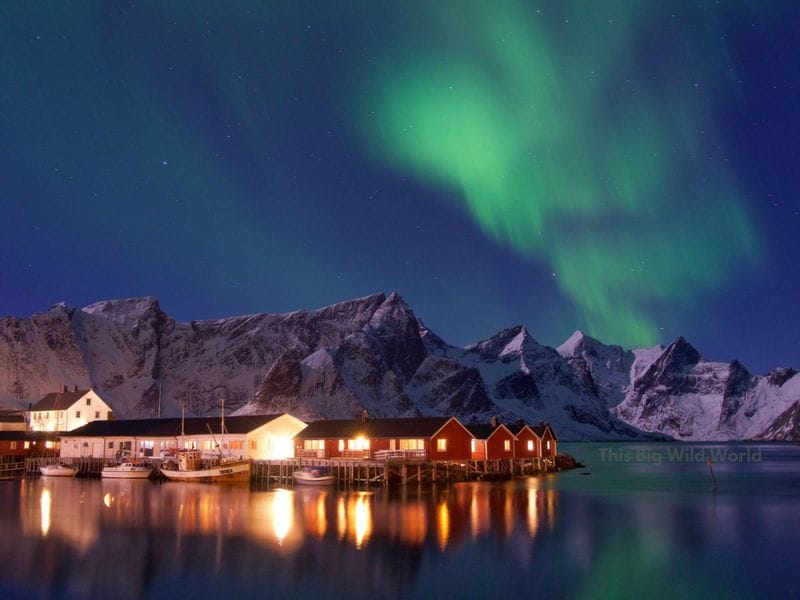 Inevitably, the settings won't be perfect on the first try. Here are some simple adjustments to try.
If the photo is too grainy or low quality, adjust the ISO down. This will also make the photo less bright.
If the photo is too dark, try increasing the number of seconds the shutter is open. If you're at 25 seconds (or 25″), adjust to 30 seconds (or 30″). Test and adjust as needed.
If the photo is blurry, use the flashlight on your phone to find something to manually focus on. The light from the flashlight helps the camera "see" something to focus on. Once you've focused, turn off the flashlight and try again.
But What if I Wanna Be in the Photo?
If you aren't in the photo, did you even see the Northern Lights? To capture yourself in the photo try these two things.
Stand still!
Since it's a long exposure, stay absolutely still the entire time the shutter is open to get a crisp shot.
Use a flashlight or light source
Pro Tip: Have someone hold a cell phone flashlight in front of you for just a second or two. The long exposure will capture the light on your face, making you more visible with the Northern Lights dancing behind you.
Get creative with your light source! Here's an example where I used a headlamp to capture the silhouette of my body in Wadi Rum.
Are you ready to photograph the Northern Lights?
No matter your skill level, I sure hope so! Let me know if you have questions, otherwise have fun capturing the Northern Lights.
Headed to Norway? Here's more info on Tromso and the Lofoten Islands!
Love this post? Pin it!