Tony Knowles Coastal Trail Scenic Bike Tour
Biking the Tony Knowles Coastal Trail was at the top of my list of things to do while in Anchorage. Sure, it's 11 miles each way. And, yes, I hadn't biked much this year which left my legs somewhere less than in shape for a 22 mile ride. But, when the guy at Pablo's Bike Shop told me that I'm mostly likely to see moose and bear at mile 11, there was no question that I was all in.
At mile 11, I looked around waiting for the majestic creatures to make an appearance. After waiting for some time and enjoying the view, feeling somewhat disappointed, I decided to circle the parking lot one last time before making my way back to Anchorage.
As I turned my head, I saw movement off to my right. My breath caught in my throat as I got my first glimpse of a moose walking just 20 feet away from me along the trail. I had two thoughts. First, moose are incredible to see up close. Second, holy shit this thing could kill me.
Ok, three thoughts, where the hell was my camera? That would have to wait.
This is what captivated me about Alaska. You are immersed in wildlife. There's literally no escaping it, even in the city of Anchorage.
Here's everything you need to know to rent a bike in downtown Anchorage and cycle the Tony Knowles Coastal Trail.
Disclosure: This post contains affiliate links. That means that if you purchase through a link, I may receive a small commission at no extra cost to you. For more info, visit this page.
Where is the Tony Knowles Coastal Trail?
The Coastal Trail starts right in downtown Anchorage and ends in Kincaid Park. There is public parking at either end of the trail. The trail itself wraps around the Ted Stevens Anchorage International Airport property, offering views of the Cook Inlet in the Gulf of Alaska, the Chugach Mountain and, of course, Denali.
Aside from moose and bears, it's common to spot beluga whales, coyotes and other wildlife along the trail.
Overview of the Tony Knowles Coastal trail
The entire eleven mile trail is paved, making it ideal for year round activities such as running, biking and skiing. The trail is relatively flat, though there are three hills on the southern end of the trail. With signposts every half mile, it's nearly impossible to get lost!
Distance: 11 miles, each way
Difficulty level: Easy to moderate
Style: Out and back
Grade: Relatively flat
Navigation: Easy
Time: 2-4 hours
Click the map below for an overview of the Tony Knowles Coastal Trail in Google Maps!
Bike Rentals in Anchorage
Fortunately, there are several places to rent bikes in downtown Anchorage. Here's a rundown of each to help you decide which is best for you.
Bike rental shop hours and availability vary quite a bit throughout the year so be sure to check all of these website for the latest info.
All bike shops should offer helmets and a bike lock as a free option, but be sure to ask.
Pro Tip: If you plan to visit Anchorage during peak season, in summer, be sure to reserve your bike in advance.
Pablo's Bike Shop
Located just 2 blocks from the Coastal Trail, Pablo's Bike Shop is an incredibly convenient bike rental option. They offer a large selection of bike styles including cruisers, mountain bikes, road bikes, tandem, kid's bikes and more.
Of the options close to the Coastal Trail, Pablo's is the most likely to have a bike available for walk-ins (i.e. without reservations), especially if you visit first thing in the morning.
Pro Tip: Pablo's has bear spray that you can borrow for free with your bike rental. If you didn't bring any with you, this is a great option, especially since bears are frequently seen along the trail. Create your bear safety plan using my full list of tips on hiking in bear country!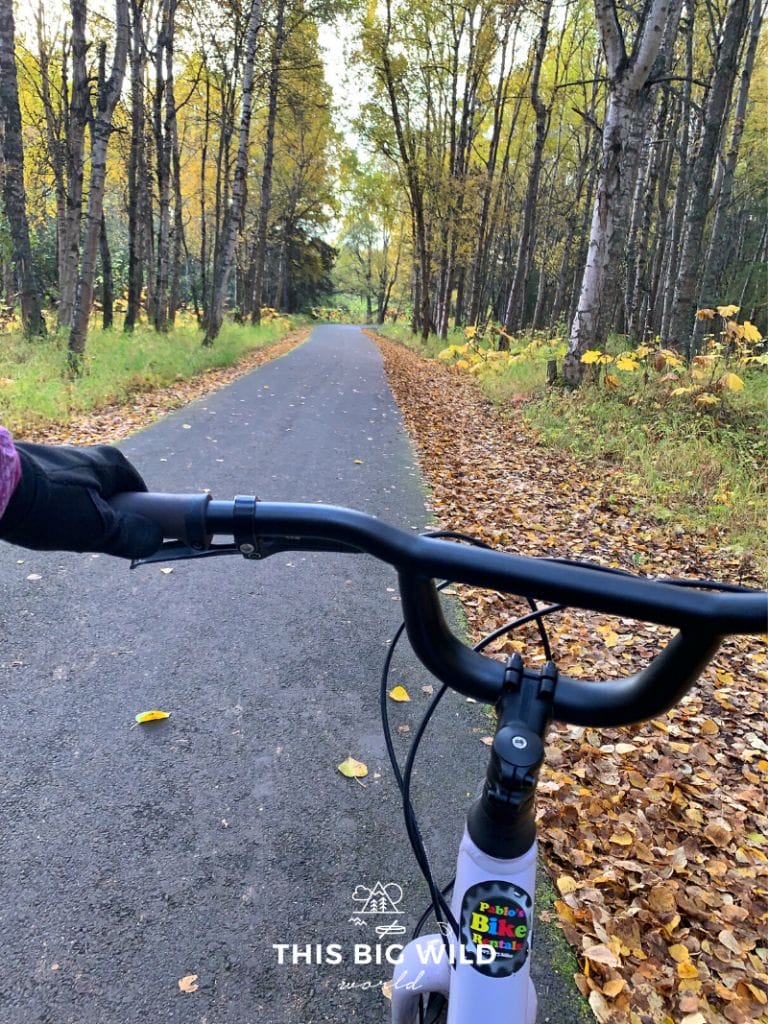 Trek Bike Rentals
Trek Bike Rentals is located very close to Pablo's Bike Shop, making it also quite convenient if you plan to bike the Coastal Trail. One downside is that they appear to only rent fat tire bikes.
They offer bike fittings with an expert who specializes in triathalons. This is a great option for serious bikers!
Downtown Bicycle Rental
Downtown Bicycle Rental may be slightly less convenient for accessing the Coastal Trail, they're still only about a half mile away. What I like about Downtown Bicycle Rental is that they also manage the Flattop Shuttle to one of the most popular hikes in the Anchorage area. So, you could make a day of it by hiking Flattop in the morning and then biking the Coastal Trail in the afternoon or vice versa.
They offer an assortment of bike rentals, including mountain, road, kid's and tandem bikes.
Things to See While Biking the Tony Knowles Coastal Trail
As I mentioned, the trail has easily identifiable markers every half mile and there are very few turnoffs, making it difficult to get lost. These are the things to see along the Coastal Trail.
Mountain Views
The Coastal Trail has mountain views for days. Take time to enjoy the Chugach Mountains (far right when facing the water), Talkeetna Mountains (straight ahead when facing the water), and Denali (to the left when facing the water) as you bike along the coast.
Wildlife
At high tide, it's not uncommon to see Beluga whales in the water along the Coastal Trail. Moose are commonly spotted around miles 7 and 8 as well as mile 11 at Kincaid Park. Bears are often spotted in the final ascent to Kincaid Park around miles 10 and 11.
Mud Flats
The coast will look like a dramatic gray-black landscape from another planet, but in actuality it's a mud flat. These are what remains after centuries of glaciers scraping away at the surrounding mountains and carrying the silt through the rivers and streams to be deposited along the shoreline.
It's tempting to walk out onto the mud flat, but I strongly recommend against it. It's essentially like quick sand!
Kincaid Beach
This is only large sandy beach you'll find in Anchorage, and it's a fairly well-kept secret from visitors. As you're biking the Coastal Trail, just before the final half mile ascent (around mile marker 10) there is a dirt path that will take you to this hidden gem. The trail is deceiving at first, with overgrown and dense trees and bushes but after a short walk it opens up to reveal the sand dunes and beach.
Bring a book and a snack to cozy up with or just enjoy the stunning views of the surrounding mountains!
Kincaid Park
You'll know you've reached Kincaid Park when you see a chalet to your left and a soccer (football) field to your right. The chalet, also called Kincaid Outdoor Center, is open year around from 12:30pm to 8:30pm except for major holidays.
Pro Tip: If you arrive before the chalet opens at 12:30, there is a port-a-potty you can use out front.
While you're at Kincaid Park, walk around the back side of the building or up the outdoor steps to the roof for a view of the Anchorage skyline. If you're lucky like I was you may get to see paragliders taking flight!
Earthquake Park Exhibits
Did you know that a 9.2 magnitude earthquake devastated much of Anchorage and the surrounding area on Good Friday in 1964? I'm embarrassed to admit that I didn't know about this disaster. Earthquake Park, along the Coastal Trail, has several exhibits about the earthquake, the impact, and the rebuilding process. For context, entire cities were permanently raised and lowered by several feet as a result of this earthquake!!
To date, this earthquake is the most powerful on record in North America.
Point Woronzof Park
This is a great place to enjoy skyline views of Anchorage, watch airplanes take off from Ted Stevens International Airport, and even spot whales. I loved this portion of the trail for its forested sections with bright fall colors. If you're into birdwatching, take your time through this section and look up!
How to Bike Anchorage Safely
I would rate this trail as easy, but there are a few safety precautions you should take.
Places to Eat Near the Anchorage Coastal Trail
Inevitably, after biking the entire Coastal Trail, you're going to be hungry. Not to wory, there are some delicious options right near the end of the trail.
International House of Hotdogs
This place is literally heaven in a hot dog bun. This little food truck has adorable outdoor seating and possibly the best hot dog I've ever had. I opted for the Phoenix with smoky chili fries (10/10 would recommend) with a can of LaCroix for $14.
For more info, check out International House of Hotdogs Facebook page.
El Green-go's
Do you love tacos? Is that even a question? Well El Green-go's isn't just any taco or burrito place. They offer locally sourced, incredibly delicious Mexican inspired dishes for vegans and meat-eaters. They even have a vegan queso that actually tastes good! Find El Green-go's across the street from Pablo's and the International House of Hotdogs!
For more info, check out El Green-go's website.
Snow City Cafe
If you're looking for coffee or great breakfast food, check out Snow City Cafe. They've been voted "best breakfast" in Anchorage since 2003! Don't worry, though, they've also got soups, sandwiches and other lunch options too!
For more info, check out Snow City Cafe's website.
Are You Ready to Bike Anchorage?
Whether you bike the entire trail or just a portion of it, this is a great way to enjoy the outdoors and see some iconic Alaska wildlife without venturing far from downtown Anchorage.
Related content to read next:
How to Hike Flattop Mountain Trail in Anchorage
13 Beautiful Places to Stop When Driving from Anchorage to Seward
Best Things to Do in Anchorage in September
Incredible Things to Do in Seward Alaska in September
Did you find this article helpful? Save it for later or share it on social media!