Essential Gear for Your Day Hike Packing List
When I first started hiking, I had no idea what to bring with me. Sometimes, I'd head out onto a trail (in bear country) with just a half bottle of water and my cell phone. I look back and realize how fortunate I am that nothing serious ever happened to me.
Since then I've discovered ten day hiking essentials that I carry with me any time I'm on the trail. All of these items are lightweight and compact – plus, they just might save your life! With this day hike packing list, you'll be trail ready in no time.
Disclosure: This post contains affiliate links. That means that if you purchase through a link, I may receive a small commission at no extra cost to you. For more info, visit this page.
1 | Navigation
I can't stress this enough – always bring a paper copy of the trail map, including topography, and a compass (and know how to use both)! Sure, your phone is a great tool to help you navigate, but should your phone run out of battery you need to have a backup tool. Paper maps are often available online, if you have access to a printer, as well as at park visitor centers and ranger stations.
Pro Tip: If you're expecting wet conditions, bring a Ziploc bag to carry your paper map in!
If you plan to use your phone as one form of navigation, make sure it is fully charged. If you find your battery drains quickly, turn off the cellular data on apps that you don't need while you're hiking to make it last longer. Consider downloading an offline version of the trail map on apps like AllTrails or Avenza.
A personal GPS or personal locator beacon are both worth a splurge for an added layer of safety. // Here's the personal GPS device I have.
2 | Lighting
I know what you're thinking – "but I'm going to be hiking during the day, why do I need to bring a light with me?" In the unlikely, but possible, event that something goes wrong while you're hiking you may find yourself on the trail after dark or even overnight.
Your day hike packing list should include either a flashlight or headlamp, including a spare set of batteries. Personally, I prefer a headlamp so I can keep my hands free but either will work! // Here's the headlamp I carry at REI or Amazon.
Pro Tip: Many headlamps come with an SOS emergency flashing light function to signal for help!
3 | Sun Protection
Sun protection isn't just about avoiding sunburn, it's also important to prevent heat exhaustion and heat stroke which are both serious medical conditions.
Sunscreen, sunglasses, and lip balm are all day hiking essentials. Depending on your risk factors and the sun exposure on the specific trail you'll be hiking you may also want to carry a hat and/ or UPF rated clothing. // Here are the sunglasses I am obsessed with.
Pro Tip: My favorite brand of sunglasses is Sunski. They're lightweight, durable, stylish, reasonably priced and made from recycled materials.
4 | First Aid Kit
Even a basic first aid kit can prepare you to treat the most common hiking injuries and illnesses. Make your own first aid kit or buy one premade. // Here's the first aid kit I carry on day hikes on REI and Amazon.
Pro Tip: Look for a first aid kit that includes instructions on how to treat different injuries and illnesses. This can be so helpful if you're not familiar with first aid!
While not usually included in prepackaged first aid kits, remember to bring bug spray to help you avoid mosquitoes and ticks on the trail.
5 | Knife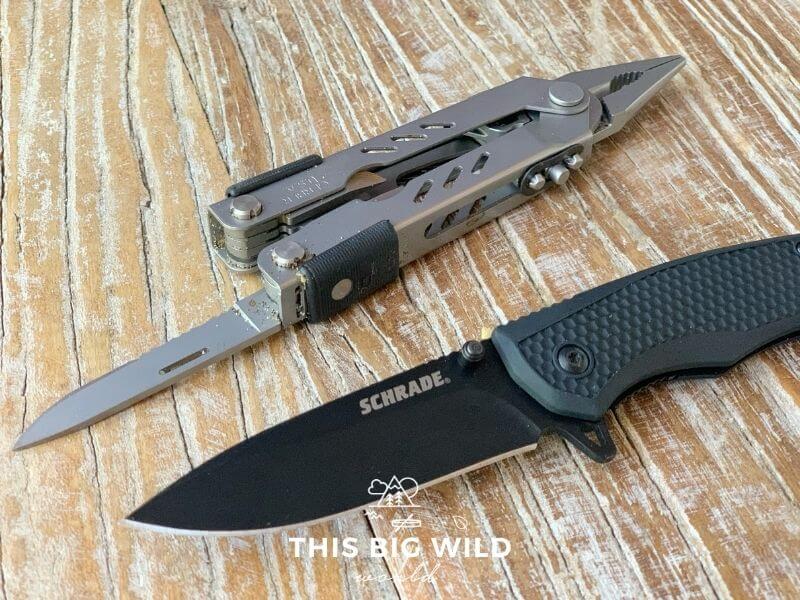 A knife is a must-have for any day hike packing list because it's multifunctional. Whether you use it to slice an apple for a snack, for first aid, to repair a piece of gear, or to make kindling for a fire you won't regret having one.
A simple and inexpensive multi-tool is a great option – you may even already have one lying around at home! I also have a single foldout knife that I can clip onto my waist or backpack strap. // Here's the Gerber multi-tool I carry while hiking.
6 | Fire
If you find yourself in an emergency situation, fire can be life saving. Don't worry, I'm not suggesting you carry logs or a big burner with you! Instead, bring a lighter, fire starter, or matches in a waterproof container. // Here is the waterproof match kit I use.
For longer or more remote hikes, consider bringing a small stove like the MSR PocketRocket with fuel.
7 | Emergency Shelter
Seeing the sky above suddenly turn dark when you're miles away from safety is a bad feeling. It's completely out of your control. Sometimes the safest choice is to hunker down on the trail while the situation passes. An emergency shelter takes up almost no space and, like fire, can be life saving. Options include an emergency blanket (compare prices on REI and Amazon), a bivy sack or even a lightweight tarp.
8 | Food
By food I mean more food than you think you'll need. This is in case you find yourself out in Mother Nature longer than planned. A good rule of thumb for your day hike packing list is to include an extra day's worth of food, preferably that is high in protein and doesn't require cooking. Be sure to include salty snacks or packets of electrolytes to replenish the salt you lose from sweating.
9 | Water
Just like with food, bring more water than you need for the planned hike. According to REI, the minimum to carry is a half liter per hour for moderate activity in moderate temperatures. If you aren't sure how long you'll be hiking for, bring at least 3 liters of water. For extreme temperatures or challenging terrain, consider bringing a water filter or purifier. // Here's my favorite water filtration device for day hiking on REI and Amazon.
Pro Tip: Always check whether there will be potable water sources along the trail. Ask at the ranger station, visitor center or online. Water is heavy, so carrying less and refilling along the trail is a great option to lighten the load!
10 | Extra Layers of Clothing
If only we had a crystal ball to accurately predict the weather for us, things would be so much easier. But, it's all part of the adventure, right? Weather and temperature can change dramatically while you're on a day hike so it's best to be prepared with additional layers of clothing.
A lightweight long sleeve shirt made of wicking material can serve multiple purposes including, warmth and sun protection. A rain jacket can protect from wind, sun and cold. If you will be at a higher altitude, expect the temperature to drop. Bring gloves and an insulating hat.
Optional Day Hike Packing List Gear
While not essential, these optional items are on my day hike packing list.
Face Mask
Who knows what the future holds, but right now we're in the midst of a pandemic. Face masks are not required everywhere, but you may choose to wear one or have one nearby while you're hiking. I wear one most of the time I'm hiking, particularly in busier sections.
// Read about the best face masks for hikers!
Hand Sanitizer
Even before the pandemic, this was an essential item on my day hiking packing list. If you don't carry it with you, consider keeping some in your vehicle.
Duct Tape
I can't tell you the number of times and ways duct tape has saved me while traveling and outdoors. Broken backpack? Duct tape it. Broken shoe? Duct tape it. Bandage won't stay on? Duct tape it. You get the idea. Bring a small roll of duct tape or roll some around a pen and keep it in your day pack.
Toilet Paper/ Tissue
A travel size packet of tissues or a small roll of toilet paper is not a day hiking essential, but it's certainly nice to have.
Trash Bag
Pack out what you pack in! Whether you carry an actual trash bag or not, be sure to adhere to Leave No Trace principles by bringing all of your trash out with you. Reuse a shopping bag or food packaging if you don't have a trash bag.
Whistle
In the event of an emergency, a whistle can help other hikers or rescue teams find you. Since a whistle weighs almost nothing and takes up zero space, I keep one clipped to the strap on my day hiking pack. // Buy an emergency whistle to carry when you hike on REI and Amazon.
Power Bank
I still stand by carrying a paper map, but if you have the room and want an added layer of safety consider bringing a small power bank and cord to charge your phone. Of course, be sure that the power bank is charged! // Buy a power bank to carry in your pack!
Blanket
Take some time to relax a bit while you're on the trail! Bring a blanket for a picnic or just to rest and enjoy the view. My favorite is Rumpl's nanoloft travel size blanket because it's super compact and lightweight plus water and stain resistant. Read my detailed review of the Rumpl Nanoloft blanket for more info!
Destination Specific Day Hike Packing List Gear
If you are exploring in a new area, be sure to do some research before you go to find out what unique risks to prepare for in advance. For instance, if you're heading into bear country, you'll want to have a bear safety plan. If you expect deep snow or mud, gaiters are helpful. For icy conditions crampons or micro-spikes are needed and for steep inclines or declines, hiking poles can be helpful.
Ready to hit the trail?
With these ten day hiking essentials and my bonus tips, you'll be prepared for whatever your adventure throws your way!
Related content to read next:
20 Essential Outdoor Adventure Safety Tips
Best Sleeping Bag Alternative: Rumpl Nanoloft Blanket Review
What to Wear for Hiking in Summer: A Prepared Girl's Guide
How to Avoid Getting Eaten Alive by Mosquitoes & Ticks (for Hikers)
Did you find this article helpful? Save it for later or share it on social media!