At the end of a 22 mile hike along the treacherous Kalalau Trail in Kauai, I'd had it. I was hot, sunburned, and my feet were soaking wet and blistered. My hiking boots, which felt like heavy bricks covered in thick clay, went immediately in the garbage. I was prepared in so many ways, but simply was not dressed for the occasion. Since then I've learned a lot about what to wear hiking in summer.
In some ways, I think dressing for winter hiking is easier than summer. You simply throw on all the layers and head out. In summer, the weather can be unpredictable and the sun unrelenting. Let's not even talk about mosquitoes.
While I can laugh about my past mistakes now, I'd rather you don't have to go through the same experiences. So I put this list of products I wear and love just for you! I've got you covered from head to toe.
Disclosure: This post contains affiliate links. That means that if you purchase through a link, I may receive a small commission at no extra cost to you. For more info, visit this page.
4 Summer Hiking Tips for Beginners
Summer hiking isn't all fun. There are some real risks to consider and steps you can take to make your time outdoors more enjoyable. Before you hit the trail, here are four summer hiking tips for beginners.
1 | Fabric matters, but not as much as in winter.
If you've read my post about what to wear while winter hiking, you know that wearing wicking material close to your body is essential to preventing hypothermia. Cotton close to your skin is strongly discouraged in winter as it traps moisture close to your skin. Obviously, in summer you are highly unlikely to suffer from hypothermia (unless you're at high altitude) but there are other reasons to think twice before wearing cotton close to your skin when hiking.
First, wearing cotton while hiking in summer can cause chafing or discomfort. This may not be a big deal on shorter hikes, but can become pretty uncomfortable on longer hikes. Second, if you plan to hike at a time or place where the temperature may drop (in the evening or at altitude), bring a change of dry clothes so that you don't trap the moisture next to your skin in the colder temperatures.
Pro Tip: Cotton absorbs up to 7% of its weight in water or sweat and remains wet for longer periods of time. Synthetic and wicking materials will absorb less than 0.5% of their weight and dry quickly.
Whenever possible, I recommend wearing breathable wicking materials close to your skin in any temperature. This means wool or synthetic materials (especially on your feet).
2 | Protect your whole body from the sun.
Sun protection isn't just for your arms, legs and face! Don't forget to protect your ears, back of your neck, and scalp from the sun. Apply sunscreen to these areas. Also, consider bringing a hat with you to help protect one or all of these parts of your body.
If you're a solo hiker like I am, spray sunscreens can be easier to apply in these hard to reach areas. Be sure to reapply every few hours – definitely before you feel the signs of sunburn.
3 | Layer up.
It may be counterintuitive to layer up while hiking in warm weather, but hear me out. Even with the best sunscreen, prolonged exposure to the sun can be very dangerous. Also, should you get lost, injured or stuck in unpredictable weather, having extra layers could literally save your life.
Consider bringing a lightweight loose fitting and breathable long sleeve top in your day pack. For bottoms, if zip off pants aren't your thing (I can't stand them) bring a pair of lightweight leggings or ankle length pants.
When hiking in the Badlands last summer, I was so thankful to have a long sleeve top. Somewhere around mile 8 in the midday sun, my sunscreen just wasn't enough and shade was nonexistent. My breathable long sleeve top has a small collar on it that helped protect my neck in addition to my arms and shoulders.
4 | Be proactive about staying hydrated.
Staying hydrated on the trail doesn't just mean guzzling water the entire time. It also doesn't mean sipping small amounts of water to avoid going to the bathroom on the trail. When you sweat, your body is also losing sodium and other minerals in addition to water. Drinking too much or too little water without replacing sodium can result in confusion, stumbling and seizures (low blood sodium, referred to as hyponatremia).
When hiking in warm weather and/ or long distances it's important to replace sodium your body is losing through sweat. Easy ways to do this are to bring salty snacks such as trail mix, salty nuts, or jerky. Alternatively, bring packets of electrolyte solution such as Propel or Gatorade to mix with your water. Here's a keto-friendly electrolyte powder that I use – it comes in single serving pouches that are perfect for the trail.
Best Summer Hiking Clothes & Gear (from head to toe!)
In addition to the day hike packing list of essentials, these are my favorite hot weather hiking clothes and gear that will make your time on the trail even more enjoyable.
Best Women's Summer Hiking Boots and Shoes
I often hear people ask for hiking boot recommendations, which I'm happy to share, but I cannot stress enough how each of our feet are unique and getting them properly fitted makes a huge difference. Even if you still want to shop around for price, it's still worthwhile to visit a store.
Pro Tip: Visit a local outdoor gear store to get fitted. This usually involves discussing the type of hiking you plan to do and the terrain before trying on different designs to see what's most comfortable.
Before I jump into my recommendations, here is what to consider before choosing a summer hiking boot or shoe.
Are they breathable?
Waterproof shoes sound like a great idea but they can actually cause your feet to sweat in the heat. Also, if water gets inside from a stream crossing or rain, they can take forever to dry out. I choose breathable shoes over waterproof shoes for summer hiking.
How rigid is the sole?
The stiffness of the sole of the boot is a delicate balance. If it's too stiff, it may affect your gait (the way your legs move) which can lead to injury or discomfort. However, if it's not stiff enough, you will feel every single rock or tree root under your feet and generally exert more energy since the cushion absorbs some of the energy you're expending.
This is one of the reasons trying on shoes is super important.
How much ankle support do you want or need?
Anyone with weak ankles, past ankle injuries, or who hikes on uneven terrain may prefer mid to full ankle support. For backpacking, since you're carrying extra weight, extra ankle support is recommended.
This is really personal preference. Low profile hiking shoes work great for general hiking and ultralight backpacking. For longer day hikes and short backpacking trips, I prefer mid-ankle support. For longer backpacking trips with heavy loads, a true backpacking boot that comes up higher onto the ankle may be better.
How important is anti-slip?
For my backpacking trip on the Kalalau Trail, I was hiking in wet clay with steep cliffs that dropped off drastically down to the rocky Pacific Ocean. Anti-slip soles on my hiking boots were pretty important. In general, if you are hiking on wet rock or near waterfalls, be sure to look for anti-slip soles. If you tend to be on drier trails, this may be less important.
Pro Tip: Be sure to wear hiking socks when you try on hiking boots or shoes. If you feel any discomfort at the store, it will likely only get worse on the trail. You want them to fit snug with hiking socks on – too big or too small can lead to blisters.
I am absolutely obsessed with these mid-ankle boots from Merrell. They are breathable but still keep moisture out. When hiking around waterfalls, wet rock or mud they have good grip. I can't believe how lightweight they are – my feet feel good even after 10+ miles. I have worn these while hiking the Inca Trail, Glacier National Park, the Badlands and more.
Best Summer Hiking Socks
Good socks are so essential for hiking. In the summer, this means you want breathable material that wicks away sweat, like wool, as well as cushion and an invisible seam at your toes.
Pro Tip: If you are planning to hike in an area known to have ticks, consider wearing crew socks and longer pants or leggings in the summer. Treat both with permethrin spray for additional protection. Here are more tips for how to avoid mosquitoes and ticks while hiking.
For warm weather hiking, I love Wildly Goods lightweight merino wool crew socks. They offer all of the benefits of wool but the lightweight design is comfortable and breathable for warm days. They're also anti-stink, blister-free and have an invisible seam.
Best Shirts for Hiking in Hot Weather
Unlike in winter hiking where the base layer is super important, you don't have to worry as much about your shirt for hiking in hot weather. As I said earlier, cotton is ok but I recommend still looking for shirts that are made of wicking material, such as polyester (synthetic). If you are prone to sunburn, consider tops with a UPF rating which will offer an added layer of sun protection. Light colors help prevent you from absorbing heat and tops that are either loose fitting or come with ventilation help to regulate your body temperature.
Pro Tip: Loose fitting clothing can also help prevent mosquito bites.
Short Sleeve Summer Hiking Tank Tops
For hiking in summer, I prefer flowy tank tops made of breathable material. Some of my favorite brands include Eddie Bauer, Athleta, Nike, and Calia by Carrie Underwood (which are surprisingly affordable). If you are on a tight budget, Amazon has some really cute and affordable tops that are perfect for hiking in summer. Here are a few that I love!
T-shirts can be a nice option if you are concerned about your backpack straps rubbing or are prone to sunburn on your shoulders. As I mentioned earlier, cotton is less of a risk in summer so really any t-shirt will work unless you expect or at risk of extreme temperature swings. In that case breathable UPF rated t-shirts are a good alternative.
Long Sleeve Summer Hiking Tops
This is the long sleeve top I bring when I go day hiking. It takes up virtually zero space but has extra UPF protection when I need it! Other great options are this crew neck which comes in fun colors or this more fashionable breathable button-up.
If you want something a little warmer for nighttime or altitude changes, I love a good quarter or half zip top like this lightweight breathable but warm long sleeve top from Patagonia.
Hiking Sports Bras
I feel like it's hard to recommend sports bras because we all have such different needs and preferences. However, my go-to brands for summer hiking sports bras include PrAna, Nike and Athleta. Here's one that I like. Again, Amazon has some really cute options that are supportive and comfortable as well.
Best Pants for Hiking in Summer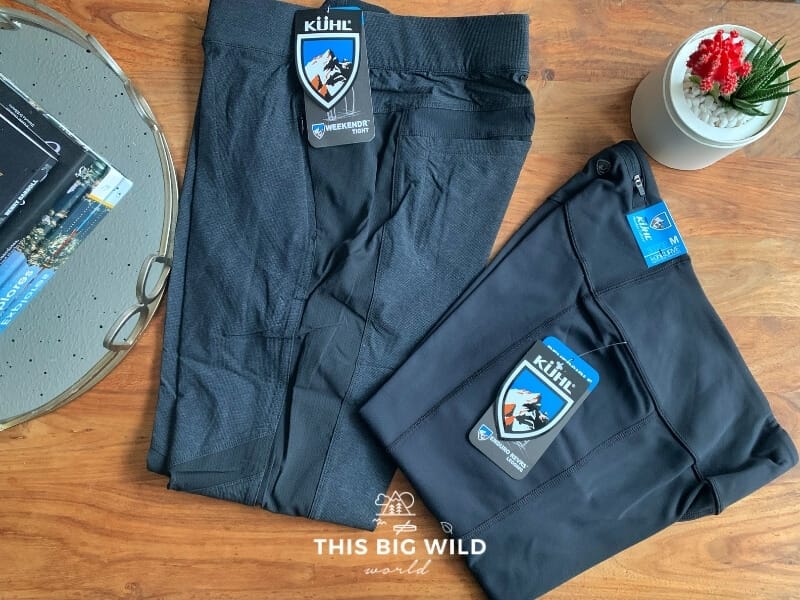 Due to the risk of ticks and sunburn, I rarely hike in shorts and if I do, I bring longer pants with me in case I need to change.
Best Pants for Summer Hiking
Honestly, I'm not a fan of actual hiking pants (ya know, the ones with cargo pockets and zip off legs?). I haven't found many designed for women that actually fit my body and feel comfortable on the trail. Hands down, I choose leggings any day over pants.
However, there are two that I recommend for anyone who prefers more of a pant than a legging. First, are these women's hiking tights from Kuhl. They are sort of a crossover between hiking pants and leggings. They are a little more loose than leggings but are abrasion-resistant, water-resistant and have zippered pockets. Second are these hiking pants from Athleta. They are a newer design of a pair of pants I have. The material is super lightweight, breathable, packable and offers UPF protection.
Best Leggings for Summer Hiking
When it comes to the best hiking leggings for warm weather, these leggings from Kuhl are among my faves. I'm generally not a fan of reversible clothing, but these are awesome. It's like two pairs of pants in one, perfect for a multi-day trip where you want to minimize what you carry. The fabric is abrasion-resistant, so they are extra durable for long days on the trail.
These summer hiking leggings from REI and Athleta are also great.
Best Shorts for Summer Hiking
Shorts are my last resort for summer hiking, but I do wear them occasionally. I recently bought these summer hiking shorts from REI and love them. They are UPF 50 rated, stretchy, and have four different pockets.
Best Women's Underwear for Summer Hiking
Having a wicking, breathable fabric next to your skin is important to remember when picking out underwear for hiking in summer. Look for wool or synthetic wicking materials over cotton if you want to prevent the dreaded swamp-a$$ (which is exactly what it sounds like).
Popular brands include Icebreaker, SmartWool, and Patagonia. All of these brands offer different styles ranging from hipkini, bikini, thong and more so you can choose whichever you prefer.
Best Summer Hiking Jacket
In the summer, I tend to stick to the lightweight long sleeve tops I mentioned earlier. But, it's a good idea to have a heavier layer and/ or a rain jacket on hand. The weather in Minnesota can be unpredictable, so I have used my rain jacket often on the hiking trail. Even the sunniest of days can seem to turn to gray stormy skies in no time!
Honestly, I'm in the market currently for a new rain jacket. I have one from Athleta that I love for light hikes and around town but it's a bit too heavy to carry on the trail. After doing a bunch of research, I'm leaning towards buying this rain jacket from Patagonia. The price is reasonable and it has zippered ventilation, weighing in at just over 12 ounces. This rain jacket from The North Face is also on my short list to purchase for similar features.
If you're looking for a crossover jacket that works in spring or fall or otherwise cooler temperatures, the Patagonia Nanopuff jacket is hands-down my favorite and goes with me everywhere. It's amazingly breathable and warm but not too warm and very functional.
Best Hat for Summer Hiking
There are several styles of hats for summer hiking. My go-to is a snap back ball cap with mesh. I love the hats from local Minnesota brand MNTD Goods.
If you prefer a hat with better sun protection for your neck and ears, try a sun hat like this one or a more stylish version like this one (which also has a hidden pocket to keep valuables!).
Don't Forget These Items on Your Summer Hiking Gear List
In addition to summer hiking clothing, there are several other pieces of gear to consider.
Day Hiking Essentials
As I mentioned earlier, be sure you have these ten essential items on your day hike packing list, including water filtration, sun protection, and more.
Face Mask, Neck Gaiter or Handkerchief
If you will be hiking somewhere crowded, you may want to have a comfortable and breathable face mask handy. Here are the best face masks for hikers, including neck gaiters.
Neck gaiters and/ or a handkerchief can also be handy in dusty or sandy conditions. I wore one when I was camping in Wadi Rum desert in Jordan to protect my mouth and nose from the sand when it was windy.
Pro Tip: Fold your handkerchief into a thin piece of fabric and tie it around your wrist while hiking. Pour water on it to help cool yourself off, wipe sweat off your face or even tie it around your neck to protect from sunburn.
Daypack
When it comes to daypacks, don't overthink things. If you're just starting out, any old backpack will do the trick. You need a bag to carry the ten essentials (which don't take a lot of room) that feels comfortable. Seriously, when I travel I often use a regular laptop bag as my personal item and daypack. If you want to invest in a daypack designed for hiking, there are a lot of factors to consider.
First, identify the size of daypack that best suits your hiking needs. Most average school-style backpacks are in the range of 10-20 Litres in size. This is fine for shorter day hikes. If you are hiking longer distances or in terrain that requires extra gear, such as steep elevation gain, I recommend a daypack in the 20-30 Liter range. You could go up to 40-50 Liters if you prefer to have more space or carry special equipment like camera lenses, etc.
Second, consider what features are most important to you. Do you want a water bladder and hydration system? Do you want pockets on the hip belt? Do you prefer to access your bag from the top (most common) or the front?
Lastly, make sure the pack fits your body. Much like hiking boots and shoes, I strongly recommend going into a store to be fitted for your pack. This can make an incredible difference in your comfort and experience on the trail.
All that being said, my go to daypack brand is Osprey. Check out all of Osprey's daypack designs and sizes here.
Gaiters
Avoid mud getting down into your hiking boots and keep ticks away from your skin by wearing gaiters. Gaiters are worn over your hiking boots, like a waterproof sleeve that is secured below your knee or mid calf. They are great for muddy, slushy terrain or tall grass. The gaiters I wear go up to my knees so I can wear them in deep mud and snow in the colder months.
Pro Tip: Make sure that the gaiters are sized to fit over and stay secure on your calf. If they are too big, they'll slide down or move around while you're hiking.
Trekking Poles
For added stability on uneven terrain, slippery rocks, or stream crossings, I recommend carrying trekking poles with you when you're hiking in the summer. These will also give you additional points of contact and disperse your weight, which can help with knee or hip pain or general fatigue when hiking longer distances.
I love the trekking poles I got because they have cork handles, adjustable lengths and are carbon fiber (weighing less than 1 lbs total). They also collapse down into most carry-on suitcases (although TSA may have restrictions in carrying them onboard). If you want a cheaper options, the same brand offers an aluminum version of their trekking poles, which are just over 1 lbs (19 oz) total.
What to Wear Hiking in Summer
Well, that's it! Now you should be all set to hit the hiking trails this summer. Have fun and happy trails!
Disclaimer: I was gifted pants by KÛHL under no obligation to write a favorable review. My opinions are based on my actual experience with the product.
Related content to read next:
How to Avoid Getting Eaten Alive by Mosquitoes & Ticks (for Hikers!)
How to Survive Hiking in Bear Country
20 Essential Outdoor Adventure Safety Tips
Check out my Minnesota travel page for even more inspiration and tips!
Did you find this article helpful? Save it for later or share it on social media!