After living in Minnesota for over a decade, I've learned a thing or two about what to wear for winter hiking. Trust me, if this clothing and gear keeps me warm while winter hiking in Minnesota, it'll keep you warm on whatever trails you're exploring this winter.
This list of hiking gear for cold weather will have you (literally) covered from head to toe so you can be winter hiking in no time!
Disclosure: This post contains affiliate links. That means that if you purchase through a link, I may receive a small commission at no extra cost to you. For more info, visit this page.
Winter Hiking Tips for Beginners
There's something so magical about hiking in winter. The sound of the snow gently falling and the soft crunch under your feet. The warmth of the sun as it bounces off of the blanket of white snow. It's a full sensory experience.
But winter hiking presents unique challenges and safety risks. Aside from just staying warm, frostbite and hypothermia are real risks to be managed. Before we jump into the best hiking clothes for cold weather, here are a few winter hiking tips for beginners.
1 | Fabric matters.
Even in cold weather, we sweat. In winter, though, having sweat trapped close to your skin can cause you to feel cold and actually lower your body temperature no matter how many other layers you're wearing. That's why it's essential to wear a layer of wicking material, synthetic or natural, closest to your skin
Wicking materials pull moisture away from your skin. When paired with a breathable mid-layer, the moisture will be pulled away from your skin and then be allowed to escape. This combination of layers allows you to better regulate your body temperature and stay warm.
Pro Tip: Do not wear cotton next to your skin in winter. Cotton absorbs up to 7% of its weight in water or sweat and remains wet for longer periods of time. Synthetic and wicking materials will absorb less than 0.5% of their weight and dry quickly. Polyester and merino wool are common base layer materials.
2 | Bring an extra pair of socks and shoes for the drive home.
Not only will this help keep the car clean and dry, this will assist your body in regulating the temperature of your feet in the same way that a wicking base layer does. Waterproof winter hiking boots may trap sweat, which means your feet will begin to feel cold as the temperature of the sweat cools. This is also important if you get snow down into your boot.
Again, avoid cotton and instead opt for wool or other synthetic wicking materials that will pull sweat away from your feet.
3 | Bulky does not necessarily equal better when it comes to winter hiking clothes.
Don't get me wrong, I love a good puffer jacket or bulky wool sweater on a cold winter day. But, when it comes to cold weather hiking gear, bulky doesn't guarantee warmth. Focus on choosing the right materials as mentioned above and wearing layers so you can adjust your temperature as needed.
4 | Batteries drain faster in cold temperatures.
While photographing the Northern Lights in Norway, I was shocked to see how quickly and erratically the batteries on my camera and phone were draining. If you plan to take a lot of photos while winter hiking or use your phone to navigate, plan accordingly.
Pro Tip: Bring a charged power bank and/ or extra batteries for your electronics when you're winter hiking. For safety reasons, bring a paper map whenever possible so that you're not relying on your phone battery. Keep your devices as warm as possible to extend the battery charge.
Why does this happen? Batteries operate based on chemical reactions and low temperatures slow or even stop those reactions. As a result, the batteries literally can't produce the chemicals needed to provide a current which powers your devices.
Best Cold Weather Hiking Clothes & Gear (from head to toe!)
In addition to the day hike packing list of essentials, investing in winter hiking clothing and gear will make your time outdoors more enjoyable. Here's how to dress for cold weather hiking and not freeze your backside off!
Best Winter Hiking Boots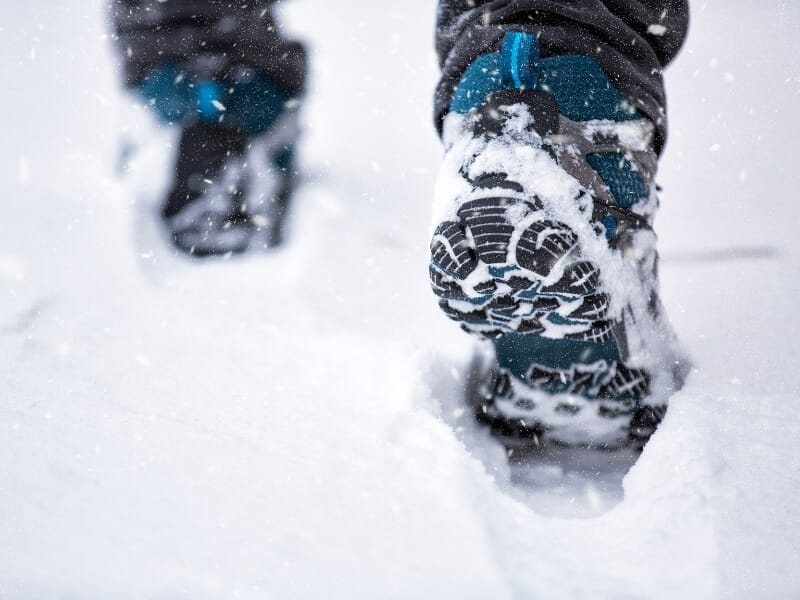 Having warm and dry feet makes hiking in the cold much more enjoyable. Winter hiking boots will have a temperature rating, which represents the lowest (coldest) temperature they are designed to be worn in. This is a helpful place to start in choosing the best winter hiking boot for you.
Pro Tip: Choose a temperature rating that exceeds the typical temperatures where you'll be hiking.
Look for boots that go above your ankle up to mid-calf to prevent snow from getting inside. Also, look for a boot that offers good traction.
Pro Tip: When choosing a size for your winter hiking boots, be sure to consider what socks you will be wearing.
My go-to winter hiking boot is the Columbia women's Heavenly Omni Heat snow boot. They've gone winter hiking with me to the Arctic Circle in both Finland and Norway plus all around Minnesota. They are comfortable, lightweight and functional (and cute!). Based on my experience with them, I would recommend any winter hiking boot in the Columbia Omni-Heat line.
Other great winter hiking boot options include the Merrell Thermo Chill line, Vasque SnowBlime or Ultradry lines (part of Minnesota-based Red Wing Shoes), Oboz insulated B-Dry waterproof line and Keen Revel IV High Polar Boot. For wide feet, Keen's are a great option.
Best Socks for Winter Hiking
Good socks are absolute must have gear for hiking in winter. Remember, cotton next to your skin actually makes you feel colder because it traps moisture. So, definitely avoid wearing cotton socks if possible. The hands-down best material for winter hiking socks is merino wool.
The only brand of winter hiking socks I wear is SmartWool. Specifically, I like the SmartWool mountaineering extra heavy crew socks for winter hiking. It's well worth it to invest in 1-2 pairs if you plan to hike regularly in the winter.
While I personally have not tried this brand, Darn Tough socks are highly recommended among winter hikers in Minnesota. Their mountaineering extra cushion product would be best suited for winter hiking.
Best Winter Hiking Base Layers
A base layer is the layer closest to your skin. Focus on products that are made of wicking material, usually Merino wool (natural) or polyester (synthetic).
If you plan to be outdoors often and are able to invest a bit, SmartWool base layers are great and come in fun designs for both leggings and tops. I've had mine for years so can attest that they will last forever.
For lower cost alternatives, try 32 degrees (leggings and tops) or Cuddl Duds (leggings and tops) brands.
Best Pants for Cold Weather Hiking
On top of your base layer, you'll want a good pair of winter hiking pants. There are two types – traditional pants or leggings.
Best Pants for Winter Hiking
I'm obsessed with Eddie Bauer's polar fleece-lined pants. They aren't bulky but fit nicely over a base layer and keep you incredibly warm. Watch for sales at Eddie Bauer to get them at a more affordable price. Also, Minnesota-based Duluth Trading Company's water repellant, wind resistant and durable fleece-lined Flexpedition pants are a great choice .
Best Leggings for Winter Hiking
When it comes to the best hiking leggings for cold weather, Athleta's Peak Hybrid Fleece leggings and SmartWool's Sport Fleece Wind tights are two of my faves. For a more affordable option, try The North Face Warm High-Rise tights.
Best Winter Hiking Jacket
Like I said, don't expect the best jacket for winter hiking to be bulky. Instead, focus on the temperature rating to make sure it meets or exceeds the winter temperatures where you'll be hiking.
Pro Tip: If you tend to get hot, try a winter vest over your base layers or look for jackets with zippers in the armpits and along the torso. These will help you regulate your temperature easily.
For mild winter temperatures (10F or above), I love the Patagonia NanoPuff jacket. It's lightweight, breathable, packable and keeps you warm without overheating. The NanoPuff is also excellent for high intensity winter activities like cross-country skiing, even at lower temperatures.
Again, the Columbia Omni Heat line is a great option for cold winter conditions. These jackets are lightweight and packable but surprisingly warm. Carharrt jackets are a favorite here in Minnesota for ice fishing but also hiking and other winter activities.
Eddie Bauer is a brand I hadn't tried much until the last few years and I was blown away by their winter jacket selection and performance. My favorite Eddie Bauer winter jackets for hiking are the MotionLoft Hybrid Down jacket and Downlight 2.0 jacket. The Downlight packs into a small pouch which makes it great for travel.
Best Gloves for Winter Hiking
Truthfully, I haven't found a winter hiking glove that I absolutely love. Every single e-tip pair of gloves I've tried, doesn't actually work with my phone after I wear them for a while. But, here's what I have learned about the best winter hiking gloves – they're not gloves at all!
Mittens combined with a glove liner are the most effective combination to keep your hands warm yet functional while hiking in winter.
Winter Hiking Mittens
For mild winter temperatures (20F and above), Trailhead convertible mittens offer value for functionality.
For colder temperatures, there are several great options. Carhartt Quilts mittens come with a waterproof wicking insert, which means you can skip purchasing a glove liner. Gordini Stomp mittens have a reputation for lasting 5-10 years even with regular use. These also come with an insert, plus have a small pocket for a handwarmer! Lastly the REI Coop Minimalist GTX mittens are made with GoreTex to make them waterproof and breathable. Note that these mittens run big!
Glove Liners
A great glove liner is made of wicking material and water repellent while still breathable. REI's Polartec Wind Pro fleece gloves are all of the above plus incredibly wind resistant.
Outdoor Research Flurry Sensor gloves are lightweight, breathable and made of wicking material plus they're lined with fleece. They'll keep your hands warm and dry!
Best Hat for Winter Hiking
A good winter hat can make a huge difference on your overall warmth while winter hiking. For years, I've worn The North Face Cable Minna Beanie. The fleece lining feels so warm and cozy.
Minnesota-based MNTD Goods has an awesome winter beanie that I wore winter hiking in Finland. It's so warm but also breathable with a chunky knit design.
Other Essentials for Your Winter Hiking Gear List
In addition to cold weather hiking clothing, there are several other pieces of gear you may want to consider. None of these are essential, but they will make for a more enjoyable experience.
Microspikes
These offer increased traction for icy and relatively flat terrain. Microspikes come in all sorts of designs but are generally a rubber device that stretches over your shoe or boot. On the bottom there are spikes or other contraptions that help to grip in slippery conditions.
Yaktrax is a great and widely distributed brand.
Pro Tip: If you are between sizes, consider going for the smaller size. A tight fit will help prevent that microspikes from sliding off your boot or shoe.
Crampons
Similar to microspikes, crampons also slide over your boot or shoe. They are best for steep inclines or declines with potential for ice. Crampons have a more pronounced metal spike to really grip the ice.
Snowshoes
Want to venture out into deeper snow or the backcountry on your winter hikes? Bring some snowshoes! By design, snowshoes distribute your weight over a larger surface area which allows you to hike on top of the snow without your legs sinking down into the snow.
Admittedly, they feel a bit awkward the first time you wear them. Snowshoes strap on over your winter hiking boots. When buying snowshoes there are several factors to consider. Most outdoor stores like REI can easily walk you through how to pick the best snowshoes for your situation.
Gaiters
Avoid snow or slush getting down into your hiking boot by wearing gaiters. Gaiters are worn over your hiking boots, like a waterproof sleeve that is secured below your knee. They are great for muddy, slushy or deep snow when winter hiking.
Pro Tip: Make sure that the gaiters are sized to fit over and stay secure on your calf. If they are too big, they'll slide down or move around while you're hiking.
Hand Warmers
Keep your hands warm and toasty with air-activated hand warmers. These little pouches keep your hands warm for 7 hours. I always keep a couple in my day pack when I'm hiking in cold weather.
For a more sustainable option, try a rechargeable handwarmer like this one!
Pro Tip: Hand warmers work for your feet too! When hiking in subzero temps, try two pairs of socks with a handwarmer between them either on top of or under your toes to keep them warm!
Trekking Poles
For added stability, carry trekking poles with you when you're winter hiking. These will give you additional points of contact and disperse your weight, which can be helpful in icy terrain.
I love these Hiker Hunger trekking poles because they have cork handles for better grip when you're sweaty and they come apart to fit into my suitcase easily.
That's What to Wear for Winter Hiking!
Now you're all set to go winter hiking, Minnesota style! From cold weather hiking clothing to additional winter gear for hiking, you're covered head to toe. Now, the real question is, where will you go hiking this winter?
For more winter and cold weather travel inspiration, check out these posts:
Best Place to Visit in Lapland Finland
Incredible Things to Do in Seward Alaska
Levi Finland Winter Adventure Guide
Rovaniemi Finland Winter Adventure Guide
Epic Adventure Guide to Tromso Norway in Winter
Love this post? Pin it!