There is something so magical about a beautiful landscape covered in a blanket of snow. A whole new world of cold weather adventures opens up. These incredible winter wonderland places to visit include fairytale castles, frozen waterfalls, thrilling adventures, cozy cabins, and more. Whatever you are looking for in a snowy holiday destination, you'll find it on this list.
Disclosure: This post contains affiliate links. That means that if you purchase through a link, I may receive a small commission at no extra cost to you. For more info, visit this page.
Winter Wonderland Destinations in Europe
Europe is home to some of the most popular, and a few unexpected, snowy holiday destinations.
Austria
Austria in winter is definitely one of the most beautiful winter wonderland places to visit in the world! Thanks to the snowy winters, the numerous ski resorts and the many winter activities, this country is a real highlight for an unforgettable snowy vacation. Towns such as Tirol, Vorarlberg, Carinthia and Salzburg in western Austria, where the snow-covered mountains conjure up a true postcard scenario, are especially recommended in winter.
During a winter vacation, you can really experience a lot of amazing things. Austria is famous for skiing, but there are also numerous opportunities for tobogganing, cross-country skiing, ice skating or simply walking or snowshoeing in the snowy countryside. To warm up, it is then best to go to an après-ski bar, where from noon onwards the party already starts. For those who love the peace and quiet, however, warm up at one of the many thermal baths, and relax the tired legs.
Really nice in Austria are also the Christmas markets, which you can visit between the end of November and the end of December. For this, a trip to Vienna is recommended, where you can visit the most beautiful winter markets in Austria.
The best and snowiest time in Austria is from January to February. At this time you can expect cold temperatures, lots of snow but also often an almost kitschy blue skies.
By Martina of PlacesofJuma
Pro Tip: Wondering what to wear to stay warm outside in winter? Find tips in my Prepared Girl's Guide to Winter Hiking!
Finland
When it comes to winter wonderland travel destinations, Finland has to be near the top of the list! Head north to the Arctic region during the winter months for a chance to see the Aurora Borealis, breath in some of the most pure air in the entire world and experience the best of Finland's winter outdoor activities.
Both Levi and Rovaniemi are popular snowy holiday destinations in the Arctic region of Finland. Levi is an adorable village that attracts downhill skiers, cross-country skiers, and snowmobilers in the winter months. Rovaniemi offers easy access to frozen waterfall hikes, ice climbing, and cross-country skiing. While there, be sure to stop in to Santa Claus' Village, open year-round, to experience the magic of Christmas.
After a long day of winter fun, be sure to rejuvenate your body in a traditional Finnish sauna!
Munich & the Bavarian Alps, Germany
Munich and its surrounding mountains transform into a fairy wonderland in winter and offer a diverse range of activities.
In December, Munich is home to some of the best Christmas markets in the world. The most magical Christmas market in Munich is the medieval Christmas market and the Christmas village at the Residence Palace in the heart of the city.
Munich is a paradise for winter sports lovers. Ice skating is an extremely popular winter activity in Munich. The most gorgeous ice skating rink in winter is found in the center of Munich at Karlsplatz next to stalls selling traditional German snacks and drinks.
How about outdoor swimming in winter when it's snowing? In Munich, you can swim in the warm and steaming water of Dantebad. Also, in Munich, find the world's largest spa, Therme Erding. Go and enjoy its sauna world, warm outdoor pools surrounded by snow, adventure pools, and a myriad of wellness activities.
From Munich, you can take a lot of fantastic day trips. Visit the most charming fairytale castles of the world, the Neuschwanstein Castle and the Linderhof Castle surrounded by majestic mountains, or explore the most enchanting and spellbinding medieval towns of Germany such as, and Rothenburg ob der Tauber, Regensburg and Nuremberg.
Last but not least, hit the road to the breathtakingly beautiful mountains of the Bavarian Alps. Some of the top things to do there are sledding on the longest toboggan run of Germany, Wallberg, skiing on the highest mountain of Germany, Zugspitze, and hiking on the stunning hiking trails of the Alps.
By Diana of The Globetrotting Detective
Iceland
Winter's low season is one of the best times to visit Iceland since there are less tourists and it is easier to find cheaper accommodation. Between November and March you can do plenty of winter activities such as exploring ice caves or admiring Northern Lights.
Go on a glacier hike to see beautiful ice tunnels as well as the unique hues and ice formations. Ice cave season is very short so don't miss out on this awe-inspiring natural beauty. Stunning Iceland full of white snow looks like a winter wonderland.
Enjoying hot springs on a cold day is a great way to relax. Winter is also the best time to take photos in Iceland, due to incredible light. You can wake up at 10am and still be able to shoot amazing pictures, because the sun rises in Iceland around 11am.
Golden hour lasts all day and gives you the opportunity to capture beautiful waterfalls and many other attractions of Iceland in incredible winter scenery. It is worth mentioning that the weather is not as cold as it seems. You might find it a bit chilly when it is windy. Otherwise, exploring Iceland in winter is a great experience.
By Paulina of UK Everyday
The Dolomites, Italy
There are few places in the world as beautiful in winter as Italy, yep that is right! Most travelers do not associate winter wonderland with Italy, which makes the Dolomites a relatively unspoiled place in Europe. Indulge in some typical winter activities such as cross-country skiing, snow shoeing, trekking, ski mountaineering and sometimes even ice skating on the lakes nestled deep in the Dolomites. If you are short on time make sure to head up to the fairytale lake of Lago di Carezza, it has ample parking and simply the best views of the entire region!
After a day exploring the region or scaling the slopes you will be able to dig into some delicious specialities from the region, a delectable mix of Italian and German cuisine. Specialities of the region include canederli (bread dumplings), kaiserschmarren (pancakes) and the ultimate comfort food, polento. Wash it down with a glass of good local wine or a heartwarming shot of schnapps.
Depending on the weather, the Dolomites can have their first snowfall as early as October and their last snowfall in April. The easiest way to get around the region is by renting a car, be aware that snow tires are mandatory from mid-November to mid-April. Additionally, you will need to bring snow chains with you in the car to make use when driving on roads that have been subject to heavy snowfall.
By Caroline of Veggie Wayfarer
Norway
Norway is a strong contender for the best winter destinations in the world! There's something so magical about the rugged rock formations jutting up out of the dark blue water of the fjords, all covered in a dusting of snow and ice.
To enjoy the best of winter in Norway, head into the Arctic Circle. Fly into Tromsö to go dogsledding, whale watching, winter hiking, snowshoeing and more. The town is located on a small island surrounded by mountains. Take a ride up the cable car, also called Fjellheisen, for an epic view of Tromsö from above!
For a more unique experience, visit the Loföten Islands in winter. This archipelago along the western coast of Norway has some of the most breathtaking scenery in the world. Visit tiny fishing villages, snow-covered beaches, and incredible winter hiking trails. After a long day of exploring the islands, relax in a quintessentially Norwegian cabin on stilts over the water. Don't get too relaxed, though, because this is a great destination for photographing the Northern Lights.
The best time to visit Norway for these winter activities is from December through February, though the season varies depending on the weather.
Slovakia
Averaging around 28°F – 37°F in the winter months, Slovakia is an amazingly unique winter wonderland travel destination that's often overlooked. This country provides an abundance of fun winter activities for those who enjoy escaping the crowds. It is also home to tons of stunning fairytale castles and UNESCO medieval towns that look even more dreamy covered in snow.
One of the best places to visit in Slovakia in the winter is the Tatras Mountains. There, you'll find Tatranská Lomnica, the highest ski resort in the country. You can enjoy skiing and snowboarding to incredible winter wonderland views, and then relax in the many spa hotels in the area, such as the Grand Hotel Kempinski High Tatras.
Don't leave Slovakia without seeing the stunning Bojnice Castle, considered by many as the most beautiful castle in Central Europe. You can see the beautiful Gothic, Renaissance, and Romanesque influences in its architecture. Its gorgeous facade looks even more magical when it's covered in snow!
Other notable stops on a winter trip to Slovakia include the dreamy Orava Castle, the mystical Spiš Castle, and the UNESCO medieval town of Bardejov. Be sure to also stop by the city of Košice for the best local food and lively Christmas markets.
Visit in December to see the towns and cities of Slovakia lit up in splendid decorations. You can feel the festive spirit even in the mountain villages of the Tatras Mountains!
By Jiayi of The Diary of a Nomad
Sweden
Sweden, located in northern Europe, has long and cold winters. The winter months include November through to March, however, it is great visiting during this time of the year for the beautiful scenery and landscape alone.
The big cities like Stockholm, Gothenburg, Malmo, Vasteras and Uppsala all offer lots of things to do, regardless of the time of year. However, some museums do close during winter and only reopen as summer approaches in June, so plan accordingly.
The Swedes love winter, especially when it snows, and many head to the beautiful countryside and lakes on weekends to enjoy winter sports such as skiing and ice skating. There are also many ski resorts where people can enjoy skiing down the slopes, cross-country skiing, tobogganing, or even go snowmobiling. Consider avoiding the ski fields during the annual school 'sports holidays' or 'sportlov' which are spread between weeks 7 and 10 as the slopes are busy and accommodation is expensive.
One of the most popular attractions in Sweden during the winter months are the ice hotels. These hotels are made of snow and ice, with everything inside made of ice too. The original Icehotel is located in the town of Jukkasjäarvi and each year the hotel is hand-sculpted into a one-of-a-kind version from massive ice blocks harvested from the river which runs beside it. When the spring comes, the hotel is then left to melt.
By Peta and Jonas of Exit45 Travels
Turkey
Turkey is a well-known summer holiday destination but travelers who decide to explore this vast country in winter will be rewarded with incredible experiences.
Start your journey by exploring Istanbul in winter. The major sights of the Hagia Sofia and Blue Mosque will be crowd-free during this season and if you are lucky enough to experience snowfall during your visit (usually in January and February), you'll get some incredible photographs too.
Those interested in winter sports activities should head to Bursa and Mount Uludağ, which is just 2.5 hours from Istanbul. It is Turkey's first and largest ski resort and offers snowboarding, snow biking and sledging as well as skiing. Mount Uludağ also has the Bursa Telerefik – the longest cable car ride in the world. The views from the cable car alone are worth the trip even if you don't want to ski!
If you have more time on your hands, Central and Eastern Turkey are popular winter wonderland destinations that are well worth a visit. The fairy chimneys and old churches of Cappadocia are stunning at any time of year, but look extra special when covered in snow. A hot air balloon ride over the curious rock formations at Cappadocia is a must in winter.
Train travel in Turkey is fantastic and one of the most popular routes in January and February is the Eastern Express (Doğu Expresi) between Ankara and Kars. This 25-hour train journey takes you through a winter wonderland of snowy vistas, towering mountains and gorgeous plateaus. This train journey has become so popular that there is now a separate tourist train for this route. Book in advance if you don't want to be disappointed.
From Kars, you can visit stunning Lake Çıldır which is frozen solid for 9 months of the year. Locals from the nearby village of Taşbası offer horse sleigh rides on the lake plus a chance to see traditional ice fishing. Kars is also the jump-off point for exploring the ruins of the Armenian Kingdom of Ani with its numerous churches, chapels and mausoleums.
By Sasha of Mog and Dog Travels
Winter Wonderland Destinations in North America
Many of the best winter destinations in the world can be found in the diverse landscapes of the United States and Canada.
Alaska, USA
Alaska is breathtaking in any season, but especially in winter when the landscape transforms and you can explore without the crowds that come with the cruise ships in the warmer months.
Home to the annual Iditarod race, Alaska is one of the best places to go dog sledding in the world. Experience the thrill of gliding across the snow-covered landscape from inside or while driving the sled!
For another unique experience, hop on the Alaska Railway in Anchorage and head towards Spencer Glacier in Chugach National Forest. The train ride follows along the Old Seward Highway, with breathtaking views of Turnagain Arm with mountains in the distance. There are tour options to either snowmobile or hike to the glacier, whichever you prefer! From Anchorage, you can also do day trips to go winter hiking or snowshoeing at Flattop Mountain or Chugach State Park.
If you have your heart set on seeing the Northern Lights, Fairbanks is considered to have the most favorable conditions for them. However, it's common to see them in the area surrounding Anchorage as well.
Banff & Lake Louise, Canada
If you're looking for snowy holiday destinations, then look no further than the Canadian Rockies, particularly Banff and Lake Louise in winter.
There are tons of amazing winter activities in Banff National Park from skiing, ice skating, curling, or even just exploring downtown Banff on foot.
Ice and snow-related activities are best explored from late December to February. There are ice carving festivals that take place in Lake Louise during this time.
Snowy weather, with festive celebrations, takes place from mid-November to January. The annual Christmas parade is in November in Banff town. You will also find seasonal menus and Christmas markets, where you can buy souvenirs.
Enjoy ice skating at Lake Louise (with rental options), cross-country skiing or snowshoeing through gorgeous landscapes in winter.
Not into skating or skiing? Enjoy a Sulphur Mountain gondola ride, and soak in the snowy mountain landscape views from above. There are special events that take place on the gondola summit and the bistro cafe, located onsite. Go on dog sledding tours through pristine wilderness areas, horseback riding across snow-covered trails…and much more!
You can also book a romantic resort for your stay in Banff and Lake Louise and enjoy the cold weather from inside, with warm cocoa.
By Mayuri of Canada Crossroads
Minnesota, USA
Minnesota may be an underdog on this list of winter wonderland places to visit, but there is no shortage of incredible winter activities to experience here!
The rugged north shore of Lake Superior offers endless frozen waterfalls, cross-country skiing, snowshoeing, winter camping, and snowmobiling. Experience the beauty of the ice stacks, that looks like piles of diamonds, along the shore of Lake Superior. Plan your visit to one of the adorable harbor towns along the water, such as Two Harbors or Grand Marais.
Minnesota is home to two International Dark Sky parks, Voyageurs National Park and the Boundary Waters Canoe Area (BWCA). These are epic places to visit for a glimpse of the Northern Lights in winter. Both Grand Marais and Ely are entry points into the BWCA.
Don't miss the fat tire biking in Cuyuna in winter! A popular mountain biking destination in the warmer months, the area has an endless network of fat tire biking trails for all skill levels and plenty of rentals available.
In the Minneapolis and St Paul area, you can chase frozen waterfalls, explore the cross-country ski trails, go winter hiking, and experience any number of winter events on frozen lakes!
Nunavut, Canada
Nunavut is Canada's largest and most northern territory, falling just shy of the North Pole. In terms of cold destinations, you can't get much colder than visiting Nunavut.
If visiting the capital city of Iqaluit, be sure to do a day of snowmobiling or dog sledding. While these activities are available in other winter destinations, such places will take you meandering through trees over groomed trails – in Nunavut, you'll fly over the barren tundra or frozen sea ice, zipping around exposed cliffs and towards polynyas.
For winter activities, March and April are the best months to visit. The sea ice is still frozen and the tundra is blanketed in snow. Yet the temperatures are more comfortable (-10C as opposed to -30C) and the sun has returned, beaming 12 hours each day. The northern lights aren't as prominent in March and April as they are between December to February, but it's still common to see them in the wee hours of the morning.
For a taste of winter in the summer months, you can join a wildlife safari from May to August. Go kayaking near narwhal or beluga whales and search for polar bears on the horizon. By this time of year, the temperatures will have substantially warmed by arctic standards, but will still be a little chilly for non-arctic residents (0C to 10C).
Regardless of the time of year or activity planned, ensure you pack plenty of warm clothing!
By Mikaela of Voyageur Tripper
Vermont, USA
With its snow-capped mountains and quaint villages, Vermont is a perfect winter destination.
Snow sports abound in Vermont! There are 22 resorts in Vermont for downhill skiing and snowboarding. Enjoy the slopes of the big mountains such as Killington and Stratton or the family-owned hills like Cochran's Ski Area. Don't be surprised to learn you are shredding the same hills that were the training runs of past and present Olympians.
Cross-country skier's will find touring centers scattered across the state. Many towns offer free groomed cross country ski trails for all skiers.
The Green Mountains feature endless backcountry trails to explore by skiing or snowshoeing. The 300 mile long Catamount Trail runs the length of the state through prime wilderness.
Bring your microspikes or snowshoes for world class winter hiking. Camel's Hump or Mount Mansfield are ambitious winter climbs. However, tons of easy hiking and snowshoeing trails wander past icy mountain streams and snow-shrouded fir trees.
Other popular winter activities include ice-skating, snowmobiling, ice fishing, and dog sledding.
After a day in the cold, visit one of Vermont's picturesque villages with top-notch restaurants and perfect ambience. Don't miss one of Vermont's famous craft breweries for a great ending to your day.
Winter enthusiasts can enjoy snowy Vermont from December through March.
By Karen of Outdoor Adventure Sampler
Washington, USA
Washington state, located in the very northwest corner of the contiguous United States, is a fantastic place to enjoy chilly weather, with incredible mountains to enjoy winter sports, epic beaches that are particularly dramatic in the wintertime, and countless cozy cabins in fairytale forests to snuggle up in.
Consider heading to Winthrop, Washington, a charming town from the late 1800s gold rush that still retains many of its original boardwalks and Wild Western facades. This is an excellent jumping off point to explore the snowy North Cascades, which provide a stunning backdrop for cross-country skiing, snowshoeing, or snowmobiling.
Want some variety of scenery? Head to Olympic National Park in the northwest corner of the state. Come winter, you'll have your choice of snow-covered mountains at high elevations, in addition to the lush temperate rainforests, cascading waterfalls and craggy beaches the Pacific Northwest is known for. In fact, the park even offers some gorgeous hot springs you can hike to and enjoy!
If you want to visit Washington at the height of its coziness, December can be a wonderful time. Leavenworth, a Bavarian-themed town tucked in the Northern Cascades, puts on quite a festive Christmas extravaganza every year. But you can enjoy snow in the state's higher elevations, like in Mount Rainier National Park, well through June. If you come in the wintertime (November through March), be prepared for rainy skies, low hanging clouds, and fog. Remember, that this just adds to the state's mysterious beauty!
By Jessica of Uprooted Traveler
Whistler, Canada
Whistler, Canada is an easily accessible winter wonderland destination since it's just two hours drive from Vancouver. Nestled in British Columbia's mountains, it's home to the world-famous Whistler Blackcomb ski resort, which has more terrain than any other ski hill in North America. It also hosted the 2010 Winter Olympics. Plan your visit between December and March for prime skiing.
But there is so much more to do in Whistler in winter than skiing and snowboarding. For a more laid-back outdoor adventure, try snowshoeing. Lost Lake Park near the center of town has a great trail network. Or head to nearby Whistler Olympic Park where you can snowshoe to the bottom of a frozen waterfall. Both have rentals on-site.
Don't miss out on sightseeing. The cute pedestrian village is home to lots of great shopping and restaurants. Make sure you get a photo in front of the giant Olympic rings in the plaza. Or just stroll through the snow with a hot chocolate in hand. For the best views, ride the Peak 2 Peak Gondola. It connects the tops of Whistler and Blackcomb Mountains and dangles 1430 heart-stopping feet above the valley floor.
You can also get out of the cold while learning about local culture with a visit to the Squamish Lil'wat Cultural Center. A local guide from the Squamish or Lil'wat Nation will welcome you with drums and song, then take you on a tour through the exhibits. You'll learn more about the culture, history, and current practices of the Indigenous peoples who have lived in the Whistler area since time immemorial.
By Taryn of Happiest Outdoors
Antarctica: The Ultimate Winter Wonderland?
Antarctica is quite possibly at the top of the list of best winter wonderland places to visit in the world. It is remote and mysterious, a place that few people will ever experience.
Aside from chartered flights, there are no scheduled flights into Antarctica. Getting there involves a multi-day journey by cruise ship the mainland of other continents. The easiest and most convenient route to get there involves flying into Buenos Aires, in Argentina, and then a second flight down to the town of Ushuaia. This is where you board the ship and embark on your journey to the elusive continent or Antarctica.
What is there to do in Antarctica? Disembark your ship to get up close and personal with penguins, paddle through the icy waters, go wildlife and whale watching, and even camp on the ice overnight!
While this is a remote travel experience, the ships are designed to make your long journey comfortable. Tour companies such as Hurtigruten have gyms, restaurants, saunas, classrooms and more to enjoy onboard.
Winter Wonderland Destinations in South America
Patagonia, Argentina & Chile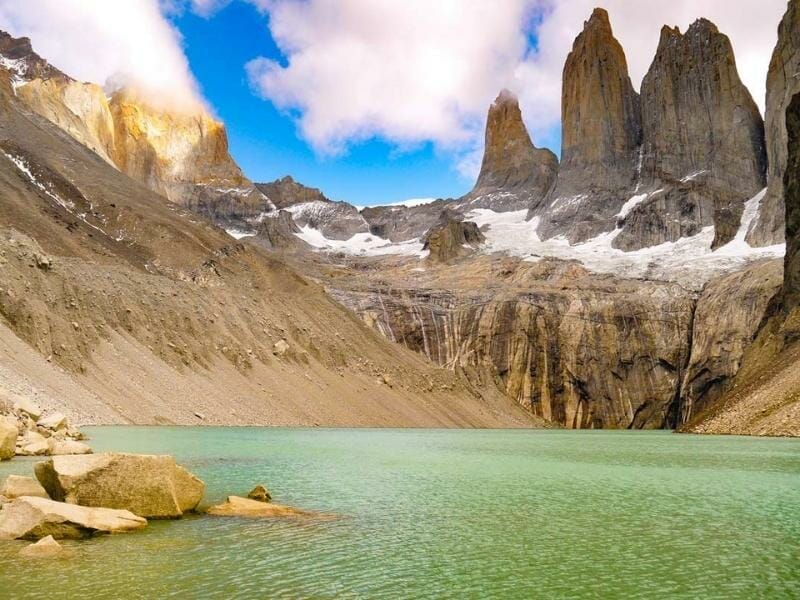 Patagonia is an incredible region situated at the southern tip of the South American continent divided between Chile and Argentina. Due to its geographical location even in the middle of the summer, it's quite chilly, especially in the extreme south.
Patagonia can be visited any season. The summer months are the peak season with many tourists and in winter it gets quiet so you can have the main attractions of the region all for yourself. Famous sights such as Perito Moreno, Mount Fitz Roy, or Torres del Paine can be visited all year round. Though some multi-day trekking routes might be closed in the winter, many day hikes in Torres del Paine and El Chalten stay open. The best months to visit Patagonia for hiking and camping are December, January, and February. Winter months June to September is a great time for skiing and snowboarding. The beautiful town of Bariloche in Argentinian Patagonia is one of the best places to enjoy winter sports.
The scenery in Patagonia is truly spectacular: turquoise lakes, indigenous forest, snowy peaks, rugged fjords, impressive waterfalls, and massive glaciers. It's a dream place for those who like the outdoors and real adventures. Patagonian wildlife is just as impressive as its landscape. Traveling in the region you can see pumas, condors, Huemul deer, guanacos, vicuñas, mountain cats, foxes, armadillos, and many other smaller mammals.
By Alya of Stingy Nomads
Winter Wonderland Destinations in Asia
Looking for more cold weather vacation spots? Asia has some unexpected snowy holiday destinations to explore!
Harbin, China
Harbin is a city in China's far northwestern Heilongjiang Province, close to the border with Siberia. The province is home to China's winter Olympic ski team and is the country's premiere winter destination.
Harbin is most famous for its annual snow and ice sculpture festival which has been running for 38 years! Each year, artists recreate famous cultural landmarks from around the globe, made entirely of ice.
The festival runs from late December to early March and is one of Harbin's must-see attractions. Around November time the Songhua River freezes and itself turns into a winter playground with skiing, sledding, snowmobiling and more!
Harbin was actually built by the Russian's working on the Trans-Siberian railway, and as such is unique among Chinese cities for its Russian architecture. St Sophia Cathedral is one of the highlights, with its red bricked façade and towering onion domes.
After checking out the Cathedral, make your way onto Central Street which is lined by Russian bakeries. One of the local treats to try is the frozen hawthorn berry ice stick, covered in a sweet and sticky syrup!
The ski resort at Yabuli makes a great day-trip from Harbin. Here you can hire skis or a snowboard and hit the slopes, take a sightseeing cable car, or enjoy a short hike through this winter wonderland!
Temperatures in Harbin can drop as low as -35 Celsius, so warm clothing is a must when visiting. The city is easily reachable from Beijing by flight and bullet-train.
By Steve Rohan of thetripgoeson
Nagano & Hokkaido, Japan
With world class skiing, fascinating history, and cute snow monkeys to show you how to embrace onsen culture, Japan is an amazing winter destination.
Northern Japan offers some of the best powder skiing in the world – think dry and fluffy mounds of fresh snowfall just waiting for you to carve your way down the slopes. The Northern Alps average an incredible 10-18 metres of snow each season! There's nothing like finishing a day of exertion on the slopes with a hearty bowl of ramen and a relaxing soak in one of the many onsens in the ski resorts.
If you're not familiar with the onsen concept, they're a natural hot spring that doubles up as a public baths and they're one of the most wonderful things to experience on a visit to Japan. In winter they're particularly magical – hot water creating clouds of steam in the icy air. You've just got to brave the snow on your way to the pools!
There's one group who have no problem braving the cold to get their onsen fix, and that's Japan's famous snow monkeys. Native to the north, the Japanese Macaque has worked out that the best way to warm up is by taking over a network of hot pools for your own use. The best place to see them is at the Jigokudani Snow Monkey Park in Nagano.
Sapporo, the capital of Hokkaido, hosts an annual snow festival complete with incredible ice sculptures, light displays and plenty of the beer that the city is known for! Further south, consider a visit to Takayama, a fascinating Edo-period city that's been faithfully preserved and hosts a sake festival every year. Plan your visit for February to coincide with the festivities!
By Cat of Cat's Nine Lives
Winter Wonderland Destinations in Oceania
Queenstown, New Zealand
When thinking of activities at winter travel destinations, it's no doubt skiing comes to mind. But where could you enjoy a winter break if skiing isn't your thing?
Nestled in the heart of New Zealand's South Island, winter in Queenstown is an absolute must to experience for any adventure lover – especially if you don't plan on skiing!
The adrenalin capital of the country has so much to offer during the winter months, from bungee-jumping, paragliding and canyon swings to snow-shoeing, hot air balloon rides over the stunning scenery and an exciting luge run on a mountainside.
Don't worry if you're not an adrenaline junkie though, there are plenty of relaxing experiences too. Warm up by soaking in a hot spring overlooking a mountain landscape at Arthur's Point, take a cable car up to the Skyline Lookout for panoramic views over the region, enjoy a leisurely cruise around Lake Wakatipu and even see kiwi birds up close at Kiwi Birdlife Park.
With a great dining and pub scene to rival larger cities, nightlife in Queenstown also packs a punch for visitors and locals alike. Everyone is out to have a good time, the fun atmosphere is hard to beat.
Queenstown during any winter month also makes a great base to undertake day trips to other gorgeous areas, such as the preserved colonial village of Arrowtown, breathtaking views over Lake Wanaka, kids will love Walter Peak Country Farm and even more outdoor activities to enjoy in Glenorchy.
If given the chance, an opportunity to stay in Queenstown during winter should not be passed up!
By Alyse of The Invisible Tourist
Best Winter Wonderland Places to Visit in the World
Each season brings with it a whole new way to experience a place, and winter is no exception. Whether you prefer gliding through the forest behind a dog sled, fairytale castles covered in snow, or something in between, these winter wonderland travel destinations will leave you speechless.
Related content to read next:
What to Wear Hiking in Winter: A Prepared Girl's Guide
11 Best Places to Go Dog Sledding in the World
Check out my Minnesota travel page for even more inspiration and tips!
Did you find this article helpful? Save it for later or share it on social media!