For years I've driven to the north shore of Lake Superior in warmer months. After all, it's home to endless hiking trails, miles of rugged shoreline, and provides entry to the pristine Boundary Waters. If you thought this area was just a warm weather destination, though, think again.
Two Harbors is the perfect base for a winter weekend of adventure exploring frozen waterfalls, cotton candy skies at sunset, and endless trails for cross country skiing, winter hiking, snowshoeing and more. Here are 14 winter activities in Two Harbors Minnesota for any outdoor lover!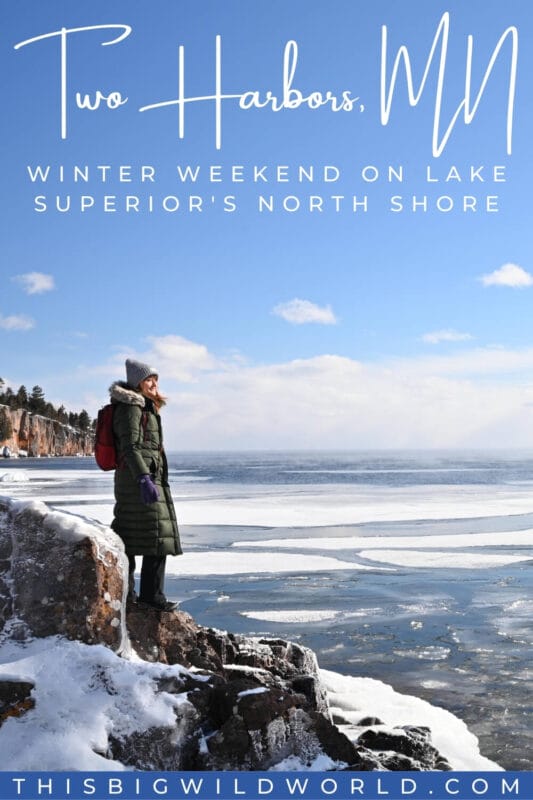 Disclosure: This post contains affiliate links. That means that if you purchase through a link, I may receive a small commission at no extra cost to you. For more info, visit this page.
Where is Two Harbors Minnesota?
Two Harbors is located just under 3 hours north of the Twin Cities of Minneapolis and St Paul along Minnesota's north shore of Lake Superior. About 30 miles past Duluth, Two Harbors is really the first and most accessible bigger town with access to all of the outdoor adventures the north shore has to offer.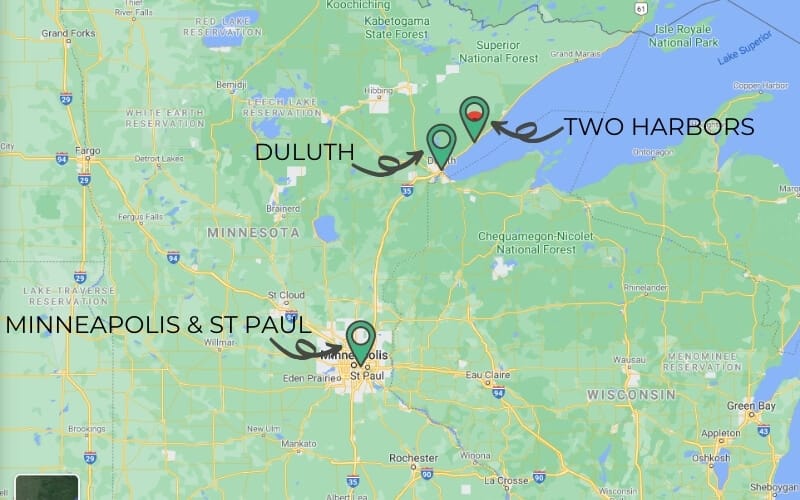 Many visitors to the north shore go straight to Grand Marais, located close to the Canadian border. Grand Marais is beautiful and well worth a visit in any season but it's more than a 4 hour drive from the Twin Cities, making it difficult for a weekend getaway.
Winter Weather in Two Harbors
The north shore of Lake Superior in winter is truly breathtaking – in more ways than one! The first snow of the year is often around October but the beautiful ice on Lake Superior and frozen waterfalls typically arrive in late January or February. April is often a transition month with muddy trails as snow melts and sometimes late season snowfall. It's an unpredictable time to visit!
Pro Tip: Wanna chase frozen waterfalls but don't have time to visit the north shore? There's loads of frozen waterfalls near the Twin Cities too!
Below are the average monthly high and low temperatures in Two Harbors Minnesota. Keep in mind that these are averages so there will be days with temperatures significantly above and below these temperatures. During my recent visit to Two Harbors Minnesota in winter, the high temperature was -17F.
As someone who used to despise being outdoors in cold weather, I understand if you're hesitant to visit Two Harbors in winter. But, trust me, with the right gear it can actually be really enjoyable. Here is all of my advice on what to wear for winter hiking so you can stay safe and warm during your visit.
Best Things to Do in Two Harbors Minnesota in Winter
Two Harbors is the perfect base for all kinds of north shore winter activities.
1 | Take in the sunset view of the Two Harbors lighthouse.
The Two Harbors lighthouse is a beauty to behold in any season or time of day. But there's something so special about this view with the cotton candy sky that appears during sunset in winter. Park in the parking lot at Two Harbors Lighthouse and enjoy the sunset from the warmth of your car. Alternatively, layer up and go for a stroll along the water and even out onto the breakwater out towards the lighthouse. Just be sure and bring your camera!
2 | Get up early for sunrise at Burlington Bay Beach.
On the opposite side of town, about 1-2 miles away, Burlington Bay Beach offers a view looking East and along the shoreline of Lake Superior to the north of Two Harbors. It's perfect place to enjoy the moody winter sunrise in Two Harbors!
There's a small unpaved parking lot just off of Park Road at Burlington Bay Beach where you can park for free. You do not have to enter Burlington Bay Campground to access this parking lot.
If you're lucky like I was, you'll get a glimpse of the low fog resting over the water on really cold mornings. It's truly mesmerizing!
3 | Have a picnic on Black Beach.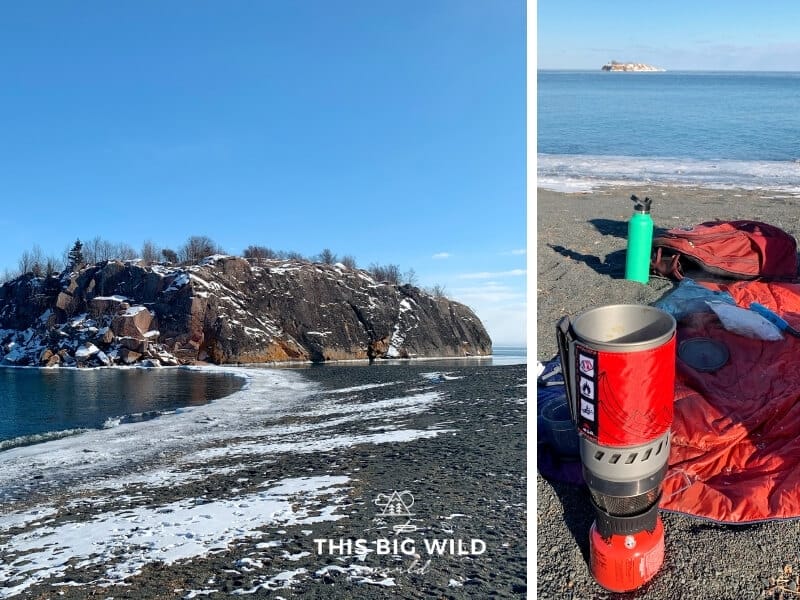 Picnics aren't just for summer! Bring a thermos with hot drink or bring your camp stove to make a warm lunch on the black sand of Black Beach. Be sure to bring a blanket with you!
Park at the small parking lot off of Water Plant Rd. Walk behind the small building at the back end of the parking lot to find the short trail that takes you down to the beach.
4 | Capture the beauty at Silver Bay Marina.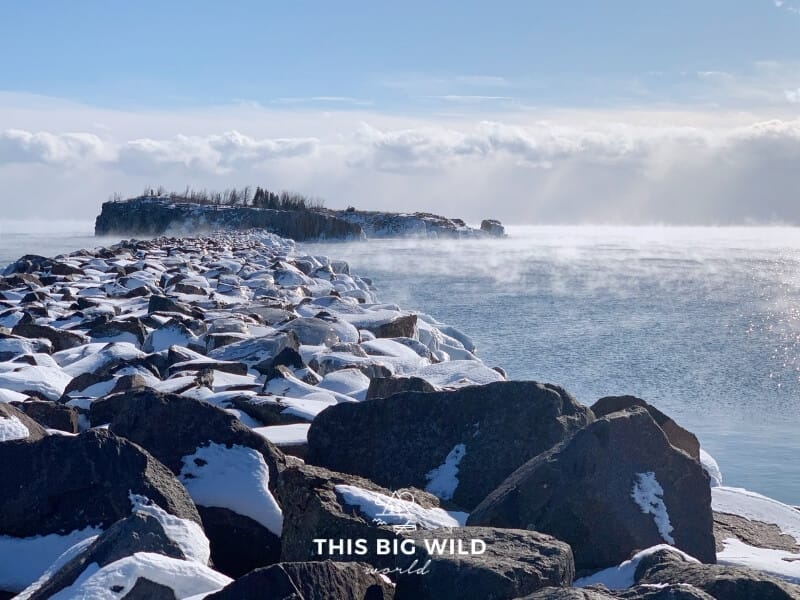 So, you might be wondering why I'm suggesting you visit a marina in winter. I understand, but the view from Silver Bay Marina out towards Pellet Island is pretty incredible. On cold winter days, there's often a steamy effect due to the temperature difference between the water and air that makes it extra dreamy!
There's also the Silver Bay Marina Overlook nearby for a different vantage point.
5 | Hike along Lake Superior at Tettegouche State Park.
While this is hotly debated within Minnesota outdoor communities, Tettegouche State Park is widely regarded as one of the most beautiful destinations in the state. There's good reason for that! It's got a little bit of everything – lakefront trails, stunning views, beaches, rugged terrain and impressive waterfalls. In warmer months, the park is packed with visitors.
But, in winter you can virtually have the place to yourself! From the Visitor Center parking lot, walk around the building and follow the trail down and to the left. This will take you Lake Superior Beach for incredible views of the rugged shoreline to the north. Continue on to Shovel Point which follows the shoreline along a cliff. From the point, enjoy a perfect view of the iconic Palisade Head. All in, this trail is just over 1 mile.
Pro Tip: Cross country skiing more your style? Tettegouche State Park has over 15 miles of moderate to difficult cross country ski trails. Be sure to pick up a Great Minnesota Ski Pass beforehand. Read about this pass here.
6 | Get up close and personal with a frozen waterfall at Tettegouche State Park.
While you're at Tettegouche State Park, why not hike to a frozen waterfall? There are two different ways to hike to High Falls.
First, from the Visitor Center parking lot follow the trail towards the mouth of the Baptism River. From there, follow the trail along the river. On the way you'll pass Two Step Falls before reaching High Falls. This trail is 1.5 miles each way.
Alternatively, from the Visitor Center parking lot, turn left out of the parking lot (instead of right to exit the park). Follow the road under the highway until you reach a small parking lot. From here there is a shared trail for hiking and cross-country skiing. The hiking trails splits off to the right, taking you through the forest, across a suspension bridge, up and over High Falls. This trail is about 1.2-1.5 miles.
Whichever trail you take, to access High Falls up close there are a LOT of steps down. When you reach the bottom (if it's safe) you can walk on the frozen surface up towards the frozen waterfall.
Pro Tip: Stay close to the shoreline when walking on the frozen surface. If temperatures are or have recently been above freezing, don't attempt to walk on the ice. The water is still very rapidly flowing under the surface so it can be quite dangerous early or late in the season.
7 | Be amazed by the view of Lake Superior from Palisade Head.
Palisade Head is an iconic image of Minnesota's north shore. For me, it's reminiscent of the dramatic and rocky cliffs found in places like Ireland or England. Technically, Palisade Head is part of Tettegouche State Park but it's located 1.5 miles southwest just off of Highway 61.
In warmer months, you can drive right up to the top but during the winter it's common for the road to be closed for safety reasons. Instead, park in the small lot just off the highway and take the short hike (~½ mile or less) up to the viewpoint.
Pro Tip: The hike will very likely be icy, so be sure to wear microspikes on your shoes for safety purposes. Here are the ones I recommend on REI and Amazon. If you're between sizes buy smaller to ensure a snug fit.
8 | Warm up with coffee at Cedar Coffee Company.
If you need a spot to warm up between your winter activities, Cedar Coffee Company is the perfect spot! This coffee shop is such a treasure. Grab your favorite hot beverage and a freshly baked pastry. The blueberry coconut scone is incredible!
While you're there, borrow a pair of their snowshoes for free and explore the grounds behind the building.
9 | Capture the iconic Split Rock Lighthouse.
In the warmer months, there are over 150 steps down to the shoreline of Lake Superior for an incredible view of Split Rock Lighthouse. This image is an iconic view of Minnesota's north shore. Unfortuantely, in winter, these stairs may be closed for safety reasons.
Stop in at the Split Rock Lighthouse State Park Visitor Center to learn about curren trail conditions to see if there is alternative trail open that takes you down to the shoreline.
An alternative is to go inland on a stretch of the Superior Hiking Trail by hiking the 4.5 mile Split Rock River Loop Trail. The Trail has access to frozen waterfalls, views of Lake Superior and river crossings that are beautiful in any season.
Find out why the Superior Hiking Trail is on my top 10 Minnesota outdoor adventure bucket list!
10 | Visit the popular Upper Falls at Gooseberry Falls State Park without the crowd.
During warmer months, Gooseberry Falls is among the most busy and crowded state parks in Minnesota. It offers easy access to a cascade of waterfalls and a beautiful boardwalk down to Lake Superior.
In winter months, visitors can virtually have the place to themselves. I recommend hiking or snowshoeing along the 2.5 mile Gitchi Gummi trail which follows the Gooseberry River down to Lake Superior and back.
11 | Grab a bite at Black Woods Bar & Grill.
After a long day of hiking and exploring, grab a delicious bite at Black Woods Bar & Grill in Two Harbors. The burgers are delicious and very satisfying after a day of outdoor adventure. They also offer gluten free options and a wide range of other menu options.
12 | Get a glimpse of the ice stacks along Brighton Beach.
Ice stacks are incredible phenomenon! These large ice crystals look similar to giant diamonds and they pile up along the shore of Lake Superior in the deepest part of winter. If you listen closely you can even hear them creak as the water shifts below causing them to stack on top of each other.
Brighton Beach is a great free place to stop and see the ice stacks on your way to or leaving Two Harbors MN. There's free parking and well-trodden paths down to the lakeshore.
13 | Jay Cooke State Park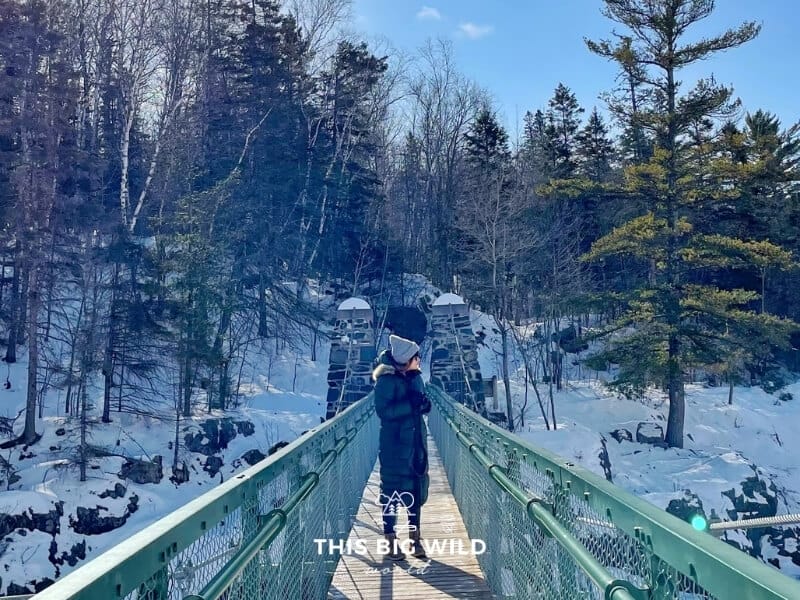 Jay Cooke State Park is a favorite of mine in any season, so I never miss a chance to stop and enjoy the view. If your schedule and weather allows, I encourage you to explore the park's trails. But at the very least get out and enjoy the view of the St Lous River from the iconic swinging bridge just behind the Visitor Center.
Two Harbors MN Winter Activities You'll Love!
I know that Minnesota winters get a bad reputation. With the right layers and the rugged beauty of the Two Harbors area though, it can be incredible. So, layer up and get out there to enjoy the north shore in winter. The Two Harbors area is arguably the most visited part of the state in summer, known for being crowded and nearly impossible to secure a campsite. But, winter allows you to enjoy all that beauty without the crowd.
Have fun enjoying the winter activities in Two Harbors MN!
Related content to read next:
Daytrip to Minnesota's North Shore
14 Reason to Visit Cuyuna Minnesota in Winter
What to Wear for Winter Hiking
10 Best Cross Country Ski Trails in the Twin Cities
Check out my Minnesota travel page for even more inspiration and tips!
Did you find this article helpful? Save it for later or share it on social media!