If you haven't visited the North Shore of Lake Superior, have you really visited Minnesota? In the "Land of 10,000 Lakes" (it's actually more than 11,000 but I digress), Lake Superior is the granddaddy of them all.
Just a short drive from the Twin Cities, Minnesota's North Shore of Lake Superior is a popular daytrip and weekend getaway.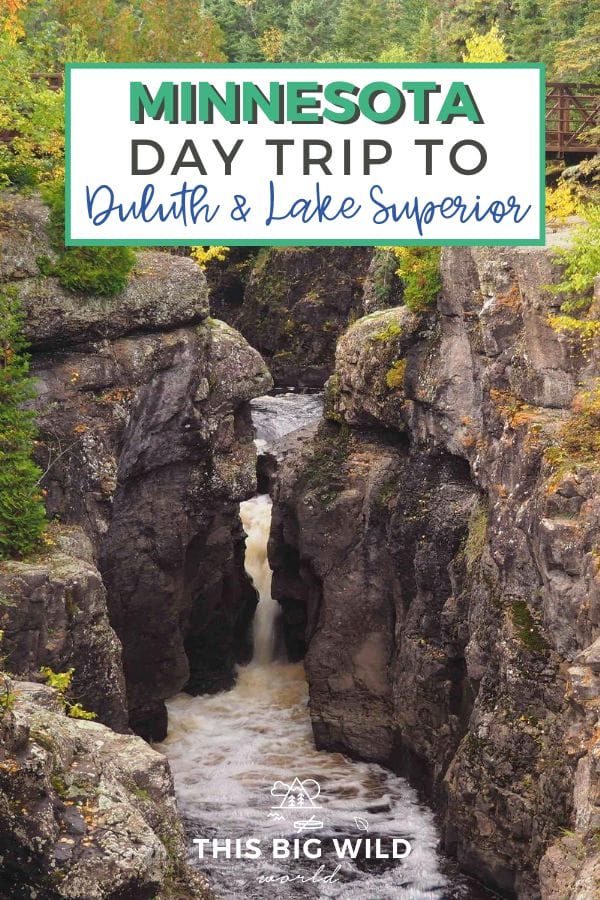 Disclosure: This post contains affiliate links. That means that if you purchase through a link, I may receive a small commission at no extra cost to you. For more info, visit this page.
Why is Minnesota's North Shore worth visiting?
For starters, of the 90,000+ miles of coastline in Minnesota, the rugged coast along the North Shore of Lake Superior is unlike any other. Its diversity includes towering cliffs, cascading waterfalls, remote beaches, and quaint towns. If you didn't know better, you could mistake it for an ocean! But, the reality is it's the world's largest freshwater lake.
The city of Duluth is the gateway to the North Shore and the start of the 142 mile North Shore Scenic Drive. This drive begins in Duluth's Canal Park and extends up to the Canadian border at Grand Portage. The port of Duluth is the end point for the St Lawrence Seaway, bringing in more than 900 ocean-going vessels per year from around the world.
Long before these vessels came to Duluth, the Native American Ojibwe people had settled in this area before it was ceded to the United States in the 1800s for mining and industry. Today, the area is rich in Native American culture and history.
Dotted along the North Shore are several Minnesota State Parks, such as Tettegouche, Split Rock, Temperance River, and more. These offer miles of trails for hikers and bikers, including the Superior Hiking Trail (this trail should be on your Minnesota outdoor adventure bucket list!). Why not get your Minnesota State Parks passport during your visit and start collecting your stamps?
Pro Tip: If you love kayaking, check out the Apostle Islands National Lakeshore near Bayfield, Wisconsin where you can paddle through sea caves!
How to Get to Minnesota's North Shore
From Minneapolis, it's a 2-2.5 hour drive to the North Shore of Lake Superior. The drive mostly consists of four lane highway (2 lanes each direction), so during high traffic times your speed may be reduced.
In the summer months, Friday mornings and afternoons as well as Sundays tend to be higher traffic. During the peak of Fall colors, traffic can be higher as people are in search of the best views.
For a day trip, I recommend leaving Minneapolis or St Paul by 8am and on a weekday or Saturday, if possible. If you want to make a weekend out of it, drive further up to the adorable harbor town of Grand Marais. Alternatively, you could turn inland and visit Minnesota's Iron Range.
Pro Tip: Minnesota is known for its mosquitoes, so come prepared! Here are my best tips to avoid mosquitoes and ticks for hikers!
Where to Stop on a Daytrip to Minnesota's North Shore
There are so many things to do on Minnesota's North Shore! How do you decide what to do if you only have one day? Here are my recommendations!
NOTE: Click the map and check the box to access the driving directions.
Duluth
As you enter Duluth, drive through Canal Park and cross the famous lift bridge. If you're lucky, you may even get to see it in action! Once you cross the bridge, drive until the road ends at the tiny airport on Park Point. (Seriously, keep going!) At the end of the road there will be several places to park in front of the gates to the airport.
Get out of the car and explore the area on foot! The wooden walkway over the sand dune will lead to a sandy trail and the beach that extends well out into Lake Superior. Listen for the sound of sea planes coming as they often fly right over Park Point for takeoff and landing at the airport! This is a cool place to get a view of the port of Duluth and a glimpse of the North Shore.
When you're ready to continue exploring the North Shore, head back across the lift bridge and head to Fitger's. This historic late-1800s era brewery serves an awesome array of their own microbrews alongside delicious pub food. It's the perfect stop for lunch anytime of year! Their most notable menu items are the wild rice burger and elk burger with beer battered french fries. They've got several vegetarian and gluten-free options.
Other great restaurants in the Duluth area include the local and organic food at Duluth Grill and the New Scenic Cafe (temporarily closed due to Covid, so check their website).
Gooseberry Falls State Park
As I mentioned, there are many state parks to visit along the North Shore. I recommend stopping at Gooseberry Falls, though, for a day trip for a few reasons. First, it's beautiful! Hike along the gorge and view the upper, middle and lower falls. Many visitors never see anything beyond these waterfalls, but I recommend following the trail along this gorge down to the shore of Lake Superior.
Split Rock Lighthouse
If you have the time, just a few miles further down the road is Split Rock Lighthouse State Park. Walk up to the top of the lighthouse or, if you're up for it, walk down the more than 150 steps to the shore to get stunning views of the lighthouse from below.
Betty's Pies
If you're looking for a sweet treat before you drive back to the Twin Cities, make a stop at Betty's Pies. Here's the thing, don't let the parking lot scare you. It's always crowded. But, the secret is to get your slice of pie to go! Yep, they have a takeaway menu and a separate window to order from! You can even call ahead! They also have gluten-free options.
Want More of Minnesota's North Shore?
It's easy to spend more than a day on Minnesota's north shore. Spend a night so you can explore more! One of my favorite places to spend a long weekend is the adorable Lake Superior harbor town of Grand Marais.
Wanna add on another hike? Try the 5-mile Carlton Trail at Jay Cooke State Park, which is just south of Duluth.
Enjoy your time exploring all that Minnesota's North Shore has to offer!
Related content to read next:
3 Days in Grand Marais Minnesota (for Hikers!)
10 Outdoor Adventures for Your Minnesota Bucket List
Check out my Minnesota travel page for even more inspiration and tips!
Did you find this article helpful? Save it for later or share it on social media!