Perfect Outdoorsy Weekend in Grand Marais
Looking for a getaway to an adorable harbor town with miles of hiking trails? Let me introduce you to the cutest little small town you've probably never heard of, Grand Marais Minnesota. It's the perfect long weekend getaway for outdoor adventurers and hikers.
Grand Marais offers easy access to the Boundary Waters Canoe Area (BWCA), the Superior Hiking Trail (SHT), the Sawtooth Mountains and numerous Minnesota State Parks. With so much to do, I recommend spending at least 3 days in Grand Marais Minnesota.
Disclosure: This post contains affiliate links. That means that if you purchase through a link, I may receive a small commission at no extra cost to you. For more info, visit this page.
Where is Grand Marais, Minnesota?
Located 270 miles north of the Twin Cities, Grand Marais is located on the north shore of Lake Superior near the border of Canada. The drive takes about 4-5 hours, depending on traffic.
Just past Duluth, follow Highway 61 along Lake Superior. It is lined with state parks, hiking trails and small towns. Grand Marais will be one of the last towns before you reach the Canadian border.
Pro Tip: In summertime, traffic from the Twin Cities to the north shore can be slow on Thursday evenings and Fridays. Many Minnesota-based companies offer Friday's off in the summer, so the weekend starts early.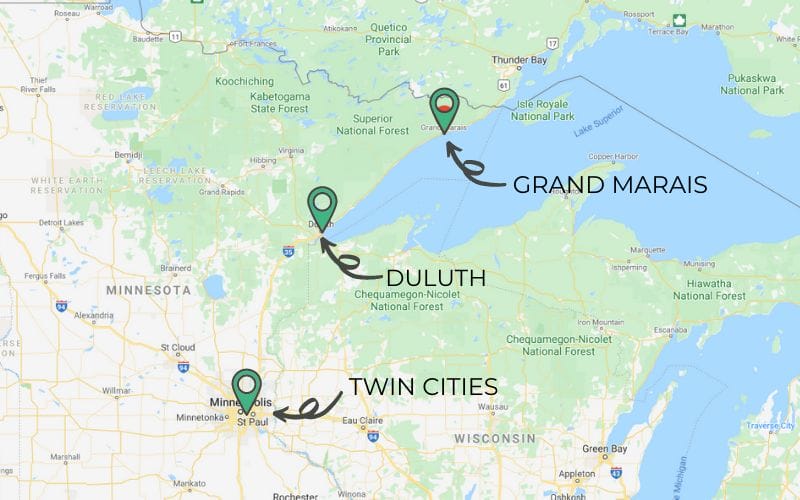 Getting Around Grand Marais
The actual town of Grand Marais is quaint and walkable with plenty of free public and street parking. Along the harbor are several restaurants and coffee shops as well as a small beach.
The best places for hiking near Grand Marais are a short drive away from the town center.
Best Place to Stay in Grand Marais
There is no shortage of places to stay in Grand Marais since it's a popular weekend getaway. Honestly, there are so many places to choose from it can be a bit overwhelming! But, for 3 days in Grand Marais Minnesota, I recommend settling into a little cabin, bed and breakfast or apartment so you have access to a kitchen.
Here are some of my favorites!
The Mayhew Inn – Worth the splurge!
Located in the heart of downtown Grand Marais right on the harbor, the Mayhew Inn is the only boutique hotel in town. From its rooftop deck to the cozy fireplace and lounge in the lobby, the Mayhew Inn is the perfect retreat. They offer dog-friendly rooms, a great location and comfortable yet modern finishings. Some rooms even come with an in-room sauna to relax in after a long day of adventures!
// Book the swanky Rococo Room (no pets allowed) now!
// Book the cozy and dog-friendly Fur Trader room now!
MacArthur House B&B and Cabins – Budget-friendly and adorable!
When budget-friendly is just 2 blocks away from Lake Superior right in town, you've hit the jackpot! MacArthur House has a bed and breakfast as well as cabins. The bed and breakfast includes modern finishings and a shared kitchen space to enjoy breakfast in. The cabins offer every bit of northern Minnesota cabin feel. I stayed in the 2-bedroom Redwood Cabin and absolutely loved it!
// Check availability at MacArthur House B&B and Cabins now!
Minnesota State Parks – For Nature Lovers!
If you want to fully immerse yourself in nature, try camping at one of the nearby Minnesota State Parks, such as Cascade River or Judge CR Magney.
// Book a campsite at one of the Minnesota State Parks now!
Pro Tip: New to car camping? Read the complete car camping guide and packing list for beginners! If car camping isn't for you, try renting a campervan instead.
Other Places to Stay near Grand Marais
If you're looking for a farm-to-table meets hostel experience, check out Hungry Hippie Hostel. They offer six private rooms and three bunk rooms for shared accommodation, located on their homestead just ten miles outside of Grand Marais.
// Book a private or shared room at Hungry Hippie Farm and Hostel now!
Haven't found what you're looking for? Find more accommodations in Grand Marais on booking. com!
Best Hiking Near Grand Marais
Grand Marais is the perfect hub to explore all that Minnesota's north shore has to offer and serves as an entry point to the Gunflint Trail and the pristine wilderness of the Boundary Waters Canoe Area (BWCA).
Catch a glimpse of black bears and moose, among other wildlife, and enjoy sweeping views of Lake Superior and Superior National Forest from the hiking trails near Grand Marais.
Having trouble deciding which trails to explore? Discover the best hiking near Grand Marais on these trails, listed from north to south.
Whichever trails you choose, be sure to bring the day hiking essentials and follow these 20 outdoor adventure safety tips! If you're nervous about a potential bear encounter, read about how to stay safe while hiking in bear country.
Grand Portage State Park
Just 40 miles northeast of Grand Marais and just before the Canadian border crossing, is Grand Portage State Park. In fact, the Pigeon River that passes through the park marks the international boundary line between the US and Canada. Here you'll find the highest waterfall in Minnesota!
Standing at 120 feet tall, High Falls can be accessed on a one mile round trip trail, mostly a paved path or boardwalk with some stairs. There are three viewing platforms, one of which is wheelchair accessible.
For a longer hike, take the Middle Falls Trail also located on the Pigeon River, 4.5 miles roundtrip, to a 20 foot waterfall. Be aware that the trail is often muddy.
Be sure to stop in the visitor center to learn about the Ojibwe people who are native to this land.
Pro Tip: Minnesota State Parks have a $7 daily entry permit fee, which can be used at more than one park for the date listed on the permit. Alternatively, there is an unlimited annual entry permit ($35) which is a sticker that goes on your vehicle.
Mount Josephine Trail
This hidden gem is a perfect add-on while visiting Grand Portage State Park. This three mile out-and-back hike rewards you with breathtaking views of Lake Superior and Isle Royale. The real trick is finding the trailhead!
From Grand Portage State Park, head southwest towards Grand Marais on Highway 61. When you reach Grand Portage Village, turn left onto Store Road (towards Lake Superior). At the T, turn left and continue straight until you see a small parking lot on the left side of the road.
Pro Tip: Type "Mount Josephine Trailhead" into Google Maps OR download the Google Map embedded above in this post.
Judge CR Magney State Park
If you love waterfalls, don't miss Devil's Kettle Trail in Judge CR Magney State Park, which is located 14 miles northeast of Grand Marais. This one mile trail (each way) takes you down 175 steps to the mysterious Devil's Kettle Falls. What's so mysterious? Well, half of the 50 foot waterfall seems to disappear down into a hole that has stumped scientists for decades! Just recently they found the answer, but I won't spoil it for you!
For a longer hike, continue past Devil's Kettle Falls on the same trail along the Brule River and continue onto a section of the 310 mile long Superior Hiking Trail (no permit required).
Pro Tip: Minnesota is known for mosquitos! Find out how not to get eaten alive by mosquitos and ticks!
Artist Point
Right from the heart of downtown Grand Marais, is a short dirt path leading to a small peninsula called Artist's Point. At the end of the dirt path is a T. To the left (north) is a 0.3 mile Woodland Path loop. To the right (south) is the 0.3 mile Rocky Point Path which takes you along the breakwater to the lighthouse.
Both paths offer stunning views of Grand Marais harbor and the shoreline. Be aware that the path is quite narrow in some areas, with water on both sides. During high tide, water often comes over the breakwater so use caution and wear appropriate shoes.
Magnetic Rock Trail
Another local favorite, the Magnetic Rock Trail, is located 45 miles north of Grand Marais along the Gunflint Trail. The Gunflint Trail is a road that takes you deep into the Boundary Waters Canoe Area, with access to loads of entry points and hiking trails.
This 3.5 mile out-and-back trail, takes you to a 30 foot tall rock made of magnetite. It's believed that "The Rock" was placed here by the last glacier that moved through the area. Bring a compass with you to test the magnetic properties of the rock!
Find the parking lot just past the Kekekabic Trail trailhead, located on the right hand side of the Gunflint Trail. Type in "Magnetic Rock Trailhead" into Google maps or download the Google map embedded above.
Cascade River State Park
Waterfalls on waterfalls on waterfalls – that's Cascade River State Park. While you might get drawn here by the cascading waterfalls, the view from Lookout Mountain is what will make you fall in love with this park. Fortunately, you can easily combine two of the trails to get the best of both worlds.
Take the half mile Cascade River Lower Loop trail for incredible views of the cascading waterfalls as they make their way through the gorge towards nearby Lake Superior. From there, follow the signs for the Lookout Mountain Loop Trail, which is 3.5 miles roundtrip. The trail is mostly dirt with some rocky terrain and a steep climb up 600 feet to the lookout point. Enjoy the wraparound view of the Cascade River Valley, Lake Superior and the Sawtooth Mountain Range.
Pro Tip: This view is incredible during autumn when the colors are changing!
Temperance River State Park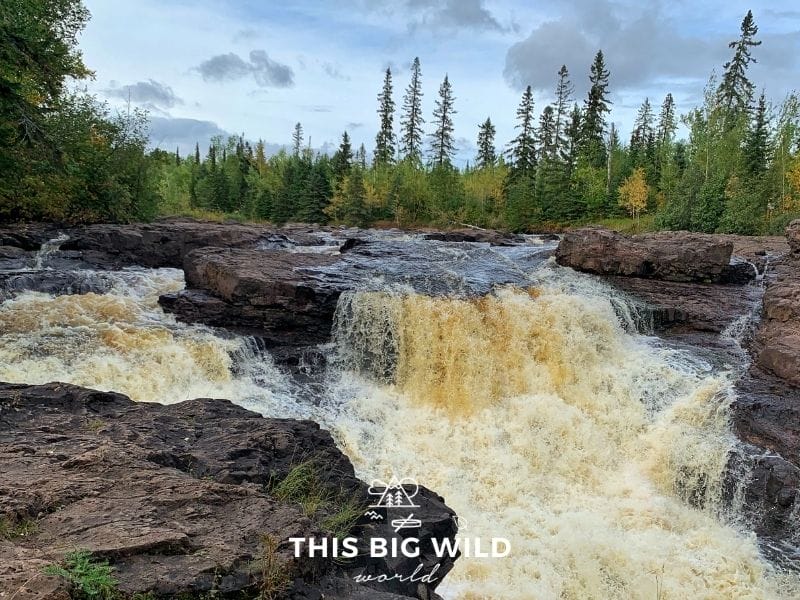 How about more waterfalls? There's seriously no shortage of them on the hiking trails near Grand Marais. Temperance River State Park's Hidden Falls Trail is about 2 miles round trip with some short climbs and rocky terrain.
Pro Tip: The park office is on the side of Highway 61 closest to Lake Superior, but to access the trailhead, it's best to drive back out to the highway and park in the small parking lot on the opposite side of the road.
From the parking lot described above, follow the trailhead towards Hidden Falls, up the side of the gorge, and then cross over the bridge which is part of the Gitchi-Gami State Trail. Continue along the gorge for more waterfalls.
Before heading back to the car, take a moment to enjoy the pool of water at the base of Hidden Falls. It's believed that at one time the entire area, including the hiking trail along the right side, was part of the waterfall!
Bonus: Tettegouche State Park
If you're looking for a place to stop and stretch your legs on your way to or from Grand Marais, Tettegouche State Park is a favorite among Minnesotans. Take the half mile hike to Shovel Point or drive to a separate area of the park to get a view of the photogenic Palisade Head.
Best Places to Eat Near Grand Marais
1 | Angry Trout | Website
Offering locally grown produce, hand-harvested wild rice and fish straight from Lake Superior, Angry Trout offers a taste of Minnesota right on Grand Marais' Harbor. Everything about my meal was perfect, including their own assortment of salad dressings and sauces. The menu offers everything you want to know about where they source their ingredients and kitchen supplies.
Expect a bit of a wait at dinnertime, especially if you want a seat outdoors, but it's definitely worth it. While you wait, wander along the harbor or grab a drink and enjoy the view!
2 | Hungry Hippie Tacos | Website
So you like tacos, but have you tried frybread tacos?! All I have to say is, wear your stretchy pants. Hungry Hippie makes their frybread using Minnesota wild rice with your choice of filling. They're made to order so there's something for everyone. You can eat in or take it to go!
3 | World's Best Donuts | Website
World's Best Donuts is like a rite of passage for Minnesotans. They've been in business for over 50 years and specialize in cake donuts. Don't worry though if cake donuts aren't your thing, they have more than 30 different donut recipes to choose from.
It's not uncommon for the line to be overflowing out of the building and down the sidewalk. Plan a little extra time and savor every bite of deliciousness!
Pro Tip: During the warmer months, they have a walk-up window that may offer quicker service.
4 | Gene's Foods | Website
If you're like me and prefer to stay somewhere with a kitchen so you can prepare your own meals or if you just want great locally sourced food and produce, check out Gene's Foods grocery. I was pleasantly surprised by the gluten-free and dairy-free options!
Pro Tip: Want to buy some Minnesota grown wild rice as souvenir? Get it at Gene's for much cheaper than any tourist shop!
5 | Java Moose Espresso Cafe | Website
A trip to Grand Marais isn't complete without a stop at Java Moose Cafe. They've got a large selection of iced or hot beverages as well as breakfast and lunch sandwiches. They're located directly across the street from the harbor, so grab your order to go and enjoy it by the water!
Pro Tip: Ask about their daily drink special!
Enjoy your 3 days in Grand Marais Minnesota!
This little gem of a town is the perfect getaway for any nature lover. It's a place you can visit again and again, never running out of places to explore and things to do.
Related content to read next:
Daytrip to Minnesota's North Shore
10 Outdoor Adventures for Your Minnesota Bucket List
Perfect Beginner Backpacking Trails in the US
Check out my Minnesota travel page for even more inspiration and tips!
Did you find this article helpful? Save it for later or share it on social media!