Want to give car camping a try but you don't know where to start? It can feel overwhelming and expensive. But, don't let that keep you from giving it a try!
After many years of car camping, I've learned some things. This beginner's car camping guide includes my lessons learned, packing list and gear tips to get you started!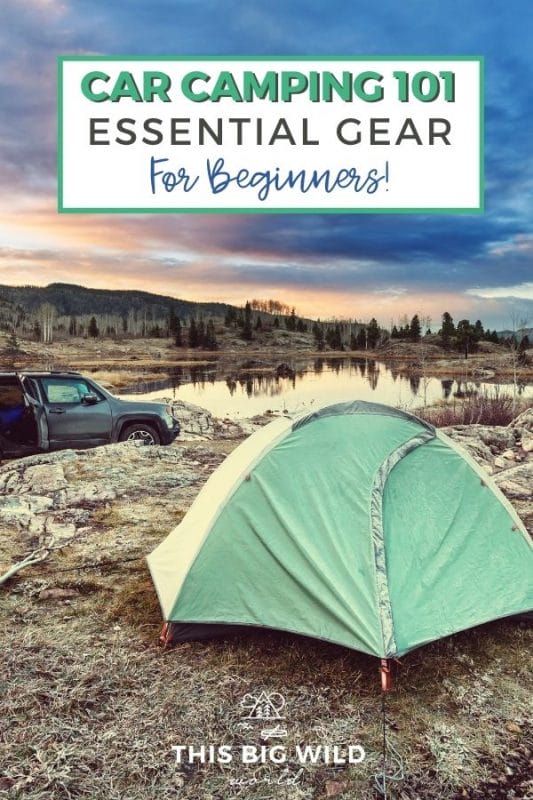 Disclosure: This post contains affiliate links. That means that if you purchase through a link, I may receive a small commission at no extra cost to you. For more info, visit this page.
5 Tips to Make the Most of Your Car Camping Experience
When I think back to my early car camping experiences, these are the five things I wish I knew. Let's dive in to car camping 101!
If you're not sure camping is for you, consider renting a campervan instead. There are many campervan rental companies to choose from. Read my campervan rental tips for beginners before you book!
1 | Don't bring too much stuff.
Sure, if you have room in the car you can add "one more thing" but seriously when you're sort of living out of your car too much can be stressful. You don't want to be digging through your car to find things the entire trip.
2 | Organize your gear.
Thank me later for this one! Keep your tent/ shelter/ sleeping gear all together so you can easily pull it out of the car when you arrive at your campsite. I use either a stuff sack or a plastic tub with a lid. A plastic tub is great because it contains the dirt/ mud and is waterproof!
3 | Buy used gear or rent gear to save money.
Honestly, the cost of camping gear can add up. And, what if you're not even sure if you're going to like camping? Here's the thing – you can find awesome gently used gear for an affordable price. My go-to places for used gear include Facebook Marketplace, local outdoor gear stores (often have a used section) and REI Garage.
Pro Tip: Keep in mind outdoor gear stores have sales throughout the year. In the US these typically fall around Memorial Day, Labor Day and Thanksgiving.
If you want to give car camping a test drive before you buy, try renting gear. REI offers rentals here in the US, but many cities and outdoor destinations offer rentals through local stores and outfitters as well.
4 | People won't mess with your stuff, for the most part.
Never say never, but it's rare to have things stolen from your campsite. That being said, I never leave valuables in my tent or out at the campsite. These stay locked and hidden in my car. My philosophy is if losing it would ruin my trip, I keep it in my car.
Pro Tip: While people may not mess with your stuff, wildlife will. Do not leave food unattended at your campsite. This includes garbage.
5 | Familiarize yourself with Leave No Trace principles.
Take 5-10 minutes to review the seven principles of Leave No Trace before you leave on your trip. These will guide you in how to handle waste, where to set up your tent, how to safely have a campfire and more.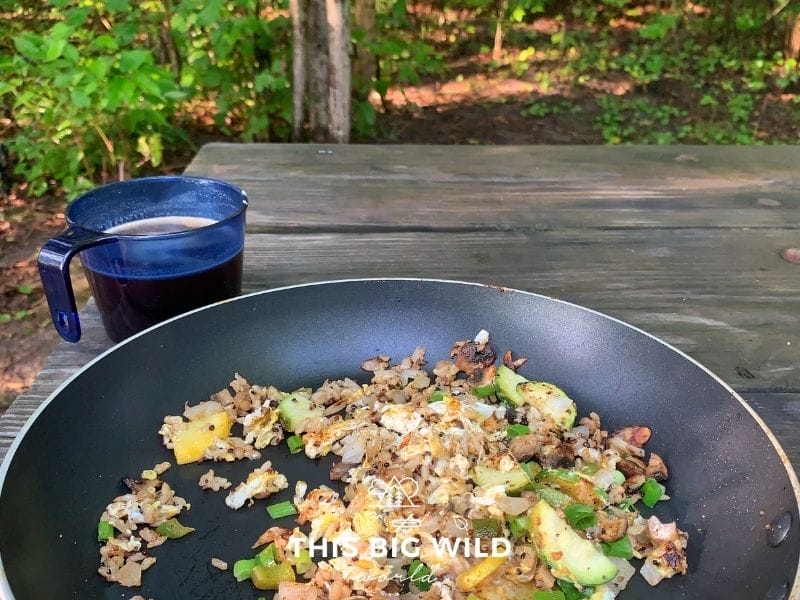 Car Camping 101: Essential Gear Recommendations
Tent/ Shelter
Unless you're one of the few people who likes to sleep out in the open, you're going to want to bring a tent or other form of shelter. Here are the essentials I recommend for beginning car camping.
Tent with Rainfly & Footprint
A tent doesn't have to break the bank. I've been using the same REI Half Dome for more than 10 years and I got it on sale at REI for a big discount. For beginners, I recommend getting something that is relatively easy to put together – the less poles and stakes, the better.
Make sure your tent comes with a rain fly and be sure to purchase a footprint. A footprint is a barrier of fabric/ material that lays under your tent to protect your it and you from water or anything else on the ground. You can purchase one designed to go with your tent OR you can buy a generic tarp to use.
Other Shelter Essentials
Before you hop in the car, make sure your tent pouch has the following items. (Hint: I've left to go camping only to discover these were not, in fact, in my tent pouch. Don't be me.)
Tent stakes – check to make sure you have enough for the tent AND the rain fly.
Rope/ cord – this is to secure the rain fly and pull water away from your tent.
Mallet (optional) – This is helpful for pounding stakes into the ground, but you can usually find a rock nearby or stomp them in the ground.
Pro Tip: Wanna make it really simple? Try one of these awesome pop-up tents for quick and easy setup!
Cooking Gear
Cooking at the campsite is one of my favorite parts of camping. It's a fun way to spend part of the evening to see what you can create.
Pro Tip: Don't plan to cook all of your meals over a campfire. In the event of rain or a fire ban, both of which are common, you'll have no backup plan. Always bring a stove as a backup!
Stove
One low cost, relatively lightweight, and versatile option is a butane burner stove like this one by Coleman.
I have a backpacking stove (MSR Windburner) that I also use for car camping. It's small and very lightweight, perfect for fairly basic meals and boiling water. This is great because it performs well in windy situations and seriously the water boils in under 2 minutes (perfect for coffee first thing in the morning!).
If you want a lower cost alternative to the MSR Windburner, the MSR Pocket Rocket is a great alternative.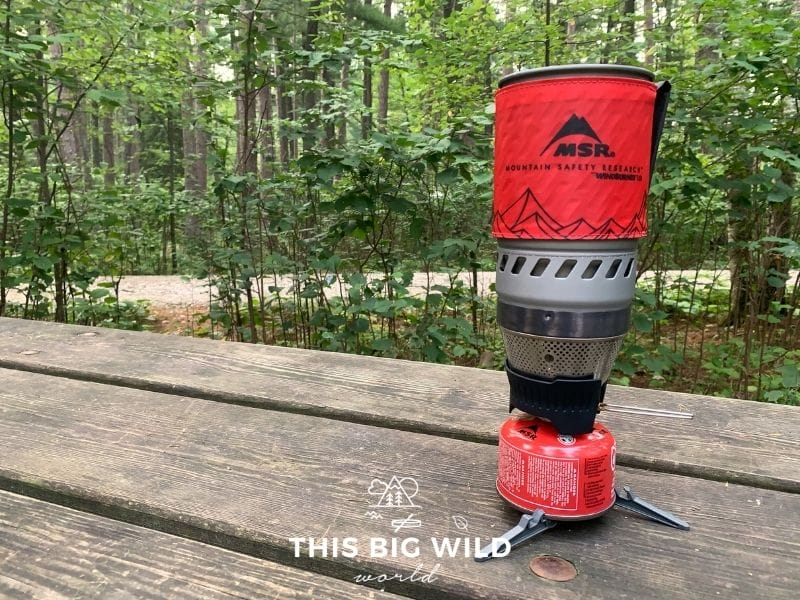 Fuel
No matter the stove you go with, be sure to bring adequate fuel for your trip!
Lighter
A lighter is a must-have for car camping! In fact, I often bring more than one. This is used for lighting the camp stove and the campfire. Matches are a great alternative, but be sure to keep them in a waterproof container.
Pro Tip: If you haven't started a campfire before, I recommend purchasing some fire starters to help. They'll save you time and frustration!
// Buy firestarter from REI or Amazon now!
Pots & Pans
For car camping, you can keep this pretty simple. Bring a frying pan and a saucepan from home and you'll have endless options for cooking.
If you want to invest in a set of camping pots/ pans, I like sets of pots and pans that nest inside of each other. These are great because the lids can double as frying pans or dinner plates. Here's a less expensive alternative from Amazon that includes a kettle.
Consider bringing containers to store your leftovers in the cooler! Here are some awesome eco-friendly alternatives to ziploc bags!
Plates & Bowls
If you don't use the lids from your set of nesting pots and pans as dinner plates, be sure to bring plates and/ or bowls. Personally, I try not to use disposable plates and bowls to minimize waste. I usually bring one plate or bowl for each person. These space saving Sea to Summit collapsible bowls are awesome and the bottom serves double duty as a cutting board!
Silverware
Instead of disposable plastic silverware, consider purchasing a reusable set. Personally, I avoid sporks because I think they're weird. My favorite set right now is humangear GoBites Trio Utensil Set.
Dishwashing Kits
Sure you can eat meals from a bag the entire time you're camping, but that will make for a pretty miserable experience. Inevitably, you're going to need to wash some dishes.
If you haven't yet, check out Principle 3 of Leave No Trace on how to properly dispose of dishwater.
The dishwashing essentials include:
Kitchen Kit (Optional)
Make cooking a little more fun with a camping kitchen kit! This makes it easy to bring along your favorite spices, cooking utensils and cutting board in a compact case.
Table (Optional)
If you're not sure if there is a picnic table at your campsite, it can come in handy to have a small folding camping table. I've used mine maybe 25% of the time I go car camping.
Sleeping Gear
Car camping does NOT mean laying on the hard cold ground. It can actually be really comfortable if you have a few essentials!
Sleeping Pad
This is a piece of gear that can range a lot in price, depending on your preferences. For comfort and packability, look for a sleeping pad that inflates. If you don't want to have to manually inflate your sleeping pad, many come with a self-inflating feature.
If you want to invest in a sleeping pad that will last a long time, Thermarest is a great brand. I've had mine for over 15 years. If you're on a budget, find low cost alternatives on Amazon.
// Buy a one-person sleeping pad on Amazon now!
Wanna cuddle with your adventure partner or just want more space? Try a double sleeping pad.
Sleeping Bag
Here's where my preferences may vary from the standard advice. I actually don't use a sleeping bag anymore. Instead I use a Rumpl Nanoloft Blanket combined with a cotton and silk blend lightweight sleeping bag liner. This combo is perfect if you don't like being constrained in a sleeping bag and get warm easily.
Read my detailed Rumpl Nanoloft blanket review for more on why this is my favorite piece of gear I didn't know I needed.
Pillow (Optional)
Don't overthink your pillow. This can as simple as bringing your favorite one from home. I often don't bring one with me, opting to use my backpack stuffed with clothes instead.
If you want a small travel size pillow that is easy to clean, I like Sierra Designs Dri-Down pillow.
Lighting Gear
Star gazing is nice, but you're going to want some sort of illumination at your campsite and to/ from the bathroom.
Pro Tip: Whatever lighting gear you choose to bring, always keep an extra set of batteries in your car camping kit.
Lantern
Whether it's for playing cards or preparing s'mores, having a lantern at your campsite is essential. The good news is that there are so many compact and affordable options.
I recently purchased this solar powered, collapsible, water resistant lantern for under $20. It's got a backup USB charging port.
If you want a more traditional style, this 4-pack of lanterns is battery powered with LEDs, waterproof and compact.
Headlamp
Headlamps are preferred over flashlights because you can use them hands-free, which is particularly helpful when going to the bathroom!
There are so many options to choose from for a headlamp. The features to look for include: at least 300 Lumens (brightness), red light (for night vision), and an emergency strobe setting. Nice to have features include a reflective headband and emergency whistle.
Petzl is a great brand for both beginners and more experienced campers.
// Buy a Petzl Actik headlamp now!
Safety Gear
As always when you head outside, there are a few safety gear essentials you could bring when car camping.
Here's my complete day hike packing list if you plan to explore nearby trails while car camping!
First Aid Kit
You never know when an accident will happen. A first aid kit will have you covered for any basic minor cuts, scrapes or injuries. I purchased this first aid kit from REI, which is good for one person.
First aid kits can also be made from supplies you have at home. Find a kit you like online and then create your own in a dry bag or ziploc bag.
Pro Tip: Be sure to include first aid items for your specific health needs and risks. Examples include allergy medicine, inhaler, prescriptions, etc.
Destination & Wildlife-Specific Safety Gear
Before you leave, always spend at least 5 minutes researching what sort of wildlife you might encounter in your camping destination. Is it in bear country? Are there rattlesnakes? Are there extreme temperatures? Are ticks common?
Potential gear may include bug repellant, tick remover, bear spray, a bear bag, a knife and more.
Find out how to survive hiking in bear country and how not to get eaten alive by mosquitoes and ticks!
Sun Protection
Some may include sun protection in toiletries, but I see it as safety gear. Be sure to pack sunscreen, polarized sunglasses and/ or a hat to protect your skin from sun damage.
Duct Tape
Why bring duct tape and why is it listed under safety gear? It fixes everything. I've used it to repair a strap on my backpack, to secure a bandage on my foot, and so much more. Don't bring the entire roll though! Purchase a small roll OR wind a few feet of it around a pen or pencil and stash it with your gear.
Optional Safety Gear
While not essential for every car camping trip, an emergency blanket and sharp knife are worth packing. An emergency blanket is particularly useful if you plan to spend your days exploring the area by hiking, paddling, biking, climbing or anything else. If you get stranded, an emergency blanket may save your life when temperatures drop overnight.
A sharp knife serves multiple purposes when car camping. You can use it while cooking, removing straps from firewood, and for protection. This knife that I use is an affordable option.
Pro Tip: Still worried about staying safe while camping? Try these 20 tips to keep you safe in the outdoors!
Other Essential Car Camping Gear
These random items will get used on every single car camping trip!
Cooler
Be sure to bring a cooler with ice or ice packs to keep your perishable food cold! Most parks have bags of ice available for purchase if you need to replenish while you're at the campsite.
Trash bags
Bring several trash bags or repurpose plastic shopping bags for trash at the campsite. Remember to not leave trash or food around your campsite. I put my trash bag into the trunk or floor of my car when I'm not there.
Water or Water Purification Gear
Many campsites will have free access to potable (drinkable) water. Be sure to check online before you leave to verify what's available in your destination.
If potable water is available, bring large jugs or water bottles to keep water at your campsite. This is helpful for doing dishes, brushing your teeth, making coffee, etc.
If potable water is not available or you are unsure, there are two options. The simplest is to bring jugs of water with you. For a 3-day camping trip for 2 people with moderate temperatures, I would bring 3-4 gallons. The more complicated option is to bring a method to purify water such as iodine tablets or a water filtration system like this one.
For beginners I would bring jugs of water to keep it simple.
Pro Tip: A water jug with a spout is super convenient to use at the campsite!
Paper Towels/ Small Towel
These come in handy on every trip. I use them for drying my hands, drying dishes, wiping leftover food off of dishes and more. If you use a towel, bring a plastic bag or small container to store it in.
Aluminum Foil
Some of my favorite campfire meals are cooked in aluminum foil!
Water Bottle
Be sure to stay hydrated throughout your trip! My favorite water bottle brand is Hydro Flask because they keep cold drinks cold and hot drinks hot PLUS have a lifetime warranty.
Coffee Mug
If you're like me and can't live without coffee, be sure to bring a mug. Nothing beats a hot coffee at the campsite first thing in the morning!
Powdered Drinks
Personally, I get tired of drinking just water all the time, but don't want to lug a whole bunch of different drinks with me. Try bringing powdered drinks to mix things up. My favorites include Starbucks Via instant coffee, lemonade packets, and Powerade packets.
If you like to enjoy an adult beverage after a long day of exploring, don't forget to bring a corkscrew for wine or a bottle opener for beer. If you wanna sip on your favorite spirit (ahem, tequila for me), bring a flask!
Toiletries
There are a few essential toiletries I bring on every camping trips. These are toothbrush, toothpaste, bug spray, wet wipes, face wash and face lotion.
For weekend trips, I generally opt for wet wipes instead of a shower. But, for longer trips, I bring travel sized shampoo, conditioner, detangling spray and a comb.
Pro Tip: Pack your essentials in a tote or hanging cosmetic bag so it's easy to tote to/ from the bathroom.
Clothing & Shoes
Don't forget hiking boots, comfortable hiking shoes, hiking socks and clothes. Save space by bringing layers and planning to rewear some of your clothes.
// Check out my Prepared Girl's Guide Inca Trail packing list for my complete list of clothes and toiletries I take backpacking.
Sandals feel great on your feet after a day of exploring! Also, these work as shower shoes if you choose to shower at the campsite.
I always bring a rain jacket and, if temperatures may drop below 50F, a hat and gloves as well.
Pro Tip: Even in the heat of the desert, temperatures can drop below freezing at night especially at altitude. Check the weather in your destination before leaving!
Optional Gear (for Fun & Comfort)
These items are not essential, but will make your car camping experience more fun and comfortable.
Folding Chairs
Most campsites come with a picnic table, but let's be honest, those aren't the most comfortable to sit at for long periods of time. Consider bringing one folding chair per person. This sure makes cozying up by the fire easier and more comfy.
Blanket
Perfect for a picnic along the trail, cozying up around the fire, or as a sleeping bag alternative! This blanket is compact, lightweight, water resistant and made with recycled materials.
Hammock with Straps
Wanna cozy up with a book at your campsite? A hammock is a perfect way to relax while car camping. Be sure to bring straps with you!
Pro Tip: Many parks have limitations on where you can hang a hammock. Be sure to check what the guidelines are at your campsite.
Camera Gear
Capture memories of your car camping experience and practice your night photography at the campsite. Be sure to pack your camera, memory card, and battery. If you want to take some selfies or work on your night photography, don't forget to pack your tripod too!
Are you new to night photography? Learn the basics with this beginner guide to night photography!
Games
Board games, a deck of cards, a book, or frisbee are all great ways to spend time at the campsite between adventures.
Phone Charger/ Power Bank
Some like to use car camping as a chance to disconnect from electronics, but if you like to stay connected be sure to bring a *charged* power bank and phone charging cable.
Are you ready to go car camping?
That's it for car camping 101! The big question is… where will you go first?!
Love this post? Pin it!