Glacier National Park is easily one of the most beautiful places I've visited. Planning a trip there, however, can be overwhelming! Where should you stay? Do you want to camp or stay in a lodge? What's the weather like? What's the best way to get around the park? Am I going to get eaten by a bear? These are certainly the questions that were running through my mind before my Glacier National Park camping trip.
Not to worry, I've got you covered. Here are all the tips and resources you need to plan your Glacier National Park camping trip! If you already know what you're looking for jump ahead using the table of contents below!
Pro Tip: Do you have a national park lover in your life? Check out this great list of national park inspired gift ideas!
Disclosure: This post contains affiliate links. That means that if you purchase through a link, I may receive a small commission at no extra cost to you. For more info, visit this page.
About Glacier National Park
My friend nudged me to say, "we're almost there!" I snapped up, half asleep in the passenger seat and looked around. All I saw was amber waves of grain for miles. The sky was hazy from the fires, but I still thought she was messing with me. That haze kept the mountains a mystery until the last minute. They appeared seemingly out of nowhere. Suddenly, I was wide awake.
Glacier National Park has been dubbed the "Crown of the Continent." The reason is that just southeast of Logan Pass, there's an area called the Triple Peak Divide. Here just a few inches of width determine whether a single raindrop flows into the Pacific Ocean, Gulf of Mexico or Hudson Bay.
If that's not mind-blowing enough, the park has more than 700 miles of that trails take you through a sharp contrast of landscapes that make Glacier so incredibly unique. Along a single trail, you cam see hemlock forests, blooming alpine meadows, glacial lakes, and expansive prairies.
The park's namesake, though, is a sad story. In 1850 there were an estimated 150 glaciers in the park. Today, only a few dozen remain. Scientists anticipate that these final glaciers will disappear in the next several years. This year, the park had its first 100F day ever in its history, another ominous sign of what's ahead.
Glacier National Park isn't just about nature. It also offers an opportunity to learn about the native Blackfeet, Kootenai, Salish and Pen d'Oreille people. They have developed a deep bond and unique coexistence with the plants and wildlife. A sign at St. Mary's Visitor Center, struck me as I read about the native Blackfeet people:
Each culture is different. Something that may seem out of place to one is placed there by another as a spiritual offering."
Culture, history, wildlife, geology, and yes, glaciers. Need I say more?

If you love learning about our national parks, check out these fun facts about the US National Parks!
When To Visit Glacier National Park
The first thing to consider when planning your Glacier National Park camping trip is when to visit. Summer is the most popular time of year, but comes with crowded trails and packed campsites.
During my visit in late July, it was around 80F during the day, but got down into the 40's at night. All of the trails we hiked still had remnants of snow. If you plan to go earlier in the summer, rangers recommend bringing crampons and trekking poles to navigate the icy trail conditions (read my complete guide to winter hiking gear for more info). My favorite part of visiting this time of year was that the melting snow gave way to rushing waterfalls, ripe huckleberries and blooming wildflowers along the trails.
If camping in cooler temperatures isn't for you, consider staying at one of the many lodges both in and near the park.
Getting Around Glacier National Park
Did you know that in 1932 Glacier National Park was combined with Waterton Lakes National Park in Alberta Canada to create Waterton-Glacier International Peace Park? Straddling the US and Canadian border, your entry into one park gets you into the other. If you plan to cross the border, bring your passport and allow about 2 hours each way for travel and border crossing.
Pro Tip: The Goat Haunt border crossing is currently limited to only US or Canadian passports.
Glacier National Park is split into East Glacier and West Glacier, connected by the 50 mile long Going-to-the-Sun Road. Follow it along the shores of the park's largest lakes and wrap around cliffs as you make your way up to just under 7,000ft elevation at Logan Pass. This upper portion of the Going-to-the-Sun Road doesn't open until June and, weather permitting, closes in October.
By Car
Driving at Glacier National Park is a great option. You can take advantage of the turnouts and trailheads along the Going-to-the-Sun Road, going at your own pace. But, parking lots can fill up quickly, especially at Logan Pass, so get out early and be patient.
Pro Tip: In mid- to late-afternoon the parking at the most popular stops will open up as people finish their day hikes.
Driving distances between the campsites and trailheads in Glacier National Park can be long. For instance, if you are staying at Many Glacier campsite and want to drive to Logan's Pass on the Going-to-the-Sun Road, plan at least 45-60 minutes.
If there are specific hikes that you have in mind, check where the trailheads are located on the map and see what campsites are nearby. If you don't have specific hikes in mind or aren't worried about the distance, just plan to get up early. (Honestly, the early morning views of Glacier National Park were my favorite!)
Hiker Shuttle
If you don't want to worry about parking or just want to enjoy the view, the park provides a free hiker shuttle that travels along the Going-to-the-Sun Road. The shuttle operates from July 1 through early September from 7am to 7pm. They run from St Mary to Logan's Pass every 30-40 minutes and from Logan Pass to Apgar in West Glacier every 15-30 minutes. If you want to go the entire length of the Going-to-the-Sun Road, you can, but the round trip ride will take 7 hours!
Pro Tip: Shuttles often fill up, so allow time to wait for the next shuttle and be patient.
Where To Stay in Glacier National Park
Now that you've thought about what time of year you want to visit and grounded yourself in the distances between campsites and trailheads, you can try to book your campsite or lodge. Since I didn't stay at a lodge, I suggest you visit this website to check availability and see the amenities offered at each.
Glacier National Park camping, especially in peak summer months, requires some planning. Reservable campsites fill up many months in advance. However, there are occasionally cancellations so even if they're full, I recommend stalking (I mean, frequently checking) the campsite reservation website. If you're like me, you just might get lucky to snag a cancelled site!
If you're not able to secure a reservation, but are determined to camp at Glacier National Park, there is another option. People begin lining up in their cars at the entrance to the campsites as early as 3am. A park ranger will be stationed there and as campers pack up and leave they'll allow people in one at a time. You're not guaranteed a campsite though, so the earlier you get there the better. Check park's current conditions page to estimate what time the campsites fill up to increase your odds!
My last minute reservation was at Many Glacier campground. This was one of the nicest campsites I've ever stayed at. The bathrooms were clean, had flushable toilets and toilet paper (oh the luxury)! Also, just steps from the campsite is the Swiftcurrent Motor Lodge which has a restaurant and gift shop with a small selection of food and drink (aka alcohol). At the gift shop, you can also purchase a shower token to be used at the nearby shower buildings.
Backcountry camping is also allowed, but requires a permit. For more on how to reserve backcountry sites, click here.
New to camping? Here's my car camping 101 guide filled with tips and recommended gear. Also, renting a campervan is a great alternative to tent camping!
Things to Do in Glacier National Park
There are so many things to do in Glacier National Park! With only three and a half days for my trip, it was tough to prioritize! Five to seven days would be ideal if you really want to explore and your schedule allows it. Here's a helpful five day Glacier National Park itinerary that'll get you to all the highlights of the park!
For me, there was no question that I'd spend most of my time hiking in Glacier National Park. My friend who went with me has been there 12 times and still hasn't hiked all the trails! There are options for people of all fitness levels. I hiked both the Iceberg Lake and Siyeh Pass trails and can't say enough about how much I enjoyed them.
Pro Tip: Make sure you have these items on your day hike packing list!
If you're hiking, I recommend hitting the trail by 7-8am if possible. The morning golden hour is magical and you may get a glimpse of the low fog that rolls into the valleys. You'll also beat the heat and crowds on the more popular trails this way.
If you want to try something other than hiking, there are loads of options.
Check out the awesome stops along

the Going-to-the-Sun Road

Explore the Visitor Centers

Attend a Ranger talk

Take a narrated boat tours (Available at Lake McDonald, Many Glacier, Rising Sun, Two Medicine, Waterton/ Goat Haunt)

Enjoy morning coffee or the sunset on the Many Glacier lodge wraparound deck

Cruise around on a narrated Red Bus Tour in a vintage 1930's bus

Go Horseback riding (Available at Apgar)

Rent a small boat, kayak or canoe and explore the park from a different perspective (Available at Apgar, Lake McDonald, Many Glacier, Two Medicine)

Participate in an outdoor educational workshop with The Glacier Institute
Enjoy the starry night sky
And so much more! Be sure to read the pamphlet you get at the park entry for details on all of the ranger led activities.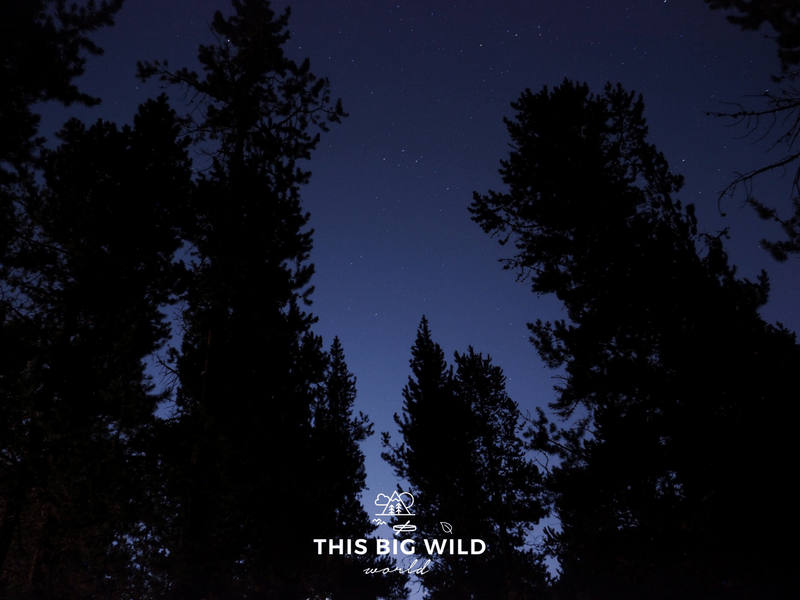 Safety in Glacier National Park
It's no secret that this is bear country. There really isn't a trail or part of the park that are completely "bear-free", so it's best to have a bear safety plan. At the very least, bring bear spray with you in the park at all times and know how to use it!
For my full list of bear safety tips, check out my how to survive hiking in bear country post!
Aside from bears, you may encounter moose, mountain goats and bighorn sheep among other animals. As always, don't antagonize or approach them. Give them some space and time to move along.
While they're very cute, the ground squirrels and chipmunks are aggressive little buggers. I laid down on a rock to relax for a minute and woke up to one sniffing my arm. Wherever you stop be prepared to fend them off and, whatever you do, just don't feed them.

Cost of Visiting Glacier National Park
Glacier National Park camping is an affordable adventure destination. The biggest cost, by far, will be just getting there. Once you're there, expect to pay the park entry fee and then your nightly campsite fee. Campsite fees vary by campsite and size (from $10-23/ night), so I recommend checking this website.
Enjoy Your Glacier National Park Camping Trip
So there you have it. All that's left to do is enjoy every moment of your Glacier National Park camping trip! Oh yeah, and packing, but I've got you covered for that too with this Prepared Girl's Guide to Day Hikes in Glacier National Park.
Are you bringing the whole family along? Perfect! There's so much to enjoy in Glacier National Park with kids.
While you're there, check more places off of your Montana bucket list! There are incredible adventures in Montana in every season.
Happy trails!
Have you considered hiking all or part of the 300+ mile Superior Hiking Trail in northern Minnesota? Follow along on my journey as I share step-by-step tips and resources on how to plan your backpacking trip on the Superior Hiking Trail!
Related content to read next:
Glacier National Park Day Hiking Packing List
Glacier National Park Trail Review: Siyeh Pass Trail
Glacier National Park Trail Review: Iceberg Lake Trail
Did you find this article helpful? Save it for later or share it on social media!