The Essential Lofoten Islands Winter Travel Guide
Dramatic snow-dusted mountains bursting out of the icy water of the fjords. Bright red cozy cabins clustered together, a pop of color against the dark water and mountains. Snow covered beaches.
These are the iconic images that drew me to the Lofoten Islands in winter..
And let me tell you, it was even more spectacular than I could've dreamed. Quite possibly, the most photogenic place I've ever visited.
Here's what you need to know to plan your trip to the Lofoten Islands in winter including how to get there, where to stay, how to get around, and the best day hikes and stops along the way.
This archipelago is made of seven primary islands off the western coast of Norway, just above the Arctic Circle. With a population of over 24,000 people across nearly 475 square miles, the Lofoten Islands are remote. But, as you'll see, it's well worth the journey to get there.
Disclosure: This post contains affiliate links. That means that if you purchase through a link, I may receive a small commission at no extra cost to you. For more info, visit this page.
When to Visit the Lofoten Islands
Winter is not something I usually seek out. After all, I am based in Minnesota where we get brutally cold winters. However, the opportunity to see the Northern Lights in the Lofoten Islands was one I couldn't pass up!
To have a chance of seeing the Northern Lights in the Lofoten Islands, plan your visit between September and mid-April. As if the landscape wasn't already beautiful enough, seeing it covered in a blanket of white snow will take your breath away and (maybe) make you fall in love winter.
Another popular time to visit the Lofoten Islands is for the Midnight Sun, from May to mid-July. This guide does a nice job explaining what you can expect throughout the seasons.
Getting to the Lofoten Islands
The Lofoten Islands aren't on the way to anywhere. Figuring out the best way to get there can be overwhelming!
To get started, ask yourself these two questions:
How much time do I have?

What is my budget?
For my trip, I had 5 days total to spend in the Lofoten Islands, including travel time from Tromso and Oslo. Flying was the best option for me so I could maximize my time to explore at an affordable roundtrip cost. This site provides a great overview of all of the options to get to/ from the Lofoten Islands.
You might also like: Norway Travel Guide (Everything You Need to Visit Norway)
Bodo is a good starting point, whether you're flying or taking a ferry. There were loads of daily flights into Bodo from both Tromso and Oslo (roundtrip 80-140 Euro). Nearly all of the airlines I looked at had restrictions on baggage weight, so be sure to check out the details before booking your flight.
Pro Tip: Wanna explore more of Scandinavia? Consider taking the Interrail Scandinavia to Bodø from Copenhagen!
If you want to experience the fjords of Norway, but don't have time to get to the Lofoten Islands, check out Griengerfjord which is much closer to Oslo.
There are three airports you can fly into in the Lofoten Islands; Leknes, Svolvaer, and Harstad/ Narvik. I took a flight from Bodo to Leknes on Wideroe Airline for the less than 30 minute flight. Leknes is one of the larger towns in the Lofoten Islands, and very close to Haukland (details below).
Pro Tip: Before booking your flight, check rental car prices as they can vary significantly between airports.
If time is less of an issue, you can drive from Tromso or Bodo in roughly 8 or 12 hours. Be sure to consider winter road conditions into your schedule!
Getting Around the Lofoten Islands
To truly experience the Lofoten Islands, you need to rent a car. The beauty of this place is being able to stop along the side of the road or in whatever fishing village you're passing by.
The E10 is the primary road that connects five of the seven islands in the archipelago, over the course of about 80 miles. This road was kept quite clear of snow in the winter, but some of the smaller roads to the beaches and villages were covered in ice. The rental car handled it fine, but be prepared to manage these conditions.
Pro Tip: Having access to wifi to help us navigate was a game-changer. Luckily Crazy Travelista brought along her SkyRoam (now called Solis) wifi device!
If you don't have portable wifi, I strongly recommend that you purchase a map or print instructions as cell phone reception is limited.
Where to Stay in the Lofoten Islands

in Winter

In our five days, I didn't see a hotel outside of Leknes. It's most common to stay in a cabin rental in one of the many villages. Honestly, this was such a cozy and fun way to experience the area, plus most cabins come with a kitchen.

Our group of five stayed in the cutest cabin in Hamnoy at Reinefjord Sjohus. It's one of the most photographed villages in the Lofoten Islands and it happens to be a prime viewing spot for the Northern Lights. Here's another cabin in Hamnoy available through Airbnb.

Check prices and availability for places to stay in the Lofoten Islands.
There are very limited restaurants and gas stations in the islands in general, and even fewer that are open in winter. So, I recommend staying somewhere with a kitchen. It's best to stock up on groceries and always fill up the gas tank when you see a station. We only ate out for one meal in the five days we were there and that was only because we had extra time before our flight.
One great thing about flying into Leknes is that there is a large supermarket and liquor store in the main shopping plaza. I'm not saying there wasn't another liquor store, but I didn't see another one the entire time I was there. Let's be honest, a view of the Northern Lights from your balcony goes best with red wine.
Best Day Hikes in the Lofoten Islands

in Winter

There are so many amazing places to go hiking in the Lofoten Islands in winter. These trails were two of my favorites, though they are not ideal for beginners. Be sure to bring winter hiking gear to keep you safe and warm. Here's additional tips for what to wear for winter hiking in Norway and an all season list of day hiking essentials.
Mannen at Haukland Beach
After landing at Leknes Airport early in the morning and renting the car, we drove to nearby Haukland Beach to hike Mannen. There's a small parking lot just before the tunnel and across the street, away from the beach, there's a dirt road.
A short way down the dirt road, is where we expected to find the trail. What we actually found was a snow and ice covered mountainside with no signs.
I'm not proud to admit that I arrived to winter hike in Norway without crampons (here's some tips on what to pack for Norway in Winter). Luckily I had decent boots and found *one* abandoned crampon in the parking lot, which happened to be my size. Don't be me, bring crampons.
Back to the mountainside covered in a sheet of ice, we made our own path up Mannen following the trail as best we could. The view was totally worth it!
We had read that this hike would take 1.5-2 hours, but without signage (probably covered by snow), it took us closer to 3 hours.
As we hiked down the backside of Mannen we found actual trail signage and a much more gradual trail. Some sections were so icy that I opted to slide down instead! At the bottom of the trail you'll reach the road. Turn to the left and walk through the tunnel back to the parking lot.
Pro Tip: Haukland Beach is also a great place to catch the sunset. On the last day, we came back and caught a bright pink and blue sky over the snow-covered beach. It was a perfect way to end the trip!
Ryten near Fredvang
One lesson learned is that Norwegians may describe hikes as easy, but that only applies if you're accustomed to winter hiking in the mountains. Ryten was described as an easy hike, and it probably is in the summer, but with a fresh coat of ice and blustery wind it was more of a moderate hike in my opinion.
Again, the trail isn't well marked but from the parking lot just follow the footsteps. Once you reach the base of the mountain, head to your right where the trail will start to climb. In the snow, the ledge was narrow and icy but manageable (with my one crampon). There is a section where you have to scramble up, but once you get past that you'll find a wide open view and an ice covered lake nestled in the mountain.
From there, continue to follow the footsteps (or ask other hikers) in the direction for Ryten. As you walk, take some time to enjoy the view of the fjords from above.
All was fine and good until I reached the last climb to the top. The wind was blowing, creating a sheet of ice on the open mountain face. My one crampon just wasn't enough for me to finish the climb safely so I stopped and enjoyed the view before heading back down.
This hike is what sold me on the beauty of winter and the joy of winter hiking!
Best Views in the Lofoten Islands

in Winter
Å
This little fishing village was a pleasant surprise at the very end of the E10 highway. Stop for delicious apple cake and espresso at the cafe after you wander around.
Rambergstranda Beach
Right along the E10 highway, this beach is known for its iconic red cabin right on the white sand beach. I couldn't get over the white sand covered in snow! In the nearby city of Ramberg, there is a small supermarket as well.
Reine
This village of traditional fisherman's cabins is both a great place to visit but also to stay. Many of the traditional cabins have been converted to rental accommodations. There is also hiking, biking, skiing and kayaking available here.
Sakrisoy
Breaking free of the standard red and white cabins, Sakrisoy has yellow and white cabins. This makes for a unique photo opportunity. On the way into the village from Hamnoy, you'll see the road lined with drying fish, a traditional Norwegian food.
Myrland Beach
This beach is dotted with large rocks along the shore, making it the perfect place to play around with long exposure photography.
Nusfjord
I fell in love with this UNESCO world heritage site. At the end of a day of exploring, we happened upon this village, parked our car and started wandering around. In the distance we could hear laughter and cheering. Of course, we followed the sound.
It was a group that had just returned from a fishing trip celebrating their catch. When we peeked in to see what they were doing, they invited us in just as they were eating something from the eyesocket of the fish! They wouldn't let us leave without trying their fried fish. As we drove away from Nusfjord, we had to pull over to capture this brilliant sunset.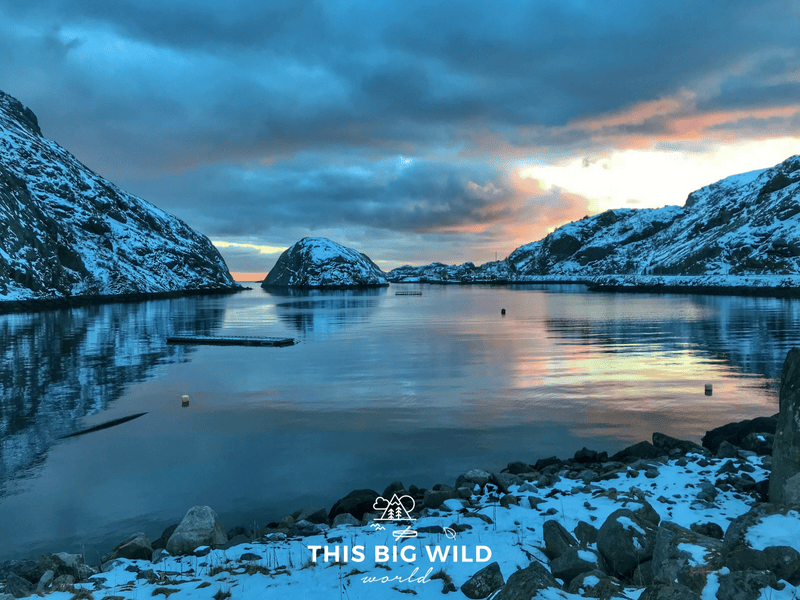 Hamnoy
The bridge in Hamnoy is an iconic image of the Lofoten Islands. After staying there, I can see why. From the bridge, you can see the red and white cabins with a large snow-covered mountain as a backdrop. You can rent kayaks here if you want to explore the village from a different perspective.
Pro Tip: This is an incredible place to view the Northern Lights! Track their visibility using the My Aurora Forecast app.
Would You Visit the Lofoten Islands in Winter?
In all my travels, few places compare to the raw beauty of the Lofoten Islands in winter. As a photographer, the scenery pushed me out of my comfort zone. As an outdoor adventurer, the landscape taught me the beauty of winter. There's no doubt in my mind that I'll be returning here someday.
Want more cold weather adventure inspiration? Check out these posts!
Love this post? Pin it!