The seemingly endless opportunities for adventure are what drew me to visit Tromso in winter. Chasing the northern lights and winter hiking were on my list of things to do but dog sledding in Tromso Norway was at the very top. After all, dog sledding is one of the most popular things to do in Tromso in winter!
As I combed the internet in search of the best dog sledding tours in Tromso, I felt overwhelmed with questions. Is dog sledding ethical? Is it worth the big price tag?
After much research and talking to several tour companies, I had made up my mind. I booked this dog sledding tour with Tromso Villmarkssenter. This Tromso Villmarkssenter tour review will break down everything you need to know before you book!
Disclaimer: Through my conversations with Tromso Villmarkssenter, they invited me to take part in their tour as a guest. My opinions, however, are my own. I am under no obligation to write a positive review.
Disclosure: This post contains affiliate links. That means that if you purchase through a link, I may receive a small commission at no extra cost to you. For more info, visit this page.
Why I Chose Tromso Villmarkssenter for Dog Sledding in Tromso
As a dog owner and lover myself, I wanted to be sure that any dog sledding tour I went on was ethical and that the dogs were well loved and cared for.
Tromso Villmarkssenter is a family-owned operation and they have a lifelong passion for dog sledding. The mother and son duo behind Tromso Villmarkssenter have been dog sledding for most of their lives and have even competed in Finnmarksloppet race numerous times.
Before booking my tour, I asked about how they care for the dogs, not just while they are pulling sleds for tours and races, but throughout their life. I learned that when their dogs are no longer having fun pulling sleds, they are retired and, because they're so well-loved, are often adopted by the mushers and trainers at the center.
Lastly, I read the good and the not-so-good reviews about Tromso Villmarkssenter on Trip Advisor to learn about the first hand experiences of other travelers. I was reassured by how the Tromso Villmarkssenter staff patiently and thoughtfully responded to the (very few!) negative reviews. It's clear that they care about addressing their customer's needs and concerns.
What to Expect from Tromso Villmarkssenter
From start to finish, the entire experience with Tromso Villmarkssenter was seamless. A friendly employee is there to greet you at the pick up location in Tromso city centre. When you arrive at Tromso Villmarkssenter, there are bathrooms and all the warm gear you might need to keep you protected from the cold during your adventure.
Once you're suited up, you'll meet one of the mushers in the dog yard to learn about dog sledding, the dogs, and ask questions. If you choose to do the self-drive dog sledding tour, they'll walk you through the basics before setting you up in your dog sled. At this point, the dogs are so excited to take you on a ride. You're off to glide through the pristine Arctic countryside with views of snow covered mountains surrounding you.
At the end of the dog sledding, warm up with a hot drink and a bowl of traditional Sami stew before playing with the puppies back in the dog yard.
Check prices on a half day dog sledding tour with Tromso Villmarkssenter!
What I Loved
As someone who doesn't often go on organized tours, I wasn't sure what to expect but was really pleased with the experience. Here are the things I loved about my dog sledding experience with Tromso Villmarkssenter.
Easy transportation to and from Tromso city center included
Staff, mushers and trainers were friendly and knowledgeable
Clean bathroom
Clean and warm gear kept me cozy the entire time and is included
They offer a self-drive dog sledding tour option so you can experience driving and riding the sled. It's the best of both worlds!
Meeting the dogs in the dog yard
Learning about dog sledding
Hot drink and traditional stew to warm up after dog sledding are included (They can accommodate dietary restrictions if you let them know in advance!)
Stunning views of the surrounding area
Book a half day self drive dog sledding tour with Tromso Villmarkssenter now!
What I Didn't Love
Honestly, the main thing I didn't love is that the actual time in the dog sled went so quickly! I wanted more time to both drive and ride in the sled. Be sure to make the most of your time in the sled! If you think you'll want more time consider booking one of their longer tours. Tromso Villmarkssenter has one day, two day, and five day dog sledding tours available!
Also, be prepared for how loud the dog yard will be. At first, I found this alarming and worried that the dogs were crying out for help. But, after some research and seeing them in the yard interacting with the mushers I realized that this was them expressing their excitement to pull the sleds!
This is sort of nit picky, but there aren't enough women's toilets so I had to wait in a long queue before suiting up. My advice is to go directly from the bus to the toilets as quickly as possible to get towards the front of the queue before you suit up in the warm gear provided.
My Opinion on Tromso Villmarkssenter
If you want to go dog sledding in Tromso, Tromso Villmarkssenter offers a great experience from beginning to end. They've truly thought of everything so that all you have to do is show up and enjoy the experience.
Personally, I strongly recommend trying the half day self-drive dog sledding tour so that you can experience both riding in the sled and the exhilarating feeling of the dogs guiding you through the Arctic countryside. But, if you prefer to sit back and enjoy the ride the half day guided dog sledding tour is a great option.
Comparison of Dog Sledding Tour Companies in Tromso
There are a number of dog sledding tour companies in Tromso. Let's compare Tromso Villmarkssenter to some of the top alternatives.
Company
Comparison
Tromso Villmarkssenter
– Tour lasts 4 hours (~1 hour on sled)
– 25 minute drive from Tromso
– Can book singles tour
– Self-drive or guided option
– Extensive info available on ethical practices
– Specialize in dog sledding
Destination Tromso
– Tour combined with visit to Ice Domes
– Tour lasts 7-8 hours (1.5 hours on sled)
– 90 minute drive from Tromso
– Very little info available on ethical practices
– Not specialized in dog sledding, offer broad range of tours types
Northern Light Dog Adventure
– Tour lasts 7 hours (1-2 hours on sled)
– 60 minute drive from Tromso
– Must book for 2 people (no singles)
– Self-drive only
– Very little info available on ethical practices
– Small operation
– Specialize in dog sledding
Arctic Adventures
– Tour lasts 4 hours (1.5 hours on sled)
– 35 minute drive from Tromso
– Self-drive only
– Have Animal Welfare Policy on their website
– Not specialized in dog sledding, offer broad range of tour types
Because of my concerns about the dogs being treated ethically, I prefer a dog sledding tour that is operated by someone passionate about and specialized in dog sledding. That's not to say that the tour companies that offer a broader range of tour types can't offer ethical dog sledding, just that in my mind they may be more tempted to make compromises to the animal's wellbeing.
FAQ's
Doesn't dog sledding with Tromso Villmarkssenter sound awesome? Ok, but you probably still have a few questions. Here's a rundown of the most frequently asked questions about dog sledding.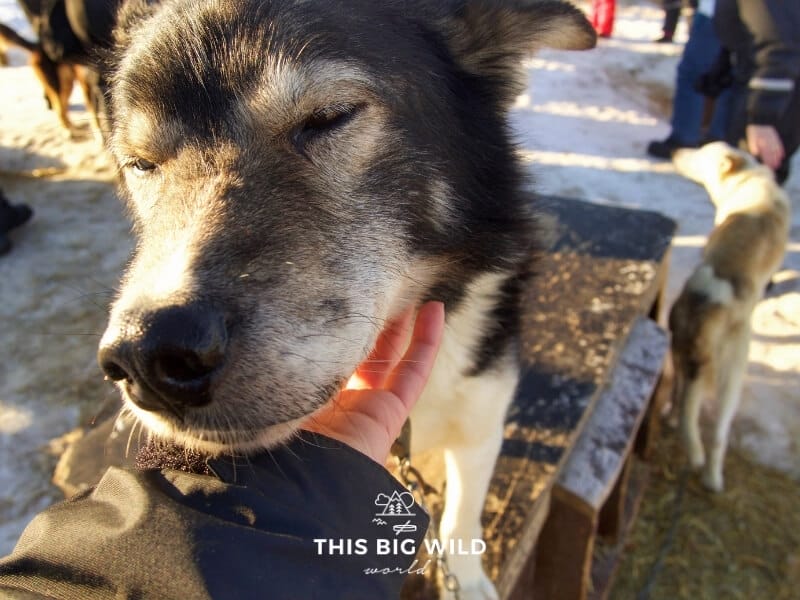 Are dog sledding tours ethical?
The short answer is that it depends. The treatment of the dogs will vary based on the humans who care for the animals and operate the tours. That's why I recommend you do research on any dog sledding tour company before booking a tour. Based on my observations and experience with Tromso Villmarkssenter, I felt the dogs were loved and well cared for – which is important to me as a dog owner and lover.
Additionally, your personal values will influence whether you feel dog sledding is ethical. If you believe that any use of animals for recreation is unethical, then dog sledding will not be for you.
Pro Tip: Here are some helpful articles on misconceptions about dog sledding and questions you may ask to determine if a dog sledding tour is ethical.
During what months is dog sledding in Tromso possible?
Obviously it varies depending on the weather, but generally dog sledding in Tromso is possible from November through March. If you're visiting Tromso during the warmer months, consider going on a hike with the huskies!
What should you wear for dog sledding?
Tromso Villmarkssenter provides warm winter overalls and boots to put on over your clothes and socks. So, you just need to bring a warm hat, gloves, and sunglasses or goggles. (The landscape is bright white, so you'll definitely want sunglasses.)
Pro Tip: Wondering what to wear to stay safe and warm while enjoying the outdoors this winter? Check out my full list of the best winter hiking clothing and gear!
What should you bring with you to Tromso Villmarkssenter?
As mentioned, you need to bring your own hat, gloves and sunglasses or goggles. Here's my full list of what to wear for winter hiking! Also, don't forget your camera or phone and some cash in case you want to offer a tip to the musher who guides your tour or make a purchase in the store.
Do I need to book my tour with Tromso Villmarkssenter in advance?
If you have your heart set on going dog sledding in Tromso, definitely book in advance. Dog sledding is the most popular activity to experience when visiting Tromso and during peak season tours can be fully booked weeks or months in advance.
Remember, the dogs need rest between tours so ethical dog sledding tour companies will limit the number of tours per dog per day for their safety.
What happens if there is not snow on the date of your tour?
Tromso Villmarkssenter offers several options if they have to cancel your tour for no snow or other safety reasons. These options include offering an alternative activity, rescheduling your tour, or a full refund.
How physically challenging is it to drive the dog sled?
What amazed me is that the dogs seem to know exactly where they are going and communicate with each other to navigate the sled. It's truly incredible to see them working together as they pull the sled.
So, when you're driving you mostly need to regulate the speed and brakes. This does require physical effort because braking the sled involves using your body weight to press down on a metal rod that extends into the snow while balancing on the back of the sled.
What happens if I book the tour solo?
The sleds require one person riding and one person driving so if you book solo (like I did) you will be paired up with another solo traveler. You will still take turns riding and driving if you book the self-drive tour.
Are there bathrooms available?
Yes! There are bathrooms in a small building next to the main building across from where the bus drops you off.
How long does it take to get to Tromso Villmarkssenter from the city centre?
Expect the drive to Kvaløya to and from Tromso city center to last about 25 minutes.
How long are the dog sledding tours?
The half day dog sledding tours are four hours from start to finish, which includes 45-60 minutes of time on the sled. Tromso Villmarkssenter also offers a full day, two day and five day dog sledding tour options if you want more time in the sled.
Are you ready to go dog sledding in Tromso?
As someone who doesn't often book tours, I mean this when I say that I truly enjoyed my experience dog sledding with Tromso Villmarkssenter. Experiencing firsthand what it feels like to harness the power of the sled dogs to navigate through the snowy Arctic landscape is something I'll never forget. In my opinion, it was well worth the cost.
Click here to reserve your spot now to go dog sledding with Tromso Villmarkssenter!
Still have questions about dog sledding in Tromso? Let me help! Drop them in the comments below!
Related content to read next:
Epic Adventure Guide for Visiting Tromso in Winter
11 Best Places to Go Dog Sledding in the World
Why You Should Visit the Loføten Islands in Winter
What to Wear for Winter Hiking
Packing List for Winter Hiking in Norway: A Prepared Girl's Guide
Did you find this article helpful? Save it for later or share it on social media!