Rapid City is an absolute gem in western South Dakota. There are five national parks within one hour of Rapid City in addition to nearby state parks, national forests, hot springs and a thriving downtown area. All these outdoor activities make Rapid City a pet-friendly destination.
My dog, Hank, and I discovered these 15 dog-friendly things to see near Rapid City SD – plus 5 more places to visit on a pet-free day!
Disclosure: This post contains affiliate links. That means that if you purchase through a link, I may receive a small commission at no extra cost to you. For more info, visit this page.
Where is Rapid City, South Dakota?
Rapid City is located on the west side of South Dakota near the border of Wyoming. From the Twin Cities, it's about an 8-½ hour drive or just under 600 miles. Alternatively, from the north it is about 8 hours from Fargo or 5 hours from Bismarck in North Dakota.
If you are considering a national parks road trip, be sure to stop at Theodore Roosevelt National Park in North Dakota which is just 4 hours from Rapid City. If you're up for a longer drive, continue on to Yellowstone National Park or Glacier National Park.
Best Dog-Friendly Things to See Near Rapid City SD
There are so many fun things to do near Rapid City, especially for humans and pets that love the outdoors.
1 | Drive the wildlife loop at Custer State Park.
One of the best things to do in Custer State Park is to drive the 18-mile Wildlife Loop Road. Along this section of grasslands you can see bison, pronghorn, elk, prairie dogs and more from the comfort and safety of your vehicle. Wildlife tends to be most active in the morning, though you may see wildlife throughout the day.
To drive the wildlife loop, you must have a day or annual state park pass. Read more about entrance fees and more on the park website.
Pets must be leashed and are not allowed in park buildings or swimming beaches.
Pro Tip: Plan to spend 1 to 1-½ to complete the loop.
2 | Explore the hiking trails in Custer State Park.
There are all kinds of hiking trails in Custer State Park. The Cathedral Spires Trail is 1-½ miles each way with a steep climb up to a beautiful view. This is a more strenuous trail and is accessed from a parking lot along the Needles Highway.
For a less strenuous but still beautiful hike, try the 1-mile Sylvan Lakeshore Trail. Take in the view of the incredible rock formations and reflections in the water.
Pro Tip: For more hiking trails and the latest trail conditions, check in at the Welcome Center to get a detailed map of the park and the ranger's latest tips.
3 | Enjoy the views along Needles Highway.
Take a ride along the twists and turns of the 14-mile long Needles Highway. Named for the giant needle-like rock formations that stretch up into the sky, this is a beautiful drive. Along the way you will wind through pine and spruce forests and meadows.
Pro Tip: Allow at least an hour to drive the length of the highway with time to stop and enjoy the view at one of the many viewpoints.
4 | Take in the view of Rapid City from above at Dinosaur Park.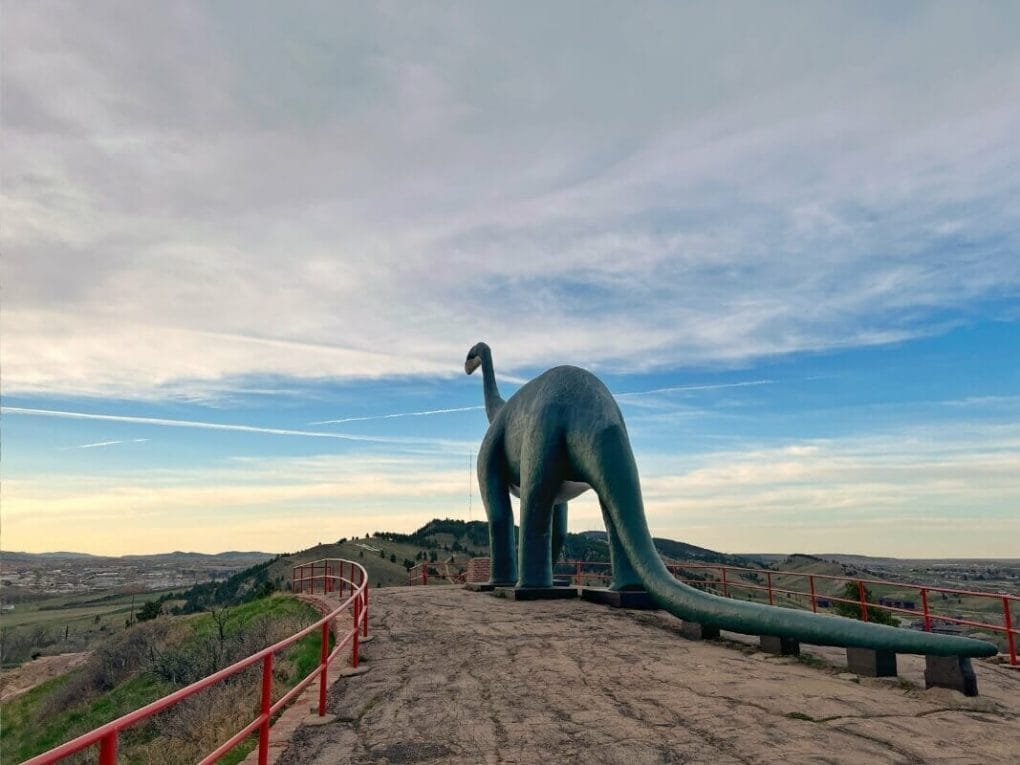 This park sits on a ridge overlooking Rapid City and the surrounding Black Hills. If you're wondering why there are giant dinosaur statues, it's because evidence (including footprints) of dinosaurs have been discovered nearby!
Dinosaur Park is free and pets are welcome to walk the trail up to the seven life-sized statues of dinosaurs and reptiles! From the parking lot, walk across the street and up the trail or steps to get up close and personal with the statues. Be sure to enjoy the 360-degree view!
5 | Grab a bite to eat on a dog-friendly patio in downtown Rapid City.
For dinner, head to one of the dog-friendly patios in downtown Rapid City! Murphy's and Thirsty's are both great options and right next door to each other.
Murphy's patio is uncovered and has several seating areas. It's helpful with my dog to choose an area that is away from other dogs and large groups. The menu features burgers, sandwiches, salads, build-your-own mac-and-cheese, and entrees like buffalo meatloaf. The sausage sampler with whole grain mustard and pineapple chutney is delicious!
Next door, Thirsty's has a large partially covered outdoor patio. The menu is a bit more casual with an emphasis on burgers, sandwiches and salads. Enjoy a drink from the full bar and impressive selection of beer.
6 | Catch a glimpse of Mount Rushmore.
Unfortunately, pets are only allowed in very limited places at Mount Rushmore such as parking garages and designated pet exercise areas. However, that doesn't mean you can't get a glimpse of Mount Rushmore when visiting Rapid City with your pet.
Just around the corner from the entrance to Mount Rushmore, along Highway 244, there is a large pullout with plenty of parking. From here, you can get a glimpse of George Washington's profile! Here is a link to the location on Google Maps.
7 | Go for a walk through Memorial Park.
Located in the center of Rapid City, Memorial Park is a lovely place to walk and relax. While there, you can see an exhibit for the Berlin Wall, Memorial Pond, sculptures, and walk along Rapid Creek.
Pro Tip: There is free parking available off of Mount Rushmore Road.
Another nearby option is Hanson-Larsen Memorial Park, which has over 20 miles of trails. This is also a popular place for mountain biking and bouldering.
8 | Have a glass of wine at the Wine Cellar.
Sip some wine on the patio with your dog at Wine Cellar Restaurant in downtown Rapid City. They have more than just wine and cheese, though! Find a tasty bite on their full menu including small plates, chargrilled skewers, thin crust pizzas, salads and entrees.
Pro Tip: Check the website for their most current hours. They currently are not open on Sunday or Monday and recommend reservations.
9 | Wander through Art Alley.
Take a walk with your dog through Art Alley. Find this unique and ever-changing public art space in the alley between 6th and 7th Streets in downtown Rapid City. Nearly every surface in this alley is a piece of art! Back in 2003, Art Alley began organically with large canvas works of art on display but it quickly evolved to what it is today.
10 | Take yourself on a walking tour of the City of Presidents.
Rapid City is referred to as the City of Presidents. Throughout downtown there are life-sized statues of past American Presidents at nearly every corner. During my visit, I noticed statues of notable Native American leaders as well!
Download a walking guide of the statues and scavenger hunt here.
11 | Pick up picnic supplies at Bashful Bison Market.
Bashful Bison Market is located in downtown Rapid City with a menu that features fresh, locally sourced ingredients. Choose from hot and cold sandwiches, salads, breakfast items, fresh lemonade and more.
While dogs are not allowed inside, you are able to order online for takeout or delivery. This is the perfect place to pick up food for a picnic in one of the nearby parks!
Pro Tip: Try the Pine Ridge sandwich with bison pastrami, white cheddar and homemade dijon on rye.
12 | Enjoy a beer at one of the many dog-friendly breweries.
There are several dog-friendly breweries in Rapid City South Dakota. As you may expect, all of them require that dogs be leashed, friendly and refrain from barking.
Woodland Republic Brewing is in downtown Rapid City and has an assortment of unique flavors. For example, on tap right now is a Blueberry French Toast which is a sour beer with blueberry and maple flavors. Also in downtown, Lost Cabin Beer Company has a nice assortment of typical and unexpected beers as well as onsite food trucks. You can BYO or order food for delivery as well.
Cohort Craft Brewery is 3.5 miles south of downtown Rapid City. Their selection features progressive beer concepts and mead, which is made from fermented honey. Zymurcracy Beer Company is veteran-owned and located about 5 miles southeast of downtown Rapid City.
13 | Visit an off-leash dog park.
Let your dog run wild and free for a bit! Rapid City Parks & Recreation maintains six off-leash dog parks. Be sure to bring a portable water dispenser for your dog to stay cool on a hot day!
14 | Order takeaway from Kathmandu Bistro or El Nevado.
When I travel with my dog, I like ordering takeaway so we can eat together in my room or in a park. There are great restaurants to choose from in Rapid City South Dakota!
One unique option is Kathmandu Bistro, which features Nepalese, Indian and Tibetan food. The menu has a large selection of vegetarian or meat options.
If you like Mexican food, try El Nevado. It's just off of Main Street and is a less touristy and quieter alternative to Que Pasa Cantina. The service at El Nevado is friendly and the food was delicious. Try the carne asada!
15 | Fuel up for the day at Harriett & Oak.
This adorable coffee shop is the perfect place to start your day in Rapid City. While pets are not allowed indoors, they do offer takeaway and the food is pretty incredible. Harriett & Oak's menu includes sandwiches, acai bowls, avocado toast, baked goods and even waffles. Convenient online ordering makes it easy to pop in and grab yours to go!
Pro Tip: Try the breakfast pastie filled with ham, egg, cheese, potato, green pepper and onion.
Top Things to See Near Rapid City Without Your Dog
If you are able to leave your dog safely behind for a day, there are several other things to see near Rapid City South Dakota. There are five national park units within about an hour of Rapid City! Sadly, although for good safety reasons, the national parks have many restrictions when it comes to pets. Each park has its own rules based on risk factors so it's best to check each park's website for the most accurate information.
1 | Explore Wind Cave National Park above and below ground.
Explore the most complex and 6th longest cave system in the world! The cave also has over 90% of the world's rare formation called boxwork. Wind Cave also has significance for the Lakota people as it is believed to be a portal to the spirit world and the source of their emergence on Earth. Listen to a tribal historian and spiritual leader tell the story in this 7 minute video.
Cave tours require a ticket for a specific timeslot. Unguided exploration of the cave is prohibited. There are several cave tours to choose from, including an Accessibility Tour without stairs.
Some tours offer advance reservations online, but most are first come first serve the day of the tour. It is common for tickets to sell out several hours in advance, so go early (e.g. before 11am) for the best opportunity to get tickets. Tickets can be purchased at the Visitor Center and they do not accept cash.
Pro Tip: It is cool and damp in the cave. Bring a warm layer and wear shoes that are slip-resistant on wet surfaces.
Wind Cave National Park isn't just below ground, there's a lot to explore above ground too! Throughout the park expect to spot wildlife like bison, elk, and prairie dogs. The Rankin Ridge trail is a 1-mile loop through a forest to the highest point in the park. Enjoy sweeping views of the surrounding area, including Badlands National Park in the distance. The firetower on the trail is closed to the public.
2 | Learn about Native American culture and history at the Crazy Horse Memorial.
A visit to Rapid City isn't complete without spending time learning about the culture and traditions of those native to the land. The Crazy Horse Memorial is named in honor of Crazy Horse, a celebrated Lakota warrior. The memorial is less than an hour southwest of Rapid City and directly west of Custer State Park.
The memorial is a collection of 3 museums, cultural programs, and an active mountain carving site all intended to protect and preserve the culture and tradition of indigenous people from across North America. I do not generally enjoy museums, but was enamored with the displays throughout the museums. I particularly enjoyed the Edward Curtis Prints Collection which is a room filled with photographs capturing moments of everyday life of American Indians from many different areas.
Pro Tip: The entrance fee for the campus is per person. There is an additional fee to take a bus up to the active carving site.
Leashed pets are allowed in the outdoor spaces, including the covered porch and veranda.
3 | Badlands National Park
Badlands National Park is just east of Rapid City and is a destination in itself. It would be easy to spend several days exploring the park. Above all else, the Badlands is a magical place to view the sunset!
Technically, leashed pets are allowed in developed areas in the park, including campgrounds, picnic areas, and roadside viewpoints. However, because this extremely limits you from seeing the best of the park, I'm listing it under places to go without your pet.
4 | Enjoy a soak in Mocassin Springs.
Treat yourself to a soak at Mocassin Springs, a hot spring located 1 hour south of Rapid City. Purchase a 3-hour soak pass for access to 6 outdoor natural mineral spring pools ranging in temperature from 80 to 105F. For an extra treat, book a spa treatment or salt room session (read about my salt room experience in St Cloud Minnesota here).
Pro Tip: Check the schedule and book ahead. They are open year-round but the schedule varies by season.
5 | Wander the cave at Jewel Cave National Monument.
At over 215 miles long, Jewel Cave is one of the longest caves in the world (even longer than Wind Cave)! Advance reservations are recommended as cave tours often sell out for the day by late morning. All cave tours must be guided.
Above ground, there are several hiking trails at Jewel Cave National Monument, ranging from ¼ mile to 3-½ miles.
Is Rapid City a Dog-friendly Destination?
I'd say so! My dog, Hank, and I had a blast exploring the area together. I hope you and your dog do too.
Related content to read next:
11 Awe-Inspiring Things to Do in Badlands National Park
Visit the North Dakota Badlands at Theodore Roosevelt National Park
Best Hikes in Glacier National Park: Siyeh Pass Trail
Check out my US National Parks page for more travel inspiration and tips!
Did you find this article helpful? Save it for later or share it on social media!