Six Lessons Learned Hiking the Inca Trail
And One Thing I Got Right
After months of planning to hike the Inca Trail, I found myself hours before my flight with a pile of stuff all over my room, an unpacked bag, and a sense of great uncertainty. Was I going to be warm enough? Is my pack too heavy? Should I bring my extra camera lenses? Did I push myself enough on the stairmaster? Well, here are my lessons learned while hiking the Inca Trail.
Disclosure: This post contains affiliate links. That means that if you purchase through a link, I may receive a small commission at no extra cost to you. For more info, visit this page.
Get a porter.
To the person reading this who is thinking "nah, I'll save my money and pack light", I can assure you that's what I did and it's a decision you'll regret.
Remember, the entire trail is above 8000 ft elevation, with the peak being just under 14,000 ft. I am in reasonably good shape and had trained at sea level for an hour at a time on the stairmaster with a 25 lb pack on before I left… and I still had trouble just walking up the steps at our hotel in Cusco.
The porters, though, are the real MVP's of the Inca Trail. These men mostly come from villages above 10,000 ft elevation. Our guide explained that their shorter stature gives them a lower center of gravity. This, paired with living at such high altitude, enables them to effectively carry 70-80 lbs in their packs. I was amazed to see them jog past me with their huge packs wearing flip-flops (and a big smile)!
The ideal time to book a porter is when you book your tour (we did not do this). At our orientation the night before our hike began, our guide told us that there was a small chance a porter may be made available at the trailhead the next morning.
Do not assume this option will be available and expect to pay more than the original rate for a porter. We ended up paying for ~30 lbs among the 4 of us, so about 7-8 lbs each that we could remove from our packs. This dropped my pack from 22 lbs down to 15 which felt much more manageable, though I still would've liked to offload more weight.
Now, let's say that you can't secure a porter at the trailhead (and you went against my advice and didn't book one in advance), there's a third remote chance of getting a porter.
Day 2 of the hike has about 4-5 hrs of non-stop stair climbing for about 4000 ft elevation gain. It's brutal. The locals know this and sometimes walk around the campsites in the morning looking to see if any hikers want a porter for just Day 2. I also took advantage of this and split it with a friend to get my pack down below 10 lbs. For the two of us, this cost about $20 USD.
Remember, you have this amazing opportunity to hike through the Andes Mountains and experience the Inca Trail, so the less you're worried about your pack weight means the more you can enjoy every moment of the hike.
Bring your hiking poles and know how to use them.
Oh hiking poles, how I love thee! Over the 26 miles of the Inca Trail, you gain about 5500 ft elevation, and lose about 6500 ft elevation. Hiking poles can reduce the impact of those downhill steps on your knees so you aren't hobbling into Machu Picchu. They also distribute your weight when you're going uphill, which makes it easier on your leg muscles.
You definitely want to bring adjustable poles so you can make them shorter for uphill and longer for the downhill. Luckily, I had brought adjustable poles, but my guide had to show me the ideal length to use for different sections of the trail.
I had a little soreness in my knees after the downhill on Day 2, but it was gone by the morning. The poles made all the difference compared to previous hikes that I've done without them that left me in significant pain. If you still aren't convinced, here's an article with more reasons to love your trekking poles!
Check your hiking form.
Yeah, I get it, you put one foot in front of the other, right? Well, apparently not. I've literally been doing it wrong for roughly always. At the end of the first day, our guide gave us a few tips based on what he observed.
Always make sure your heel touches the ground before your toes, especially when going up stairs.
Walk in a snake-like pattern to distribute out the fatigue on your muscles.
For the long uphill on Day 2, I was ready to try anything, so I put both suggestions into practice. What a difference! I don't know if there's science behind the "snaking" technique, but I found it less tiring and overall easier on my leg muscles.
Don't leave your tent open or anything outside of your tent.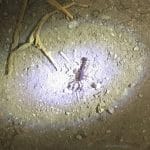 This one is embarrassing because I know better. My tent-mate and I were actually pretty rigorous about keeping our tent closed and only leaving our boots outside for a short time when we first got to camp to air them out.
On the last night, we did the same but for some reason I decided to check my boots one more time before going to bed. They'd been inside the tent for hours, and I had checked them before I put them in there but I felt like checking them again. (Maybe it's because we saw a scorpion outside of our tent before bed.)
Sure enough, there was a spider deep inside my boot. There was screaming, chaos and I may have thrown my boot outside of the tent. So, just don't be me.
Training isn't required, but recommended.
As my friends and I discussed what we learned, we noted that while training wasn't mandatory, it certainly made the hike more enjoyable. I was so impressed by the age range and fitness levels that accomplished this feat.
For most of us, our bodies aren't used to being at that high of altitude and hiking in these conditions. Do yourself a favor, and invest some time before the trip to get your body in trail-ready shape.
Slow and steady is your mantra and remember that this means something different for each of us. I got down on myself during Day 2 (the stair climb day) because I was at the back of the pack. Later in the day our guide told me that he regularly had people that took 2-3 times longer than me, we were just in a fast group. This lifted my spirits and made me feel more comfortable taking things at my own pace. Plus, I was able to take some time to appreciate the views 🙂 Take it one step at a time and focus on intentional breathing.
If you've done the training, it really is just a mental challenge.
Bring only the essentials. Really.
Ounces matter. Don't throw in an extra outfit, plan out what you'll wear and make re-wearing clothes a part of your plan.
Guess what you don't need – most toiletries. While there are some cold water showers along the trail, there are few and the outdoor temperatures are low enough that you'll probably want to opt out. Leave those heavy liquids behind!
I did a decent job at packing but I still had several items I didn't use (here's my packing list).
The One Thing I Got Right
Be present.
You are hiking through the Andes Mountains on the same steps that the ancient Inca's walked. This place is absolutely magical. Take the time to look around you, reflect on the experience, and take some pictures. I saw several other hikers racing each other or with their heads down looking at the trail. Don't be that person!
A part of being able to be present is training and planning out your access to certain items. Given that I love photography, I made sure my camera strap could be worn around me with my pack on for easy access. My friend kept his clipped onto his backpack strap.
We also kept snacks and coca leaves on our waist belts to combat our "hangry" moments and altitude related headaches. The last thing you want is to have to take your pack on and off for every photo, snack or sip of water. Having these easily accessible helps you stay focused on the moment!
Related content to read next:
Day Hike Packing List: A Prepared Girl's Guide
Inca Trail Packing List: A Prepared Girl's Guide
Things to Do in Cusco While Acclimating (Before Hiking the Inca Trail)
Did you find this article helpful? Save it for later or share it on social media!