Each summer, visitors come to Voyageurs National Park in northern Minnesota in the hopes of hearing the call of the loon, capturing a glimpse of bear cubs, taking in the the incredible night sky, and reeling in the catch of the day. This park is made to be explored by water – and renting a houseboat is one of the most popular ways to do this!
If you're considering renting a houseboat in Voyageurs National Park, here are 15 essential things you should know before making your reservation.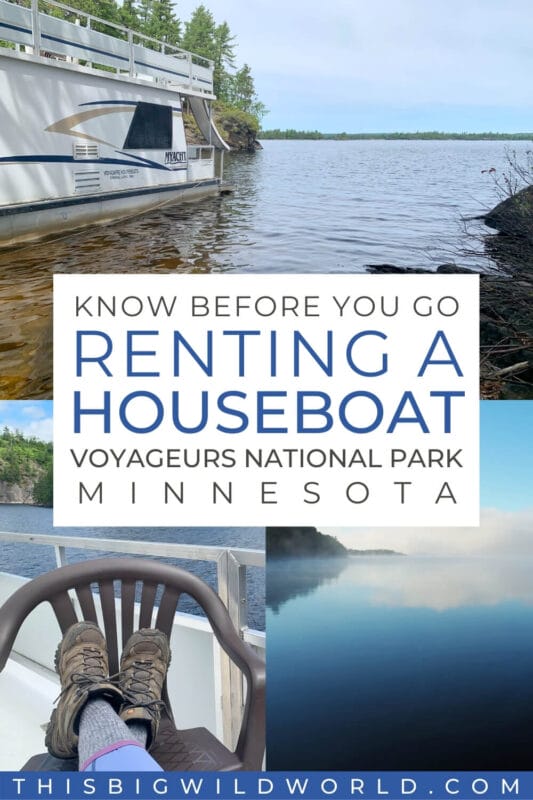 Disclosure: This post contains affiliate links. That means that if you purchase through a link, I may receive a small commission at no extra cost to you. For more info, visit this page.
Voyageurs National Park Houseboat Rental: Know Before You Go
If the idea of driving a houseboat intimidates you, you're not alone. They are essentially an RV on a pontoon moving through the seemingly endless lakes and interconnected waterways lined with mostly rocky shoreline. It's certainly not for everyone.
1 | Basic boating skills are essential.
I've been around boats my entire life – not houseboats, but fishing boats or all sizes. I feel comfortable navigating a boat and landing it at a dock or on the shoreline. Driving a houseboat is different and a little more challenging.
The rental company will give you a basic orientation to the boat's primary systems and will be available by radio to help troubleshoot. However, without prior boating experience I can see how this could become dangerous very quickly.
Skills that are most helpful include navigation on the water, radio communication, landing a boat, tying off a boat, and troubleshooting mechanical and electrical systems. It's important to know that much of the shoreline in Voyageurs is more rocky than sandy.
Pro Tip: Before you go download the Navionics app. This app has detailed maps of the water, including depth and obstructions, and works offline without cellphone service. This was an invaluable resource.
2 | Book way in advance.
Voyageurs may be one of the less crowded national parks in the US, but the houseboat and campsites reservations go quickly. If you have your heart set on visiting this park, plan to book well in advance (in springtime).
3 | Motorized fishing boat must be pulled by the houseboat.
This is for safety reasons in the event that the houseboat is damaged. The cost of the boat and motor may be separate from the houseboat reservation. You can bring your own motorized boat to tow behind if you prefer.
4 |Houseboat permit is required through recreation.gov.
Before visiting, you must secure a houseboat permit through recreation.gov for your specific dates of travel (~$10/day). I recommend doing this around the same time you reserve the houseboat.
Houseboat permits are not specific to any houseboat site.
Also, the permit must be printed and displayed on your boat. Plan to print yours in advance and bring it with you. There is no access to print the permit once onsite.
5 | Boats have a lot of amenities.
Houseboats are available in a number of sizes, but you can expect to find heat, hot water, refrigerator, microwave, electricity (via generator), and a grill. There is essentially a full kitchen onboard!
Some houseboats are fitted with rooftop patios and even hot tubs!
6 | Discounts are available before and after the busy season.
There are several houseboat rental companies that offer access into the park. Many of these offer discounts before and after peak season, which is generally before Memorial Day (late May) and after Labor Day (early September). These discounts can be as much as 25% off, which can add up to a lot of money!
7 | Houseboats must be parked overnight.
Quiet hours in the park are from 10pm to 6am. During these hours boats must be docked or tied off on the shoreline and generators must be off. When planning your visit be sure to take this into account and take advantage of the beautiful sounds of nature after dark!
8 | Hospitality service is available.
Did you forget something? Or need to restock on a few items? Some houseboat rental companies, like Voyagaire where I rented from, have a hospitality service that runs daily. They can bring anything from ice to alcohol or food! If you plan to use this service, be sure to ask what the cutoff time is to place your order each day.
One thing to keep in mind – everyone can hear your order. Orders are placed via the radio, which is on an open channel.
9 | Be prepared to troubleshoot issues onboard.
Inevitably there will be unexpected issues that come up while you're onboard. Whether it's the generator not starting or the hot water not working properly, it'll surely be something. The rental company will be available to help via radio but don't shy away from asking questions during your orientation.
10 | Weather is unpredictable, but the bugs are a sure thing.
If you are unfamiliar with weather in Minnesota, it's important to know that it can be very unpredictable. In just the first 24 hours on the boat, we went from 78F and sunny to 32F with a light, wet snow – and that was in May.
Check the weather before you go and be prepared for a wide range of temperatures and conditions.
Pro Tip: Bring lots of layers and bug spray. Here are my tips to avoid being eaten alive my mosquitoes and ticks!
11 | Lots of options for where to park your houseboat each night.
Before I went, I was very concerned that I wouldn't be able to find a place to park the houseboat overnight. I now understand that there are seemingly endless options! While there are a number of first-come first-served designated houseboat sites throughout the park, houseboats can also be parked just about anywhere you can find a place to safely land the boat and tie it off to trees.
There are a few exceptions. Houseboats cannot park overnight at designated 'day use' or 'tent camping' sites. These are visibly marked on the shore with a brown sign. Also, houseboats cannot park within 200 yards of a designated site or structure (such as a tent camping site).
Campfires are only allowed at designated houseboat sites. This is because they have established campfire rings for fire safety purposes. So, if you have you heart set on s'mores over a campfire, be sure to find a designated houseboat site.
12 | Must be able to rope start a motor or generator.
If you've ever had to rope start a motor or lawn mower, you know it can be a pain in the butt. Both the fishing boat I rented and the houseboat generator required a rope start.
If you haven't done this before, be sure to ask them to show you in detail during your houseboat orientation and even practice before you take off.
13 | You will be in international waters.
The park spans across US and Canadian waters. There's a very good chance you'll cross over into international waters at some point during your visit. This is totally fine, but… do not touch land or wildlife on the Canadian side (unless you want to risk an encounter with US Customs). Use the maps provided to make sure that wherever you park your boat and/ or fish is in US territory.
14 | Bring your own food, or don't.
The houseboats will have a fully fitted, although small, kitchen onboard as well as a grill. So, you can bring whatever you'd like to prepare and eat during your stay! But if you prefer not to do that, some houseboat rental companies have a meal plan or food provision service. This means they will work with you in advance to agree a meal plan and then stock your boat with all the food and ingredients you need. Be sure to inquire about these services before booking!
15 | Be prepared for frigid water even on the hottest days.
The water temperatures in northern Minnesota can be *quite* cold well into June. Keep in mind that it's common for there to be ice on the water into late April and even early May. If you plan to go swimming, mid to late summer may be more enjoyable!
Are you ready to rent a houseboat in Voyageurs National Park?
It's definitely not for everyone! As someone who has been around boats most of my life, it was still a little challenging and I had two other people with me helping to navigate and land the boat. The park is expansive and pristine wilderness, which is both beautiful and harrowing when you're out there alone on the water.
Find my complete houseboat packing list, including what to bring and what to leave behind!
Have questions about renting a houseboat in Voyageurs National Park? Drop them in the comments below!
Related content to read next:
How to Avoid Getting Eaten Alive by Mosquitoes & Ticks (for Hikers!)
How to Survive Hiking in Bear Country
20 Essential Outdoor Adventure Safety Tips
Check out my Minnesota travel page for even more inspiration and tips!
Did you find this article helpful? Save it for later or share it on social media!