We've all been there, wandering through the dehydrated meal aisle in an outdoors store searching for something we'd actually want to eat on the trail. Why not try dehydrating your own backpacking meals?
It might seem overwhelming at first, but there are some really simple and delicious meals you can dehydrate at home for your next backpacking trip. Here are some beginner tips for dehydration and DIY backpacking meal recipes I love!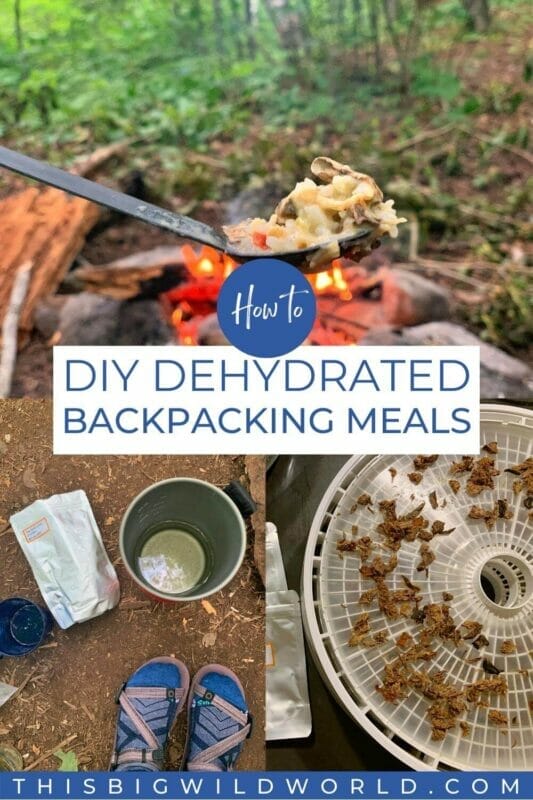 Disclosure: This post contains affiliate links. That means that if you purchase through a link, I may receive a small commission at no extra cost to you. For more info, visit this page.
Why dehydrate your own backpacking meals?
After years of trying different brands of store-bought dehydrated backpacking meals, I was left unimpressed. While they are better than they used to be, in general they leave me wanting more flavor or just aren't meals that I would normally eat. Meals on the trail were a task as opposed to an enjoyable part of the experience.
Dehydrating your own meals means you can have the flavor you want in meals you actually eat in normal life. Imagine actually looking forward to your meals at camp!
Dehydrating Your Own Backpacking Meals: The Basics
What equipment do you need when dehydrating your own backpacking meals? The main thing is the dehydrator itself. I use this dehydrator from Nesco and like that it allows you to expand to up to 30 dishwasher safe trays. This increases the volume of food you can dehydrate at one time. It also comes with several mesh screens (for smaller food pieces) and silicone trays for liquids.
Pro Tip: Looking for a more affordable option? Check Facebook Marketplace and other places where used items are sold.
Aside from the dehydrator, the other item you will need is something to store your dehydrated meals in. Some people use freezer Ziploc bags and just add the boiling water into those on the trail. I prefer to use 1 quart sized Mylar resealable bags. They stand up easier than ziplocs, minimizing the risk of spills. If you want larger meals or meals for two, consider upsizing to a 2 quart bag. Many of these have the option to purchase with oxygen absorbers if you plan to store them for a long time.
Pro Tip: Unless you have your own vacuum sealer, be sure to buy the Mylar bags that have a zip closure.
A couple of things to keep in mind:
Minimize the use of fats/ oils when preparing meals for dehydration. They can cause the meal to go bad. If needed, bring a small leak-proof container of oil to add on the trail when preparing the meals.
Search online or refer to the pamphlet that comes with your dehydrator to figure out the best temperature to dehydrate each item. This is essential to ensure items are properly dehydrated throughout, not just on the exterior.
"Cold soak" means that you add cold water and let the meal soak for up to several hours.
Most meals you prepare at home can be dehydrated as long as they are prepared with minimal oil/ fat. Make extra of your favorite recipes and then dehydrate them!
Consider joining the Dehydrating Your Own Backpacking Meals or Healthy Gourmet Backpacking Food Facebook groups for more inspiration and tips!
Easy DIY Dehydrated Backpacking Meals for Beginners
It can feel overwhelming to get started with dehydrating your own backpacking meals. Try these easy DIY dehydrated backpacking meals and snacks to get started.
Tuna Pasta Salad (Cold Soak)
This is a great option for satisfying lunch on the trail. It's reminiscent of Suddenly Salad if you remember that brand from back in the day. Feel free to modify the vegetables that are in the recipes to suit your preferences.
Ingredients:
Pasta, cooked al dente
Carrots, diced
Celery, diced
Onion, diced
Peas, frozen
Mayo packets
Tuna pouch
Pro Tip: When selecting pasta for dehydration, choose shapes that don't have sharp edges, such as elbow macaroni or penne.
Dehydrate the ingredients as follows, noting the different temperatures. All dehydrating times are approximate. Check to see if they are dehydrated and go longer, if needed.
Pasta: 135F for 2-4 hours
Veggies: 125F for up to 8 hours
On the trail, add cold water just to the top of the pasta. If you plan to eat this for lunch, do this step in the morning. Seal the pouch, shake it and store it upright in your bag. When you're ready to eat, stir the contents and check the water level. If there is excess water, disperse it using Leave No Trace principles. Then, add a pouch of tuna/ chicken and 2-3 mayo packets.
Hummus & Pita (Cold Soak)
This might be the easiest DIY dehydrated backpacking meal or snack option around!
Ingredients:
Store-bought hummus, any flavor (avoid any with extra oil on top)
Pita or pita chips
Spread the hummus onto one or several of the silicon tray liners. Make sure it is a thin layer. Dehydrate at 135F for about 8 hours. For the best consistency, grind the dried hummus in a spice grinder and then store it in a ziploc bag or mylar pouch. On the trail, just add water and knead it until it's fully rehydrated. Consider adding a few drops of oil if you choose to carry some on the trail.
Pro Tip: If rehydrating the hummus in a ziploc bag on the trail, cut the corner off and squeeze it onto the pita to minimize the mess!
Thai Green Curry with Chicken and Rice
This meal is delicious and the sauce is entirely made of dry ingredients, making it super simple to prepare. Again, the veggies can be swapped out based on your preferences. Unfortunately, this recipe does have nuts for those who have an allergy.
Ingredients:
½ cups cooked long-grain rice (Jasmine, White, Basmati)
6-7 oz canned chicken (about ½ 12.5 oz can)
Carrots, diced
Green or red peppers, diced
Mushrooms, diced
Peas, frozen
1T peanut butter or almond butter powder
½t Thai green curry powder (I used closer to 1t)
½t Salt
1 packet True Lime
Some of these ingredients may not be cost effective for everyone, but they are all items I will use in other meals at home so I didn't mind purchasing them.
The only two items in this recipe that need to be dehydrated are the rice and chicken. Before dehydrating the chicken, strain it and rinse it with cold water to remove excess fat or oil. Shred the chicken into small pieces to ensure adequate dehydration.
Rice: 125F for about 5 hours
Canned Chicken: 145F for about 8 hours
Pro Tip: To make portion sizes easier to estimate, I look at the quantity of food before it's dehydrated and put approximately one serving of what I would normally eat on one tray (or on half a tray). So, if I plan to eat half a can of chicken with each meal, I put half a can of chicken on a tray. This takes the guesswork out of assembling the meals.
Measure all the dry ingredients into your storage pouch and add in a serving of rice and chicken. On the trail, fill the container just above the food line with boiling water. Seal it and let it sit for 20 minutes. Stir well and enjoy!
Beef Roast with Mushrooms and Mashed Potatoes
This was hands-down my favorite dehydrated backpacking meal I created and it was relatively easy. The hardest part was finding a good marinade to use. The original recipe I found called for "sweet maui and onion" marinade, which I couldn't find. So I went with similar flavors with what I could find. Any marinade will work if it's relatively low sugar and fat.
Ingredients:
Sirloin roast* (2-3 pounds will make several meals)
Mushrooms, sliced
Onions, chopped
Sauce for marinade (I used sweet onion salad dressing mixed with Kalbi marinade)
¼ – ½ cup Instant mashed potatoes (measure to your preference for a serving)
*Sirloin roast is recommended because it's a lower fat option and you want to avoid fats/ oils in dehydrated meals. However, sirloin roast can be difficult to find. Any cut of roast will work but look for a cut with as little fat as possible.
Sear the roast using minimal oil to lock in the moisture. Place the roast, mushrooms, and onions into a slow cooker with whatever marinade you choose. Cook it on low for 8-12 hours until it is easy to shred and the liquid is relatively thick. If the roast is ready but the liquid is still watery, transfer the liquid to a pan and let it reduce on low-medium heat. This just makes it easier and faster to dehydrate.
Shred the meat into small pieces and place approximately one serving of the roast (with mushrooms, onions and thick sauce) onto each tray. Dehydrate at 160F for about 8 hours or until complete.
Measure out the gravy powder and instant mashed potatoes into each container. Add one tray (which is about 1 serving) of the roast and vegetable mixture and seal the container. On the trail, fill the container just above the food line with boiling water. Seal it and let it sit for 20 minutes. Stir well and enjoy!
Orange Chicken and Rice
This recipe originally called for "honey garlic" sauce, which I couldn't find anywhere. So, I adapted it using something similar that sounded good – orange sauce.
Ingredients:
½lb chicken, diced (or 6-7 oz of canned chicken)
½ cups cooked long-grain rice (Jasmine, White, Basmati)
½ container of store-bought sauce (honey garlic, orange, szechuan, etc)
Carrots, diced
Green peppers, diced
Onion, diced
Green beans, frozen and chopped
Peas, frozen
If you choose to use fresh chicken, cut it into small pieces and saute it on medium heat with a small amount of oil. If needed, cut the pieces smaller after cooking. Add the vegetables to the pan until just cooked and then add the sauce. Reduce down until thick.
If you choose to use canned chicken, drain it and rinse it with cold water before shredding it into small pieces. Because the chicken is already cooked, start by sauteing the vegetables in a pan over medium heat with a small amount of oil. When cooked, add the shredded chicken and sauce. Again, reduce down until thick.
Dehydrate:
Rice: 125F for about 5 hours
Chicken and vegetable mixture: 145 for up to 8 hours, or until complete
Add one serving of rice to each container, then top with one serving of the chicken and vegetable mixture. On the trail, fill the container just above the food line with boiling water. Seal it and let it sit for 20 minutes. Stir well and enjoy!
Pro Tip: If you want to make your own version of the honey garlic sauce from the original recipe (since it wasn't on grocery shelves in the US), try this. Add 1T cornstarch to ¼ cup water in a pot and mix well. Add ½ cup honey, 4 cloves crushed garlic, 2T soy sauce and ginger (optional). Bring to a gentle boil.
Homemade Dehydrated Backpacking Meals Made Easy
Is dehydrating your own backing meals more time consuming? Yes, but for me it's totally worth it to have meals I love on the trail. Have fun experimenting with your own homemade dehydrated backpacking meals!
Related content to read next:
Superior Hiking Trail Packing List: A Prepared Girl's Guide
12 Simple Steps to Create a Superior Hiking Trail Backpacking Food Plan
Best Beginner Backpacking Trips in the USA
Check out my Minnesota travel page for even more inspiration and tips!
Did you find this article helpful? Save it for later or share it on social media!