For months, I had been longingly scrolling through images of the Apostle Islands on Facebook and Instagram. I was mesmerized.
The iconic granite cliffs and pebbly beaches of Minnesota's rugged north shore of Lake Superior were a far cry from what I was seeing in these pictures. Could this really be the same Lake Superior I know and love? I had to see it for myself and this time I wouldn't need my hiking boots.
And just like that, I was off to kayak the Apostle Islands sea caves.
Disclosure: This post contains affiliate links. That means that if you purchase through a link, I may receive a small commission at no extra cost to you. For more info, visit this page.
Lake Superior: A Tale of Two Shorelines
The north and south shores of Lake Superior are best described as a list of contradictions.
Granite rock vs. sandstone. Pebbly beaches vs. sandy beaches. Hiking vs. kayaking. Minnesota vs. Wisconsin. Much like the Twin Cities of Minneapolis and St Paul, the north and south shores of Lake Superior are wildly different. Both are beautiful, but for those who prefer to adventure on water, the south shore is the place to be.
Sea Caves on Lake Superior?!
Before explaining why there are sea caves on a freshwater lake, it's important to grasp the enormity of Lake Superior.
It's the largest freshwater lake in the world by surface area. That's more than the area of Vermont, Massachusetts, Rhode Island, Connecticut, and New Hampshire combined! In fact, it holds more than 10% of the freshwater supply on the entire planet.
With its size comes a whole host of unique characteristics. Like, the fact that the lake can create its own (somewhat unpredictable) weather patterns! The mechanical motion of the waves created from these weather patterns has caused erosion of the sandstone cliffs found along the mainland and on the glacially formed islands in the Apostle Islands National Lakeshore. Over time, this erosion has resulted in the formation of sea caves.
So, yeah, sea caves can exist on freshwater lakes!
Why Kayak the Apostle Islands Sea Caves?
Apostle Islands National Lakeshore is home to 22 islands and more than 500 square miles of Lake Superior and the shoreline. The islands vary from commercialized to uninhabited, making this an amazing place to explore by kayak and camp.
Madeline Island, a popular tourist destination, is one of the 22 islands and the only island that is commercially developed. However, although it is located within the national lakeshore boundaries, it is not designated as part of the National Park Service.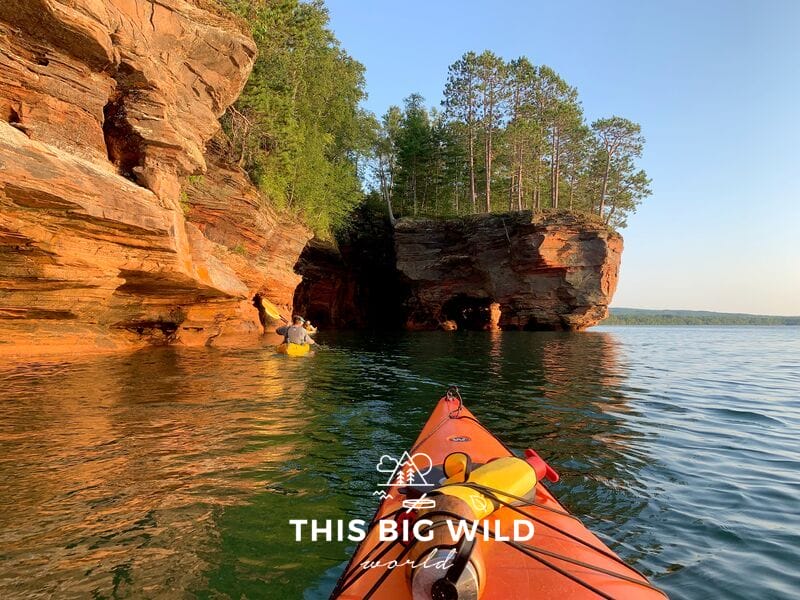 Breathtaking Scenery
There is something truly magical about the wide open, seemingly endless, crystal blue water on Lake Superior. Jutting dramatically out of the crystal blue water are the red sandstone cliffs topped with old-growth forest. The colors are unimaginably vivid. For a rare moment, I was genuinely speechless.
Pro Tip: Visit during the winter to see the sea caves transformed into ice caves! Before you visit, check the conditions to ensure the ice is thick enough to visit them safely.
Incredible Camping
There are more than 30 campsites throughout Apostle Islands National Lakeshore. Imagine paddling all day and coming back to watch the sunset from your lakeside campsite. Ah, relaxation!
Pro Tip: Reserve yours Apostle Islands campsite in advance as they fill up quickly. Permits are required.
Diverse Wildlife
The Apostle Islands have over 800 species of plants and are heavily forested with fir, cedar, pine and aspen trees. Also, it is believed that the largest concentration of black bears in North America roam the islands!
Pro Tip: Know what to do in the event of a bear encounter with my complete guide of bear safety tips!
Native American History
The land was originally discovered by the Ojibwa people who found much success in agricultural innovations in the area. Today the land is still a cultural and spiritual place of significance to the Ojibwe and other Native American tribes.
Apostle Islands Kayak Tours
With 22 islands and miles of shoreline, there are endless places to explore by kayak. The most popular places to kayak the Apostle Islands sea caves can be found near Mawikwe Bay, on the mainland, as well as on Sand Island and Devil's Island.
Unless you are a seasoned kayaker, I strongly recommend going on a guided daytrip or multi-day tour (see more under safety). The US National Parks Service has a list of the Apostle Islands kayak tours and outfitters that they partner with, though there are many more to choose from.
The key differentiation when selecting an Apostle Islands sea caves kayaking tour company is their location, commitment to building wilderness survival skills, and quality of the guides. I've chosen three to highlight below, one from each of the primary launch points for kayaking the islands.
All tour companies should provide a safety briefing at the shoreline prior to launch.
Pro Tip: Tours tend to include a two seated kayak as the standard for safety reasons. If you are traveling solo or prefer to paddle solo, contact the tour company to find out about other options.
For seasoned kayakers, kayak and gear rentals are available at all of these outfitters.
Lost Creek Adventures | Cornucopia, WI
Launch Point: Multiple, Meyer's Beach (primarily)
Lost Creek Adventures ticked several important boxes for me. They are committed to teaching their guests outdoor and wilderness survival skills and they have highly trained and experienced guides. In fact, their guides are all trained with the American Canoe Association! My guide had decades of paddling experience on Lake Superior in addition to a long career in game and wildlife conservation. There was no doubt that I was in good hands.
Located in Cornucopia, Wisconsin, they are the closest outfitter and tour company to the mainland sea caves (about 10 minute drive). They offer half day Apostle Islands sea caves kayaking tours (approx 3.5 hours), full day tours, and multi-day camping and kayaking tours. I wish I had been there one day earlier to go on their full moon kayak!
Pro Tip: Reserve a spot on the last tour of the day to enjoy golden hour lighting on the rock formations. It'll feel almost like you have the entire lake to yourself.
If you're newer to kayaking or have never paddled on open water, I recommend the half day tour. This is about a 5 mile round trip route to the mainland sea caves. The caves range from deep crevasses lined with mossy growth to golden sandstone arches. The views of the shoreline are incredible!
Customer Service Win
I went on this trip very last minute (about two days' notice). Lost Creek Adventures had no tour reservations available during my visit. So, I called them and explained the situation. They went above and beyond to find a way to get me on the water.
So, don't be me. Book your tour in advance but expect great customer service from Lost Creek Adventures! [Also, this was not a sponsored experience.]
Trek & Trail | Bayfield, WI
Launch Point: Multiple, Meyer's Beach
Trek & Trail has been in operation for more than 30 years. Their office is conveniently located right next to the Madeline Island Ferry dock in downtown Bayfield. They offer half day, full day and multi-day guided tours as well as instruction and safety courses to build your confidence on the water.
Pro Tip: Pricing for their half day tour does not include a shuttle from their office in Bayfield. This means you'll have to find and pay for parking near the launch point.
Trek & Trail uses several different launch points, including Meyer's Beach. Note that their office in Bayfield is about a 25-30 minute drive to Meyer's Beach.
Adventure Vacations | Madeline Island, WI
Launch Point: Barrier Beach at Big Bay State Park
Adventure Vacations is uniquely located on Madeline Island, which is accessible by ferry from nearby Bayfield, Wisconsin. So, unlike the other two tour companies I've mentioned, their tours primarily explore the sea caves on the island and not the mainland.
Pro Tip: The launch point is about seven miles from their storefront in the town of La Pointe and no shuttle service is provided. So, be sure to have a car or rent a bicycle to get to the launch point.
They offer half day Apostle Islands sea caves kayaking tours, boat tours, boat taxis to nearby islands, and hiking tours around Madeline Island.
Know Before You Go
Parking is available at both Meyer's Beach and Little Sand Bay. Be sure to pay at the kiosk. There is no electronic payment option, so bring cash or write your credit card number on the slip provided.
Pro Tip: If you plan to launch your own equipment, note that Meyer's beach has about 20 or more steps down to the shoreline.
Parking lots will fill up during peak times and especially on weekends. So, get there early. Alternatively, many tours will allow you to park at their office and provide a shuttle to the launch point.
Rangers are available during daytime hours at both parking lots. They are a great resource to check conditions on the water.
Safety Risks & Tips
Before you kayak the Apostle Islands sea caves, it's important that you understand the risks and take necessary precautions. Guided kayaking tours will also provide a safety briefing and necessary safety gear.
Rapidly Changing Weather
Looks can be deceiving on Lake Superior. A sunny day with calm water can rapidly evolve into stormy sky with waves. Rebounding waves off of the cave walls create a unique risk when kayaking the Lake Superior sea caves.
Guided tours should provide a skirt to keep water out of your kayak and brief you on how to safely flip back over should your kayak get overturned due to rough water.
Lake Superior is cold. Like, really cold. Sadly the water temperature is rising several degrees over the long term average but it's still only around 70F at its warmest in late summer (mid-August). Should you capsize and end up in the water, hypothermia is a real risk especially if kayaking early or late in the season.
Pro Tip: It may be hot on the mainland, but once you're out on the open water, the temperature drops. I recommend wearing one layer more than is comfortable on the mainland.
Black Bears
Did you know that black bears can swim up to a mile and a half in freshwater? Yeah, let that sink in for a moment. If you plan to stay overnight on one of the islands, be prepared with all of the necessary bear safety gear. Plan your trip with my complete list of bear safety tips!
Recreational Boaters
Recreational boating is popular in Lake Superior and along the Apostle Islands National Lakeshore. Both glare from the sun and cloudy conditions can make it difficult for boaters to see kayakers in the water.
Pro Tip: Wear brightly colored clothing or a hat to increase your visibility. If you have the option, grab colorful paddles and life vest as well.
Access to Emergency Services
One of the best things about kayaking the Apostle Islands sea caves is that it's remote and peaceful. But, that also means emergency services take longer to reach you.
From the National Park Service website:
"[We] will make reasonable efforts to respond in emergency situations, but the lake IS the boss. So be careful out there, because maybe we can save you, and maybe we can't."
For more safety tips from the National Parks Service website, check out their paddling guide.
Are You Ready to Kayak the Apostle Islands Sea Caves?
Apostle Islands sea caves kayaking has quickly become one of my favorite adventure getaways from Minneapolis. While there's plenty to explore in the Apostle Islands, you can easily add on some adventures in Duluth or a number of the incredible Minnesota state parks.
Related content to read next:
Daytrip to Minnesota's North Shore
10 Outdoor Adventures for Your Minnesota Bucket List
Check out my Minnesota travel page for even more inspiration and tips!
Did you find this article helpful? Save it for later or share it on social media!