When most people think of Shakopee Minnesota, they probably think of casinos, horse racing, and roller coasters. But, what if I told you there's also an outdoorsy and delicious side to this town?
Just a short drive from Minneapolis and St Paul, Shakopee has an adorable downtown, some unexpectedly delicious restaurants, great shopping, and awesome trails to explore. Honestly, I was blown away by how much fun there is to have in Shakopee!
Plan your day trip or weekend getaway with these 15 fun and outdoorsy things to do near Shakopee MN!
Disclosure: This post contains affiliate links. That means that if you purchase through a link, I may receive a small commission at no extra cost to you. For more info, visit this page.
Where is Shakopee Minnesota?
Shakopee is located less than 30 miles southwest of Minneapolis, making it the perfect getaway for the day or a weekend.
Downtown Shakopee is located right on the Minnesota River, which flows north from here eventually joining the Mississippi River in Fort Snelling State Park. The city's location along the river provides convenient access to hiking and biking trails all throughout the Minnesota River valley.
It's easy to overlook Shakopee as a destination, in favor for the lakes and trails up north in Minnesota. However, you may be surprised to find out how many outdoor adventures and delicious restaurants there are in this hidden gem just outside of the Twin Cities!
Best Hotels Near Shakopee MN
Because of attractions such as Mystic Lake Casino, Canterbury Park and Valleyfair, Shakopee has all the main chain hotels, including the Fairfield Inn & Suites, Holiday Inn Express and Hampton Inn.
All three of these hotel chains offer a lot of the same amenities – indoor pool, fitness center, free parking, continental breakfast, free wifi, in room refrigerator and microwave, etc. Also, all are located in very close proximity to each other. So, below I am highlighting what is unique to each property to help you decide which is best for you!
I don't typically recommend chain hotels, however in this area these really are the best option aside from an Airbnb if you have a larger group and/ or want to have your own kitchen.
Fairfield Inn & Suites
Out of the three chain hotels, the Fairfield Inn & Suites has the most modern but comfy finishes. Also, after a long day of exploring, login to your favorite streaming service through the TV to watch your favorite shows in the comfort of your room!
Fairfield Inn is part of Marriott, so you can earn Marriott Bonvoy rewards points with your stay.
// Check prices and read reviews on this property!
Holiday Inn Express Shakopee
The most notable thing that sets Holiday Inn Express apart from the others is the fresh cinnamon rolls included with breakfast every day!
Holiday Inn Express is part of the IHG rewards program.
// Check prices and read reviews on this property!
Hampton Inn Minneapolis/ Shakopee
For years I traveled extensively for business and Hampton Inn was always a solid choice, plus I loved earning Hilton Honors points. This property looks consistent with my past positive experiences with Hampton Inn.
// Check prices and read reviews on this property!
Best Outdoorsy & Delicious Things to Do Near Shakopee Minnesota
Shakopee is one of those outer tier suburbs that gets often overlooked. Prior to this visit I didn't think of it as a destination for anything other than the casino, the horse track and the amusement park. I'm so glad I got a chance to explore and discover these fun things to do near Shakopee!
1 | Take a stroll (or a free fitness class) at Huber Park.
Located right in downtown Shakopee, Huber Park is a great place to stop for walk or to join a free fitness class! The classes include Zumba, kickboxing and more. Check out the full schedule here. Reservations aren't required.
The park has free parking and is just a short walk to the shops and restaurants in downtown.
Pro Tip: From June through August, there is also free family entertainment at Huber Park on Thursdays!
2 | Pedal along the Minnesota Valley State Trail.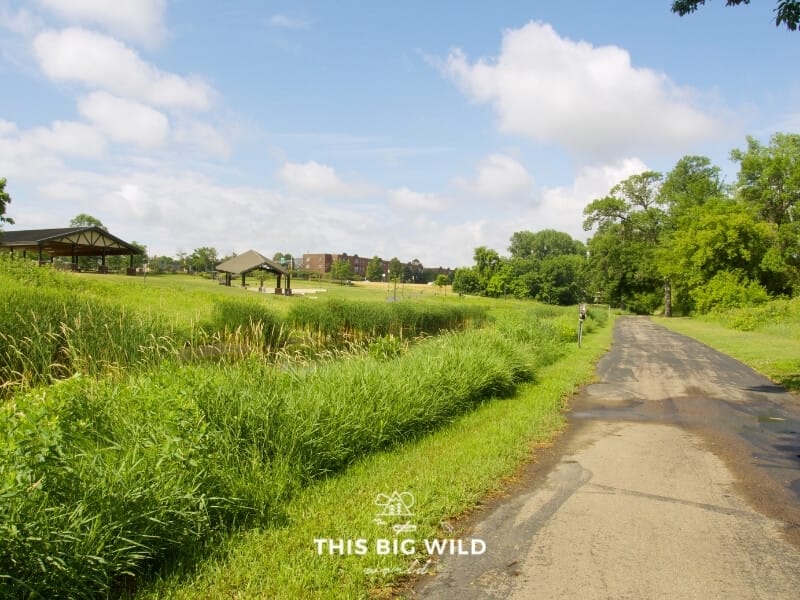 From Huber Park, you can hop on the Minnesota Valley State Trail. This section of the 29 mile trail is paved and stretches for 9.8 miles from Chaska to the eastern end of Shakopee. So, whether you prefer to bike or walk, take your time and enjoy the wildlife and views as you follow the Minnesota River.
Pro Tip: Need repair or maintenance on your bike? Stop in at Paul's Bike Shop in downtown Shakopee! It's a short walk from Huber Park.
3 | Explore the wetlands at Minnesota Valley State Recreation Area.
If you love wetlands, this place is for you! In fact, in some places the Minnesota River Valley is up to 5 miles wide! Originally formed by a glacial river, this area is home more than 40 miles of hiking trails as well as beavers, raccoons, migratory birds, deer, red and grey fox and more.
I recommend hiking the 3.3 miles out-and-back Hiking Club Trail, which is located in the Lawrence Unit of the park in nearby Jordan. To access the Trail Center, go to the parking lot located at 20262 Park Blvd in Jordan. Alternatively, just down the road from the Trail Center, you can access the other end of the trail at the S.B. Strait House. There are only 2-3 parking spots there, so if those are full continue on to the Trail Center.
If you are doing the Minnesota State Park Passport Club, grab your stamp at the Trail Center near the maps.
Pro Tip: Because this terrain is wetlands and floodplains, the trail is often muddy and wet. Wear shoes that can get muddy!
4 | Pick up something beautiful at Farmhemian.
Be sure to stop at this adorable shop in downtown Shakopee. It started as a pandemic project between two friends! Inside Farmhemian you'll find beautiful, but affordable, farmhouse-meets-bohemian style jewelry, candles, home goods and more.
5 | Eat delicious tacos at Bravis Modern Street Food.
Ok, I'm going to be bold and say that these are the best tacos I've had in the Twin Cities area. Seriously, the food here is so delicious!
The menu features street tacos, nachos, and burritos among other items. There are three different salsas: green chile, spicy and smoky guajillo. The green chile comes standard with the tacos but if you ask, they'll give you the others to try! I loved the smoky guajillo salsa, but they are all delicious.
Pro Tip: Try the chicharrones taco and thank me later!
Bravis Modern Street Food is a small restaurant with just a few tables indoors and outdoors. Be prepared to wait for a table. If you want to avoid a wait, try visiting outside of peak meal times. Trust me, though, it's worth the wait!
6 | Browse the Native American jewelry and goods at Shakopee Trading Post & Gallery.
Shakopee has had and maintains strong ties to the Dakota people. A visit to the area isn't complete without spending some time learning about the Dakota people and culture. Shakopee Trading Post & Gallery has an incredible selection of authentic Native American arts and crafts, including jewelry, stones, dolls, dreamcatchers, pottery and more.
The owner of the store was very knowledgeable on where the items are sourced, the tribes they are associated with and the significance of the designs. Take your time to appreciate the variety of items available here and don't hesitate to ask questions!
7 | Sip a local craft beer at Shakopee Brewhall.
Treat yourself to a local craft beer between adventures at Shakopee Brewhall. It's located in downtown Shakopee and has a great selection of beers on tap. If beer isn't your thing, they also feature locally made kombucha!
This dog-friendly establishment has indoor and outdoor seating. While they don't have a kitchen of their own, they do partner with several local restaurants to have food delivered to you while you sip your beer. Bravis Modern Street Food and the popular bar next door, Turtle's, both are on the list of restaurants that deliver here!
8 | Hit the driving range at The Meadows at Mystic Lake.
Grab your clubs and check out the beautiful driving range at The Meadows at Mystic Lake Casino. The driving range is open from 7a-7p and, while you can walk in, they do recommend calling ahead to verify hours and availability.
Pro Tip: The driving range has a beautiful view of the sunset, so consider visiting late in the afternoon or early evening to enjoy the view while you practice your swing!
After you're done on the driving range, stop into Mystic Lake Casino to check out the spa, restaurants, slots and table games. There's something for everyone!
9 | Get a taste of Louisiana at Cajun Deli.
Who knew that Shakopee is home to some absolutely delicious Cajun food?! Seriously, Cajun Deli is a true hidden gem tucked away in an unassuming shopping plaza. The menu features all the best tastes of Louisiana, including seafood boil and an assortment of fried fish and seafood.
If you've not tried a boil before, you're in for a treat. The seasonings they use on their boil are incredible. Give the 'mix' seasoning a try for a combination of all their best flavors. Both boils and fried food are ordered by the pound. If you're not sure how much to order, they can help you decide. For instance, expect to get around 15 crawfish in a 1 pound order, plus potato and corn.
Pro Tip: Ask for a bib so that saucy deliciousness doesn't splatter on your clothes!
10 | Ride the roller coasters at Valleyfair.
Get ready to scream your heart out and hold on tight! Valleyfair has rides and fun for all ages. If you prefer more traditional roller coasters, don't miss the Corkscrew, Excalibur, Wild Things and Renegade. If you're looking for a unique experience, be sure to ride Steel Venom! In just 4 seconds, Steel Venom shoots you forward up a 185 foot corkscrew at almost 70 miles per hour before reversing back down and up another corkscrew backwards. There's seriously no bad seat on this ride!
On those hot Minnesota summer days, cool off on the water-based rides such as The Wave and Thunder Canyon. If you want more water-based fun, you can pay an extra fee to visit the Valleyfair's waterpark called Soak City.
11 | Sip a hard seltzer (or beer) at Badger Hill Brewing.
Badger Hill Brewing's outdoor patio has an awesome view of the rollercoasters at Valleyfair. In fact, you can even hear the distant screams coming from some of the biggest rides! So grab a beer or a hard seltzer, sit back and enjoy the view. They even have low carb Gray Duck seltzers!
Pro Tip: Badger Hill hosts special events such as trivia nights, meat raffles and more. Visit their website for a schedule of upcoming events!
12 | Minnesota's Largest Candy Store
Whether you are in the mood for candy, baked goods, puzzles or just some nostalgia, Minnesota's Largest Candy Store literally has it all. Don't miss the locally made apple strudel, the extensive assortment of taffy and the impressive selection of uniquely flavored bottled soda.
The store is almost always busy, so allow yourself time to explore. There is almost always space available in the parking lot, even when the store is crowded.
Pro Tip: Only cash or check are accepted for payment, but there is an ATM available onsite.
13 | Ride the ziplines at Sand Creek Adventures.
Did you know there is ziplining near Shakopee? Yep, Sand Creek Adventures offers ziplining through the forest in nearby Jordan, Minnesota. There are three different ziplines that take you down into a small canyon. Each zipline is unique and different!
The friendly staff will be with you throughout the experience to make sure you stay safe and have a great time. All of the necessary gear is provided!
Pro Tip: Be sure to wear shoes that fit your feet securely so they don't fall off while ziplining.
14 | Hike or mountain bike through Murphy-Hanrehan Park Reserve.
Designated an Important Bird Area by the National Audubon Society, Murphy-Hanrehan Park Reserve is a great place for birdwatching, hiking and mountain biking.
Parking is available at the Main Trailhead. From here you can access both hiking and mountain biking trails. Find the hiking trails on the opposite side of the bathrooms from the parking lot.
The park has over 18 miles of hiking trails to explore, but you can choose a route that suits your needs. The shortest loop is the 2 mile Knob Trail, which has some hills and uneven terrain but is well-marked.
Pro Tip: Take a photo of the trail map at the parking lot. Each intersection on the trail is marked with a number that corresponds to the map so it's easy to follow along.
15 | Grab coffee and ice cream at Coffee Ta Cream.
This coffee shop is hidden away in a mostly empty strip mall, but has an awesome selection of coffee, locally sourced ice cream and locally sourced goods such as candles and other gifts. It's well worth a stop at Coffee Ta Cream whether you're looking for a boost of caffeine or a sweet treat (or both)!
Are you ready to visit Shakopee Minnesota?
Shakopee is a place I overlooked for years! Located just a 30 minute drive Minneapolis, it's a no-brainer for an afternoon with girlfriends, a day trip or even a weekend getaway. I'm already thinking about a return trip for more tacos from Bravis Modern Street Food!
Related content to read next:
How to Avoid Getting Eaten Alive by Mosquitoes & Ticks (for Hikers!)
20 Essential Outdoor Adventure Safety Tips
Check out my Minnesota travel page for even more inspiration and tips!
Did you find this article helpful? Save it for later or share it on social media!