We all head into nature for different reasons. To connect with nature. To disconnect from the busy lives we lead. To challenge ourselves. And some of us go for the thrill.
Whatever your reason for hiking these trails, I think we can agree that the general goal is to come home safely. So, I'm not writing this list of the most dangerous hikes in the US to encourage you to head out into the woods with reckless abandon. Instead, my intention is to share the real risks you may encounter and tips to manage those risks.
Disclosure: This post contains affiliate links. That means that if you purchase through a link, I may receive a small commission at no extra cost to you. For more info, visit this page.
Most Dangerous Hikes in the US
Danger is a relative term. Something that feels dangerous to me may not feel dangerous to you. And, when it comes to hiking, there are so many different types of danger.
So, I've assigned a Relative Danger Rating for each hike. This rating is based on the following factors:
Remoteness: Access to emergency services, typical trail traffic
Weather conditions: extreme heat, extreme cold, rapid changes in weather, prone to flooding
Ease of navigation: trail marking
Frequency of reported fatalities and injuries
The Relative Danger Rating is a three point rating scale:
Moderate: Risks can be managed if precautions are taken.
High: Risks can be lessened if precautions are taken.
Severe: Risks can be lessened if precautions are taken. Notable uncontrollable risks exist.
So what made the list of the most dangerous hikes in the US?
Hiking Safety Tips
Before we jump into the list, let's touch on a few hiking safety basics. First, make sure you bring the ten hiking essentials with you. These are called essential for a reason!
Second, is to arm yourself with knowledge of common risks you may encounter in the outdoors. These 20 outdoor adventure safety tips cover common risks and what to do about them!
Kalalau Trail | Kauai, Hawaii
Relative Danger Rating: Severe
Risks: Slips/ falls, flash floods, unpredictable weather, limited access to emergency services
The 11 mile Kalalau Trail wraps around Kauai's beautiful Na Pali Coast. At the end, hikers are rewarded with one of the most incredible beaches I've ever seen – Kalalau Beach. But, getting there, is not for the faint of heart.
The Kalalau Trail wraps around the northwest corner of the island, which makes it susceptible to unpredictable and rapidly changing weather. I started the hike with the sun shining, by dinner it was raining and by morning we were drenched.
Along the trail are six stream crossings to navigate. These are prone to flashfloods, even with moderate amounts of rain. Fatalities have been reported due to hikers attempting to cross the streams during flashfloods.
Pro Tip: Bring enough food and supplies for an extra day or two. There is NO way to get back to the trailhead, even by helicopter, unless you are seriously injured. Even then, emergency services are likely hours away from reaching you.
Which brings me to my second point, which is that the Kalalau Trail is remote. The only way to set foot on Kalalau Beach is to hike there. Boats and helicopters are not allowed to access the beach.
So, the last risk is a big one. It could be a deal breaker for some.
Ledges.
Around mile 7 is the dreaded Crawler's Ledge. It's appropriately named because I did, in fact, have to crawl up and over a portion of it. It's about a 50 foot long ledge, about 18 inches wide, and covered in loose dirt. Oh yeah, and there's a steep rocky drop off straight into the ocean. Remember, you're doing this with a full pack of camping gear on your back!
While Crawler's Ledge is the most often mentioned ledge on the trail, I actually found the section shortly afterward even more dangerous. The trail crosses a steep slope covered in pebbles that drops off into the water. Foot placement was critical here, so be prepared to take your time.
Pro Tip: Bring a water purification device like this one, which includes a prefilter. There are many streams to fill up your water bottle, but there is a risk of leptospirosis if the water is not treated. Note that filtration alone does not remove leptospirosis!
I say all of this not to scare you but to be honest. Before I hiked the Kalalau Trail, I read several articles and talked to people who told me it's not that bad. And it's not… on a sunny day for a well prepared and experienced hiker. If you want to hike the Kalalau Trail, take the time to prepare not just for the hike but for the unexpected things that could happen.
While the Kalalau Trail may be one of the most dangerous hikes in the US, it also might be one of the most beautiful!
Check prices on places to stay in Kauai.
Mist Trail | Yosemite National Park, California
Relative Danger Rating: Severe
Risks: Fall from height, slips/ falls, dehydration
The Mist Trail up to Half Dome is found in California's majestic Yosemite National Park. The approximately 14.2-mile trail begins in Yosemite Valley and winds its way up to the summit of Half Dome, gaining about 4,800 feet in elevation along the way. The average hiker will need about 10 to 12 hours to complete the hike there and back. While it is considered one of the most dangerous hikes in the US, it also happens to be one of the most rewarding.
The Mist Trail is a challenge right from the start with a very steep section leading up to a footbridge at the base of Vernal Falls. Beyond this footbridge, the trail gets dangerous. Hikers will climb their way up a long, steep section of granite stairs alongside Vernal Falls. This section of the trail is especially dangerous because you are being sprayed with mist from the waterfall as you make your climb. These stairs are extremely slippery and often uneven, so caution is needed.
Pro Tip: Yosemite is home to a large population of black bears. Create your bear safety plan before you hit the trail using my guide to hiking in bear country!
Beyond the falls, you'll continue towards the base of Half Dome via several miles of switchbacks. Once past this exhausting section of switchbacks, the Mist Trail becomes dangerous once again. Hikers must make their way over the remaining granite Sub-Dome section by climbing up and over rocky and steep surfaces. This will often require the use of your hands as you guide yourself over the uneven surfaces.
After the Sub-Dome, you'll find yourself staring up at the ominous cable section. The famous Half Dome cables assist hikers with scaling the remaining 400 feet to the summit. Many hikers will begin the climb up only to turn right back around and return to safety. The cable section is not for the faint of heart or anyone with a fear of heights. Those attempting the cables will quickly realize there is nothing to break your fall should you slip or lose your grip. That said, those that survive the cable climb will be immensely rewarded with stunning views of the surrounding mountains and valleys.
To complete the Mist Trail safely, I recommend an early start around sunrise to ensure you get back before nightfall. Bring a flashlight or headlamp just in case. You also need to wear shoes with good traction for the section of slippery stairs alongside Vernal Falls.
Pro Tip: If you're nervous about the cable section, consider bringing a rock climbing harness and carabiners. This will allow you to clip yourself onto the cables as you make your way up the dome. The harness is not necessary but adds an extra element of safety.
Finally, bring lots of water. You'll be hiking all day and you do not want to run out while attempting one of the most dangerous hikes in the US!
Check prices on places to stay near Yosemite.
Contributed by Eden from Rock a Little Travel. | Instagram
Want a safer way to enjoy the beauty of Yosemite? Here's where you can find the best views in Yosemite!
Bright Angel Trail | Grand Canyon National Park (South Rim), Arizona
Relative Danger Rating: High
Risk: Heat stroke, dehydration
Bright Angel Trail is not the steepest trail in the Grand Canyon. At ten miles, it's not the longest. It's also not the narrowest, nor the most exposed, and it requires no route-finding. In fact, it's the most maintained and monitored trail in the park. There are three opportunities to fill up water, and ranger stations greet hikers halfway down at Indian Garden and again upon arrival at Phantom Ranch, where you can refuel with a hot meal.
And yet, some time spent exploring Kenneth Field's slightly morbid interactive map of deaths in the Grand Canyon unveils that most incidents occur in the corridor, often due to cardiac arrest from heat stroke or dehydration. What makes Bright Angel one of the most dangerous hikes in the US is that it's the most accessible.
The trailhead begins behind Kolb Studio, a central location in the Village that does not require a car or confusing shuttle to reach it. One can simply walk onto the trail on a whim, and people often do without asking for advice.
A friend told me he saved a fellow hiker who only brought one plastic water bottle and some oreos. A coworker shared how an unprepared couple walked many miles down thinking it was the way to check in for Bright Angel Lodge (which is on the rim). This past winter, one of the most brutal we've had in recent years, I often saw hikers embarking on the icy path with nothing but flip flops or poorly-treaded tennis shoes, which might as well be snowboards. I advised guests I had the chance to speak to at the Transportation Desk that they should invest in microspikes and trekking poles, but many never swing by the desk or the Backcountry Office. I am grateful to those that do.
The amount of folks we needed to deter from starting their hike in the middle of the afternoon this summer taught me that our preventative tips are not yet common knowledge. Hikers may not realize the importance of starting early in the morning, preferably before sunrise, to avoid being on the trails in the worst heat of the afternoon. Or that we advise each person pack at least four liters of water, or that the South Rim is at 7000ft elevation which could cause altitude sickness for those coming from sea level. Sometimes folks don't realize how much they're sweating because it evaporates quickly in our dry climate, or that weather reports reflect what it feels like in the shade while the actual temperature in full sun might be as high as 130 degrees, or that rock radiates heat back out.
Even experienced hikers can get stuck in a bad situation if they overestimate their abilities; most rescues are actually for young men in their physical prime. The lesson Bright Angel teaches us is to never forget our respect for the Canyon or for Mother Nature, even on the "easiest" trail in the park.
Check prices on places to stay near the Grand Canyon.
Contributed by Claire from The Detour Effect. | Instagram
Angel's Landing | Zion National Park, Utah
Relative Danger Rating: High
Risks: Slips/ falls, dehydration
Angel's Landing in Zion National Park is known as one of the top hikes in the US, and also one of the most dangerous. In fact, since 2004, nine people have fallen to their death while hiking Angel's Landing. After much research on the risks, I decided to give it a try and turn around when I no longer felt safe.
The trail is 5.4 miles out-and-back with 1500 feet of elevation gain. The first two miles are not particularly technical, mostly concrete and switchbacks. So, enjoy the awesome views on this section! After a brief flat section, you hike up 21 short, but intense, switchbacks nicknamed Walter's Wiggles. At the top, with your heartrate up nice and high, you'll reach Scout Lookout. This is a great place to take a rest, have a snack and get a view of what you really came for – the last half mile of the hike. This is where the fun really starts!
The final ascent is on a narrow ridge with sheer 1000 foot drops in either direction. This single file section of the trail has chains for grasping in the hairiest areas. If you are afraid of heights, have vertigo or other coordination issues or are hiking in wet or icy conditions, please don't proceed. Particularly if you're terrified of heights, know your limits and don't put yourself or other hikers at risk. There are only two ways down when you're out on the ridge, so be prepared to hike back off yourself.
Pro Tip: There are NO chains at the end of the landing. With its angled surface and often windy conditions, take it slowly and stay low to the ground, even crawling on all fours if needed. This was the scariest part of the hike for me due to the wind, but I survived!
The hazard I was most worried about was other hikers acting irresponsibly. Taking selfies, doing handstands, and not yielding the right of way puts even experienced hikers at risk.
As you're scrambling on the ridge, don't gawk at the views. Focus 100% of your attention on your hand and foot placement and be aware of other hikers. There are plenty of landings on the ridge for you to take a rest and enjoy the scenery.
Pro Tip: While you may read advice to get in line before the first shuttle leaves the visitor center to beat the crowd on the way up, consider waiting until later in the day, especially if you're nervous about the final section. Late afternoon or early evening allows you to avoid the morning rush on the trail and the midday heat.
While there are very narrow sections of the trail later on, I found the first set of chains to be the most technical part of the hike. This section is on an angle and, even with hiking shoe son, the sandstone can be slippery. Expect for this to be one of the most crowded parts of the ridge.
Remember, this is one of the most dangerous hikes in the US. There's no shame in turning back at Scout Landing! The views are still amazing from this point and there will be plenty of people to talk to while you wait for your friend/family to finish.
Check prices on places to stay near Zion National Park.
Contributed by one of my travel friends, Lisa, and edited by me. Follow her adventures on Instagram.
Pro Tip: Looking for a less dangerous trail that still has incredible views? Check out the Observation Point Trail in Zion National Park instead!
Spooky Gulch | Utah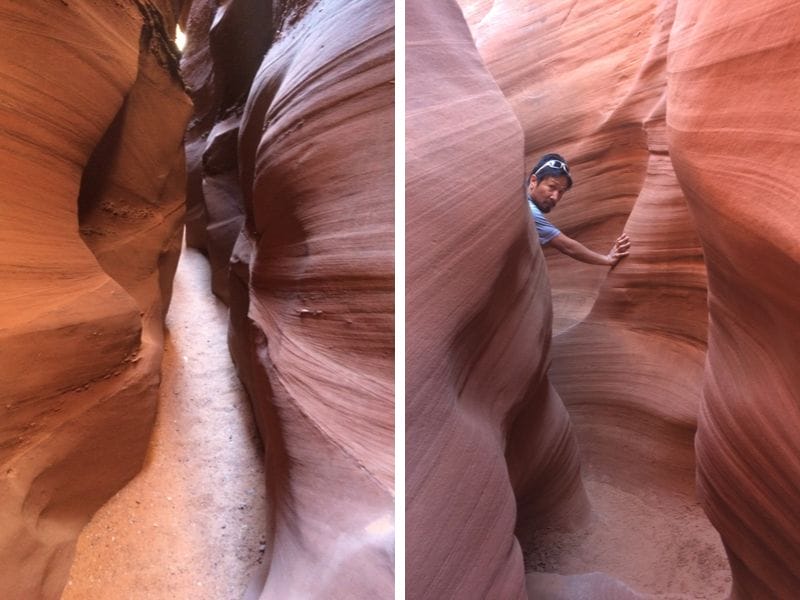 Relative Danger Rating: High
Risk: Flash floods, access to emergency services, dehydration
The washboard road seemed to rattled our every bone. My husband and I could see the glances from our three friends that we convinced to go with us. The glances said, "Where are you taking us?"
A plate flew out of the cupboard and shattered on the floor. The cupboards had good clasps but the road was just too much for it. We really should not have been driving a 25-foot RV on a road which was more suitable for high-clearance or 4WD vehicles.
"We can skip this hike if you want," one of our friends said.
We could see the doubt in their gazes and angst that the RV would hold up. Ahead all we could see was a flat plain filled with dust and low shrubs.
Eventually we parked with nothing new in sight. Together the five of us climbed out and walked down a dusty path.
After trudging ten minutes, we caught the first glimpse of the adventure ahead. It was as if the plain before us had been ripped open and created what is now called Dry Fork Gulch.
We hiked our way down to the bottom, some suggest rope for this decent, but it can be done without one. We made our way to the first slot canyon along the edge of the Dry Fork. It is called Peek-a-Boo Canyon and, as its name indicates, its narrow opening can be easy to miss.
We climbed up into the sandstone passage that gradually twists its way back up to the plain above. We climbed and squeezed our way through winding stone laughing when we got stuck and wiggling our way forward.
"AAAHHH!" Gene yelled.
"What was that?" I asked following not far behind.
"AAAHHH!" I yelled slipping down the same stone he just descended, "Oh, I see" I laughed before Gene had a chance to respond.
At the top we took goofy pictures that emanated from the pure giddy feelings of the hidden treasure we had just traversed.
After enjoying Peek-a-Boo, we followed the gulch to the next slot called Spooky Gulch. This has a large dark entrance that quickly narrows. Taking off our small day packs we squeezed sideways through the winding turns.
In places the canyons become very dark and the wavy stone surfaces cool to the touch. Some little scrambles are downright spooky.
At the end of the day our friends clapped and exclaimed thanks for the day. It became the highlight of our Utah exploration.
While this remote treasure is a blast to traverse it can be very dangerous due to the risk of flash floods.
Pro Tip: Be sure to check the weather report for all surrounding areas. The flat plain does not soak up rain quickly so the water rushes to low lying areas like this gulch and its slot canyons. These flash floods can become life threatening within moments.
There is also danger in its remoteness. Always let someone know your path and estimated return. Be sure to take extra water.
Check prices on places to stay near Canyonlands National Park.
Contributed by Bonnie from 43 Blue Doors. | Facebook
Devil's Bridge | Sedona, Arizona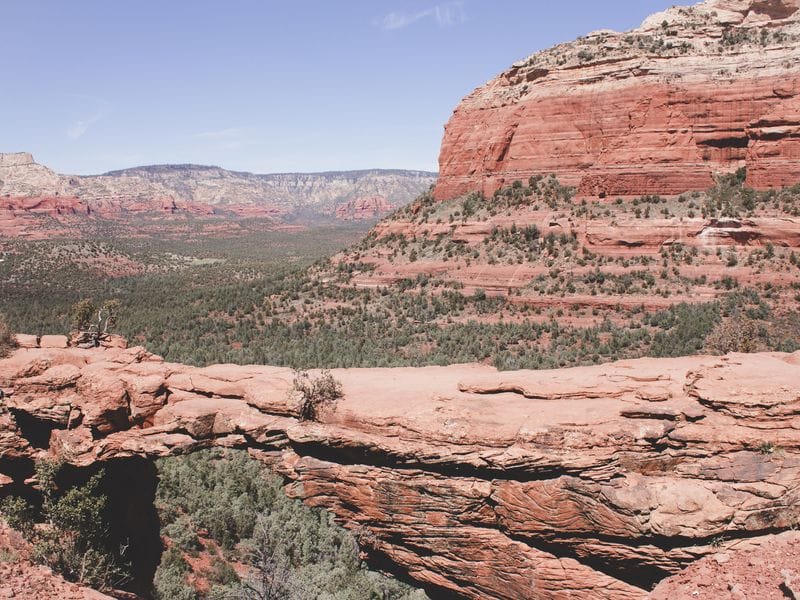 Relative Danger Rating: Moderate
Risk: Heat stroke, dehydration, slips/ falls
The name pretty much says it all: "Devil's Bridge." This hike in Sedona, Arizona is full of excitement – stunning views, a terrifying drop, and even the possibility of energy vortexes! (Oh my!) The bridge is also the biggest sandstone arch in Sedona, so that's pretty cool.
Sedona itself is GORGEOUS and the scenery is like nothing else. The prickly cacti framed by the towering red cliffs just about stops my heart, but in the best way. I'm still not exactly sure how your heart stopping can be a good thing, but just trust me on this one.
The hike really isn't THAT bad, it's just 1.8 miles round trip with a 400-foot climb. However, to park right at the trailhead you need a 4×4 vehicle. If you don't have one, you'll have to park a little further away at the main parking lot off of Vultee Arch Rd or the Mescal Trailhead, which will make it more like 4 miles total. The actual hike is pretty chill with a semi-vertical rock scramble near the end, but once you get to the bridge – that's where the real fun starts.
Prepare to stand in a line (yep, what you don't see in those cool solo shots is a line of people waiting to get their photo taken) and if you'd like to come during less crowded hours I'd suggest going in the morning or near sunset. Also keep in mind that Sedona can get HOT so I'd advise against doing this hike at midday in the summer. Remember to also check the forecast for thunderstorms (mostly in summer) – although the landscape does look epic with huge clouds looming above it, the weather can change pretty quickly so just be aware.
It'll all be worth it once you're standing on the bridge and looking down, staring at the vast space below you. The bridge is a bit wider than it looks on camera – a total of 5 feet – but still feels a little nerve racking once you realize just how high up you are – 54 feet to be exact! And there are no guardrails on the sides of the bridge, either.
I hope you enjoy this amazing place – it really is like no other!
Check prices on places to stay in Sedona.
Contributed by Kelsey from Sights Better Seen. | Instagram
Koko Head Stairs | Oahu, Hawaii
Relative Danger Rating: Moderate
Risk: Heat stroke, dehydration, slips/ falls
Although there are many hikes on Oahu in the state of Hawaii that are family friendly, there are also several considered among the most dangerous hikes in the US. The most notorious being the Stairway to Heaven (officially named Haiku stairs) which are so dangerous they are now illegal. The hike featured over 3,992 steps across a death-defying ridge high above the Koolau mountain range but due to endless rescue missions and storm beaten safety barriers, the hike is officially closed and guarded 24 hours a day.
Adrenaline junkies need not dismay however as the Koko Head Stairs are a challenging alternative. The steps are in fact a historical railroad which was used to transport goods to the Air Force station at the top during World War II. Although the hike begins calm, expect your heart to race as the incline increases and the spacing between the steps widen – giving way to views of the drop below.
In total there are 1050 steps to conquer with no handrails or designated rest stops until you reach the summit. It is recommended to begin the hike prior to sunrise, which may feel like you're adding risk setting off in the dark but in fact it's easier because you're not hiking in the heat.
It also means you will be rewarded with the most spectacular views over Hawaii Kai and Hanauma Bay as the sun rises before the treacherous task of the descent begins. This is when adrenaline really kicks in. Partly because your legs are already exhausted from the hike up, but partly because it's hard to balance between some of the steps as you climb down.
At points, it's not uncommon to see visitors drop for the flattering alternative of sliding down on their bottoms to make it safer. Particularly as some of the steps are too far apart for those with shorter legs. On the other hand, you'll see local fitness fanatics skilfully jogging passed to the top on a mission for a new personal best.
Overall hiking the Koko Head stairs will prove one of the most rewarding yet challenging 90 minutes of your life and a hike not to be attempted by the faint hearted.
Check prices on places to stay in Oahu.
Contributed by Lauren from Faramagan. | Instagram
Other Notable Dangerous Hikes in the US
Abrams Falls | Great Smoky Mountains National Park, Tennessee
Relative Risk Rating: Severe
With close to 30 deaths since 1971, this trail is certainly one of the most dangerous hikes in the US. Due to the large volume of rainfall in the valley (often more than 50 inches per year), both slips and falls on the wet rocks and drowning due to the undercurrents beneath the waterfalls are the primary risks on this trail.
Muir Snowfield | Mt Rainier, Washington
Relative Risk Rating: Severe
Nearly 300 reported deaths have occured on Muir Snowfield, with many occuring well below the summit. The primary risks are fatique as well as unpredictable extreme weather conditions.
Mt Washington | New Hampshire
Relative Risk Rating: Extreme
With snow year-round, hypothermia is a real risk on Mt Washington. Combine that with incredibly high wind velocity (highest ever record is 231mph), and it's no surprise that there have been over 100 fatalities on this trail.
Denali | Denali National Park, Alaska
Relative Risk Rating: Extreme
More than 100 hikers have lost their lives attempting to summit North America's highest peak. The biggest risks include extreme weather conditions, high winds, altitude sickness and encounters with grizzly bears.
Pro Tip: Know what to do if you encounter a grizzly bear with the bear safety tips!
Barr Trail | Manitou Springs, Colorado
Relative Risk Rating: High
This hike is one of the most dangerous hikes in the US due to its uniquely high frequency of lightning. Much of the 13 mile trail is exposed, offering little protection for hikers.
The Maze | Canyonlands National Park, Utah
Relative Risk Rating: High
Even for experienced hikers, The Maze poses significant danger. From difficult to follow trail markings (hence the name) to no shade and extreme heat, should you experience an emergency on this trail, it could take emergency services days to reach you.
Surviving the Most Dangerous Hikes in the US
Whether you hike to connect with nature or to get a bit of thrill, if you take some necessary precautions you can survive even the most dangerous hikes in the US!
Love this post? Pin it for later!