Have you heard of Lanesboro Minnesota? This adorable town in southeast Minnesota is known for its dramatic limestone bluffs, consistently cool spring-fed streams, extensive biking trails and seemingly endless number of bed & breakfasts.
Recently, my partner surprised me with a trip to Lanesboro for my birthday. I was blown away by all the fun and unique things to do in Lanesboro Minnesota! If you're looking for a destination for a girl's trip or romantic weekend getaway, this is it.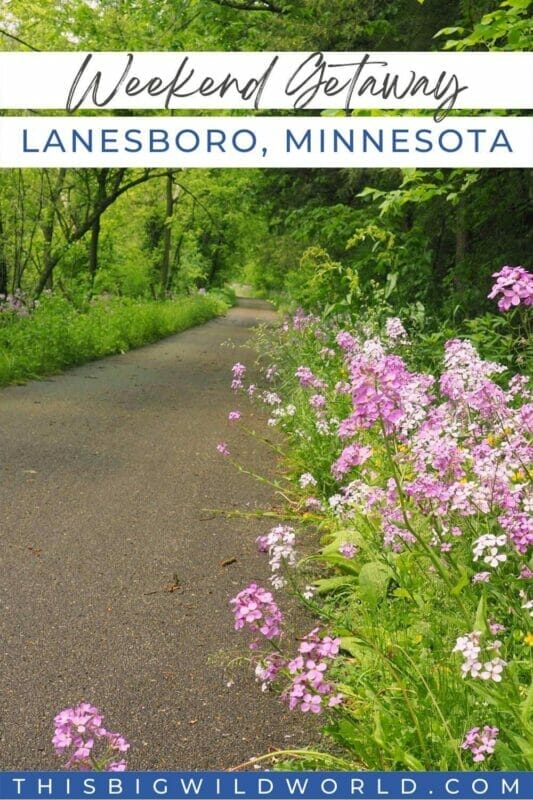 Disclosure: This post contains affiliate links. That means that if you purchase through a link, I may receive a small commission at no extra cost to you. For more info, visit this page.
Where is Lanesboro Minnesota?
Located about 2.5 hours southeast of the Twin Cities, Lanesboro is close to the border of Wisconsin. It's approximately in the middle of Rochester Minnesota and La Crosse Wisconsin.
Interestingly, Lanesboro is located in the only county in Minnesota that doesn't have a lake. Why is this important? Well, there are almost NO mosquitoes! The area is home to the Root River and several trout streams, but this cold flowing water doesn't attract mosquitoes like other areas of the state.
Best Lanesboro Minnesota Lodging
Lanesboro is known for its great selection of bed & breakfasts. If you've never stayed at a bed & breakfast before, it's a fun and unique experience.
Sacred Clay Country Inn – See update!
This beautiful bed & breakfast rests on the top of a hill overlooking bluffs and forest with a trout stream winding its way through the property. The home itself is incredible with towering wood beams and stone fireplaces making the space cozy and inviting. Each room at Sacred Clay is unique. Some have their own bathrooms and others have shared bathrooms, which is all part of the bed & breakfast experience.
Also on the property are English gardens, hiking trails, a wedding barn, wrap-around porch, fire pit, and even a board game room and reading nook.
Sacred Clay is a place to relax and recharge. The owner, Fred, will likely be there to greet you when you arrive, share stories with you and prepare breakfast for all of the guests in the morning.
Update: Sadly, since publishing this post I have heard that the owner has passed away and Sacred Clay Inn is now listed on google as "permanently closed." I will monitor this and update if the property reopens.
Best Things to Do in Lanesboro Minnesota
1 | Bike the Root River Trail.
Be sure to save time in your itinerary to go biking in Lanesboro MN. The Root River State Trail and Harmony-Preston Valley State Trail provide 60 miles of paved trails that connect the small towns throughout the area. This is a fun way to explore bluff country!
While there are sections that are relatively flat, there are some steeper sections. If you want to avoid the steep sections of the trail, avoid the section south of Preston towards Harmony and the section from the trail split up to Fountain.
Heading south from Lanesboro to Preston (10 miles each way), the trail follows along the Root River. This portion of the trail is relatively flat and has several great spots for fly fishing. There are also several picnic areas and scenic places to rest. In early summer the trail will be lined with wildflowers!
Pro Tip: Rent regular and e-bikes from the helpful team at Little River General Store in downtown Lanesboro. They also offer bike repairs and gear. The Root River State Trail is conveniently located right behind the shop. Note that most of the parking spots in downtown Lanesboro have a time limit. To avoid a parking ticket, read the signs or ask the staff in the bike shop for advice on where to park.
2 | Treat yourself to a slice of fresh baked pie.
Bike, drive or run to Aroma Pie Shoppe in nearby Whalan! This adorable place is located conveniently right along the Root River State Trail, just 5 miles northeast from the center of Lanesboro.
Take your pick from the daily selection of freshly baked pies by the slice, available on their own or a la mode. They also have whole pies that you can take to go! If you want something more savory, order one of their sandwiches or salads.
Pro Tip: Try any of the pies with "crumb" for a delicious crumble topping!
Because the pies are so incredible, there can be a bit of a line. Expect a short wait and know that it'll be worth it!
3 | Kayak or tube on the Root River.
One of the best ways to spend a summer day paddling or tubing in Lanesboro on the Root River. There are two main places to rent watercraft in downtown Lanesboro.
Root River Outfitters rents canoes, kayaks and tubes and has several routes to choose from. Before you head out on the water, they help you drop your vehicle at the end point and shuttle you back to the starting point. When you're finished you can hop right in your car and leave your rental for them to pickup.
River Rats Outfitters rents canoes and kayaks and has both 2.5 and 4 hour routes to choose from. Note that they only accept cash or check, no credit cards.
The Little River General Store (mentioned in the biking section) also rents tubes.
Pro Tip: Be sure to leave no trace when kayaking the Root River. Glass bottles and styrofoam coolers are not allowed.
4 | Enjoy a meal along the river at Juniper's Restaurant.
Juniper's Restaurant has arguably the best patio(s) in town! The restaurant is nestled just above the river where you can hear the sound of the water flowing and feel a cool breeze off the water. The friendly atmosphere is the perfect way to end a long day of exploring.
The menu is small but has something for everyone, no matter their dietary preferences or restrictions. There are several vegan, gluten-free and dairy-free options to choose from! Expect the portions to be generous and filling.
Pro Tip: Be sure to try the battered cauliflower! The unique blend of spices and apricot tamarind chutney are delicious. This appetizer was a pleasant surprise.
5 | Go hiking at Forestville/ Mystery Cave State Park.
This is one of the most unique and diverse of the Minnesota state parks. While there, take a guided tour through Mystery Cave. Tours are available from May to October (check the website for the most up-to-date information).
For an above ground experience, there are several hiking trails to consider. The Palisade Trail is a one-mile loop that takes you down along the South Branch Root River and along limestone bluffs. If you want a view of the area from above, try the Sandbank Trail to a scenic overlook. This hike is one-mile each way if you go out and back or you can take the Oak Ridge Trail back for a three-mile loop total.
Pro Tip: Be sure to get a stamp in your Minnesota State Parks Passport while you're there! Read all about the program here.
6 | Spend the day trout fishing.
Trout fishing and fly fishing are popular activities in Lanesboro Minnesota. In fact, locals will tell you the area has some of the best fly fishing around. The reason is that this area is part of the "driftless" region, formed by glaciers which created the tall bluffs, caves, rolling hills and spring-fed rivers and streams. These streams maintain a cool and consistent temperature around 50F all year round, which is an ideal breeding ground for trout.
There are many companies that offer fly fishing gear rental and guide services. The owner of Root River Rod Company, Steve Sobieniak, specializes in fly fishing and bamboo rods.
7 | Grab an ice cream cone at Another Time Ice Cream Parlor.
Looking for the best ice cream in Lanesboro? Head over to Another Time Ice Cream Parlor! Their menu features an assortment of locally made Bridgeman's ice cream as well as Caribou Coffee, candy and handmade ice cream sandwiches.
8 | Grab a cup of coffee at Parkway Market & Coffeehouse (and browse their large selection of cheese).
I love a corner grocery store and this one doesn't disappoint. The shop has a nice selection of coffee, cheese and chocolate as well as grocery staples! It's located on one of the main intersections in the small downtown area of Lanesboro and has sidewalk seating where you can sit and relax.
Pro Tip: There is a public restroom inside the market.
9 | Recharge at your bed & breakfast.
Part of the charm of staying at a bed & breakfast is the cozy atmosphere and often shared spaces for guests to use. I loved the wraparound covered patio at Sacred Clay Country Inn! In late afternoon, it is the perfect place for a glass of wine and charcuterie. There is also a library and game room to enjoy. Each bed & breakfast will offer something different!
Bonus | Visit in early June for the annual Rhubarb Festival.
Enjoy all the festivities and delicious treats at the Rhubarb Festival, held at Sylvan Park in Lanesboro. Be sure to grab free tastings of rhubarb dishes and treats as well as live music, games and more.
Pro Tip: This is a popular weekend to visit Lanesboro, so be sure to book your stay months in advance.
Weekend Getaway in Lanesboro Minnesota
While most people head north for weekend getaways, there are so many fun and unique things to do in Lanesboro Minnesota. It's an ideal place to rest and recharge for a solo trip, romantic getaway or girl's trip.
Related content to read next:
Perfect Minnesota Road Trips for a Weekend Getaway
10 Outdoor Adventures for Your Minnesota Bucket List
What to Wear Hiking in Summer: A Prepared Girl's Guide
Check out my Minnesota travel page for even more inspiration and tips!
Did you find this article helpful? Save it for later or share it on social media!