Looking for a place to just get away from it all for a weekend? These Minnesota road trips have something for everyone!
I genuinely believe that Minnesota is the most underrated state for outdoor adventurers and this list is just further proof of that. So, grab your crampons, hiking boots, paddles or whatever gear you love and enjoy one (or all!) of these great weekend getaways in MN.
Disclosure: This post contains affiliate links. That means that if you purchase through a link, I may receive a small commission at no extra cost to you. For more info, visit this page.
Weekend Getaways in Minnesota Map
Whatever the season and whatever activities you're interested in, these Minnesota road trip ideas have something for everyone. If you use the Twin Cities of Minneapolis and St Paul as a reference point, the driving time to these destinations ranges from 30 minutes to 5 hours – making them perfect weekend getaway destinations!
Click the map to check driving distance from your starting destination!
1 | Grand Marais, MN
I fell in love with this adorable harbor town the moment I saw it. Nestled along Lake Superior and dotted with outstanding restaurants, Grand Marais is a true gem. Visitors can find easy access to the Gunflint Trail, the Boundary Waters, the Superior Hiking Trail, and practically endless trails to enjoy in all seasons.
Some of my favorite things to do in Grand Marais are walk out to Artists Point in the harbor, enjoy a sunset dinner at Angry Trout, and chase waterfalls at Judge C.R. Magney, Grand Portage and Cascade River State Parks.
Pro Tip: Be sure to bring these day hiking essentials with you!
Driving the stretch of the North Shore Scenic Drive from Duluth up to Grand Marais makes for one of the best road trips in Minnesota.
Plan your weekend getaway to Grand Marais Minnesota now!
Great for: Hiking, camping, cross country skiing, snowshoeing, snowmobiling and chasing waterfalls.
2 | Minnesota Iron Range & Ely, MN
One of the most underrated areas in the state in the Minnesota Iron Range. This area stretches from near Crosby in central northern Minnesota up past Ely near the Canadian border. What once was a shallow sea has now become the perfect depiction of a true Minnesota Northwoods experience.
The Minnesota Iron Range is actually made up of three different ranges: Cuyuna, Vermillion and Mesabi. Cuyuna has become a haven for mountain biking and fat tire biking all year round. For a paved biking path, check out the Mesabi Trail which stretches from Ely to Grand Rapids. Ely is another gateway to the Boundary Waters Canoes Area, with loads of outfitters available in town.
Pro Tip: This is a great area to explore by campervan! Read my beginner's guide to renting a campervan to plan your adventure.
I fell in love with Scenic and Bear Head Lake State Parks, both designed to be explored on land or by water. It's easily one of my favorite weekend road trips from Minneapolis.
Plan your Minnesota Iron Range road trip now!
Pro Tip: If you're looking for an awesome off-grid place to stay, check out Ely Log Cabin. Here's my detailed review, including a discount code!
Great for: Hiking, camping, canoeing, biking, fishing, native Ojibwe culture, mining history and more.
3 | Duluth, MN
Visiting Duluth is a rite of passage for Minnesotans. As you drive into Duluth from the south, you get a first glimpse at Lake Superior as you descend down into the harbor town. It's the perfect weekend getaway in Minnesota for outdoor lovers who prefer nice restaurants and hotels with views of Lake Superior after a long day of exploring.
One of my favorite spots in Duluth is Park Point Beach. To get there, drive across the lift bridge until where the road ends at the small seaplane hangar. Bring a picnic or just wander along the shore for great views of the city and harbor.
Looking for hiking trails in Duluth? Try these day hiking these sections of the Superior Hiking Trail: Brewer Park Loop, Spirit Mountain, and Ely's Peak.
Plan a daytrip to Duluth and Minnesota's north shore of Lake Superior now!
Great for: Hiking, views of Lake Superior, relaxing on a beach, mountain biking, and a small city vibe.
4 | Crosby, MN (& the Cuyuna Range)
Aside from being another adorable town, Crosby and the Cuyuna Country State Recreation Area are home to 25 miles of world class mountain biking trails and crystal clear lakes. Rent a paddle board or kayak to explore by water or, if you can believe it, go scuba diving!
If you prefer adventures on foot hike to Miner's Mountain Overlook, the tallest point in the area, for spectacular views anytime of day but especially at sunrise and sunset.
Plan a winter weekend getaway in Cuyuna country!
Great for: Mountain biking, fat tire biking, cross country skiing, snowshoeing, hiking, paddle boarding, kayaking, mining history, fishing and even scuba diving!
Get a complete list of camping gear essentials in my beginner's guide!
5 | Bayfield, WI & the Apostle Islands
For a completely different view of Lake Superior, explore the southern shore from the adorable town of Bayfield, Wisconsin. While you're there, be sure to visit the Apostle Islands National Lakeshore (part of the US National Parks system) and take a ferry ride out to Madeline Island. The town of Bayfield has small town vibe with tons of cute restaurants and shops!
My favorite thing to do near Bayfield Wisconsin is to kayak the Apostle Islands Sea Caves. It's a truly incredible experience!
There's no doubt that this is one of the best road trips from Minnesota.
Great for: Hiking, camping, kayaking, relaxing on the beach, boating, sailing.
6 | Two Harbors, MN
Just past Duluth, on the western end of Minnesota's north shore is the quaint town of Two Harbors. Nearby you can find, arguably, some of Minnesota's best state parks, hiking trails, and viewpoints at Tettegouche State Park, Palisade Head and Split Rock Lighthouse State Park.
Two Harbors makes a great weekend getaway destination in all four seasons! Be sure to enjoy the sunset at the Two Harbors lighthouse on Agate Bay Beach and sunrise at Burlington Bay Beach. You won't be disappointed!
Plan your winter weekend getaway to Two Harbors with this guide!
Great for: Hiking, camping, cross country skiing, snowshoeing, photography, and chasing waterfalls.
7 | Stillwater, MN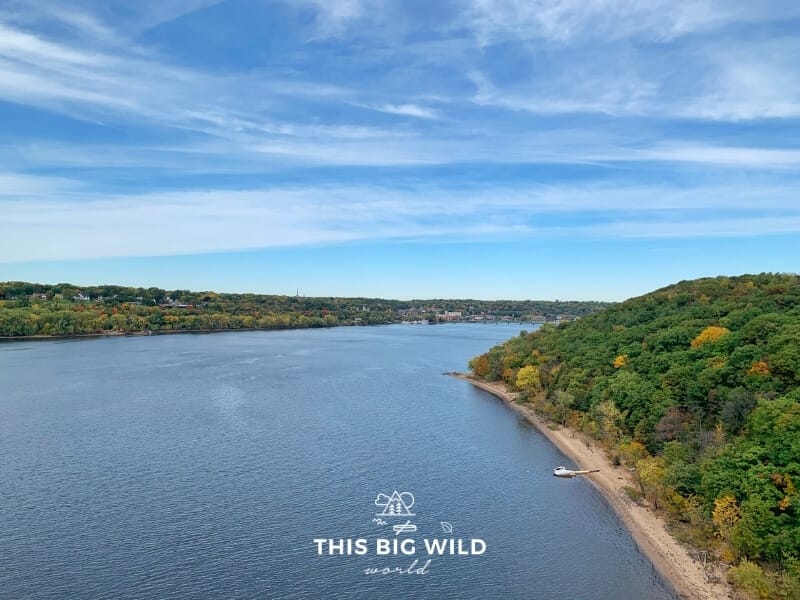 Nestled on the St Croix River, just down the road from the Twin Cities, Stillwater is one of the best getaways in Minnesota. Wander along Main Street for an afternoon of shopping. I especially like the antique and old timey candy shops! If you want a more active way to spend your day, rent a bike from Chilkoot Cyclery and ride the 5 mile loop trail to Wisconsin and back.
In the winter months, Stillwater is known for hosting a number of winter events which includes an ice sculpting competition and ice skating among other things!
In any season, the hike to the Boomsite waterfall is an adventure. It's one of many frozen waterfalls near the Twin Cities in winter!
Great for: Hiking, boating, biking, shopping and chasing waterfalls.
8 | Lake Pepin, MN (and WI)
Lake Pepin sits between the Minnesota and Wisconsin border about one hour southeast of the Twin Cities. Enjoy views of Lake Pepin from its western shore in Minnesota at Frontenac State Park. Birdwatchers love the Sand Point Trail which offers great views of some of the nearly 300 bird types found in the park! If you love being on the water, Lake Pepin is known for boating, fishing and sailing too.
After the end of a day of exploring, visit one of the many wineries in the area. For a feel of Italy, visit Villa Bellezza's stunning wine tasting room and onsite restaurant. Also nearby in Nelson is the Stone Barn pizza farm and Nelson Creamery with locally made ice cream.
Great for: Hiking, fishing, birding, boating, sailing, apple picking, art studios, and wine tasting.
9 | Voyageurs National Park, MN
With over one third of the park only accessible by water, Voyageurs National Park is a truly unique experience. The most popular way to explore the park is by boat or canoe. But, if that's not for you, try renting a houseboat instead! Be sure to book your campsite and houseboat rental well in advance though.
Pro Tip: Considering a houseboat rental? Here's my review of Voyagaire Houseboats on Crane Lake.
Voyageurs National Park is an essential weekend road trip from Minnesota, but you might be tempted to stay much longer! The solitude and beauty of this area is incredible.
Find out what else is on my list of 10 outdoor adventures for your Minnesota bucket list!
Great for: Canoeing, boating, fishing, snowmobiling, and camping.
10 | Lanesboro, MN
Located in southeast Minnesota's bluff country, Lanesboro is an adorable small town with tons to do! While there, be sure to stay at one of the many bed & breakfasts. During the day, go biking on the Root River State Trail, try fly fishing in the many spring-fed streams, kayak or float down the Root River, and wander through the shops in downtown Lanesboro.
Plan your visit with my Lanesboro summer weekend guide!
Great for: Biking, paddling, fishing, hiking, relaxing. Ideal for a romantic weekend or girl's trip!
11 | Minneapolis, MN
Obviously, this list of the best Minnesota road trips couldn't be complete without mentioning Minneapolis! If you are based in Minneapolis, why not make your weekend getaway in MN a staycation?
Minneapolis has a thriving music scene with venues such as 1st Avenue and Paisley Park. There's also a vibrant and diverse food scene no matter your budget! Grab a Vietnamese pastry for breakfast, Somali sambusas for lunch and Ecuadorian food for dinner. The options are endless.
Outdoor lovers can take to the water by renting a paddleboard or kayak, walk around the lakes or hit the trails all right in the heart of the city. In winter, Minneapolis is a great destination for cross country skiing and even ice climbing!
I could go on forever, but I won't because I'm writing a massive weekend guide to Minneapolis that I'll be sharing with you soon!
Great for: Museums, live music, great restaurants, kayaking, hiking, biking, cross country skiing.
Which Minnesota road trips most inspire you?
Whether you prefer a city vibe or the solitude of the Minnesota north woods, these Minnesota road trips are the perfect way to hit the reset button on a weekend getaway!
Related content to read next:
The Most Minnesotan Things Ever
Southwest Minnesota Road Trip (for Hikers!)
Local's Guide to the Best Breweries in Minneapolis
Check out my Minnesota travel page for even more inspiration and tips!
Did you find this article helpful? Save it for later or share it on social media!