Sometimes we just need a reset. A wellness weekend getaway can be just what our minds and bodies need. Located just 1 hour from the Twin Cities, there are a surprising number of health and wellness things to do in St Cloud Minnesota.
Disclosure: This post contains affiliate links. That means that if you purchase through a link, I may receive a small commission at no extra cost to you. For more info, visit this page.
Where is St Cloud Minnesota?
Just 60 miles northwest of the Twin Cities, St. Cloud is a medium-sized city with a small town feel in central Minnesota. It takes about an hour to get there by car from Minneapolis.
Best Places to Stay in St Cloud MN
For this list of wellness things to do in St Cloud Minnesota, I recommend staying near the historic downtown area. This will allow you to walk to many of the activities!
Courtyard by Marriott St. Cloud
This hotel is conveniently located directly across the street from the River's Edge Convention Center, which has access to the River Walk, and steps away from all of the shops and businesses in historic downtown.
Onsite you'll find a market with snacks and other items, a lobby bar, gym, swimming pool and hot tub. The rooms are clean and pretty standard for Courtyard hotels. Some rooms may be showing some wear, but the convenience of the location can't be beat.
Check prices and availability here.
Best Western Plus Kelly Inn
Also located in the historic downtown area, this hotel is comparably rated to the Courtyard. It's located 2 blocks away from the convention center and shops but still convenient and walkable.
The hotel has a restaurant, swimming pool, hot tub and gym.
Check prices and availability here.
Bed & Breakfast Options
If you want a more intimate lodging experience and don't mind being just outside of town, consider a stay at The Estates Bed & Breakfast or the Sable Inn Bed & Breakfast. Both are about 15-20 minutes from historic downtown St. Cloud.
Best Health and Wellness Things to Do in St Cloud Minnesota
1 | Explore Quarry Park and Nature Preserve.
Appreciate the history of the Granite City with a hike at Quarry Park and Nature Preserve, which is just 10 minutes from downtown St. Cloud. There are 20 quarries that were once used for mining granite which today are used for swimming (only in designated quarries), trout fishing, and even scuba diving.
The park is a great place for hiking in St. Cloud in addition to biking, rock climbing, cross-country skiing, picnicking and more.
Get my beanie from Woolly Bear Knit on Etsy!
Pro Tip: A permit is required and can be purchased online, at the park entrance or at a kiosk in the parking lot.
If you are coming from the Twin Cities, consider exploring the hiking trails near St. Cloud at Lake Maria State Park!
2 | Move your body and relax your mind at Shanti Yoga Center.
From the minute you walk into Shanti Yoga Center, you'll sense a feeling of community and connection. This is evident in the community space with comfy couches, hot tea, and even coloring books that is available to relax in before or after a yoga class.
Shanti Yoga Center's classes are intended to be welcoming for all skill levels and abilities. The classes include hatha, vinyasa, ashtanga, aerial, yin and hot yoga. They also offer outdoor classes in the warmer months and participate in pop-up events throughout the year.
This is more than a yoga studio! This woman-owned small business also invests in the community by partnering with nonprofits that support women and girls in being outdoors and active.
Pro Tip: Can't come to class in person? Shanti Yoga Center offers virtual live streaming of many of their classes so you can participate wherever you are.
3 | Treat yourself to sushi at Hajime Asian Bistro.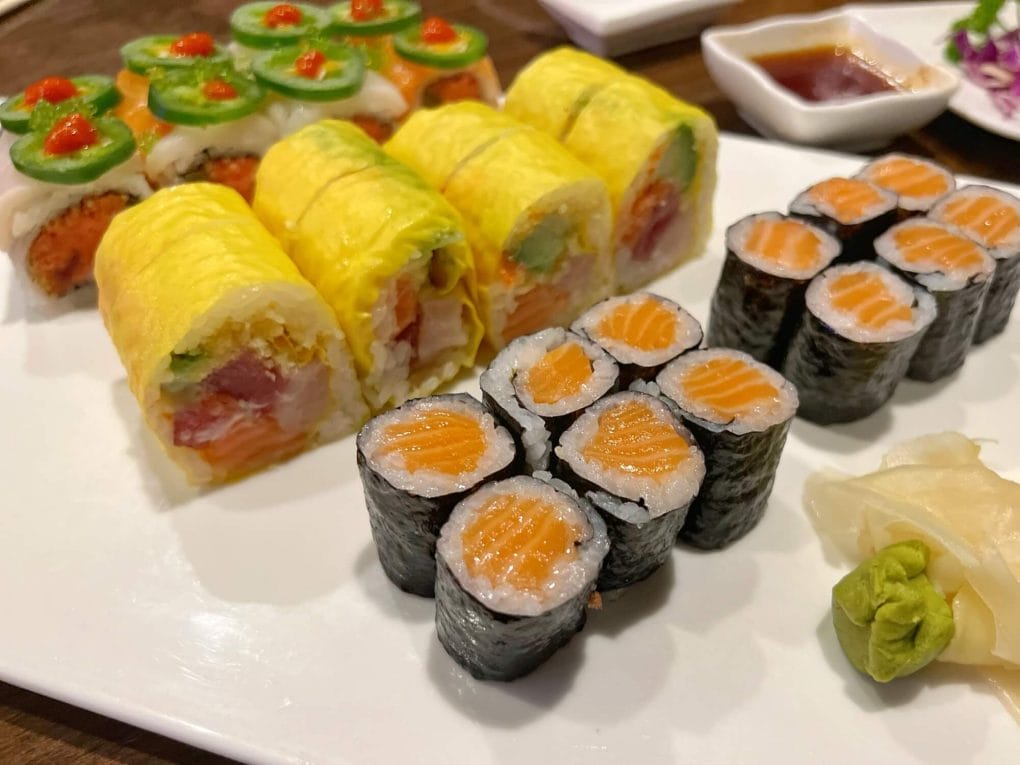 Sushi may not be the first thing that comes to your mind when you think of central Minnesota, but Hajime Asian Bistro will change your mind! They offer a great selection of specialty rolls, standard rolls, appetizers and entrees. For anyone who doesn't like raw fish, there is a section on the menu featuring only rolls with cooked meat. Also, they offer soy paper instead of seaweed if that's what you prefer! Every roll I had was delicious.
Pro Tip: Come after 8:30pm for a late night happy hour with discounts on many of their rolls, appetizers and drinks!
4 | Peruse the shelves at Books Revisited.
This store is such a gem! Located in historic downtown St. Cloud, Books Revisited is like a mashup of a library and your grandmother's attic in the best way possible. Browse the shelves for literally any type of book. They have used copies of popular fiction, non-fiction, rare and unique books, local authors, travel guides and even cookbooks.
Pro Tip: Looking to sell some of your books? Bring them with you! They'll review your items and see if they fit into their inventory!
5 | Rejuvenate your body at Bella Vita Salt Caves.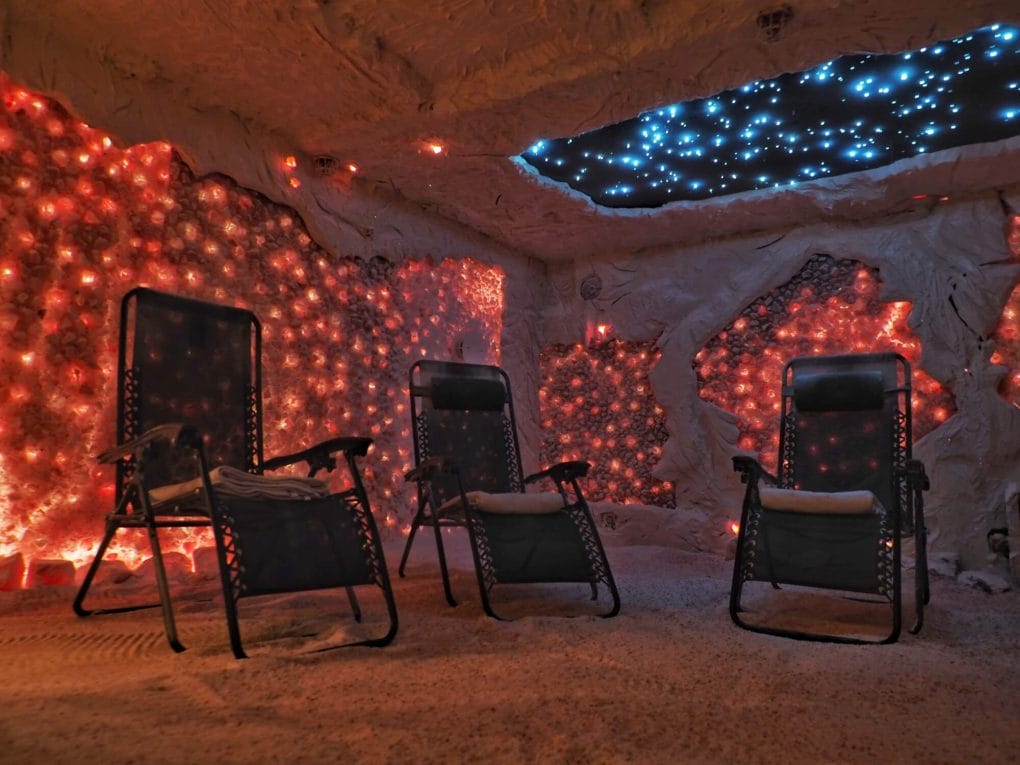 Salt therapy, also called halotherapy, is used around the world to help treat respiratory issues, skin conditions, stress, muscle recovery and more. Bella Vita Salt Caves offers 40-minute sessions right in downtown St. Cloud and it's one of only a handful of salt caves in Minnesota.
When you arrive for your session, spend time browsing the salt lamps, non-alcoholic spirits, and fun gifts for sale. Before entering the salt cave, use the restroom, remove your shoes and store your personal items (including electronics) in one of the available cubbies. Inside the cave, there are anti-gravity chairs each with a 10 pound weighted blanket to cover up with. The walls are lined with 3 tons of pink himalayan salt and the floor feels like a sandy beach covered in granules of salt. One wall has a calming tropical image and the entire room has low lighting.
Once the session begins, lay back, relax and practice deep breathing as microscopic pieces of pink himalayan salt are released into the air.
Pro Tip: Wear comfortable clothing. The salt cave is slightly cool so dress appropriately. No electronics are allowed into the salt cave.
6 | Fuel up at Cloud 9 Energy Bowls.
Before or between adventures, fuel up with a healthy and delicious smoothie bowl at Cloud 9 Energy Bowls! The bowls are packed with superfoods like goji berries, matcha, blue spirulina, acai, chia, dragonfruit and more.
Choose from one of their Signature Bowls or create your own. All Signature Bowls can be customized to match your preference, dietary needs and allergies. Also, nearly all ingredients are organic, dairy-free, gluten-free, soy-free and vegan.
7 | Walk or run the St. Cloud River Walk or Beaver Island Trail.
Enjoy the views from along the Mississippi River from the River Walk or Beaver Island Trail in St. Cloud. The River Walk is a half mile paved path that is accessible from behind the River's Edge Convention Center. Follow it south to connect with the Beaver Island Trail to continue along the riverbank before cutting inland through a forest.
There are conflicting reports online regarding the distance of the Beaver Island Trail, but most commonly it is just over 4-miles. The trail can be done as an out-and-back or a loop that returns through downtown St. Cloud.
The trail winds through a portion of the St. Cloud State University campus, along historic homes, a hydroelectric dam and then a longer stretch of the Mississippi River.
Bonus: If you're visiting around Earth Day, consider registering for one of the races in the Earth Day Run. The event includes a 5k, relay, half marathon and a kid's 1k and the route starts in downtown before going over the bridge and along the opposite side of the Mississippi River.
8 | Enjoy a meal at Jules' Bistro.
If you love made-from-scratch locally sourced food and supporting local artists and musicians, Jules' Bistro is for you! They have both a breakfast and a lunch/ dinner menu as well as espresso drinks and kombucha on tap.
For breakfast, choose from one of their freshly baked pastries or dishes like the build-you-own rise and shine breakfast pizza and chilaquiles. Nearly all items have a vegetarian, vegan and gluten-free option.
For lunch and dinner, the menu features appetizers, paninis, flatbreads, salads, sandwiches and a rotating selection of seasonal dishes.
Pro Tip: This is a popular place! Call to reserve table.
9 | Find the perfect gift at Green Thumb, Etc.
Green Thumb, Etc. will lure you in with the plants in the front window, but you'll stay for the fun assortment of unique gifts and beautiful custom furniture upholstery pieces. Each piece of furniture is truly a work of art! Find the perfect gift or something for yourself. Some of the items may even make you laugh out loud!
10 | Visit Spice of Life Tea Shop.
Also in historic downtown St Cloud, Spice of Life Tea Shop has anything and everything tea enthusiasts could want! The back wall is lined with canisters with unique blends of loose leaf tea with everything from black, green, herbal, oolong and more. If you need help deciding, just ask!
While you're there, check out the selection of tea infusers, tea sets, tea pots, matcha accessories and more.
11 | Curl up with a book at the St. Cloud Public Library.
The St. Cloud Public Library is one of over 30 libraries that make up the Great River Regional Library system and is located right in downtown St. Cloud. Even if you don't have a library card, it's worth a visit.
Just inside the main entrance to the left is the Friends of the Library bookstore. Staffed by volunteers, this store sells deeply discounted books that have been removed from the library collection for one reason or another. All proceeds go towards support the library.
Pro Tip: Be sure to check out the Art-o-mat machine inside the Friends of the Library bookstore. This retro vending machine dispenses mini pieces of art!
If you continue into the library, there are tons of comfy corners and seating areas to cozy up with a book or to work. The upstairs has a wall of windows letting in loads of natural light.
13 | Get a tasty bite at Arroy Thai & Filipino restaurant.
In the historic downtown area, Arroy Thai & Filipino restaurant is must for a healthy and delicious bite. Try one of the Thai salads, like the larb, or fresh spring rolls for a light and fresh meal. If you want a more substantial meal, try one of the Thai curries, stir fries or chicken adobo.
14 | Take in an exhibit or show at the Paramount Center for the Arts.
Let your artsy side run wild with a show, exhibit or even class at the Paramount Center for the Arts. On the stage, you'll find anything from musical performers, choirs, authors, movie screenings, and more. There are three art galleries with exhibits that rotate regularly, so check the website for the most current information.
15 | Play games at Back Shed Brewing.
Ok, so a brewery may not immediately come to mind when you think of wellness activities, but Back Shed Brewing is unique. Yes, they offer a great selection of beer but they also have non-alcoholic options as well. The space in the taproom is huge! Grab a board game, a drink and a table and have some fun with friends.
Pro Tip: There are several other breweries in St. Cloud, including Pantown Brewing Co and Beaver Island Brewing Co but neither offers non-alcoholic options (according to their websites).
16 | Smell the flowers at Munsinger Clemens Gardens.
Immerse yourself in the beautiful spaces at Munsinger Clemens Gardens. Located right along the Mississippi River opposite from downtown St. Cloud and the River Walk, these gardens are open every day from spring to fall and admission is free.
There are two distinctly different gardens to explore. Munsinger Gardens is informal and organic, with more free-flowing paths. In contrast, Clemens Gardens is more formal and structured, reminiscent of regal gardens found throughout Europe.
Enjoy a Wellness Weekend in St. Cloud Minnesota
Wishing you a wonderful wellness weekend getaway in St Cloud!
This trip was in partnership with Shrpa, Visit Greater St Cloud, Bella Vita Salt Caves, and Shanti Yoga Center. I am under no obligation to write a favorable review of my experience.
Related content to read next:
Winter Weekend Guide to Mankato Minnesota
12 Awesome Things to Do in Pine City Minnesota This Summer
What to Wear for Hiking in Summer: A Prepared Girl's Guide
Check out my Minnesota page for more travel inspiration and tips!
Did you find this article helpful? Save it for later or share it on social media!