Looking for a fun winter weekend getaway from the Twin Cities? Located just 90 minutes southwest of Minneapolis and St Paul, Mankato is the perfect destination for a mini retreat. After living in Minnesota for over ten years, I just recently spent my first weekend there and was pleasantly surprised by the charm of it's Old Town area, variety of things to do and selection of incredible restaurants. Check out these 15 fun things to do in Mankato MN this winter!
Disclosure: This post contains affiliate links. That means that if you purchase through a link, I may receive a small commission at no extra cost to you. For more info, visit this page.
Where is Mankato Minnesota?
Mankato is located about an hour and a half southwest of the Twin Cities of Minneapolis and St Paul. The drive from the Twin Cities snakes along the Minnesota River through some adorable small towns, like St Peter, that are worth a visit of their own.
From Mankato, you can easily access hundreds of miles of paved biking trails, several waterfalls, downhill skiing and more. It's a four-season destination!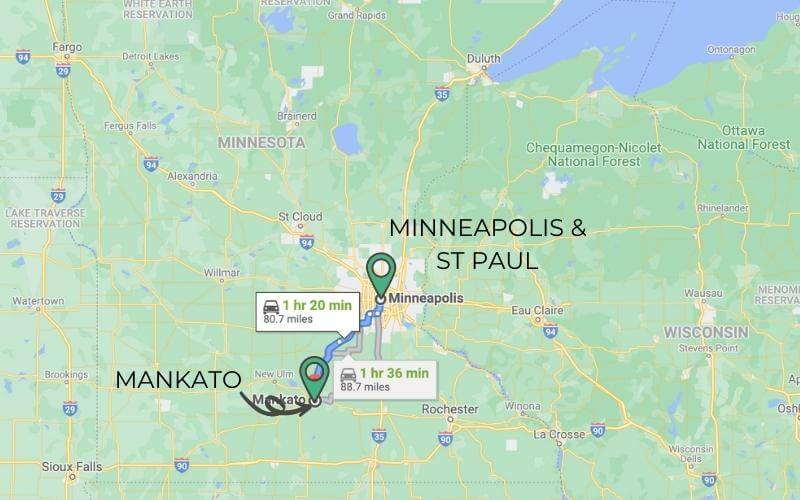 Downtown is where you'll find restaurants, entertainment, sports venues and several hotels. Nearby in Old Town Mankato is a historic district lined with boutiques, coffee shops and unique small businesses perfect for a day of shopping.
15 Fun Things to Do in Mankato MN in Winter
There's no shortage of fun things to do in Mankato this winter. Whether you prefer to be outdoors or indoors, there's something for everyone!
1 | Hit the slopes at Mt Kato.
Just one mile from downtown Mankato is Mt Kato, home to 19 different ski trails for downhill skiing and snowboarding. Their trails are designed to accommodate all skill levels and have both ski lifts and surface lifts.
If skiing and snowboarding aren't your thing, check out the tubing park! It's open daily throughout the season.
Pro Tip: For a unique experience, try the Glow Tubing after dark!
In the warmer months, you can access 7 miles of single track mountain biking trails here as well!
2 | Explore miles of paved trails on an e-bike or fat tire bike.
Have you ever ridden an e-bike? Mankato has easy access to literally hundreds of miles of paved trails, perfect for exploring by e-bike. These bikes give you a pedal assist of about 4 times your effort, making it a breeze to pedal for miles and miles without breaking a sweat.
The friendly folks over at Nicollet Bike & Ski in Old Town Mankato will get you out on the trails in no time with their e-bike (or fat tire bike) rentals. They'll walk you through step-by-step how to use the e-bike, how long the battery will last and answer any questions you have.
Access to the Mankato bike trails is just a few blocks away from their shop. From there you can bike along the river, to Mount Kato, a trestle bridge, and even nearby Minneopa Falls! In warmer months, you can go all the way down to the town of Rapidan where you can refuel with a piece of delicious pie at Rapidan Cafe & Store.
Pro Tip: Biking is a year-round thing in Minnesota. Because you are going quite a bit faster on an e-bike, be sure to wear windproof gear and warm gloves or mittens. Bring handwarmers if your hands tend to get cold.
Here's my advice for a fun beginner's route. From Nicollet Bike & Ski, hop on the paved trail at Riverfront Park. From there follow the path along the water south under the bridge where the trail turns inland. This will take you towards Mt Kato and eventually the Red Jacket Trestle bridge over the LeSueur River. For a shorter route, turn around here and retrace your path until the path splits. Follow the South Route Trail towards the left along Highway 90 to Minneopa State Park. Here you'll find a double waterfall and picnic area. Leave the park on the main road for a short time before crossing and taking the paved path when it turns left, which will take you back into town.
Pro Tip: The Wooden Spoon is located across the street from Nicollet Bike & Ski. They have an assortment of baked goods, including gluten-free and keto options, as well as hot sandwiches and soup. It's a great place to warm up after being outdoors!
3 | Visit a frozen waterfall at Minneopa Falls
If you love waterfalls, don't miss Minneopa Falls while in Mankato! This beautiful double waterfall flows over an 8 foot ledge and then a massive 40 foot drop. By mid-winter the waterfall freezes, making it even more breathtaking than the warmer months.
If you're feeling adventurous, follow the limestone steps down to the river and walk up close to the frozen waterfalls. Be aware though that walking on frozen water can be dangerous. If you're uncertain about how thick the ice is, walk along the shoreline to the waterfall instead. Better safe than sorry!
A Minnesota State Parks day or annual pass is required to access the falls by car. Learn about the Minnesota State Parks Passport Club here!
Pro Tip: The steps can often be icy in winter, so bring microspikes to avoid a fall.
Want more frozen waterfalls? Here's a list of the best frozen waterfalls near Minneapolis.
4 | Experience Minnesota's hockey culture.
Hockey is a way of life in Minnesota and Mankato is great place to experience it! Grab a ticket to the Minnesota State University – Mankato Mavericks hockey game and soak it all in. From the hockey hair and chants from the student section to the delicious food, it's a unique piece of Minnesota culture.
This Division 1 team plays in downtown Mankato's Mayo Clinic Health System Event Center, close to lots of bars and restaurants!
5 | Hit the trails for some winter hiking or snowshoeing at Rasmussen Woods.
Bundle up and hit the trails at Rasmussen Woods park just over a mile from downtown Mankato. The main trail is a 3.6 mile loop around frozen marshland and through forest. It's a good mix of flat and hilly sections, perfect for all skill levels.
Pro Tip: ​​There are several entry points for the park. I recommend the entry on Rasmussen Woods Rd off of Stoltzman Rd.
Other great places for winter hiking and snowshoeing in Mankato are Wildwood County Park and 7-Mile Creek County Park.
Wondering what to wear for winter hiking? I've got you covered (literally)!
6 | Explore the shops in Old Town Mankato.
Grab your girlfriends and check out the adorable shops in Old Town Mankato. There's something for everyone!
In the late 1800's to early 1900's this was the approximately mile-long bustling business district. While it's now called Riverfront Drive, it was once known as North Front Street. In 1980 this district was added to the National Register of Historic Places, commemorating the architecture and historical importance of the district.
Don't miss the upcycled ever-rotating selection of home decor at Whimsy & Weathered. While you're there, be sure to grab an Insta-worthy photo at the mural on the side of their building!
Pro Tip: Whimsy & Weathered posts a preview of their new pieces on their Facebook page before they are available in store. Follow their page if you want to be the first to know!
There are also several boutique clothing stores, the Dork Den for gamers, and Bent River Outfitter for an awesome selection of outdoor gear. All of these shops are walking distance from each other!
Be sure to stop by Lakota Made for products made by the owner, who is an Indigenous traditional herbalist. Everything is made using techniques and natural ingredients passed down to her through tribal elders. Find anything from shampoo bars to teas and tinctures!
Worth a drive further up Riverfront Drive is Sticks & Stones. This store has a beautifully curated selection of clothing, locally made jewelry, home goods and gifts. Allow yourself enough time to explore the entire store as it's much larger on the inside than it looks!
7 | Warm up with coffee from Coffee Hag.
Take a break from shopping to warm up with coffee from Coffee Hag. This coffee shop has a quirky and fun vibe as well as an awesome selection of specialty drinks. If you need to refuel after all that shopping, grab a bite to eat while you're there! The menu has a selection of fresh baked goods and warm sandwiches.
Pro Tip: If you prefer to warm up with a glass of wine instead, visit the Wine Cafe at the other end of the same block!
8 | Bundle up and take a walking sculpture tour.
Did you know that Mankato is known as the "artsiest town in southern Minnesota"? The city has a surprising number of art installations and sculptures to appreciate throughout downtown and Old Town.
Each year Mankato curates outdoor art sculptures that are on display year-round to the public. Download their latest map and guide for your own walking sculpture tour! This year there are over 30 sculptures included in the exhibit. Be sure to cast your vote for your favorite!
9 | See the bison herd at Minneopa
Did you know that you can view a bison herd at Minneopa State Park? Across the main road from the portion of the park with Minneopa Falls is the bison drive. This herd is part of an effort to preserve the American plains bison with healthy genetics as well as other prairie wildlife. These preservation efforts are managed by both the Minnesota Department of Natural Resources and the Minnesota Zoo.
Pro Tip: The bison drive is only open Thursdays through Tuesdays from 9a-7p. It's is closed on Wednesdays for maintenance. Plan your visit accordingly!
While driving through the enclosure, turn on radio station AM1610 to learn all about bison and their relationship with native people in Minnesota!
10 | Enjoy brunch at Nolabelle Kitchen + Bar.
Weekend brunch reservations are hard to come by for a reason! Nolabelle serves up traditional American cuisine "with a rustic twist", centering locally sourced ingredients throughout their menu.
You really can't go wrong with anything on their brunch menu, but I'm partial to the Farm Hash. If you're not driving, add on a mimosa flight!
Pro Tip: If you don't have time for a sit down brunch, grab a bagel at Tandem Bagels! Their menu features locally sourced ingredients and a unique assortment of cream cheese flavors.
11 | Take a moment to appreciate the beautiful silo art.
In 2018 work began to transform the eight 135 foot tall silos standing tall in Old Town Mankato along the river. Today you can view the finished product from several vantage points around the city. The mural pays homage to the native people indigenous to the land as well as the city's commitment to community, equity and diversity.
From a historical perspective, Mankato has had a challenging relationship with the Dakota people. Read more about the largest mass execution in American history that took place in 1862 in Mankato.
Pro Tip: For tips on where to view the silo art from, check out this map!
12 | Grab a local craft beer at Mankato Brewery.
The cabin-meets-industrial vibe of Mankato Brewery's spacious taproom is perfect for gathering with friends. Grab a seat at the bar to catch a view of the day's sports coverage or head to the upper deck for table seating.
If you like IPA's try the Mad Butcher. But if you want something a little different try a Shandy or one of their sours. Mankato Brewery has kombucha and other sodas for non-alcholic options as well.
13 | Get a taste of the Mediterranean at Olive's Mankato.
Olive's is a well-established and much loved restaurant in Mankato. The menu features a modern take on traditional Lebanese and Mediterranean food. Everything I tasted was delicious and took me back to my time in Beirut.
The Mediterranean meze is an awesome appetizer to share with friends. It's got hummus, baba ghanoush (eggplant), tabbouleh (light salad) and marinated olives and feta along with a generous helping of pita. The marinated chicken salad was a pleasant surprise with a bright and fresh garlic citrus dressing. I would order both again!
If you want to taste everything, try the lunch buffet! It's got an assortment of meze plus wraps and other items you can't find on their menu.
Olive's is located in downtown Mankato, in the lobby of the Mankato Hilton Garden Inn.
14 | Sip wine at Chankaska Creek Ranch Winery & Distillery.
On a cold winter day, head to the cozy Chankaska Creek Ranch Winery tasting room! Build your own flight of wines to taste or book a private tasting. While you're at it, add on a charcuterie or cheese board and stay awhile.
Chankaska Creek Ranch Winery is just 10 miles north of downtown Mankato.
15 | Head out for an afternoon of snowshoeing.
Grab your snowshoes and hit the trails in and around Mankato this winter! Don't have your own? Rent a pair at Bent River Outfitter or Nicollet Bike & Ski. The two shops are located just across the street from each other in Old Town Mankato. The friendly staff at either shop can help you get fitted and find the perfect trail for the conditions and your skill level.
I haven't tried it myself, but Bent River does have personal guides listed on their website if you want more a hands-on snowshoeing experience!
Best Things to Do in Mankato Minnesota
After living in Minnesota for over 10 years, I'm so glad I finally explored all the fun things to do in Mankato MN! It's the perfect weekend getaway that combines the best of a historical old town feel with lots of modern touches and outdoor adventures, especially in winter.
Related content to read next:
Minnesota Hiking Guides: 15 Books About Hiking in Minnesota
11 Best Places to Go Dogsledding in the World
Best Sleeping Bag Alternative: Rumpl Nanoloft Blanket Review
Check out my Minnesota travel page for even more inspiration and tips!
Did you find this article helpful? Save it for later or share it on social media!