There are literally hundreds of miles of hiking trails in Minnesota. From the remote wilderness of the north woods to urban parks and trails, Minnesota has something for all types and skill levels of hikers. Did I mention the waterfalls? We've got lots of those too!
In today's world, there are online groups, apps and smartphone GPS to connect us with trails. In some ways, making it easier than ever to find a new place to explore. But, there's really no replacement for the advice and insight from expert hikers. These 15 Minnesota hiking guides include detailed trail information, travel planning tips, stories and real life experiences helping you find the best trails for you!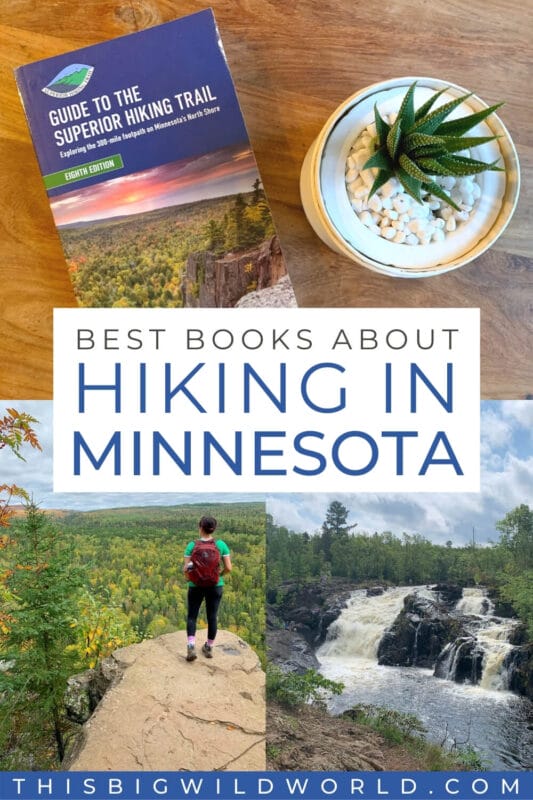 Disclosure: This post contains affiliate links. That means that if you purchase through a link, I may receive a small commission at no extra cost to you. For more info, visit this page.
General Minnesota Hiking Guides & Stories About the Outdoors
The first five books on this list are either Minnesota hiking guides that cover trails around the state or a collection of stories about the outdoors in Minnesota. They cover many destinations and locations, making them perfect for planning daytrips or roadtrips around the state.
Hiking Minnesota: A Guide to the State's Greatest Hiking Adventures
By Mary Jo Mosher & Kristine Mosher
Discover more than 40 of the most iconic and bucket list worthy hiking trails throughout Minnesota. For each hike, there is detailed information to help you plan your visit including distance, elevation, trailhead locations, maps, tips and photos.
Written by Minnesota based authors with experience in wilderness instruction, outdoor education, USDA Forest Service volunteering, and journalism.
Living Our Language: Ojibwe Tales and Oral Histories (Native Voices)
By Dr Anton Treuer
A list of books about hiking and the outdoors in Minnesota, wouldn't be complete without mention of the Native and Indigenous People who have lived on this land for generations. Dr. Anton Treuer is a Professor of Ojibwe at Bemidji State University (in Minnesota) and is widely recognized both in Minnesota and around the world as one of the foremost scholars of Ojibwe history, language and culture.
This book is based on interviews Treuer complete with ten Ojibwe elders in an effort to capture and pass on their stories and oral histories to future generations. The book is presented in native Ojibwe language with English translation offering a unique opportunity to learn about this native language through storytelling.
Hiking Waterfalls in Minnesota: A Guide to the State's Best Waterfall Hikes
By Steve Johnson
Who doesn't love chasing waterfalls? Find detailed hiking guides, including GPS coordinates, for nearly 100 of the most scenic waterfalls in the state of Minnesota in this book. From the most remote forests and wilderness in the state to popular urban locations, this book has it all.
In Minnesota, waterfalls aren't just for the summertime. Be sure to visit some of these in winter to experience Minnesota's frozen waterfalls!
Minnesota Adventure Weekends: Your Guide to the Best Outdoor Getaways
By Jeff Moravec
If you're looking for some weekend adventure inspiration, this book has you covered! From hiking to paddling to cycling and more, discover 12 different adventurous Minnesota getaways. For each destination, there are tips for things to do, where to stay, and where to find the best bite to eat nearby!
The author is a writer, wildlife photographer and avid explorer of all corners of Minnesota for more than 30 years.
Lost in the Wild: Danger and Survival in the North Woods
By Cary Griffith
Lost in the Wild tells two real-life stories about survival in the remote wilderness of Ontario (Canada) and the Boundary Waters (Minnesota). Follow the emotional journey as both of these men find themselves alone and lost in a place that is meant to bring them peace. Whether you find solace in hearing how they survived or caution in how they got lost, these stories are a reminder that the wilderness is harsh.
North Shore Minnesota Hiking Guides
Minnesota's North Shore of Lake Superior is an absolute gem. From there you can access the pristine wilderness of the Boundary Waters Canoe Area, the 300+ mile Superior Hiking Trail, and some of the most remarkable stretches of Lake Superior shoreline. It's the hallmark of outdoors in Minnesota and a popular destination for Minnesotans and visitors.
61 Gems on Highway 61: Your Guide to Minnesota's North Shore, from Well-Known Attractions to Best-Kept Secrets
By William Mayo & Kathryn Mayo
Given that the North Shore is one of the most popular destinations in Minnesota, there are many well-known places to stop along the way. Particularly in the warmer months, touristy spots like Gooseberry Falls and Betty's Pies can be overrun with crowds of visitors.
For those not familiar with the North Shore, Highway 61 is the main road that stretches from Duluth to Grand Portage, nearly the entire length of the North Shore. This book covers the hidden gems along Highway 61, as written by locals who have lived and loved the area for decades.
Waterfalls of Minnesota's North Shore and More, Expanded Second Edition: A Guide for Hikers, Sightseers and Romantics
By Eve Wallinga
Nestled in the wilderness of the North Shore are hundreds of waterfalls to discover. This collection of more than 150 waterfalls will take you from roadside stops to epic day hikes in search of the best falls in the north woods. It's safe to say that there are probably at least a few waterfalls on this list you've never heard of. Why not check them all off?
Hiking the North Shore: 50 Fabulous day hikes in Minnesota's spectacular Lake Superior region
By Andrew Slade
Ranging from 2 miles to 12 miles, this collection of 50 day hikes includes options for any skill level of hiker. For each hike, there is detailed information to help you plan your hike including driving directions, landmarks, time estimates and even tips on what time of year is best to visit!
Camping the North Shore: A Guide to the Best Campgrounds in Minnesota's Spectacular Lake Superior Region
By Andrew Slade
Written by the same author as 'Hiking the North Shore', consider this book a companion guide for all things camping related on the North Shore. After scouting over 2000 different campsites in the north woods, this book highlights 26 of the best campgrounds and mentions 40 more. Whether you are brand new to camping, an RV camper, or an experienced tent camper, find the best of the best spots here.
Isle Royale National Park: Foot Trails & Water Routes
By Jim DuFresne
Isle Royale National Park is made up of 400 islands, located in Lake Superior not far from Grand Portage. As a collection of islands, it's not technically part of the North Shore but since it's primarily accessed from there I've included it in this section.
The park is remote – even getting there can be a challenge. This book is the guide to help you plan your backpacking trip to Isle Royale. It covers everything including how to get there and detailed descriptions of both trails and waterways, with options for both paddling and hiking.
Twin Cities Hiking Guides
Hikers don't need to venture all the way to the North Shore to find great trails in Minnesota. The Twin Cities, Minneapolis and St. Paul, have great hiking trails for any skill level. These hiking guides will give you inspiration to get you outdoors and out of the city!
60 Hikes Within 60 Miles: Minneapolis and St Paul: Including Hikes In and Around the Twin Cities
By Tom Watson
This book is a must-have guide for anyone interested in hiking in or around the Twin Cities. It includes great urban hikes as well some hidden gems up to an hour away. Each trail has key information in an easy to read format, including elevation change, distance, GPS coordinates and other tips so that you can be on the trail in no time!
Walking Twin Cities: 35 Tours Exploring Parks, Landmarks, Neighborhoods, and Cultural Centers of Minneapolis and St Paul
By Holly Day & Sherman Wick
Consider this your urban hiking guide for the Twin Cities! Explore new parks and neighborhoods around Minneapolis and St Paul with these detailed walking guides that cover all sorts of things like the architecture, history, and fun facts. Level up your step count while exploring new areas of the Twin Cities!
Day Trips from the Twin Cities: Getaway Ideas for the Local Traveler
By Lisa Meyers McClintick
Not exclusively about hiking or the outdoors, this book shares perfect places for a getaway within two hours of the Twin Cities. For each destination, there's detailed trip planning information to make your adventure a breeze. One of my favorite day trips is included in this book (driving along Wisconsin's Great River Road) – you should def check it out!
Hiking Guides for the Superior Hiking Trail
The Superior Hiking Trail stretches from the border of Canada to the border of Wisconsin, along Lake Superior in Minnesota. It's a popular backpacking trail for beginners because it doesn't require permits and is conveniently split into sections. Backpackers can design a hike just for their needs, schedule and abilities – these Minnesota hiking guides are essential reading for the Superior Hiking Trail.
Guide to the Superior Hiking Trail: Exploring the 300-Mile Footpath on Minnesota's North Shore
By Superior Hiking Trail Association
Written and published by the Superior Hiking Trail Association (SHTA), this is the definitive guide to the Superior Hiking Trail. It's updated regularly and covers each individual section of the trail highlighting distance, campsites, water access, trailhead access, elevation and more.
Purchase the guide directly from the Superior Hiking Trail Association trail store and consider becoming a member or volunteering with them!
Thru-Hike the Superior Hiking Trail: Planning, Resupplying, Safety, Bears, Bugs and More
By Annie Nelson
If you are considering a thru-hike on the Superior Hiking Trail, this guide is for you. An SHT thru-hiker herself, the author has assembled answers to the most frequent and challenging questions for backpackers. Find out where to resupply, where to shower, how much distance to plan for each day, and more.
15 Best Books About Hiking in Minnesota
Minnesota is truly an underrated destination for hikers and outdoor lovers. These books are packed with inspiration and detailed tips to get you out on the trails to enjoy all that Minnesota has to offer! Now the question is, which trail will you tackle next?
Related content to read next:
Day Hike Packing List: A Prepared Girl's Guide
Car Camping 101: An Essential Guide
Check out my Minnesota travel page for even more inspiration and tips!
Did you find this article helpful? Save it for later or share it on social media!