The darkness enveloped me as I navigated the uneven ground. There was a hushed energy as I moved through the crowded siq. The path was dimly lit with candles. My feet couldn't move fast enough.
And then, it revealed itself. The Treasury lit up like a beacon guiding me forward through the tall canyon walls.
Few things leave me speechless, but this sight was one of them.
I walked toward it, still holding my breath, until I could see it in its entirety. My first visit to Petra was a dream that was years in the making and it'd finally come true.
But, I'm getting ahead of myself.
Let me backup and tell you everything you need to know to visit Petra like a boss.
Disclosure: This post contains affiliate links. That means that if you purchase through a link, I may receive a small commission at no extra cost to you. For more info, visit this page.
Why Visit Petra?
If you aren't a child of the 80's like me, you may not have experienced the wonder and true bad assery that is Indiana Jones (seriously, check go watch Indiana Jones and the Last Crusade right now!). I remember poring through the aisles of video rentals at the library waiting for this movie to be returned so I could watch it. When that day finally came, my family cuddled up on the couch and Petra came to life on the television.
I'm embarrassed to admit that I didn't realize just how large and ancient the city of Petra is before I visited. It's expansive and unlike city I've seen in all my travels. The city flourished as the capital of the Nabatean Empire starting in the 1st century BC.
If you ask me, the Nabateans were genius.
They built the ancient city to be nearly undetectable within the mountains. The canyon that you walk through to enter the city is called a siq and was formed by the separation of tectonic plates. It looks a lot like the popular slot canyons like Antelope Canyon. The siq creates a natural thoroughfare that winds along the rocks before it opens up to the reveal the Treasury.
Visit Petra: How to Get There
There are several ways to get to Petra from the major cities in Jordan. The most common route is from Amman to Petra, so I'll give several options between the two. Really, the deciding factors are budget and how long you want to visit Petra. These are in order of my recommendation.
Approximate Travel Time: 3-4 hours
Rental Car
After you look at the tour prices, you'll quickly realize that renting a vehicle is a pretty cost effective alternative. Plus, you'll have the freedom to stop and explore as you drive the Kings Highway!
There is an abundance of car rental options available in Amman. You can rent both at Queen Alia International Airport or at many locations throughout the city. So, if you want to explore Amman for a few days without a car, and then pick one up, that's easy to do.
Cost: 25-35JD (~$35-45USD) per day with insurance
Boss Tip: Pick up a local SIM card at the airport or bring a mobile wifi device to help you navigate.
Coach Bus
Want to visit Petra like a boss on a budget? Try JETT Bus! These air-conditioned coaches depart Amman at 6:30am everyday and arrive in Petra in around 4 hours. The return bus departs Petra at 5:00pm. This option gives you the flexibility of returning to Amman on the same day or staying a bit longer to explore more of Petra.
Cost: 11JD one way, 18JD roundtrip (same day only)
Boss Tip: One way tickets don't seem to be available on the website linked above. I've also read that booking through that website is unreliable. So, instead visit the Jett office close to the King Abdullah Mosque (on King Hussein Street) and book your tickets in person.
Boss Tip: If you don't pre-purchase a ticket, get to the bus station early because there's only one JETT Bus per day!
Private Transfer
If you really wanna visit Petra like a boss, book a private transfer from Queen Alia International Airport in Amman. These are available 24 hours a day and offer the ultimate flexibility in schedule.
Cost: Starting at 35JD (50USD)
Tour
The most popular option is to take a tour from Amman to Petra. I personally don't think one day is enough to appreciate all that Petra has to offer. The other downside is that you won't arrive at Petra until late morning when it is crowded (and hot). There are many tours that also include a visit to nearby Wadi Rum. I am not a fan of organized tours so tend to avoid these unless I find a great deal on a small group tour.
Cost: Varies, but expect between $100-$300
Public Minibus
The most inexpensive option is to take a public minibus from Amman. These run between 9am and 4pm, but are not on a schedule. They depart whenever the entire bus is full, so be prepared to be flexible. Buses leave Amman from Mujamaaa Janobi station beginning at 9am until 4pm. Return buses from Wadi Musa (Petra) to Amman run from 6am to 1pm. Tickets are usually purchased on the bus.
Cost: 5JD (7USD)
Boss Tip: It's common for people to shuffle seats so that members of the opposite sex who are not traveling together don't sit next to each other. This is out of respect, so don't be concerned if this happens!
Taxi
This is my least recommended option due to cost, but they are widely available. It may be a good idea to work with your hotel or place you're staying to make sure they negotiate a good rate and secure a reputable driver for you.
Cost: 85JD (120USD) each way
Visit Petra: Where to Stay
The town of Wadi Musa (which translates to Valley of Moses) is where the entrance to Petra is located. This is where most people stay when they visit Petra. The city itself is packed with hotels, hostels, and restaurants.
Wadi Musa is built into the mountains surrounding Petra. If you don't have a vehicle, I recommend factoring this in when choosing where to stay. There are several hotels immediately across the street from Petra, such as the Movenpick Resort. For a more budget-friendly option I recommend the Rocky Mountain Hotel. The rooms are basic, but clean. But, the staff are very helpful and breakfast is included.
Al Wadi Restaurant was a standout in my opinion. It's in the heart of Wadi Musa with an assortment of traditional foods.
Visit Petra: What Time & When to Visit
Ok, so here's my number one tip to visit Petra like a boss. Are you ready?
Boss Tip: Be there before the gates open so you can have the entire city to yourself.
Worth. It.
The gates officially open at 6:00am, but sometimes they'll open the gates early (especially if you're nice). Plan to be there by 5:30am.
I can hear you saying "but that's so early!" Trust me. Petra will be super crowded by 9am and only get worse throughout the day as the tour buses roll in. Plus you'll beat the heat and snag a close parking spot (if needed).
Spring and fall are ideal times of the year to visit Petra. You'll experience cool mornings and evenings and hot (but not unbearable) temperatures during the day. Here's what you can expect for weather in Petra year-round.
Visit Petra: Cost of Entry
The entry fee varies depending on how many days you visit Petra. I strongly recommend at least two full days if you want to do all of the things listed in the "Things to Do in Petra" section. A one-day pass is 50JD and a two-day pass is just 55JD.
However, I strongly encourage you to consider a Jordan Pass.
If you purchase your Jordan Pass online before you land in Jordan AND stay a minimum of three nights in the country, you get your tourist entry visa fee waived and free entry into more than 40 attractions. There are three levels of Jordan Pass. I recommend the Jordan Explorer which gives you two consecutive days in Petra.
Boss Tip: Be sure to print your Jordan Pass! Many of the attractions want to stamp a paper copy of it to track your entry. Bring passport?
Things to Do in Petra
Besides Indiana Jones and Instagram, I knew little about Petra before I visited. There is so much to see! Here are the highlights for when you visit Petra.
A huge shoutout to Crazy Travelista who planned this trip and showed me the most epic views in Petra!
Boss Tip: Petra is so much more than the Treasury. I watched so many people race directly to the Treasury, snap a few photos and turn around to leave. Don't be one of those people.
Siq
Ok, so you don't have much choice about visiting the Siq. This 1.2km gorge is the only path from the entrance into the city. But don't rush through here! Be sure to notice the water channels worn into the stone along either side of the gorge. These were used to bring water from Wadi Musa into the city of Petra. They even created filtering systems and storage for water.
Look closely as you walk so you don't miss the remnants of statues and etchings from as early as the third and fourth centuries BC.
Treasury (Also, Al Khazna)
As you approach the end of the Siq, the narrow gorge offers a peekaboo view of the famous Treasury (a true Indiana Jones moment). If you took my boss tip and visit Petra early, you'll have this entire space to yourself! If you opted to sleep in a bit, expect this area to be crowded with vendors, camels and bedouins selling their wares. It's two completely opposite experiences.
Sadly, unlike Indiana Jones, you are not able to go inside the Treasury itself. But, for photos of the exterior, the best view is far off to the right when you're facing the Treasury.
Now, you have to make a choice. There will be many bedouins offering to take you up to a view of the Treasury from above. They will expect you to pay them. Don't get me wrong, the view up there is gorgeous, but you can get what I think is an even better view for free if you're up for a little hike.
Boss Tip: Kindly decline the offers from the bedouins to take you to see the Treasury from above. Follow my tips on hiking the Al Khubtha trail instead.
The Street of Facades
Just beyond the Treasury, is the Street of Facades. All around you are caves with the remnants of what were once immaculately carved facades.
By mid-morning, this area will be lined with vendors selling all sorts of things. If you want something unique, stop at Petra Rosemary and purchase frankincense (yes, as in one of the three gifts offered to baby Jesus) or many other natural perfumes and incenses. The owner, Mazen Al-Mahadin, was very kind and patient with my questions in selecting the right frankincense essential oil. Bonus, he also accepts credit cards. Find him on the right hand side just after the restrooms at the end of the Street of Facades.
The High Place of Sacrifice
Before you walk past the theater, there is an almost unnoticeable set of steps. This is the start of the climb to the High Place of Sacrifice. The 700 stairs are worth it for views of Petra from above. In fact, while you're up there, stay a while and enjoy a cup of arabic coffee.
This was a place for important religious ceremonies and, yes, there is a pedestal for sacrifices still there today.
Boss Tip: The stairs are naturally formed into the rock and often covered in dust or sand. This makes them quite slippery. Be sure to wear shoes with decent grip or shamelessly crawl on all fours 😉
The Theater
Back down on the main thoroughfare where the Street of Facades ends, you'll find the theater to your left. This theater is the only one in the world that's carved into rock! Can you believe it could hold nearly 4000 spectators?
The Royal Tombs & Al Khubtha Trail
Across from the theater you will see a very small sign that says Al Khubtha Trail. This will lead you not only to the Royal Tombs, but also to the amazing view of the Treasury from above.
Boss Tip: Do the Al Khubtha Trail hike first thing in the morning before Petra gets crowded. You'll have the trail and the viewpoint all to yourself. You can visit the Royal Tombs on your way back down.
The hike to the Treasury view is a moderate hike with many stairs. It took about one hour each way with many stops for photos.
There are four different Royal Tombs to explore. By mid-morning there will be many vendors and coffee stands setup as well. It's a perfect place to relax after your morning hike.
Colonnaded Street
From the Royal Tombs, it almost feels like you're walking into ancient Rome as you make your way down the Colonnaded Street. That's because when Petra was conquered by the Romans they put their own visible touch on this portion of the city.
Boss Tip: Take time to step off the main walkway and explore the ruins of the Great Temple, Qasr al-Bint and more. It's incredible that you can literally still walk on these ruins – I imagine it won't be long until access is restricted.
The Monastery (Also, Ad-Deir)
The hike up to the Monastery involves 850 stairs. That's after hiking about two and half miles from the entrance to the base of the stairs. You may be asking yourself "is it worth it?"
100% yes.
If you can believe it, I thought the Monastery was even more impressive than the Treasury.
Enjoy a cup of Arabic coffee as you marvel at this wonder. But before you make the trek back down, hike a little further (yes, more stairs) up behind the cafe to get a view of the mountain range surrounding Petra. As you make your way back to the Monastery, there are several great photo spots.
Petra By Night
My first sight of the Treasury was by candlelight at Petra by Night. Having it revealed under a cloak of darkness and warm candlelight was absolutely magical.
The show itself is not particularly mindblowing. There's a bit of music and storytelling followed by a light show. Most of my time was spent taking photos so I'll admit I didn't fully appreciate the show.
Petra By Night is a ticketed event that is only available on Monday, Wednesday and Thursday. This is not included in your Jordan Pass or general Petra tickets.
Boss Tip: Get there as early as 730pm so you can get a prime photo spot. Once you get to the opening in front of the Treasury, walk immediately to the far right behind the rows of mats for seating. This will allow you to photograph the entire Treasury and some of the night sky!
Visit Petra: Frequently Asked Questions
Is there food and drink available inside Petra?
I was pleasantly surprised by the availability of food throughout Petra. There are several restaurants at the far end of the Colonnaded Street. The Nabatean Tent is the least expensive option at around $10USD for a buffet lunch. There was a good selection of hot and cold local dishes, cold drinks and bathrooms. The Basin Restaurant is an upscale option offering a similar selection. Alternatively, you can bring a packed lunch from one of the many restaurants and shops in Wadi Musa.
Throughout Petra there are tents and cafes serving arabic coffee, tea, bottled water and fresh juice. Expect to pay 1-2JD for a coffee.
What should I wear?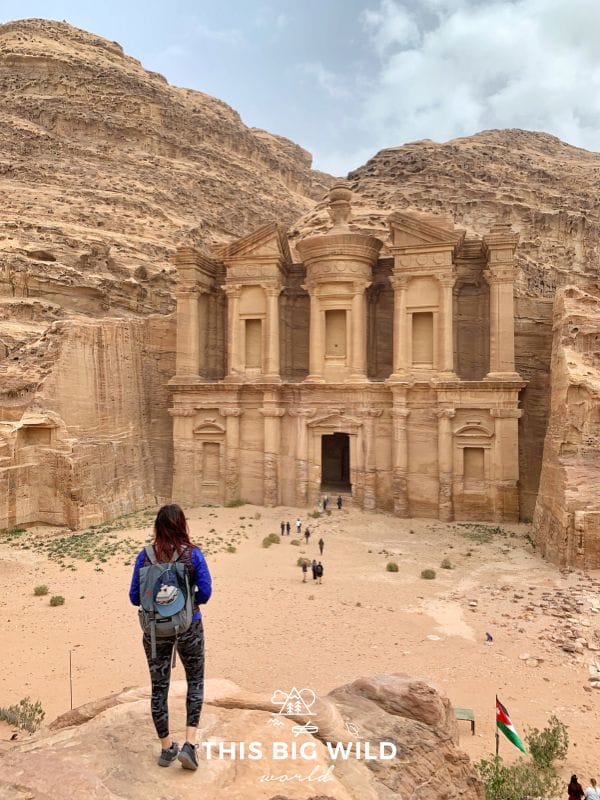 Petra is an ancient city in the desert built into mountains. Expect sand, uneven ground, stairs and direct sunlight throughout the city. Wear comfortable flat shoes with some grip. Hiking boots aren't necessary.
As far as clothing, wear breathable clothes with layers. In the morning and evening the temperature will drop but midday is downright hot. I wore athletic leggings and a tank top with a windbreaker both days.
Bring sunscreen, sunglasses, and a hat any time of the year but especially if you are prone to sunburns and/ or are visiting in the summer months.
Are there toilets available?
Yes, quite a few. When you enter the park, grab a park map to see where they all are or just ask any of the vendors. There is a portable toilet behind the cafe at the Monastery that is not shown on the map.
Boss Tip: The toilets generally had toilet paper, but I recommend bringing some with you.
How far will I have to walk?
A lot. Seriously, it's close to a mile just to walk through the Siq and another two miles to the base of the Monastery. I walked close to ten miles both days that I visited Petra. Most of the walking is on sandy terrain or uneven rock.
There are horses, carriages, camels and donkeys that you can pay to ride on in different parts of the city. Ethically, I chose not to do any of these. But, if you are a person with disabilities, have an injury, or otherwise need assistance these options are available. There were posted signs with instructions on how to report animal abuse.
Should I pay for a tour?
No, but… I think this is a personal choice. I prefer to be self-guided and explore at my own pace. So, I rarely pay for a guided tour. However, if you value interaction with a knowledgeable guide then it may be worthwhile.
There are plenty of guides available at the entrance, though they were not there when I arrived at 530am. So if you plan to visit Petra early, a guide may not be available.
Are there scams I should be aware of?
As with any tourist attraction, there are scams to watch out for.
The Romance Scam
This is where a friendly Bedouin invites you to "see his cave", "visit his village," or "see Petra with a local." It sounds harmless and he does look like Jack Sparrow. But, there are countless stories about women being taken advantage of and even raped.
Lesson: Politely say no when a Bedouin offers you an insider experience.
The Horseride Scam
The Petra entrance fee includes a horseback ride from the entrance. However, the horse ride operators are known to do one of two things. First, they assume most people don't know the ride is included so they offer you a "good price." Second, they aggressively pressure you to tip them once you're on the horse.
Lesson: Just pass on the horse ride.
The Trail Fee Scam
I've read that occasionally Bedouins will stop hikers in Petra and ask them to pay a fee for being on their land. This didn't happen to me, but this is not legit and you don't have to pay them.
Lesson: Politely say no when they ask for payment on the trail.
The Bait and Switch Scam
At several spots in Petra, Bedouin children are playing and occasionally selling stones and other items. It's heartbreaking, but please don't contribute to this behavior by buying anything from them. It only reinforces the behavior. The scam, though, is that while one of the children is trying to sell you their stuff, another one will scope out your bag and see if they can grab anything.
Lesson: Keep your bag and phone secure at all times.
Is it safe to visit Petra alone?
Yes! Ok, I get it. How can I say Petra is safe after I just listed all those scams to watch out for? These types of scams exist at tourist attractions throughout the world. In comparison, I felt as safe (if not more safe) in Jordan and Petra than I have when traveling in any large city. As long as you can resist the Jack Sparrow-ness of the Bedouins, you're going to be just fine.
As with anyplace, be aware of your surroundings and secure your belongings.
Are You Ready to Visit Petra Like a Boss?
I sure hope so! Petra is so much more than I expected.
Related content to read next:
20 Photos to Inspire Your Jordan Itinerary
11 Things to Know Before Your Wadi Rum Jeep Tour
Day Hike Packing List: A Prepared Girls Guide
7 Awesome Beirut Lebanon Neighborhoods
Did you find this article helpful? Save it for later or share it on social media!